PARX PICKS AND ANALYSIS: May 18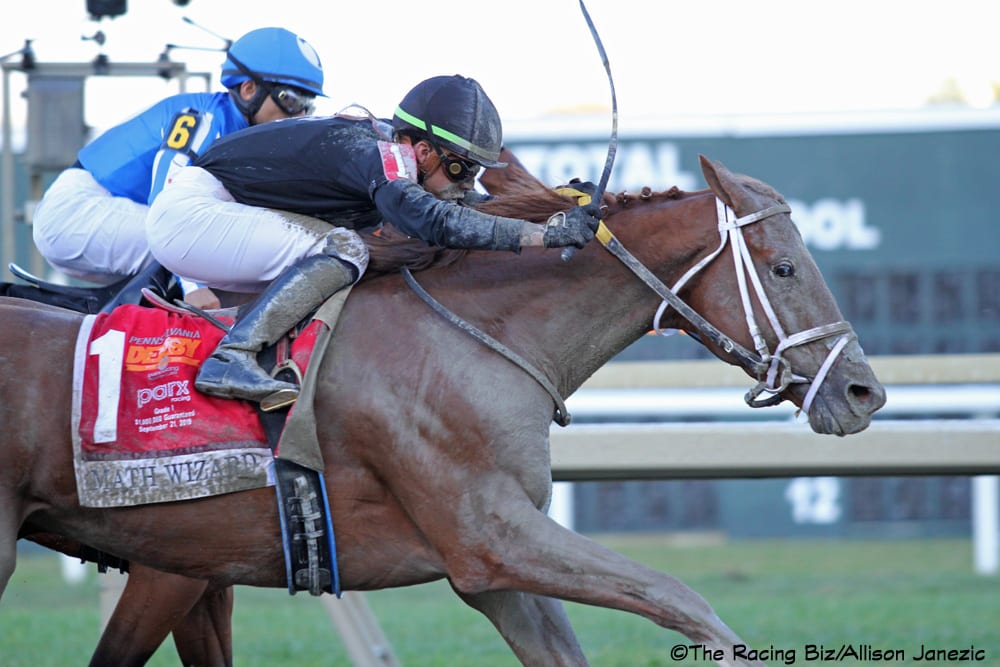 Note: Joe likes multi-race wagers, so horses in these may be considered for doubles and Pick 3s, in particular.
RACE 1
#5 Flashing Diamond (5-2): 10 wins in 37 lifetime starts. Very good chance in second start at this level.
#4 Miss Star Lo (5-1): Can be inconsistent but will be with he leaders if she runs one of her better races.
#6 Mrs. Crews (5-1): Last race was poor but ran well earlier this year.

PICK 4 WAGER (the following wagers are meant to cover a range of possibilities while putting more money behind those considered most likely):

$1 P4:    4,6/1/2/7    5/5,7/2/7    5/1/3,6/7    5/1/2/4,8

$0.50:    4,6/5,7/2/7    4,6/1/3,6/7   4,6/1/2/4,8    5/5,7/3,6/7    5/5,7/2/4,8    5/1/3,6/4,8
Total Bet: $22.00  
RACE 2
#1 Drummer Don (8-1): Dropping down and as the speed, figures to win at this level.
#5 Algorix (2-1): Nice win last time with a 66 figure but now facing slightly tougher.
#7 Rings of Jupiter (7-2): Usually finds his way into the exotics at this level. Won last time in the slop and track should be dry today.
RACE 3
2 Classified Info (2-1): Back down to Clm 12000 after trying tougher. Should be able to handle this group.
#6 Wye Mumbo (9-2): Dropping down after facing better. Good shot here if he can back to earlier form.
#3 Yes for Less (8-1): First time at this longer distance in a long time. An experiment but worth taking a shot on against this field.
RACE 4
#7 Mucho Mas Grande (8-1): Several speed horses in here should help this closer.
#8 Jammin Jimtown (2-1): Has been running well and hard to beat this trainer-jockey combo.
#4 King Koa (5-1): Big class drop and has been training well.
RACE 5
#3 Septimius Severus (3-1): Has been running well against better company. Fits well here
#6 La Waun (9-5): Has been running well but he does throw in an occasional clunker.
#5 Seanow (7-2): Has back class but has been on the shelf since last August.
RACE 6
#1 Boston Light (7-2): Has rallied in last two. Has a very good shot with these.
#6 Quality Special (5-2): Best early speed must be considered. Not much other speed in here.
#3 Plato (2-1): Tampa shipper back on dirt where he has run some good races.
RACE 7
#6 Congrats Answer (6-1): Moving up after claim but keeping Silvera on board. Good shot to win again.
#1 Bamboo Garden (4-1): Has been competitive at this level before. Should compete here if she runs one of her better races.
#8 Karabessa (8-1): Has back speed. Could be a factor if she runs like she did last summer.
RACE 8
#3 Drakesboro Wildcat (7-2): Pimlico shipper in good form and looks the best of this group.
#2 Grandfire (4-1): One of the speed horses in here will try to take them gate to wire.
#9 Bundi Bundi (2-1): Just missed last time and should find his way into the exotics again.
RACE 9
#2 Ashaab (6-1): Has been working well. May be prepped to step up and win.
#1 Dig Charlie Dig (2-1): Has been knocking on the door. Figures to be in the mix at the finish line.
#4 Star Sign (9-2): Always gives a strong effort and usually figures in the trifecta.
RACE 10
#6 Word On a Wing (5-2): Did not like the grass in last but working well and Kate DeMasi usually brings horses back ready.
#2 Admiral Abe (3-1): Expect him to snap back from his subpar effort last time.
#1A Senior Investment (9-2): Another horse who has been working well after a break. Could fire on return.
RACE 11
#4 Gypsy Janie (2-1): Has faced tough competition and not disgraced herself. Nine wins in 33 starts.
#2 Blunt Force (7-2): Belmont shipper facing a weaker field than she did in New York. Should be in the mix with these.
#11 Lil Miss Hotshot (12-1): Should be in the mix if she gets a good start.
LATEST NEWS