PARX PICKS AND ANALYSIS: May 12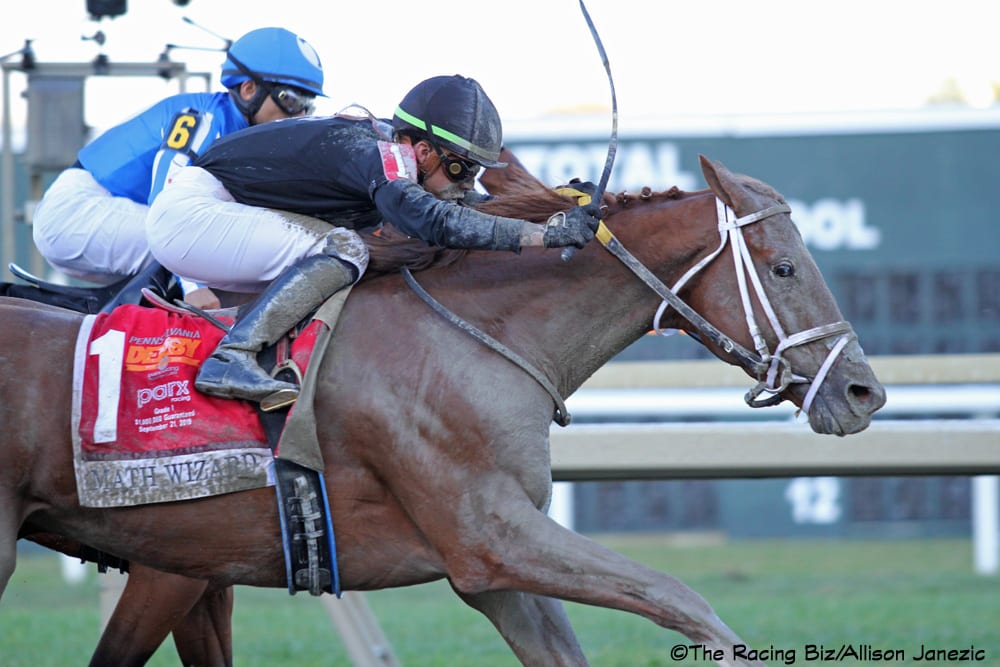 Note: Joe likes multi-race wagers, so horses in these may be considered for doubles and Pick 3s, in particular.
RACE 1
#2 Spun Run (9-5): Very strong effort in last. A repeat of that race would most likely put her in the winner's circle.
#6 Dial a Lady (9-2): Drop in class should put her in the mix.
#4 Lady Mistress (6-1): In bad form lately but 14 April workout looks better. and last race was closing late.

PICK 4 WAGER (the following wagers are meant to cover a range of possibilities while putting more money behind those considered most likely):
$2 P4:    2/3/5/1
$1 P4:    4,6/3/5/1    2/1,6/5/1    2/3/1,3/1    2/3/5/2,7
$0.50:    4,6/1,6/5/1    4,6/3/1,3/1    4,6/3/5/2,7    2/1,6/1,3/1    2/1,6/5/2,7    2/3/1,3/2,7
Total Bet: $22.00
RACE 2
#3 Mr. Roundtree (5-2): Consistent runner has the speed figures to challenge for the win here.
#6 Danzafied (6-1): The most early speed in the race and could steal it if he gets loose.
#1 Pategory One (7-2): Aqueduct shipper looking for an easier spot after running against better.
RACE 3
#5 Jamie's Wanderlust (2-1): Ran well in last after 110-day freshening. With that race under her belt she should improve here.
#3 Intervention (7-2): Unusual for a horse to win next race after breaking maiden, which she almost did in last. Best speed figures in this race.
#1 Four Seasons Girl (5-2): Has been running at this level for some time without success, but seems to be rounding into form.
RACE 4
#1 Passport Required (9-5): In good form lately and should be on the lead early.
#7 Quiet Please (5-1): After disappointing last race, makes second try at back this level. Look for improvement today.
#2 Spectacular Now (8-1): Two wins in 12 starts. Good effort in last. Perhaps Blane Servis has gotten him to peak form.
RACE 5
#5 Tokyo (2-1): Won at the bottom level at Gulfstream two back. May have needed last race.  3 wins in 10 lifetime starts.
#7 Florencia (4-1): Strong presser has good chance if the race falls apart for the speed horses.
#1 Up Just in Time (5-1): Has early speed but usually fades. Not much other early speed in here gives him a chance to get an easy lead.
RACE 6
#1 Heart Rhythm (7-2): Has been running well in recent races good speed figures. The one to beat.
#3 One Nation (4-1): Keeneland shipper has faced tougher and fits well with these.
#6 Know It Now (6-1): Game effort in last. Should be able to factor into the exotics.
RACE 7
#5 Thrilling Baby (6-1): Bad first start at Woodbine in November on synthetic. Now in the competent hands of Linder and horse has solid pedigree. Improved in last 2. May run a big one today.
#3 Hilltop Honey (5-1): Passed tiring horses after a poor start in debut. May improve in second start.
#6 Whistling Fool (5-2): First time starter not facing much competition. May get a piece of the exotics.
RACE 8
#6 Dial Operator (6-1): Not much other early speed in here. Has been working well and if he gets loose he could go wire-to-wire.
#4 Thundershook (4-1): This closer could pick up the pieces if the speed fails. Good speed figures.
#5 D T Goodie (5-1): Very consistent speed figures are strong enough to get him into the exotics.
RACE 9
#5 Shero (2-1): Very strong races in last 3.  In excellent form. The one to beat.
#4 Evil Woman (5-1): Has the class and speed figures to be considered here.
#3 Always a Queen (5-2): Has been in good from and should run well enough to use in the exotics.
RACE 10
#4 Town Jak (8-5): Has been running very well. Looks much the best here.
#1 Spikes Shirl (15-1): Worth a look based on class drop. Will be competitive if he runs anywhere near his previous form.
#7 King's House (4-1): Have to respect his early speed. Could be tough to catch if he gets a clear lead.
RACE 11
#11 Tiz Effective (12-1): Showed good early speed and faded last time. Could run a big one today.
#2 Diesel (9-2): Another horse that showed some early speed and faded. Not much else in here and he might continue running this time.
#7 Liquor (3-1): Has been running pretty well lately and may get a piece of the exotics on this drop.
LATEST NEWS