PARX PICKS AND ANALYSIS: May 5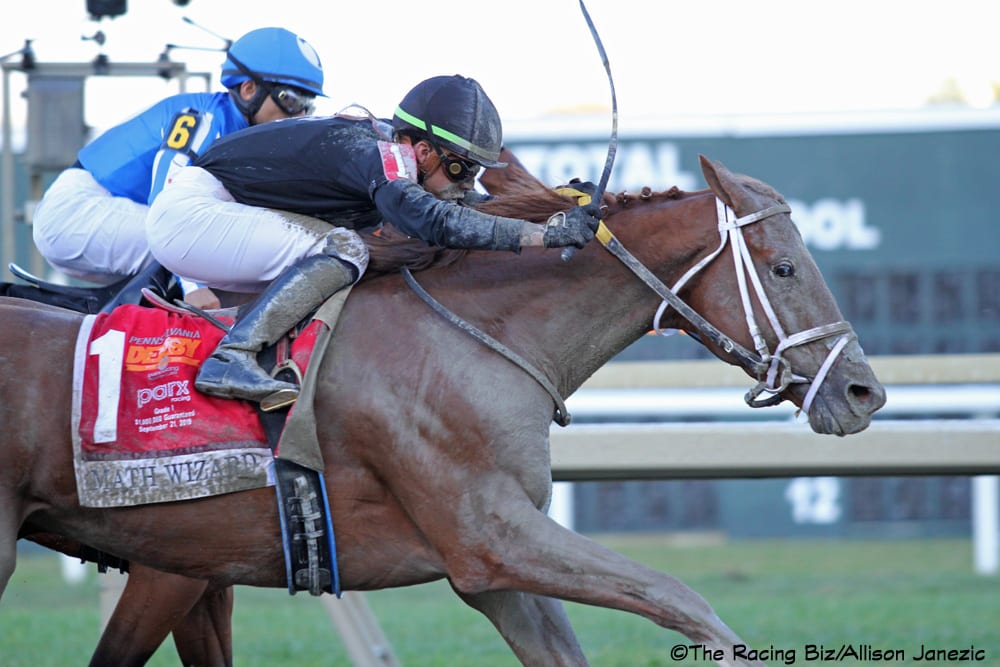 Note: Joe likes multi-race wagers, so horses in these may be considered for doubles and Pick 3s, in particular.
RACE 1
#2 S Man (3-1): Very bad break last time. A better start will put him in position to win
#4 Pylon (9-2): Has been running in allowance company with several others in the race. Fits well with 40K claimers.
#1 Super Houdini (9-5): Has run some decent races lately and should make it into the exotics.

PICK 4 WAGER (the following wagers are meant to cover a range of possibilities while putting more money behind those considered most likely):
$2 P4:     2/4/8/3
$1 P4:     1,4/4/8/3     2/1,2/8/3     2/4/2,5/3     2/4/8/1,5
$0.50 P4:     1,4/1,2/8/3    1,4/4/2,5/3    1,4/4/8/1,5     2/1,2/2,5/3    2/1,2/8/1,5     2/4/2,5/1,5 
TOTAL: $22.00
RACE 2
#4 Aegean Sea (7-2): Had trouble in last several races but can win if reverts to form.
#1A Mustn't Grumble (5-2): Ran well in last two. Linder has good stats under these circumstances.
#2 One Tough Rose (5-1): Speed on the rail gives him a chance here if he can get the lead and hold.
RACE 3
#8 Blackjack Jedi (3-1): Dropping to lowest level of career and if form matches last year will be competitive here,
#2 Spirit Wolf (9-2): Three-year-old dropping and seems to be improving. If he gets a problem free trip this could the day he clears this condition.
#5 J Wass (5-2): Another one in here who is running at the lowest level of his career. Should be with the leaders when they hit the line.
RACE 4
#3 Dubrovsky (4-1): Was in decent form last year before the layoff. Can win here if he runs those races back.
#5 Rings of Jupiter (5-2): Usually finds his way into the exotics at this level.
#1A Sunshine Wild (8-1): Longshot special. 8-year-old may have needed last two. Won at this level last year. Bet if greater than 10-1.
RACE 5
#4 Macho Jack (9-5): Aqueduct shipper has been running against better.
#3 Tomasco (10-1): Has not been running well lately but has shown early speed and not much to beat in here.
#5 G Daddy (4-1): Back down to 7500 claiming company where he belongs. Has a shot in this field.
RACE 6
#5 Street Tail (7-2): Has won at this level before and Guerrero does well with horses who have been idle more than 30 days.
#6 Royalty Salvatore (10-1): Ran some strong races at this level last year.
#7 Cowboy Mz (9-2): Second try at this level with good trainer-jockey combo.
RACE 7
#3 Castilleja (9-5): Has been producing good figures against better horses in Maryland.
#6 Going Going Gone (8-1): Ran decently against similar earlier this year.
#7 Beto's Girl (2-1): Won easily in a state bred allowance last time. In good enough form to get a piece of the exotics
RACE 8
#6 Mount Travers (2-1): Usually puts in a competitive effort and no reason for that to not continue today. Good speed figures.
#2 Violent Turbulence (6-1): Tried to duel with a classy horse last time and faltered.  Will sit off the pace this time.
#1A Shanghai Superfly (5-2): Pressing style and he will go by the others if the speed falters.
RACE 9
#5 My Boy Tate (2-1): Aqueduct shipper has figures consistently in the 90's. The one to beat.
#1 Press My Bets (5-1): Stakes race was a little too much for him but he should be competitive here.
#6 Flat Out Beautiful (6-1): Closer always makes a late run. Enough speed in here to give him a good chance.
RACE 10
#3 Positive Force (7-2): Short layoff after some bleeding last time. Always tries and looks the best in here
#5 Stormbeam (6-1): Fits well with this group and usually puts in a good effort.
#6 Heroic Officer (8-1): Showed early speed in last two and faded. Looks like she will keep running if asked.
LATEST NEWS