PARX PICKS AND ANALYSIS: MARCH 31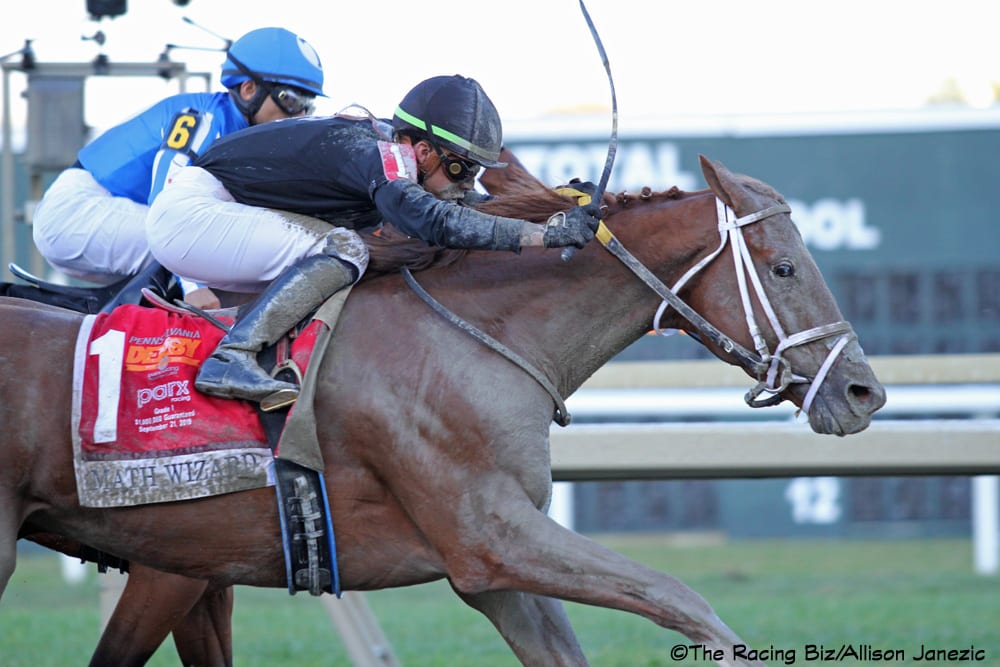 Note: Joe likes multi-race wagers, so horses in these may be considered for doubles and Pick 3s, in particular.
RACE 1
#1A Cape May Ferry (5-2): DQ'd last time but still ran a good race. A repeat of that effort will win this.
#3 West Fork (5-1): Made a late gain last time on the rail. Any improvement on that run will put him in contention.
#6 The Italian (8-5): Has been running well recently. Should be in contention.
PICK 4 WAGER (the following wagers are meant to cover a range of possibilities while putting more money behind those considered most likely):

$2.50 P4: 1/3/1/7
$1.00 P4: 3,6/3/1/7,   1/8/1/7,  1/3/6/7,  1/3/1/5,8
$0.50 P4:  3,6/8/1/7,   3,6/3/6/7,  3,6/3/1/5,8,  1/8/6/7,   1/8/1/5,8,   1/3/6/5,8,   1/3/3/7
Total: $15
RACE 2
#3 Savatiano (6-1): Keeps improving every race. May run a big one today.
#8 Call Fitzroy (3-1): Has been running well lately and may make it two in a row if he can break well.
#7 Spaceman (9-1): Moving down in company. Best back speed figures.
RACE 3
#1 Mija Bella (8-5): Has better speed figures than the others here, Should be able to handle these.
#6 Towson (20-1): Has some early speed.  Won at this level in September. Has speed if she keeps her head in the game.
#3 Anissa (3-1): Very bad start last time. If she gets off better this time she will be competitive here.
RACE 4
#7 Thrilling Baby (6-1): Bad first start at Woodbine in November on synthetic. Now in the competent hands of Linder and horse has solid pedigree with first time Lasix.
#5 Wham Bam Shrimp (7-2): Solid pedigree and nice workout pattern.
#8 Shetalkstomuch (5-1): Decent try in last. If the first time starters don't fire she has a shot.
RACE 5
#1 Tonka Flower (9-5): Has been running against tougher. Should be able to beat this group.
#4 Aced (5-1): Consistent runner dropping back down to a level where he won before.
#2 Federal Case (10-1): Second back after impressive win. May be able to step up to next level and win again.
RACE 6
#3 I'm Not Joking (8-5): Best class in the field and decent speed figures make her the top choice.
#1 Oceano Rosso (6-1): Best early speed makes this mare a threat.
#2 Enigmatica (6-1): Other speed horse could fill out the trifecta.
RACE 7
#5 Strong Breeze (6-1): Abrams seems to have a good feeling for this horse's ability. He does well bringing back horses from a layoff.
#2 True Boldness (7-2): Good speed figures and fits well with these.
#7 Ninetyeightoctane (9-2): Ninetyeightoctane. Nuff said.
RACE 8
#1 Incite (8-5): Very competitive last time under these conditions.
#7 Strawberry Red (6-1): Dull in last effort after only an eight-day gap between races. Should do better this time with an eight-week break. Good workout on 24 March.
#5 Wise Jude (7-2): Fits well here. Second try at restricted from open company.
RACE 9
#1A Lula's Roadrunner (8-5): This filly held her own in open optional claiming races, now returning to restricted company, which will help her effort
#1 Rolls Royce Joyce (8-5): Speed figures are superior to others in this field but often settles for the place spot.
#7 Misquillo (6-1): Will be in the picture if she runs her best.
RACE 10
#5 Bird King (9-5): More early speed in this race than last and pressing style should help him here.
#6 Rock on Luke (2-1): Wired the field under same conditions last time. This time he may have company from Gold Rush Dancer.
#3 Deal Driven (5-1): Will be up with the leaders running early again and should figure into the trifecta.
RACE 11
#1 Mission Oberon (6-1): Keeps dropping in class. Speed figures say he might have found the right level.
#2 Shandian (9-2): Nice win last time and he could win again at the next condition
#10 Royal Coup (6-1): Was overmatched last time out. May have found a level where he can be competitive.
LATEST NEWS