PARX PICKS AND ANALYSIS: MARCH 30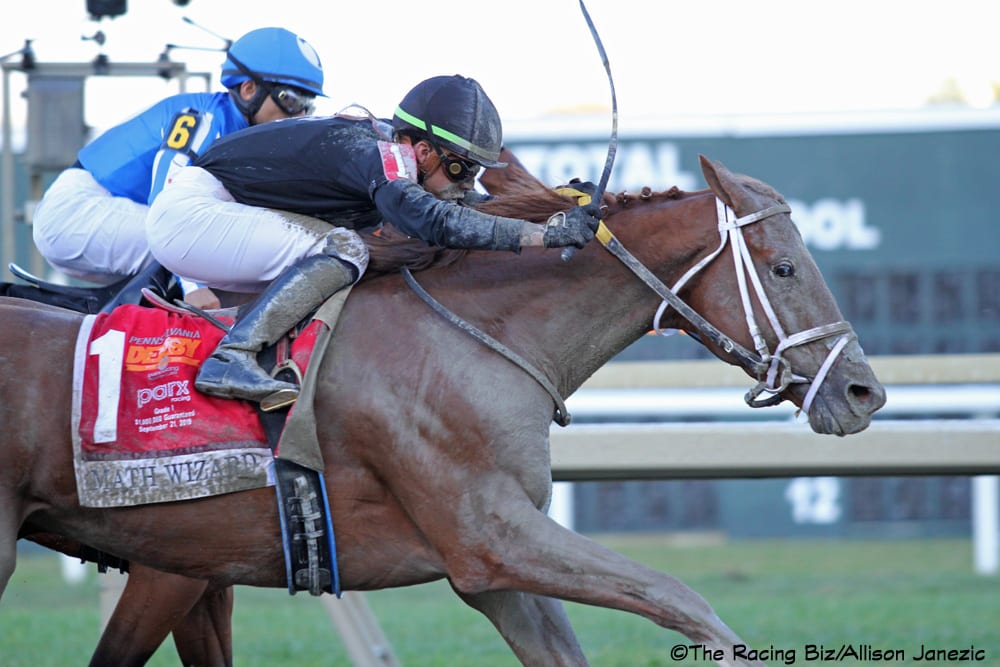 Note: Joe likes multi-race wagers, so horses in these may be considered for doubles and Pick 3s, in particular.
RACE 1
#3 Irish Colonel (9-2): 8-year-old ran well after layoff last time and another 90-day freshening may have done him well.
#7 La Waun (3-1): Has been running very consistently since the move to Parx
#6 Pitching Ari (8-1): Should improve in second try of 4-year-old season after being freshened.

PICK 4 WAGER (the following wagers are meant to cover a range of possibilities while putting more money behind those considered most likely):

$2.50 P4: 3/6/1/5
$1.50 P4: 7/6/1/5,  3/7/1/5,  3/6/2/5,  3/6/1/7
$1.00 P4: 7/7/1/5.  7/6/2/5, 7/6/1/7, 3/7/2/5, 3/7/1/7, 3/6/2/7, 6/6/1/5, 3/5/1/5, 3/6/1/2
Total $17.50
RACE 2
#6 Nikkis Kitten (4-1): First time at this level. Others here have had many chances and failed.
#7 Fashion Nova (6-1): Raced greenly and went wide last time. Should improve today
#5 Page Eleven (7-2): Has run second often at this level. Weak field should leave him in top three again.
RACE 3
#1 Mr. Roundtree (7-2): Very consistent and will be running late.
#2 Mr Thrifty (2-1): Last two were bad but may improve with Pennington back up.
RACE 4
#5 Oak Creek Canyon (2-1): Second race at this level since shipping to Parx. First with new trainer and may show improvement.
#7 Almost Evil (7-2): Only one with any early speed in the race makes her a possibility.
#2 Wanna Be Regal (5-1): If this 7-year-old maiden ever wins it might be against this bunch.
RACE 5
#5 Don't Make It Easy (5-2): Just qualified for this condition and dropping to lowest level he has competed at in some time.
#7 Hey Jabber Jaw (4-1): Most consistent horse in the race, usually gives a good effort.
#6 Pharaoh's City (9-2): Has run well at this condition before. Will be competitive if he can run a figure like last time.
RACE 6
#2 Kristi's Copilot (5-1): Back to a one-turn sprint, which he seems to prefer. Can win if he gets back to his December form.
#4 Bob's My Uncle (6-1): Although he ran poorly last time it was a game effort two back. This 9-year-old still has some gas in the tank.
RACE 7
#8 Lookingforanewspot (5-1): Came back from layoff in good form. A repeat of last effort should be enough to handle these.
#4 Prospective Belle (4-1}: Betancourt does well on first after claim and this horse won at this level in December.
RACE 8
#6 Commissioner Dave (7-2): It appears he might be able to handle 12 furlongs. Ran second at this distance before.
#5 Lookin At Roses (4-1): Another horse who looks like he might still be running in the stretch of this marathon.
#2 O'Kram (9-5): Good speed figures but 1 1/2-mile distance is a question mark.
RACE 9
#9 Strawberry Red (10-1): Dull in last effort after only an eight day gap between races. Should do better this time with an eight-week break. Good workout on 24 March.
#5 Monteleone (3-1): Consistent recent top speed figures and will be running late.
#8 Flashy Kyem (4-1): Very consistent and should be in the Trifecta if he runs his normal race.
RACE 10
#1A Wentz (7-2): Closed late on a real tough horse in Breezy Gust last time. Has a very good shot against this field
#6 Mount Travers (5-1): Usually puts in a competitive effort and no reason for that to not continue today.
#7 Optic Way (4-1): Front-running style and competitive speed figures make him dangerous.
RACE 11
#3 Lorden's Love (4-1): Only speed in here and a fast workout on 17 March. Dangerous if she gets clear early.
#8 Sweet Blame (8-1): Has been dull since the claim but now returning to the level where she won in November.
LATEST NEWS