PARX PICKS AND ANALYSIS: MARCH 24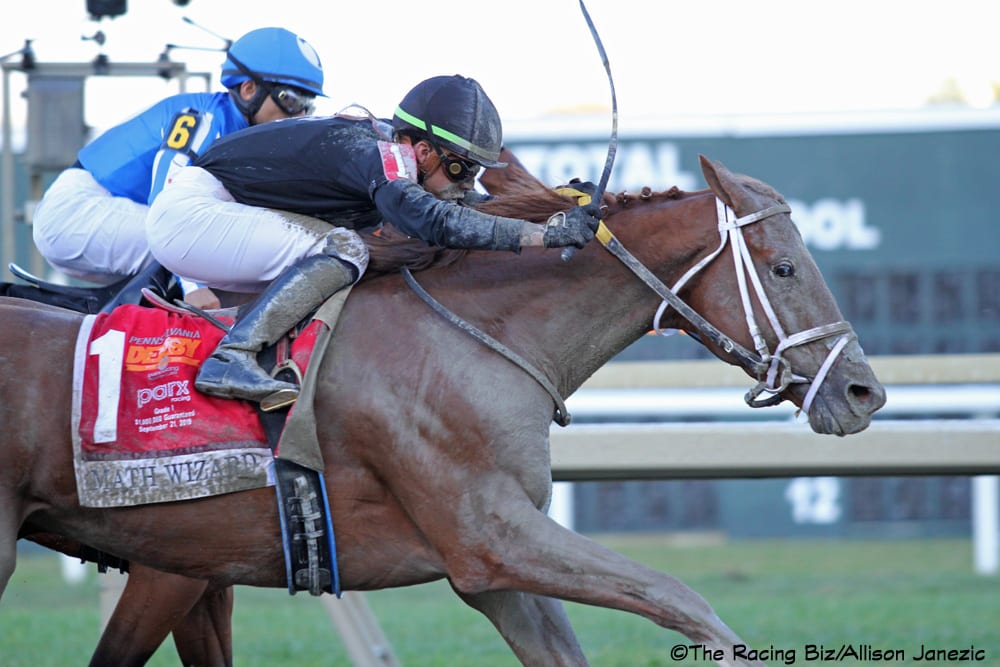 Note: Joe likes multi-race wagers, so horses in these may be considered for doubles and Pick 3s, in particular.
RACE 1
#7 Third Time Success (3-1): Should have won last time but Jockey fell asleep. If she gets the lead again, these plodders won't catch her.
#4 Mo Party (9-5): Even effort in first out and should improve with one race under her belt and dropping to Md 10,000.

PICK 3 WAGER (the following wagers are meant to cover a range of possibilities while putting more money behind those considered most likely):
$2 P3: 7/3/5,  4/3/5,  7/6/5,  7/3/2,8
$1 P3: 4/6/5,  4/3/2,8,  7/6/2,8
Total: $15
RACE 2
#3 Rose of Dublin (7-2): Just missed last time against better horses. Can win with a repeat of that effort.
#6 Abaco Dream (4-1): In good form and running against many of the same horses she beat at the Clm 5000 level.
RACE 3
#5 Boy Who Cried Wolf (15-1): His sire Race Day has produced 16% winners on 3-year-olds and up first-time starters. Good work on 13 Feb and solid workout pattern. Has a chance.
#2 Don't Recall (9-5): Has been knocking on the door and weak field here makes him a strong contender.
#8 Bucks Are Moving (3-1): Lightly raced gelding likely to improve in 4th race, although Mosco does not often win off the claim.
RACE 4
#7 Come and Get It (9-2): Weak competition and early running style give him an advantage over these.
#1 Enough Love (5-1): Just missed last time after getting passed by an off the pace horse. May enjoy the turn back.
#8 Triple Jump (5-2): Has not won in a long time but the drop to this level gives him a chance. Speed figures higher than most of these
RACE 5
#5 No Fly Zone (7-2): Was on the pace last race and just missed when passed by a closer.
#7 Grays the Bar (3-1): Has been competitive at this level. May have tried to go too fast early last time.
RACE 6
#1 Terpeye (9-2): Second try at this level after a decent try at Clm16000 last time.
#2 Li'lbito'charm (4-1): Decent recent from but first start with an unknown trainer.
#6 Lucky Trinity (3-1): Big class drop but needs to show large improvement over recent effort.

WAGER: Good race to play a Daily Double:
$4 Double: 1/1  
$2 Double 1/3,   2,6/1
$1 double 2,6/3   
Total  $13
RACE 7
#1 Jenna's Lil Agnes (5-1): Flashed some speed before fading in first try. If the filly is sound after 4 month layoff she should improve.
#3 Beto's Girl (5-1): Tampa shipper had been running decent figures in open maiden calming races.
#1A Powwa of Love (5-1): By Uptowncharlybrown whose get have a decent record on their first try.
RACE 8
#4 Luna Azteca (5-1): Had a few decent races recently, which is more than can be said for most of this field.
#3 Midnight Sky (5-1): Won at Pen last time in a $4000 claimer so still eligible for this race.
#7 Mrs. Crews (4-1): Has a shot at the bottom end of the trifecta if she runs one her better races.
RACE 9
#2 Sir Lenny (2-1): Won for fun last time at Laurel. Should repeat.
#6 American Chestnut (9-2): Has been facing N1X allowance horses at Pen, now in for a claim for the first time.
#7 American Fleet (3-1): Can never count a Ness horse out, but others here have run faster.
RACE 10
#1 Bronxville (6-1): New York Shipper tries Parx for second time. Facing a softer group than he did two weeks ago. May get the lead and if so, he will be dangerous.
#9 Judicial Restraint (2-1): New York shipper dropping to lowest level of career. Needed last race after 4-month layoff.
#6 Markofthemaker (4-1): Looked sharp in recent efforts. Should be competitive here.
LATEST NEWS