PARX PICKS AND ANALYSIS: MARCH 23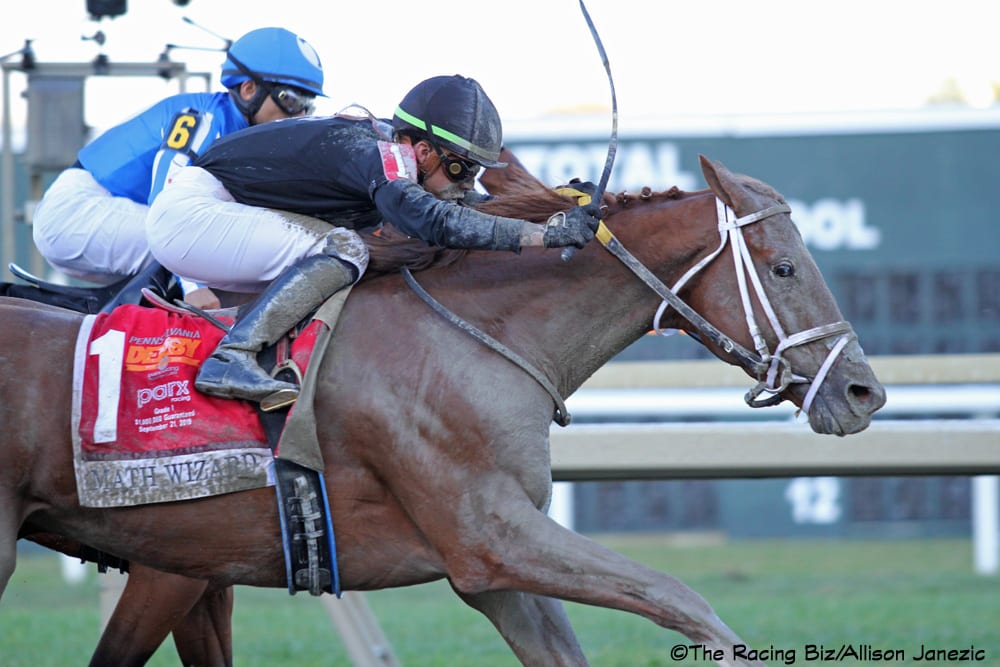 Note: Joe likes multi-race wagers, so horses in these may be considered for doubles and Pick 3s, in particular.
RACE 1
#3 Pharaoh's City (7/2): Claimed back by former trainer who knows horse well and does well off the claim.
#6 Baduke (9/5): Won at this level back in August and has superior speed figures.
#2 Capt. Grider (6-1): Has been running poorly since return but has back class.
RACE 2
#8 Bang the Drum (5-1): Has been competitive at this level since dropping down.
#3 Bolita Boyz (6-1): Moving down from open claiming to N2Y
RACE 3
#1 Audience of One (8-5): Ran well facing a really tough rival last time. Faces easier competition this time.
#4 Jump Shot (4-1): Passed tiring horses in last, can be competitive if he runs back to his January form

PICK 3 WAGER (the following wagers are meant to cover a range of possibilities while putting more money behind those considered most likely):

$3 P3: 1/3/5
$2 P3: 4/3/5, 1/9/5, 1/3/3
$1 P3: 4/9/5, 4/3/3, 1/9/3, 1/7/5, 1/3/6
Total: $14
RACE 4
#3 Hey Dewzpots (8-1): Keeps improving every race. Can win with any improvement over last.
#9 Clever Start (8-1): Should improve on second start after a decent outing against Md30K state breds in December.
#7 Tilsa (7-2): Best speed figures and trying Md 20000 for the 3rd time.
RACE 5
#5 Dilly Dilly Philly (7-2): Ran well in last two and Lake can get on a roll and keep a horse in form.
#3 Magical Anna (5-2): Laurel shipper has been running against better. Should compete for a win today.
#6 Hero for Hire (9-5): Just missed in last two at this level.
RACE 6
#1 Mr. Doda (9-5): Back down to a reasonable level after trying graded stakes. Speed figures in the 70's is far better than any of these.
#6 Stretch the Truth (7-2): Good early speed, can wire the field if he gets loose at 5 1/2F but may have some company from Iron Lad.
RACE 7
#7 Heroic Officer: (6-1): Showed early speed in last two and faded. Looks like she will keep running if asked.
#6 Bangle Gal (3-1): Has had many chances at this level, but soft competition this time may lead to a win.
RACE 8
#9 Bellarmine Hall (2-1): Fast works and has been running with better. This Jockey-trainer combo has won at a 28% clip at Parx in '20-21.
#1 Fray (8-1): Lack of strong competition makes him likely to be able to move up to the next condition and factor into the exacta.
#5 Kid Macho (7-2): Not running well lately but over 50% class drop may wake him up.

WAGER: Good race to play a trifecta
$1.00 Trifecta Wheel: 1,5,9/1,5,9/1,9
$2.00 Trifecta: 9,1,5
$1.00 Trifecta: 1,9,5
Total: $7.00
RACE 9
#10 He's a Shooter (5-1): Back after 7-month layoff. Working well and back to MSW may mean barn think he has potential.
#2 Doctor Doom (3-1): After a respectable try at Aqueduct at Md4000 back to MSW at PARX. Has probably still not run his best race.
#3 Ruffy (9-2): Good speed figures and a hot trainer make him playable.
RACE 10
#9 Sambam (9-2): Diaz goes back to Silvera who won on him before. 83 Beyer in last and can win if he repeats that effort.
#1 Bouncing Around (5-2): Has been getting off to slow starts. Can win if Pennington can get him to break well.
#5 Baringer Spring (5-1): Horse has some talent but throws in clunkers occasionally.
RACE 11
#3 Misdriven (8-1): Can win here if he gets back to the form she had in December.
#8 Party in the Sand (8-1): Dropping here and chances improve by not facing any stiff competition in this one.
#10 Volodina (3-1): Won last two convincingly but open claiming will be tougher.
LATEST NEWS