PARX PICKS AND ANALYSIS: MARCH 17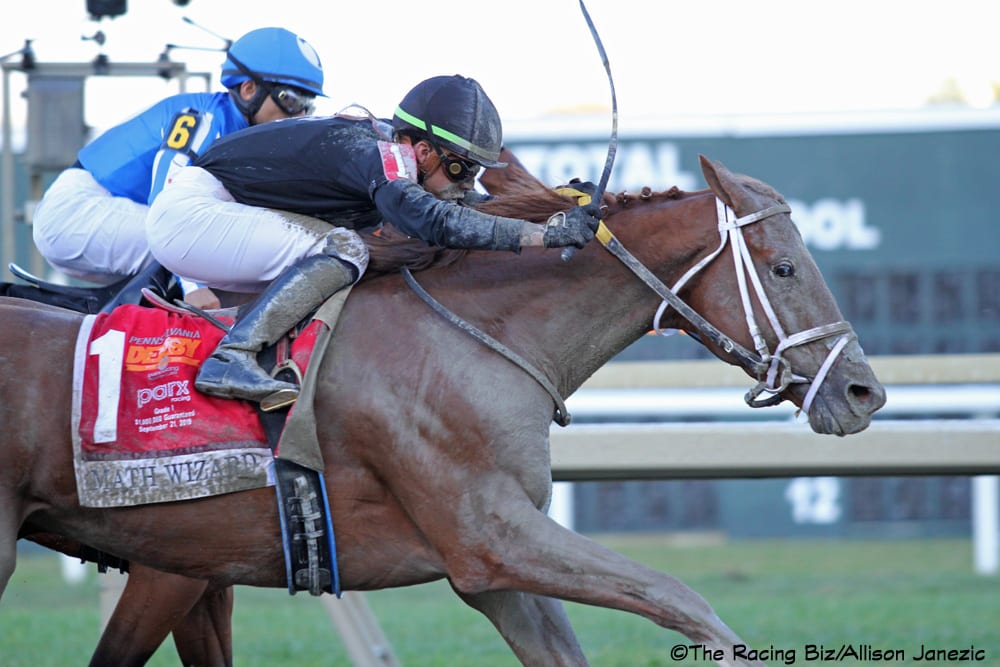 Note: Joe likes multi-race wagers, so horses in these may be considered for doubles and Pick 3s, in particular.
RACE 1
#1 Call Fitzroy (7-2): Has been running well lately and may make it two in a row if he can get break well.
#3 Peachy Keen (9-5): Laurel shipper will win if he can run back to earlier speed figures, but has regressed in recent races.
PICK 3 WAGER (the following wagers are meant to cover a range of possibilities while putting more money behind those considered most likely):

$3 P3: 1/4/2
$2 P3: 3/4/2, 1/2/2, 1/4/4
$1 P3: 3/2/2, 3/4/4, 1/2/4, 1/4/1
Total: $13
RACE 2
#4 Cape Cod Sally (5-1): Was going well in last race before trouble. Three-year-old has ascending speed figures and may run a big one here.
#2 Lady Progurt (4-1): Tried to go too fast early last time. Can win if he rates to a reasonable pace.
RACE 3
#2 Three Phase (5-2): Dropping to lowest level of career and speed figures are superior to others here.
#4 Freiburg (5-1): Almost fell at the start last time and got a very poor start. Looked like he may have wanted more distance which he will be getting today.
#1 Sunshine Wild (8-1): Longshot special. 8-year-old may have needed last. Won at this level last year.

LONGSHOT: Playable if >10-1.
RACE 4
#2 Angel Embrace (8-1): Tampa shipper trying dirt for the second time. Linder at 26% when taking over the training duties.
#5 Mutannaahy (4-1): Had some trouble last time in a race that favored speed. Can win if he slightly improves his debut performance.
#9 Kirk's Girl (5-1): Appears to be rounding into form after a strong effort in last against the bias.
RACE 5
#1 Diesel (5-1): Worth taking a shot with the Scott Lake firster since no other horse in this race looks unbeatable. Lake has no winners with first time starters this year but has done better with them in the past.
#5 Angry American (3-1): Speed figures have been improving and the colt will be competitive if he repeats last.
RACE 6
#3 Fine One Won (5-2): Won for fun in her last race. Will win again if she can repeat.
#5 Our Flirtation (4-1): Dropping to lowest level of career. Drop may very well be what he needs to win.
#9 Go Metro Girl (5-1): Should improve on second after layoff. Showed some early speed last out.
RACE 7
#7 Beautiful Grace (4-1): Was going very well last time stumbled badly at the 3/16. Can win if she has a clear trip
#4 It Can (9-2): Has run very well at this level. Was overmatched in a stakes race but is now moving back down.
#3 Aegean Sea (3-1): Had trouble last race but can win if reverts to form.
RACE 8
#3 Unbridledadventure (8-5): Closer dropping down to an easier level. Enough speed in this race to help her closing style.
#5 Handle With Care (3-1) : Won 3 of last 4 and Noble is a hot trainer.
#2 Slingin Sammy B (8-1): Had trouble on wet track last few races. Track should be dry today where he has fared better.
RACE 9
#2 Sheer Flattery (3-1): Strong speed figures and fits well here.
#4 Kadens Courage (8-1): Tired in a duel last time, but strong at this level previously.
#7 Seat of Honor (5-1): Very consistent and can win here if he equals two back.
RACE 10
#4 Cousin Basil (2-1): Has held her own facing much tougher at Aqueduct.
#6 Judi Blue Eyes (7-2): Laurel shipper won last two when she came to Parx.
RACE 11
#5 Powerful Venezuela (4-1): Has been facing better and dropping to lowest level of career. Speed figures make him competitive here.
#9 Printer (9-2): Has been knocking on the door. Multiple trainers believe he is worth having in their barn.
LATEST NEWS