PARX PICKS AND ANALYSIS: MARCH 9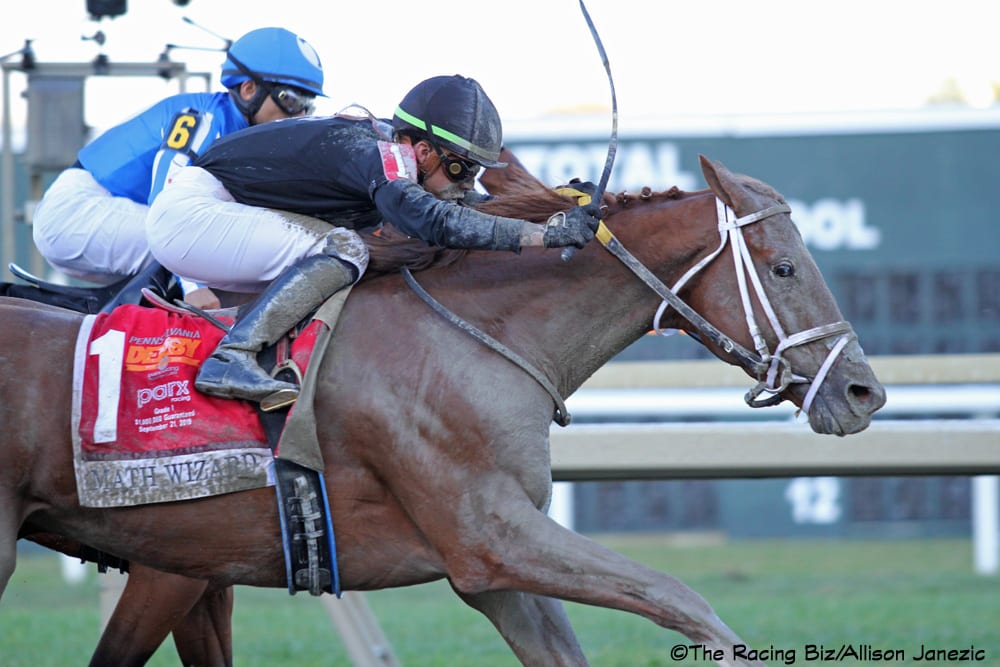 Note: Joe likes multi-race wagers, so horses in these may be considered for doubles and Pick 3s, in particular.
RACE 1
#1 Brananx (8-5): Santa Anita shipper had trouble last race. Class drop makes him the one to beat.
#5 Dr. Grunseich (5-1): Aqueduct shipper should improve on the drop. Fast work 28 Jan at Belmont.

PICK 3 WAGER (the following wagers are meant to cover a range of possibilities while putting more money behind those considered most likely):

$3 P3: 1/7/3
$2 P3 wagers: 5/7/3, 1/5/3, 1/7/4, 5/5/3, 5/7/4, 1/5/4
TOTAL: $15
RACE 2
#7 Towson (6-1): Lone speed. Won at this level in September. Rank last race along rail. Has speed if she keeps her head in the game.
#5 Princess Mikayah (8-1): Flashed some speed last out after a poor start
RACE 3
#3 Markofthemaker (5-2): Had trouble last out, but looks like he might not mind the 1 1/8 miles.
#4 Commissioner Dave (6-1): May be running late. Not much else in here that he needs to beat to be competitive.

POSSIBLE WAGER: Exacta box 3/4
RACE 4
#3 Secretive Revenge (7-2): Coming back after 8 months and moving down in class for a trainer that does well after long layoffs.
#4 Miraculousblessing (8-5): Speed figures make this gelding competitive in this field.
#2 Page Eleven (5-1): Has been competitive at this level recently
RACE 5
#2 Catch Fire (4-1): Has been running well lately and this race sets up well for a presser.
#4 Inspiring Justice (3-1): Best early speed and winner of 3 in a row.
RACE 6
#7 Belongs to Babe (4-1): Looked out of sorts two back and then took a 4 month break. Should improve in second race back
#5 Light Up Night (6-1): Second back after 90 day layoff and if this filly returns to her earlier form she will be competitive here.
RACE 7
#2 Instafamous (4-1): Faced tougher last time and working well
#9 Alfatei (7-2) Running style and speed figures fit well with this group
#7 Brees Bayou (5-2): Ran well at this distance last out. A repeat of that race will put him in contention.
RACE 8
#4 Dr B (7-2): Sharp workout on 26 Feb and Reid strong with second time starters.
#3 Go Lime (10-1): Nice workout pattern may mean lead to an an improved performance.
#6 Norrin Radd (10-1): Ran very green in first try. That experience should help him here.
RACE 9
#4 Dreaming Diamonds (5-2): Mare's pressing style should work well in a race with lots of early speed.
#7 Love On Fire (3-1): Consistent mare should make an impact here. Didn't like slop last time, fast track today.
RACE 10
#1 Sexyama (12-1): Coming back after 6 days and dropping for a trainer who does well on 2nd after a layoff.
#7 Mia Bella Rossa (5-2): Consistent mare almost always puts in a strong effort.
#4 Checkbouncin Billy (8-1): Another closer who will need a fast pace to win
RACE 11
#8 Democratic (9-2): Dropping to lowest level of career. Competitive at a price if he returns to his fall form.
#10 Yes for Less (6-1): Gulfstream shipper has nine seconds in his career. He may prefer the PARX surface.
#9 Beachside (4-1): Form seems to be improving.
LATEST NEWS