PARX PICKS AND ANALYSIS: MARCH 3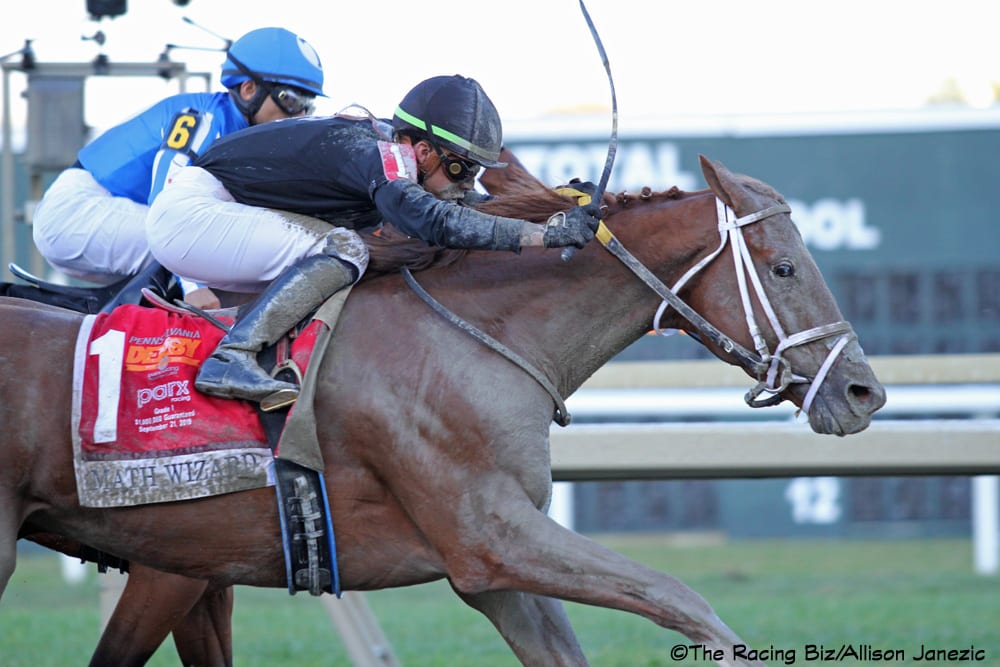 Note: Joe likes multi-race wagers, so horses in these may be considered for doubles and Pick 3s, in particular.
RACE 1
#3 One Niner Tango (5-2): Best speed figures and dropping 50% claiming value where Lake wins at a 22% rate.
#4 Bucks Are Moving (4-1): Lightly raced gelding likely to improve in third race.

PICK 3 WAGER (the following wagers are meant to cover a range of possibilities while putting more money behind those considered most likely):

$3 P3: 3/5/6
$2 P3 wagers: 4/5/6, 3/7/6, 3/5/7, 4/7/6, 4/5/7, 3/7/7
TOTAL: $15
RACE 2
#5 Rose of Dublin (9-2): Should improve second after layoff. Can win at good odds if she runs her best.
#7 Princess Palomar (8-5): Gritty 8-year-old is very consistent.
RACE 3
#6 Karen's Gem (5-1): Showed some closing ability last out after bad start. Dropping back to competitive claiming level and stretching out to 7F.
#7 Street Appeal (6-1): Moving down to 8000 after running a solid race at 12,500 two back. 7F distance is a question mark as she has never run over 6F. Trainer may be experimenting with the distance

POSSIBLE WAGER: $10 win #6
RACE 4
#4 Call Fitzroy (8-5): Has been knocking on the door at this level but has had many chances and failed. Weak field in here may put him over the top.
#3 English Charmer (8-1): Lightly raced 4-year-old is showing signs of improvement.
RACE 5
#5 Gray Gary (7-2): Dropping from N2Y to N1Y. A repeat performance of last race will make him competitive,
#1 Mucho Mas Grande (2-1): Was running well in the summer at Finger Lakes. Dropping to easier level.
#7 Sunshine Wild (10-1): 8-year-old dropping back to a level he won at last year.

LONGSHOT PLAY: Playable at >10-1
RACE 6
#2 Penance(5-2): Didn't take to slop on 23 Feb. Diaz bringing his new claim back 8 days later and will be competitive if she runs back to previous form.
#3 Hero for Hire (9-2): Jockey switch after all kinds of trouble in last race.
RACE 7
#7 Runs for Luck (10-1): Back to a more favorable distance. Ten-year-old gelding is past his prime but may still have a good race or two left in him. No other quality horses in here.
#10 Manahawkin (5-2): Closed well in last at this level.
#4 Draxhall Woods (12-1):  If race falls apart, he may pick up the pieces late.

LONGSHOT PLAY: Playable at >10-1
RACE 8
#6 Tomasco (9-2): PA-bred dropping to lowest level of career. Second race back with trainer who won with him on 23 Dec at claim 12,500
#2 Federal Case (5-2): Tampa shipper has been facing tougher and has remained competitive.
RACE 9
#4 Beren (2-1): Coming off a big MSW win. Should dominate these.
#3 Indian Lake (3-1): The other logical horse if Beren does not fire.
RACE 10
#6 Iywaan (2-1): Penn shipper winner of 3 straight
#3 Souper Fly Over (3-1): Won last race at this level and speed figures make him competitive against this group.
#8 Postino's Vow (20-1): Has run well at this level in the past
RACE 11
#4 Zitman (7-2): Won an 8000 claimer 2 back. Dropping in for a 5000 tag may be what this 7-year-old needs to win again.
#1 Klaatu (9-2): 7-year-old running for 5000 for the first time in a long time should be competitive here.
#2 Printer (5-1): Has been knocking on the door. Multiple trainers believe he is worth having in their barn.
LATEST NEWS