Laurel Park picks and ponderings December 5, 2020
In which we pick the races from Laurel Park each day…
Post time: 12:25 p.m.
Carryovers: Rainbow Jackpot Pick 6 — $4,492 Super High 5 — $0 Late Pick 5 — $0
ANALYSIS
RACE 1: MAIDEN CLAIMING $16,000, 3-YEAR-OLDS AND UP, 5 1/2 FURLONGS
5-3-1-4
#5 Commissioner Biggs (1/1): Makes his first start since May 31, when he chased the leaders and ended up third in a maiden claiming contest on the grass. He's making his third start, and I always like to see lightly-raced horses in spots like this. He's shown that he can hang around fast paces and have enough left for the end. Worth of favoritism. 
#3 Tiz Auction Time (5/2): Another one who's lightly-raced. He took a step backwards second time out after a decent debut, stopping badly after showing brief foot. He's had a good workout since then, so there's some reason for optimism that he'll run a bit better. It's not like he has to face much in here, outside of the big favorite.
#1 The Fire Within (6/1): First-timer for Mary Eppler has a string of good workouts coming in here. In a race where almost no one has shown ability, he's worth a flyer.
RACE 2: CLAIMING $10,000 (N/W2L), 3-YEAR-OLDS AND UP, 1 MILE
8-1-4-2
#8 Ghost on a Mission (8/5): He's in top form right now, with three of his last four brisnet figures being at least a 75. Cuts back from a mile, after finishing second while being outkicked against a slightly tougher field last out.
#1 Glorious Weekend (3/1): Exits the same race as Ghost on a Mission. This one made very mild ground in the stretch to get third. He's been getting somewhat better as the year as gone on, and this is the softest field he's faced recently. It's possible that his plodding rally will be enough in here.
#4 Wind Ridge (5/1): Ran figures as high as 87 earlier in the year down in Florida. His races since coming back to Maryland haven't been quite up to that standard, but he improved a little bit in his last race, which was his first off a brief freshening. He's got a high ceiling and room for improvement.
RACE 3: MAIDEN CLAIMING $25,000, 2-YEAR-OLDS, 1 MILE
5-7-4-6
#5 Charlie Potatoes (7/2): Took a big step forward third time out, finishing second while chasing a loose leader. The only downside is his one bad race came at a mile, which is the distance he has to run at today. He did run on well in his last race, so hopefully it's part of a trend of overall improvement.
#7 Da Chrome (9/2): Earned a solid 66, the third-best last-out figure in the race, on debut last out. He closed well in the last eighth of that 5 1/2 furlong contest. That doesn't necessarily mean he can go longer distances, but it is a sign he has at least some ability.
#4 Pirate's Punch (3/1): He got clear in the stretch in his last start, but faded in the last eighth. It was a big effort for his first start in almost three months, and he earned a lifetime top figure by eight points. It's also the first time he wasn't beaten at least 20 lengths. Can he keep moving forward?
ANALYSIS
RACE 4: ALLOWANCE OPTIONAL CLAIMING (N/W3X), 3-YEAR-OLDS AND UP, FILLIES AND MARES, 6 FURLONGS
3-2-4-6
#3 I'm the Talent (5/2): There's no shame in finishing second to Malibu Mischief, which is what this one did last out. In the race before that, she withstood pace pressure to hang on and win in a tough allowance race at Parx. She looks like one of the speeds in here, so she definitely won't be pace-compromised. Look for her to put in a good battle on the front end.
#2 Cause I'm Edgy (9/5): She's probably the most likely winner, but it's still hard to take low odds on a horse who hasn't raced since February. However, if you would do it for any horse, it's her. She blew away a n/w2x allowance field in her last race, earning a giant figure of 96. Her workouts since then have been monstrous. It's very possible her people are using this race as a prep for the Willa On the Move Stakes in a few weeks.
#4 SW Briar Rose (7/2): Looks for a rebound after a disappointing try in the Primonetta Stakes last out. Ran some big speed figures earlier in the year, and has some of the best average late pace figures in this race.
RACE 5 – CLAIMING $5,000 (CONDITIONED), 3-YEAR-OLDS AND UP, FILLIES AND MARES, 6 1/2 FURLONGS
1-4-6-8
#1 Splendor Gal (3/1): Recovered nicely after a bad break to lose by a nose against similar last out. When she broke cleanly two starts back, she absolutely smashed a slightly weaker field at Delaware Park. Should be tough on the lead, assuming she gets away well.
#4 Ragtime Suzy (5/2): Ran impressively on the lead last out. She dueled with the big favorite, disposed of her easily, and drew off to win handily. The figure of 78 that she earned in that race is a lifetime top. It's hard to run career-best figures two starts in a row, but she may not have to in this race. 
#6 I'mthekat'smeow (3/1): While her figures have been steadily solid, it's hard to shake the image of her last race. After all, getting outkicked by a horse liked Greasedlightning, especially after sitting the trip as the favorite, is never a good thing. She's hit the board in all four of her local starts, so if you're playing an exacta or a trifecta, she's a good play there.
RACE 6: ALLOWANCE (N/W1X), 3-YEAR-OLDS AND UP, 6 FURLONGS
5-8-6-7
#5 Moose Lodge (2/1): Local players have been waiting a while for this one's return. He broke his maiden impressively at Monmouth Park, earning a giant figure of 94. He was a solid third in his return effort, after falling a bit further off the pace then he might have liked. He's been scratched twice since then, with the most recent one being a vet scratch. Has a workout under his belt since then, so I imagine whatever ailed him in that race has since been cured. Looms large against these.
#8 McCain (4/1): Tries winners for the first time, after an impressive maiden-breaking effort last out. He ran a career-high figure of 85, in his second start off the layoff. Should apply plenty of pace pressure and sit a great trip. 
#6 Saltin' the Rim (12/1): Another one coming off an impressive maiden score. This one came from well out of it, drawing off impressively after a slow break. He ran a figure of 78 in that race, which is a cut below what he needs in here. However, it was his debut race, so there's certainly room for him to improve. Definitely a prime longshot.
ANALYSIS
RACE 7 – MARYLAND JUVENILE FILLIES CHAMPIONSHIP, 2-YEAR-OLDS, FILLIES, MD-BRED, 7 FURLONGS
9-2-7-1
#9 Miss Nondescript (4/1): A perfect 2-for-2, with both her victories being desperate finishes. She won the Maryland Million Lassie last out, closing strongly down the stretch to nail Street Lute on the wire. She got a fast pace to run into, but it's not like the leaders melted down in that race, and she'll face a lot of those same horses here. Once again a serious closing threat.
#2 Street Lute (3/1): She got nailed on the line by Miss Nondescript in the Lassie, but she shook off the defeat and beat a solid field in the Smart Halo Stakes. She has good tactical speed, so she can rate off the speedsters, then pounce when they get tired. Has a good punch of her own, and will try to get the jump on Miss Nondescript. If she wins this race, it'll be her third stakes victory. 
#7 Maxine's Tap Room (4/1): Lasted on a solid pace to break her maiden impressively at Keeneland. The other two horses she dueled with finished up the track. The runner-up in that race, Hindsight, came back to win a maiden special weight at Churchill Downs by 3/4 of a length.
RACE 8- MARYLAND JUVENILE FUTURITY, 2-YEAR-OLDS, MD-BRED, 7 FURLONGS
3-5-6-1
#3 Jaxon Traveler (4/5): It's hard to be more impressive than he was in his first two starts. He won those races by a combined fourteen lengths, including a n/w1x win last out where no one even came close to him. He'll be odds-on in this race, but he's 66/1 right now in the Las Vegas Kentucky Derby future book. If he runs them off their feet again, that price could go down quite a bit. 
#5 Alwaysinahurry (7/2): He wasn't as flashy in victory as Jaxon Traveler was last out, but it was still a game effort. He closed well going seven furlongs, getting up by a head over a highly-touted Mike Stidham trainee. The lightbulb has gone on, with two wins in his last three races. Should close well and pick up some pieces behind Jaxon Traveler.
#6 Ain't Da Beer Cold (15/1): He's had some weird things happen to him in his career, but he finally put it all together in his last race. Lasted on a fast pace going 1 1/16 miles, and held on to win by a neck, with a career-best figure of 89. He's not fast enough to go with Jaxon Traveler early, but he can sit off the pace and, at least, hold off his rivals.
RACE 9 – CLAIMING $5,000 (N/W2L), 3-YEAR-OLDS AND UP, 6 FURLONGS
6-8-3-1
#6 Talented Dr. B (9/2): After some good races going shorter, he laid an egg when he tried to go a mile last out. He was showing signs of improvement in 5 1/2 furlong contests, showing speed and holding on a bit better each time. Gets blinkers off here; trainer Ricardo d'Angelo is 3-for-6 when taking them off in recent times.
#8 Nic Nic Boom (7/2): He's been steadily running figures in the upper 60s, which fit right in with these. Struggled at the $10,000 n/w2L level after a solid maiden-breaking effort, but should find this level more to his liking.
#3 Catch Ya Later Bro (1/1): While he ran some big races against better last winter at Tampa Bay Downs, it's also true that he was claimed for $8,000 six months ago, and now returns for $5,000. Generally, that's a big red flag. It's encouraging to see Sheldon Russell get aboard, and the workouts have been strong. I just don't know if I'd want to take him at very low odds.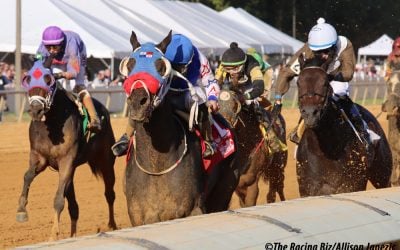 We provide full-card picks and analysis for this afternoon's races at Laurel Park.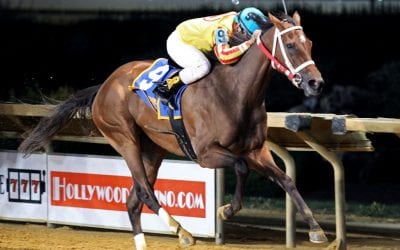 We provide picks and analysis for this evening's card at Charles Town Races.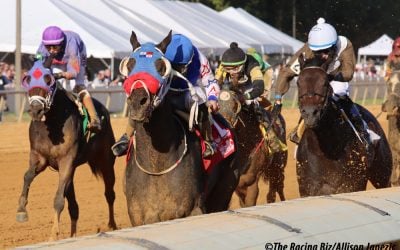 We provide full-card picks and analysis for this afternoon's races at Laurel Park.