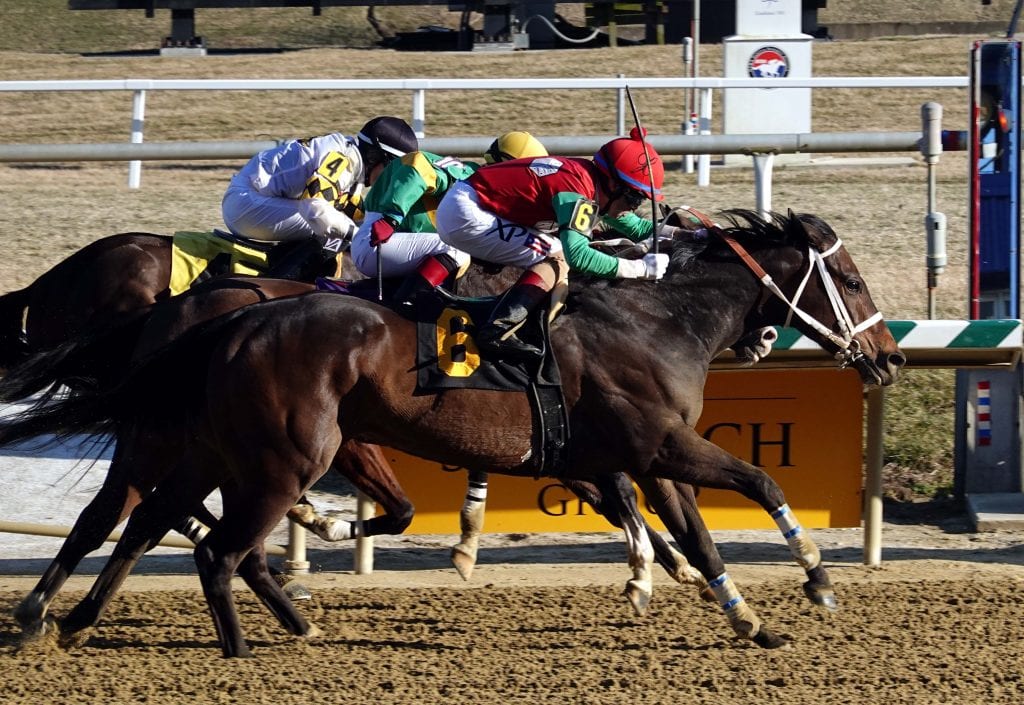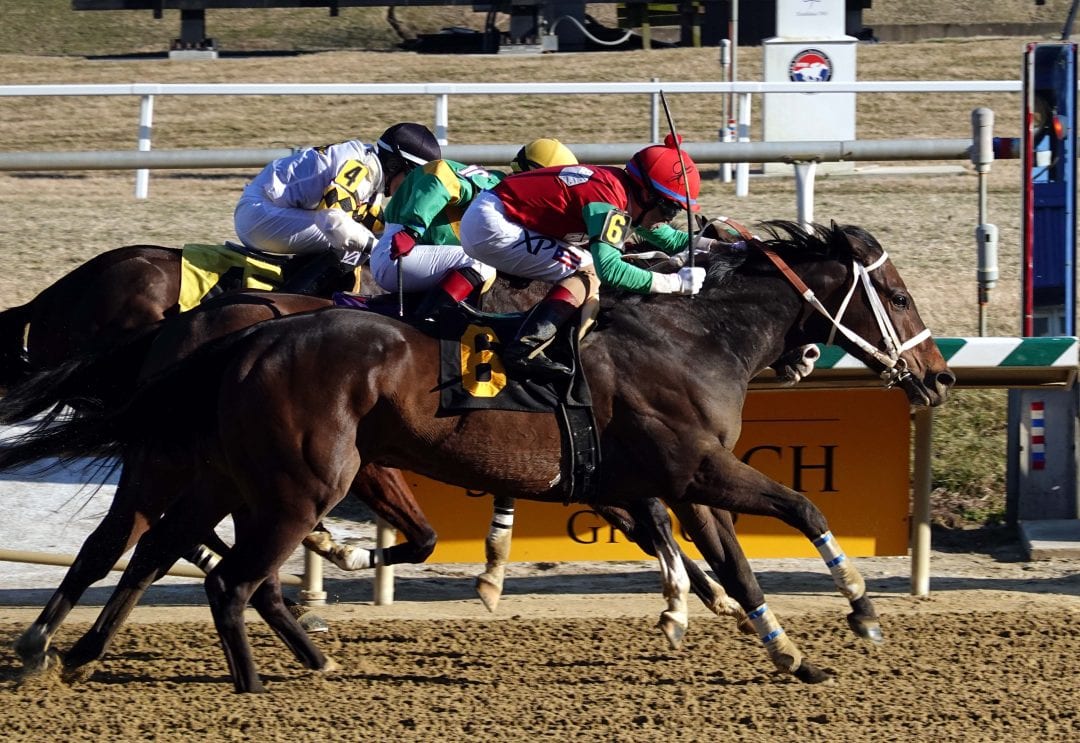 Anna's Bandit. Photo by Laurie Asseo.
In which we pick the races from Laurel Park each day…
Post time: 12:25 p.m.
Carryovers: Rainbow Jackpot Pick 6 — $4,714  Super High 5 — $5,298 Late Pick 5 — $0
ANALYSIS
RACE 1: MAIDEN CLAIMING $25,000, 3-YEAR-OLDS AND UP, FILLIES AND MARES, 6 FURLONGS
6-3-4-1
#6 Bound for Broadway (3/1): Chased home Uno Tigress in her last start, to finish a solid second. Uno Tigress came back to lose against winners by a neck as the favorite on Friday. This filly has been working strongly since that October 5 effort, and gets Sheldon Russell aboard for the first time.
#3 Along the Way (7/2): Cuts back after showing speed going longer. It's not clear if her speed will necessarily translate to a sprint, but there's no other clear-cut speed in the race, so she might end up on the lead by default. Her form has been improving over the summer, and a return to dirt should inspire a return to that top ability.
#4 Originally From Dot (5/2): Kelly Breen sends this firster from New York to debut here. While she's been working well, there's plenty of opportunities to race against maidens up there. Are they simply looking for an easy score? The board will tell the story: if she's being bet, she's live.
RACE 2: CLAIMING $5,000 (CONDITIONED), 3-YEAR-OLDS AND UP, FILLIES AND MARES, 6 FURLONGS
3-2-5-8
#3 I'mthekatsmeow (6/5): She almost looks too good to be true. She raced very well against open $12,500 claimers last out, crossing the wire second after getting clear in the stretch. Now, she's dropping all the way to the conditioned $5,000 level. That's not always a good sign. On the other hand, this field is much weaker than what she's been seeing recently. As long as she still has four functioning legs, she should have enough to cross the wire first.
#2 Gold and Strike (4/1): Speedy filly ships from Charles Town, after a dominant win there. She got to the lead quickly, then drew off in the final strides of the 4 1/2 furlong contest. If she can clear to the front, and there's really no reason she can't, she'll be tough to reel in. 
#5 Greasedlightning (9/2): We all know her drill by now. Although she always hits the board at this level, she never wins. If anything, she runs down to her competition. As usual, you can use her underneath, but avoid a win bet.
RACE 3: MAIDEN CLAIMING $10,000, 2-YEAR-OLDS, 7 FURLONGS
2-7-4-3
#2 Inject the Light (5/2): He made his debut last out, in a race full of horses with experience. He raced very well, finishing second after saving ground the whole way. Trainer Anthony Pecoraro is 32% with second-time starters. It would be encouraging if they decided to step him up in class, but they might be going for the easy win at this level.
#7 Cantwaittobeking (9/2): Comes out of the same race as Inject the Light, where he also ran big. He dropped well off the pace, but rallied well for third. He earned a figure of 64 that day, improving 23 points from his debut. 
#4 Gaming Jack (2/1): Drops for a career-low tag, after tries at the maiden special weight level, the $40,000 level, and the $25,000 level. He runs about the same race every time, rating just off the lead, then flattening out. He averages a figure in the upper-60s/low-70s, which would be enough to win this race. Will he keep running down to his company?
ANALYSIS
RACE 4: CLAIMING $8,000, 3-YEAR-OLDS AND UP, FILLIES AND MARES, 1 1/16 MILES
5-6-1-2
#5 So Innocent (8/5): One of the few in here with proven good form on dirt. Many of these are grass horses trying an unfamiliar surface. In her last dirt race, she made up lots of ground in the last eighth to lose by less than four lengths. She was a runner-up twice on dirt against better earlier this year, with figures in the mid-80s. Will be tough as long as she runs her race.
#6 Floating By (6/1): She's improved her figure in her last three races, peaking at a 77 last out against better. She doesn't really like to win, but she always comes along for a piece.
#1 Beyond Forever (3/1): Gets back to the dirt after trying grass in the Maryland Million Starter Handicap last out. Closed from well out of it to finish respectably in her last two dirt tries. Has finished in the top two in ten of eighteen tries on the Laurel dirt.
RACE 5 – MAIDEN SPECIAL WEIGHT, 2-YEAR-OLDS, 6 FURLONGS
8-11-12-2
#8 Dance Pants (5/1): Purchased for $160,000 earlier this year from the OBS Sale, he'll make his debut for Arnaud Delacour here. He's been on a steady work pattern for several weeks now, and gets Trevor McCarthy aboard. Looks well-meant.
#11 Scottsdale (8/1): Got wagering action on debut, going off at 3/1. He finished fourth, getting blown out by the impressive Lugamo. He's been working well since then, and is one of the few in here with positive experience. If he goes off near his morning line, that would be great value.
#12 Jungle Cry (7/2): The Russells sent out a promising 2-year-old filly yesterday, and she finished second after looking very good at the top of the stretch. They're back at it with this guy. His workouts aren't anything special, and he's hung on the extreme outside, but his connections can't be disrespected. The board will tell the story. If he gets action despite that wide post, he's live.
RACE 6: CLAIMING $5,000 (CONDITIONED), 3-YEAR-OLDS AND UP, FILLIES AND MARES, 6 FURLONGS
7-4-1-5
#7 Chit Chat Girl (8/1): Ran on well in her last start, against much better, after falling well behind in the early stages. She's been in steadily good form, running figures in the 70s in each of her last six races. If she wins, it'll be in desperate closing style.
#4 Midnight Crossing (7/2): Makes her second start off the long layoff here. Her last race was a solid second at this level. Although it was a few points below her usual figure, it was still a good showing for her first try in almost a year. At the end of last season, she was in the midst of a three-race winning streak, all against similar types. Look for her to move forward here.
#1 Splendor Gal (3/1): A lot of this race's structure will be determined by who gets the lead: her, or Gottaflathaveher. Both are speed types, and they have similar early pace figures. I'll give this one the edge, as she has the inside post, and will get key position to protect her spot. Alex Crispin has begun to round into form over the past few days, as he's relocated here following the end of the Delaware season.
ANALYSIS
RACE 7 – ALLOWANCE OPTIONAL CLAIMING (N/W1X), 2-YEAR-OLDS, 1 1/16 MILES
4-5-10-7
#4 Basco (9/5): Comes out of the same race as No Cents, and finished just two lengths behind the eventual James Lewis Stakes winner. He's stretching out beyond six furlongs, something he's never done, but trainer Greg Sacco is 28% with horses at a route for the first time. 
#5 Market Cap (5/1): He's got experience at longer distances, having broken his maiden impressively going a mile last out. He's bred to go longer, so he shouldn't have much trouble with the longer distance.
#10 No One to Blame (3/1): Finished second, clear of the rest of the field in his last start. The only horse he couldn't beat was Lugamo, an impressive maiden winner who came back to get third in the James Lewis. This one is the only horse in he field who's already won at two turns, having broken his maiden at Delaware three back.
RACE 8: MAIDEN CLAIMING $40,000, 2-YEAR-OLDS, FILLIES, 1 1/16 MILES
1-4-3-7
#1 Wonderwall (9/2): Most of these have done their best running in sprints, but she's shown a glimmer of ability at a route. She improved second out when going a mile, winning a place photo. Gets blinkers on here.
#4 Lucky Lorraine (12/1): She's also had plenty of experience going long, hitting the board twice at two turns at Delaware earlier this year. Mary Eppler took her out of that last race, she's 13% first off the claim. This filly doesn't have much early speed, so she'll have to come everyone else comes back to her.
#3 Closertotheheart (2/1): After a fourth-place finish in the Maryland Million Lassie, she drops for a tag for the first time. Looks like she can handle the distance well enough, based on her race patterns and pedigree. Graham Motion is also 26% with horses stretching out.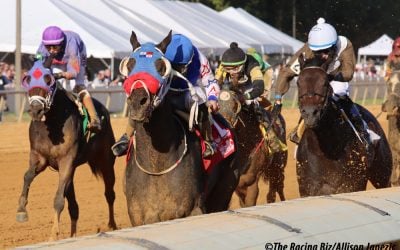 We provide full-card picks and analysis for this afternoon's races at Laurel Park.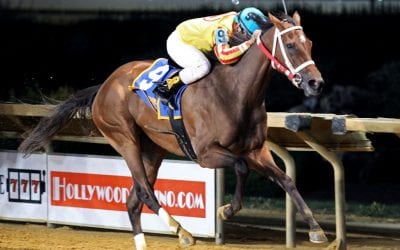 We provide picks and analysis for this evening's card at Charles Town Races.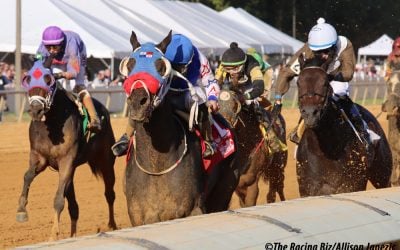 We provide full-card picks and analysis for this afternoon's races at Laurel Park.