Laurel Park picks and ponderings November 20, 2020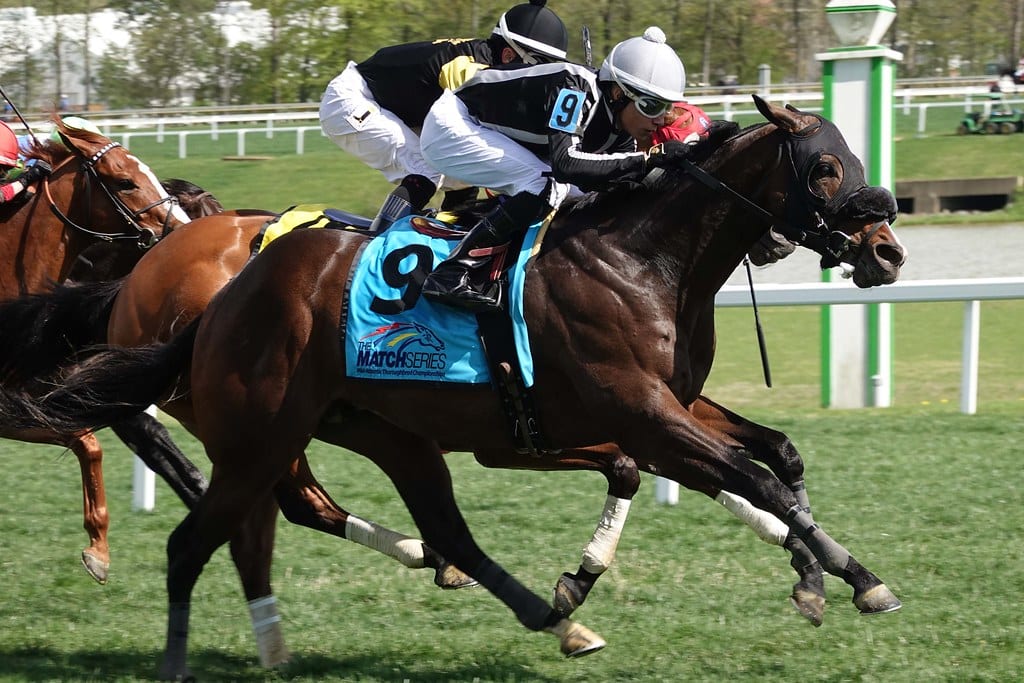 Dirty. Photo by Allison Janezic.
In which we pick the races from Laurel Park each day…
Post time: 12:25 p.m.
Carryovers: Rainbow Jackpot Pick 6 — $1,837 Super High 5 –$905 Late Pick 5 — $0
 ANALYSIS
RACE 1: CLAIMING $10,000 (N/W2L), 3-YEAR-OLDS AND UP, 7 FURLONGS
1-3-2-4
#1 Kabob: Ships down from New York for Ray Handal, who is 1-for-10 with shippers to Maryland over the past three years. In spite of that stat, this one has a big chance. You can toss his last start, where he broke through the gate before the race and showed little. Ran big races against better at Saratoga this summer. Drops for a career-low tag, and gets a four-pound weight break while going in for $8,000. He's also the most lightly-raced in the field; this'll be just his fifth start.
#3 Classy Solution: Another one dropping in for $10,000 for the first time. He faded going longer last out, now cuts back to a sprint, where he's run his best races. Could find himself on the lead, in a race without much early speed.
#2 Tom Terrific: Chased a loose leader in his last start, his first off the layoff, and ended up third. There's a chance he could find himself behind another advantaged leader, but I like the way he took a step forward off the break. He's going against winners for the third time. 
RACE 2: MAIDEN CLAIMING $25,000, 3-YEAR-OLDS AND UP, 7 FURLONGS
6-8-2-5
#6 Push to Start: He ran a big race on debut, setting fast fractions on a wet track, then responding gamely to a stiff challenge in the stretch. That race was in February, and he hasn't raced since then. Returned to the worktab in mid-October, after a few stop-and-starts, and has put in good drills since. He'll try to wire them once again.
#8 Yes Sir Colonel: He's been improving since returning off a brief freshening, running back-to-back career-best brisnet figures. Those two recent tries were against straight maidens around two turns; now he cuts back and drops in class. He's had plenty of chances, but has he finally found a spot he can win in?
#2 Point Driven: Drops for a tag for the first time, after a disappointing try last out at Monmouth Park. He raced wide the whole way in that start, while trying to come from off the pace in a race where the leaders lasted. Prior to that, he had run figures in the 80s while racing up and down the east coast. He faced some good horses along the way.
RACE 3: CLAIMING $10,000 (N/W2L), 3-YEAR-OLDS AND UP, 1 1/16 MILES
3-7-8-6
#3 Single Focus: Broke his maiden three starts back on the lead. There's no one who can run with him early here. He stopped on a dime last out after being on the pace going long on grass, but that was a very fast tempo. Here, he's going to be allowed to do things on his own terms.
#7 Ghost on a Mission: While the leader did completely fall apart in his last start, he still came from way out of it, and was driving strongly to the end. He ran back-to-back figures in the 70s prior to that race, and actually declined a bit in his maiden win. Tries winners of the first time and should roll late.
#8 Seven Plus Seven: Stretches out to a route for the first time, after showing good closing speed in sprints. While it can be folly to assume a horse like that will automatically improve going two turns, he's been in good recent form anyway, just missing in his last start with a strong closing move. He showed early speed way back when, but it hasn't been seen lately. Can he find it here?
ANALYSIS
RACE 4: CLAIMING $5,000, 3-YEAR-OLDS AND UP, 1 1/16 MILES
1-6-4-7
#1 Charging Lion: Jamie Ness and Trevor McCarthy, always a dangerous trainer/jockey combo, team up on this one. He didn't show his customary early speed in his last start, and it ended up costing him. He tied against conditioned claimers earlier in the year when forwardly placed. McCarthy would be well-served doing that here.
#6 Day: Another potential speedster, he ran big last out when hung wide from the outside post. Won gate-to-wire two starts back when allowed a cushy lead. Looks like the fastest one early on in this spot.
#4 Gotta Get Away: He's run some big races at Parx, including a win against tougher in his last dirt start, where he battled for the lead and drew off. Form from Parx does not always translate here, but he's sharp enough that even if he declines a few points, he should still contend. Mark Salvaggio sends him out for the first time.
RACE 5 – STARTER OPTIONAL CLAIMING $25,000, 3-YEAR-OLDS AND UP, FILLIES AND MARES, 6 FURLONGS
2-4-7-3
#2 Uno Tigress: Impressively broke her maiden last out at Delaware, stalking the pace and drawing off to a 5 1/2 length win, improving her figure twelve points from her debut. Goes first off the claim for Dale Bennett, who is 17% with that angle.
#4 Villamoura: Another one coming off a maiden-breaking score, where she ran the field off their feet. This is a tougher field than last time, but he's also got by far the fastest early pace figures in the field. She has some trouble in the starting gate, often acting up before the race. Once the gates break, however, she's usually good to go. If she can keep her cool in the gate this time, all the better.
#7 Positive Force: She's been knocking on the door in her last few, finishing second fie times in a row against similar. Tends to stalk the pace and look like she's making a move, only to flatten out. Nothing wrong with keying her underneath in exactas.
RACE 6: STARTER OPTIONAL CLAIMING $25,000, 3-YEAR-OLDS AND UP, FILLIES AND MARES, 1 1/16 MILES
7-8-5-4
#7 It's a Journey: Takes a needed drop in class after some dull tries against allowance horses. She's declined a bit from her peak form earlier this year, which included a stakes win, but her recent numbers are still good enough to beat this field.
#8 Mia Bella Rossa: Another one who needs a drop in class, she was well-beaten by a tough allowance field last out. However, she raced well against horses similar to these in the two races prior, including a dominant win at 1 1/16 miles two back.
#5 Annika Gold: Perhaps the main speed of the field, she wired a similar field going a mile last out, and has been forwardly placed every time. She'll look to sneak away to a loose, lonely lead, and dare the rest to catch her.
ANALYSIS
RACE 7 -ALLOWANCE (N/W1X), 3-YEAR-OLDS AND UP, FILLIES AND MARES, 1 MILE
2-9-7-6
#2 Lucky Find: Raced well in her first start against winners, at Delaware. She got blown out by a classier rival, but outkicked the rest to finish second after being on the pace. She's making her second start against winners here, and looks to have plenty of upside. 
#9 Pilot Episode: Tries winners for the second time, after a game runner-up finish last out. She sat the trip, then battled in the stretch and got outkicked in the stretch. In the race prior, she wired a maiden field to win going away. Should be forwardly placed, in a weaker field than she saw last time.
#7 Savedbythebelle: Deep closer slogged along for second in her last race, making up ground after a slow break. She's proven that she enjoys the one-turn mile, and will be the factor in the late stages.
RACE 8: ALLOWANCE OPTIONAL CLAIMING (N/W3X), 3-YEAR-OLDS AND UP, 1 MILE
6-2-4-11
#6 Hanalei's Houdini: He crossed the wire first twice in a row against similar types, stalking the pace and boxing on in the stretch. The horse he finished ahead of in both those starts, Tattooed, came back to finish third in the Maryland Million Classic. This one's run at least a 94 in three of his last four starts, the only horse in the field to do that.
#2 Golden Brown: Hard-knocking Jersey-bred won the Irish War Cry Handicap earlier in the year, then just missed in two more Jersey-bred stakes. The only bad race he's run recently was when he was outclassed in the Salvator Mile two starts back.
#4 Tap the Mark: Outran his odds last out, getting fourth in the Maryland Million Classic at 60/1. Doesn't have any early speed, so he'll look for a strong pace to run into. If he can get it, his late pace figures are among the best in the field. 
RACE 9: MAIDEN CLAIMING $10,000, 3-YEAR-OLDS AND UP, 1 1/16 MILES
6-7-3-2
#6 Popeye's Oyl (6/1): The running lines from her last start are a bit deceiving, as she chased a leader who opened up a gigantic lead and blew the rest of the way. When looking at her race compared to the rest of the field, she rated off the pace, and ran well in the stretch to miss second by 1 1/2 lengths. She earned a career-top figure in there, to boot. Goes second off the brief layoff here. 
#7 Ms. Haiti (6/1): Charles Town shipper gets blinkers on and has blazing early speed. She encountered some challenges on the lead in her West Virginia races, but looks fast enough to outrun the rest here.
#3 Solea (6/1): Goes first off a long layoff, and drops to the $10,000 level for the first time. She faded last out after racing wide, but under normal circumstances, she's put in strong rallies. It's possible she needs a race first off the bench, but still looms a contender.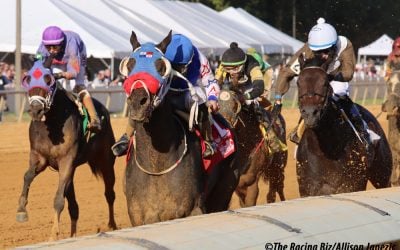 We provide full-card picks and analysis for this afternoon's races at Laurel Park.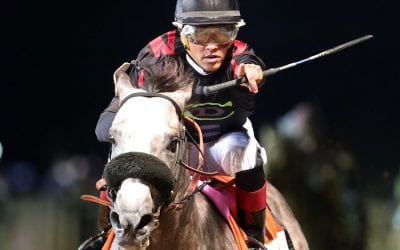 We've got Charles Town picks and preview today as the track presents its Friday card!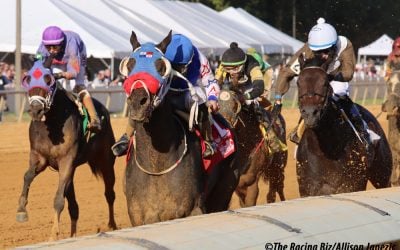 We provide full-card picks and analysis for this afternoon's races at Laurel Park.