Laurel Park picks and ponderings November 19, 2020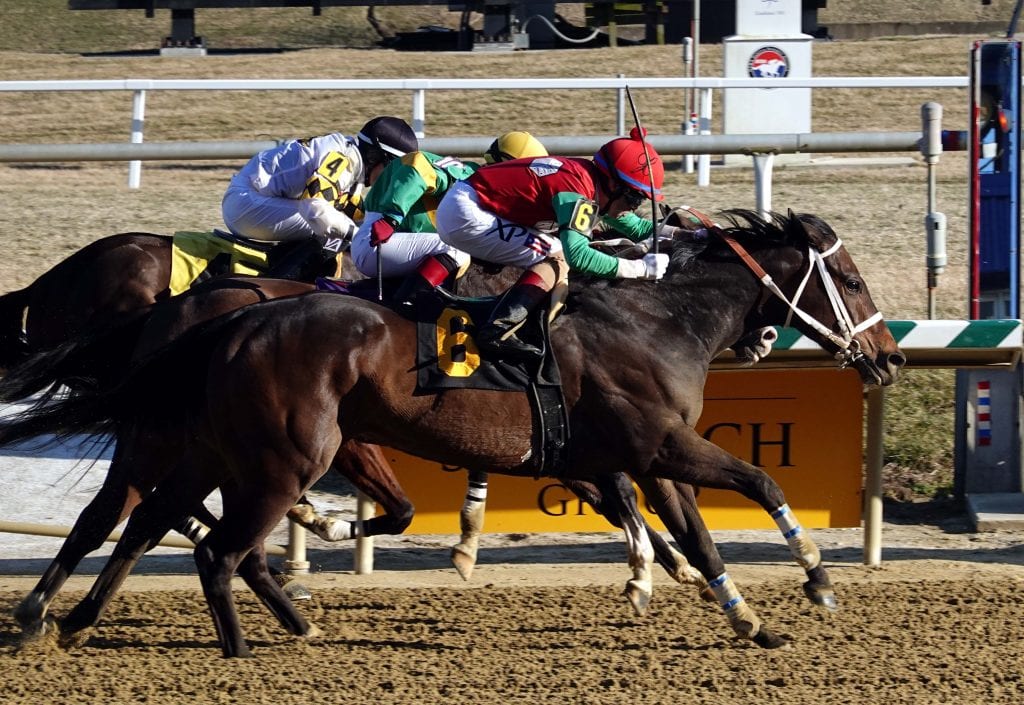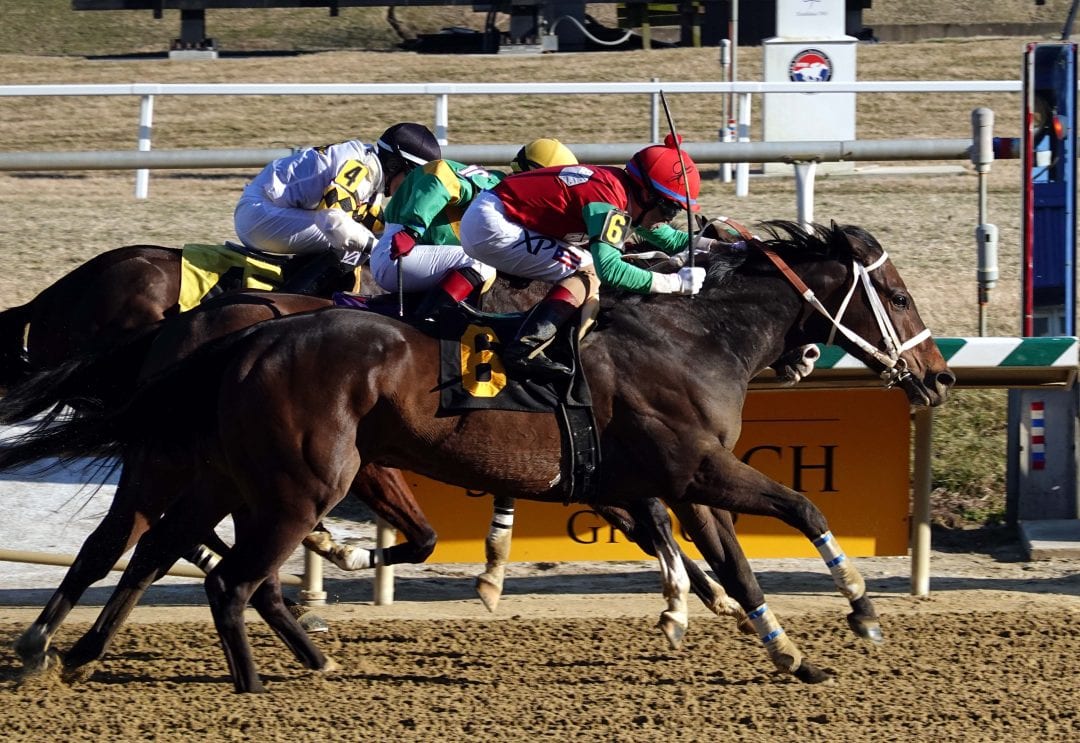 Anna's Bandit. Photo by Laurie Asseo.
In which we pick the races from Laurel Park each day…
Post time: 12:25 p.m.

Carryovers: Rainbow Jackpot Pick 6 — $1,198 Super High 5 — $0 Late Pick 5 — $0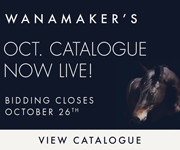 Notable: Until further notice, no fans are allowed to attend the races at Laurel Park. For more info, click here.
ANALYSIS
RACE 1: MAIDEN SPECIAL WEIGHT, 3-YEAR-OLDS AND UP, FILLIES AND MARES, 1 1/16 MILES
1-3-4-5
#1 Back Roads (2/1): She ran big on debut. In a race won by a loose leader, she came from far out of it to lose a three-horse photo for show. Even though most of her rivals in that field had experience, she was bet down to 6/1, always a good sign. Should enjoy more distance.
#3 Irish Charmer (5/1): A stablemate of Back Roads, she's going second off the long layoff here. In her first start back, she closed fairly well to finish third against Jersey-bred maidens on the grass. Showed promise on dirt last year, with some brisnet figures in the mid-60s as a 2-year-old. 
#4 Saigon (6/1): Last out on the synthetic at Presque Isle Downs, she ran on well after falling behind a moderate pace. Although she ended up seventh, she finished behind a few next-out winners, and was only a few lengths behind third.
RACE 2: CLAIMING $12,500, 3-YEAR-OLDS AND UP, FILLIES AND MARES, 1 MILE
3-5-4-6
#3 I Love You (7/2): Ran into a buzzsaw last out, in Odd Gal, but still held well for third. She's got some early speed, in a race where it doesn't look like there'll be much action up front. The only other horse in the race with speed doesn't look as if she can hang at a mile. This one could end up being the beneficiary of a favorable pace scenario.
#5 Yesterdaysplan (5/2): Just got up to win her first start off the layoff last out, winning by 3/4 of a length after falling far behind early. She doesn't have any early speed to speak of, but a strong closing kick. If she wins this race, it'll be in desperate fashion.
#4 Our Star (3/1): Drew off to win her last dirt race handily, after stalking a slow pace. Jevian Toledo will look to keep her forwardly placed; if she can stay close enough to the lead, she's got a good enough late punch to make some serious noise.
RACE 3: CLAIMING $16,000, 2-YEAR-OLDS, 6 FURLONGS
3-1-7-6
#3 Boss Logic (3/1): Got great trips in both his starts at Delaware Park. He drew off to win his debut, and although he was only third last out, he improved his figure eight points, to a 78. With lots of speed signed on here, another good trip looks inevitable.
#1 Warm Sunny Breeze (5/2): Even though there's lots of speed, if anyone will sneak away to a loose lead, it's him. He faded after a fast duel last out at Monmouth Park, but he faced some pretty good horses in that race, including recent James Lewis Stakes winner No Cents. There's no one in this field nearly as good as him, or any of the top three in that last race. Here, he's going to have an easier time on the front end, with not as much quality speed.
#7 Passage of Lines (6/1): Chased the very fast Nobody Knew in his last start, and got up for third. Another stalker who should enjoy a good trip off the pace.
ANALYSIS
RACE 4: MAIDEN CLAIMING $16,000, 2-YEAR-OLDS, 1 MILE
5-7-4-10
#5 Doublbarrelbourbon (7/2): Made a bit of move in each of his two starts, after falling well off the pace going six furlongs. Stretches out to a mile here, where that style should play better. Gets a jockey upgrade to Jevian Toledo as well.
#7 Jack Got Back (6/1): Motion trainee raced well on debut, then got hung wide and plunged through the pack next out. Drops for a career-low tag here. The board will tell the story. 
#4 Battle of the Nile (9/2): Works since his lackluster five-furlong debut have been solid. He's another horse who's lightly raced and is dropping for a tag for the first time.
RACE 5 – ALLOWANCE (N/W1X), 3-YEAR-OLDS AND UP, 6 FURLONGS
8-11-9-5
#8 Karan's Notion (7/2): Ran a good field of Maryland-sired horses off their feet to pull the upset in the Maryland Million Sprint. Faces a group full of fellow 3-year-olds here, and no one looks fast enough to run with him early. He's shown dazzling speed on this track multiple times before, and lost by a nose at this level a few starts back.
#11 Absolved (6/1): He keeps on knocking on the door at this level, hitting the board in four starts in a row against similar without winning. Last out, he chased a bit of a slow pace, and battled evenly to get third. He outfinished Karan's Notion three starts back, and has finished behind some classy horses in his recent starts. Should get the trip, and if the pace ends up being fast, it could work well for him.
#9 Abuelo Paps (8/1): Raced first off a brief break last out, and ran well in the stretch to get second. Like Absolved, he's hit the board at the level in his last four races, while cashing a lot of classy rivals. One to consider underneath at a possible price.
RACE 6: ALLOWANCE OPTIONAL CLAIMING (N/W1X), 2-YEAR-OLDS, FILLIES, 5 1/2 FURLONGS
4-2-8-7
#4 Trip to Freedom (8/5): Set bruising fractions in the Maryland Million Lassie, but still almost pulled off a gate-to-wire win. One of the two horses to catch her, Street Lute, went on to win the Smart Halo Stakes, against open company, in very impressive fashion. She'll have to outrun a host of challengers to get to the early lead, but she's proven that she's resilient enough to hold them off.
#2 Moochie (6/1): You can give her a pass on her dismal Colleen Stakes effort. It was not on her preferred surface, and she got loose before the race. In her debut, under normal circumstances, she drew off to win impressively at Delaware. She was scratched out of the Lassie, but she's worked well since that race. If anything was bothering her leading up to that race, everything appears to be good now.
#8 Kewpie Doll (9/2): Got blown away by the very impressive Prodigy Doll in her last start, but she still closed solidly for second. Should get a good trip stalking the leaders.
ANALYSIS
RACE 7 – MAIDEN CLAIMING $40,000, 3-YEAR-OLDS AND UP, 6 FURLONGS
9-5-7-3
#9 New Frontier (8/5): Taking 0-for-15 maidens at low odds is a bitter pill to swallow. However, he's caught a suspect field in his local debut, and has blazing early speed. I don't see anyone fast enough to catch him if he manages to get loose.
#5 Dreaming of Carats (9/2): Chased a loose leader around the track last out at Presque Isle, but held his ground well enough to finish third. In his last start at this track, he may have finished better than third had he not drifted in the stretch. Since then, he's added blinkers. Should at least grab a piece of the exotics.
#7 Chauffeur (12/1): Comes in here off a brief freshening; this'll be his first start since September 4. He doesn't have enough early speed to win a race like this, but he's got a strong closing punch that makes him a contender for minor spots. 
RACE 8- ALLOWANCE OPTIONAL CLAIMING (N/W2X), 3-YEAR-OLDS AND UP, 6 FURLONGS
8-2-6-3
#8 Nomo Ron (5/1): Recent midwestern shipper sat the trip last out, and drew off to victory. With plenty of speed signed on here, he should get another great stalking trip.
#2 The Cairo Kid (7/2): The lightbulb has gone on for him, with three consecutive career-best figures. Just missed beating out Stroll Smokin for second in his last race, after that rival went out and dueled for the lead. Usually, this one is forwardly placed, but with Stroll Smokin and other speed horses in here, it might be wise to back up off the leaders.
#6 Hold Me Black (3/1): The most dangerous speed horse, in my book. He couldn't get anywhere close to the lead last time, and it cost him. Since then, he's worked well, so he should be back in sharp form. Two back, he battled on the pace while wide at Pimlico before fading, in a gutsy effort.
RACE 9 – MAIDEN CLAIMING $40,000, 2-YEAR-OLDS, 1 1/16 MILES
4-6-8-2
#4 Reassured (8/5): Closed strongly to finish third in the Maryland Million Nursery last out, coming from eleven lengths out of it. Brittany Russell is always dangerous with 2-year-olds, and is 24% with horses going a route for the first time. 
#6 U.S. Constitution (4/1): He's faded on the lead in his last two starts, but his figures have improved in his last few, and there's no one who can run with him early. Trevor McCarthy rode him in his debut at five furlongs, now he gets back aboard.
#8 Iron Pearls (8/1): Improved sharply when stretching out on grass last out. In his first dirt start, he was compromised by a slow break in a sprint.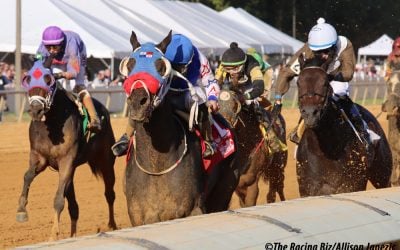 We provide full-card picks and analysis for this afternoon's races at Laurel Park.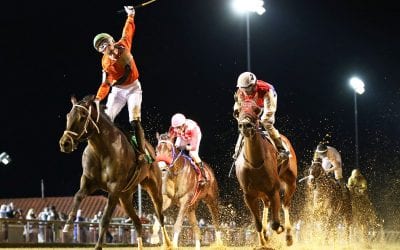 Full-card picks and analysis for this evening's live racing card from Charles Town Races!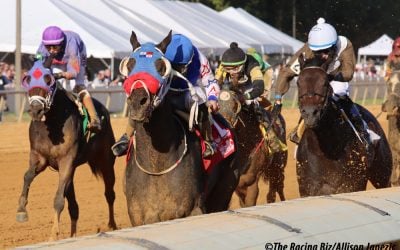 We provide full-card picks and analysis for this afternoon's races at Laurel Park.