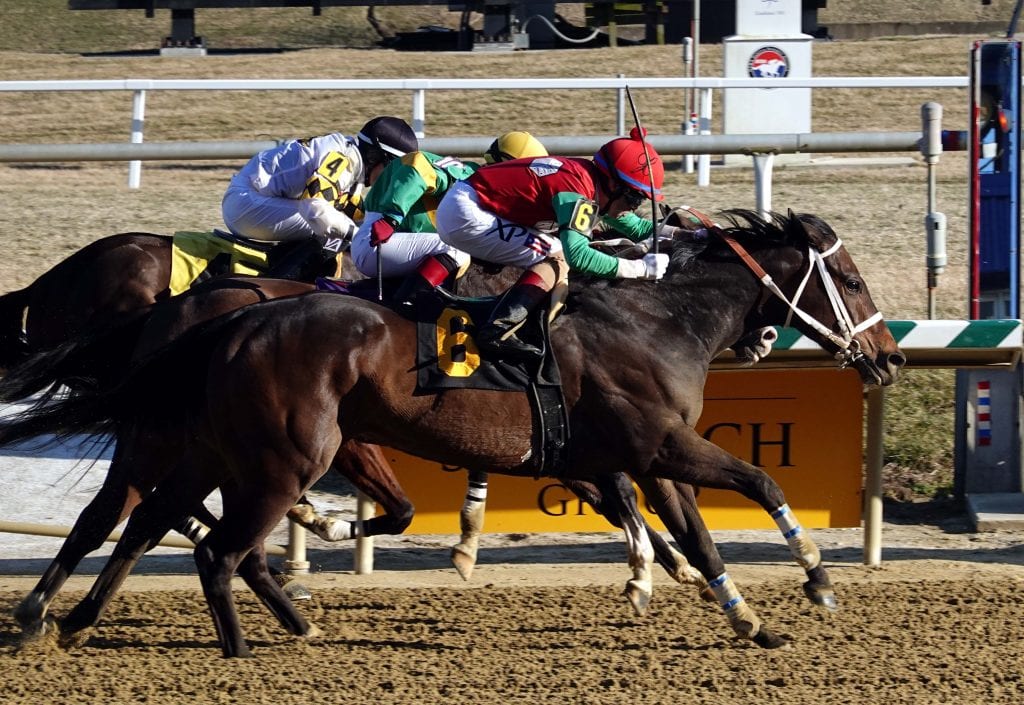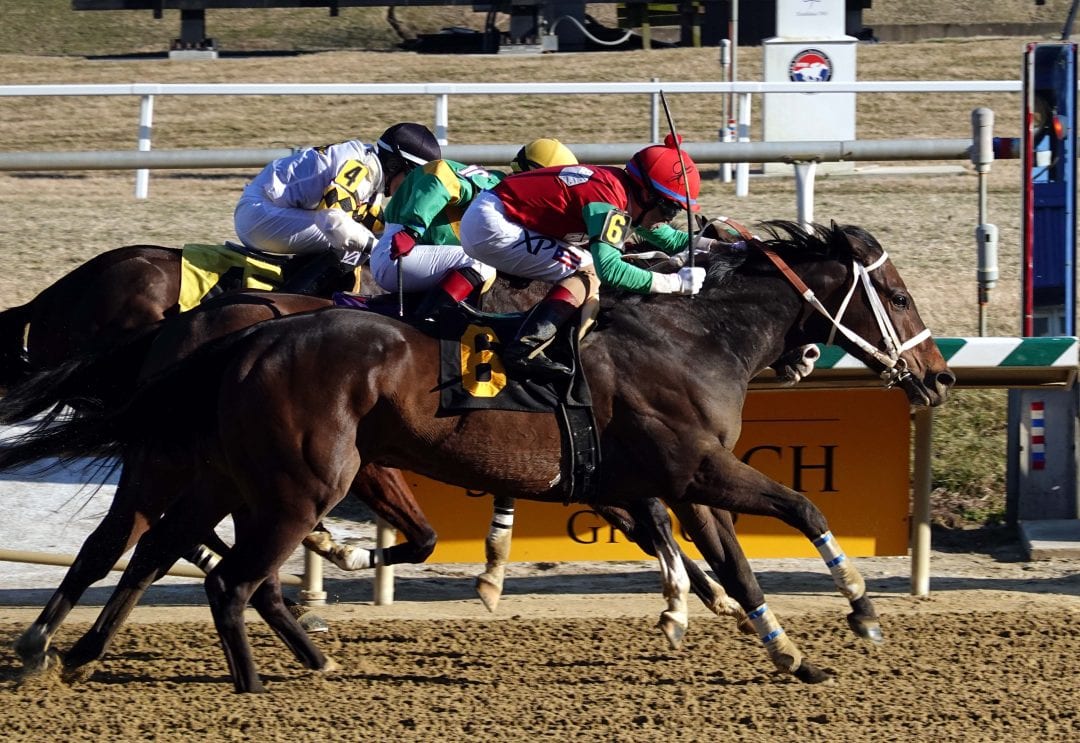 Anna's Bandit. Photo by Laurie Asseo.
In which we pick the races from Laurel Park each day…
Post time: 12:25 p.m.
Carryovers: Rainbow Jackpot Pick 6 — $0  Super High 5 — $0 Late Pick 5 — $0
ANALYSIS
RACE 1: CLAIMING $10,000 (CONDITIONED), 3-YEAR-OLDS AND UP, 1 1/16 MILES
4-5-1-2
#4 Lectric Choke (6/5): Faced a tougher field at this level last Sunday, and just missed. He's been rounding into career-best form, and should be very tough here.
#5 Invest (3/1): Raced well in his local debut. He chased the very tough Five Card Draw, who snuck away from the field and won going away. This one held on over the others to get second. He's stretching out in this spot, but he should be able to set a comfortable pace.
#1 Appraised (5/1): He prefers two turns, so I'm willing to forgive his poor effort at seven furlongs last out. Ran well going long at Delaware Park over the summer, with two wins against gems of a slightly lesser water. Should get a good trip stalking on the inside.
RACE 2: CLAIMING $5,000 (N/W2L), 3-YEAR-OLDS AND UP, 5 1/2 FURLONGS
5-8-3-2
#5 City Badger (9/2): Closed strongly last out to break his maiden on grass. His dirt start, which was his first career race, wasn't that great, but he checked and lost crucial ground. Claudio Gonzalez claimed him out of that spot, and we all know how good he is first off the claim. 
#8 KW Captain Flint (7/2): Recent Midwestern shipper went first off the claim for Ben Feliciano at Charles Town last out, and got plenty of wagering action. He got hung wide throughout, and on that tight track, that spelled trouble. Raced well against better in prior starts at Churchill Downs and Indiana Grand.
#3 Sing a Verse (4/1): Takes a big drop in class, after trying much better in the Maryland Million Starter Handicap. Prior to that, he was a strong-closing second in his second start off a long layoff. Looks like he's finally rounding into form, and has found a field he can beat.
RACE 3: CLAIMING $12,500, 3-YEAR-OLDS AND UP, 1 1/16 MILES
1-2-7-5
#1 Moonlight Shadow (7/2): Got back on track last out, making a wide rally off a slow pace to miss by a neck. He's faced much better throughout the year; that good race last time came against similar competition as he'll see here.
#2 In Him With Him (7/2): Won three in a row earlier in the year against weaker, stalking the pace and desperately getting up. Drops from a try against starter optional claiming types. Should be right on the pace and a battler in the stretch. 
#7 Spring Emperor (5/1): Parx invader has been improving in each of his three tries since returning off a long layoff. He's earned great late pace figures in most of his recent races, with his only subpar one coming when he tried to go 1 1/2 miles last out.
ANALYSIS
RACE 4: ALLOWANCE OPTIONAL CLAIMING (N/W3X), 3-YEAR-OLDS AND UP, 5 1/2 FURLONGS
6-2-3-4
#6 Malibu Mischief (9/5): She'll try to make it six wins in a row in this spot. She's blown away five fields in a row with her blazing early speed, and I don't think there's anyone in here fast enough to go with her early on. Could be impossible to catch. 
#2 Fly on Angel (5/2): Won the Charles Town Oaks in an upset two races back, then tried to duel in the two-path in the Miss Preakness Stakes and stopped cold. If she tries to go to the lead here, she'll have a very formidable dueling partner, in Malibu Mischief. Could Angel Cruz try to stalk the leader, while applying some mild pressure? That might be his best bet, unless he wants to just gun it and hope, for whatever reason, that Malibu Mischief can't get to the front.
#3 SW Briar Rose (5/1): If the aforementioned two manage to burn each other out, this one will be right there to pick up the pieces. She's been improving since returning off a long layoff, most recently closing for fourth in the Skipat Stakes at Pimlico. Has hit the board in six of seven over this track.
RACE 5 – MAIDEN CLAIMING $40,000, 3-YEAR-OLDS AND UP, FILLIES AND MARES, 6 FURLONGS
5-6-7-9
#5 Bourbon Wildcat (5/2): She ran huge second time out, setting a fast pace and drawing off in the stretch. She got caught in the last sixteenth, but the race still represents a big improvement over her debut, and also establishes herself as the dominant speed in the field.
#6 Be Good (5/1): Ran well in her debut, making up ground after getting jostled around at the start. She hasn't raced since that January 18 affair, but she's been working well, and Rodney Jenkins is 20% with horses coming off a long break.
#7 Princess Corey (8/5): The Russells have been a dangerous combo lately, but are they dangerous enough to make this filly, who hasn't raced in a year, a contender? She improved second time out, closing for third against New York-bred maidens, before going on the shelf. This'll be her first start for a tag. Worth a look, but not a bet if she goes off near that morning line.
RACE 6: STARTER OPTIONAL CLAIMING $25,000, 3-YEAR-OLDS AND UP, FILLIES AND MARES, 6 1/2 FURLONGS
9-1-7-4
#9 Bluefield (4/1): Didn't get a pace to run into last out, but hung in there to win a photo for third. She stalked the pace and drew off to win her two races before that. There's lots of speed in here, and if anyone tires on the front end, she'll be right there to pick up the pieces.
#1 Hyrda (6/1): The lightbulb angle has been in full effect for her, with wins in two of her last three races. Showed guts last out, battling on the lead to win against n/w2L horses at Delaware. She's got tactical speed that might come in handy here.
#7 Isabellaalexa (8/5): After wiring two fields going long, she's cutting back to a sprint. Can she be as effective going shorter? She didn't do that great going short at the start of her career, but that was a while ago, and she's been rounding into top form. Of course, any Gonzalez/Cruz horse is dangerous.
ANALYSIS
RACE 7 – ALLOWANCE (N/W1X), 3-YEAR-OLDS AND UP, 1 MILE
4-9-6-7
#4 Admire (2/1): Yet another member of the midwestern army that has been invading Laurel as of late. He ran a brisnet figure of at least 88 three times in a row earlier in the year, before declining after getting pressed on the pace at Keeneland. Here, there's not much speed to press him, so he could run away and hide.
#9 Zabracadabra (5/1): Goes third off a long layoff and stretches back to a mile from six furlongs. He broke his maiden impressively at this distance two back, then declined when trying to cut back to a sprint. He should enjoy the long stretch.
#6 Plot the Dots (5/2): He probably should've won his last start, but he could not wear down the pacesetter The Poser in the stretch. Ran some big races over this track earlier this year, including a sharp win against Maryland-breds in June. Recently turned in a sharp bullet workout, going four furlongs in 49 seconds.
RACE 8: CLAIMING $10,000 (N/W2L), 3-YEAR-OLDS AND UP, FILLIES AND MARES, 7 FURLONGS
6-3-5-8
#6 Orbette (8/5): Impressively broke her maiden last out, now tries winners for the first time. She had to plunge down the class ladder to finally get to the winners circle, can she handle a step back up? Her recent figures indicate that she can.
#3 A Toast to Kay (8/1): Closed ground strongly late, in her second start off the layoff, but got outkicked and had to settle for second. The 1-for-18 record isn't great, but she's been improving lately, and can definitely grab a piece of the exotics.
#5 Complete Surprise (3/1): Got hung wide in her last two starts at Charles Town, but still managed to run on well despite the rough sailing. Getting on the big track should help her.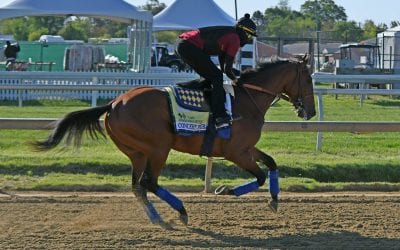 The fourth Kentucky Derby future wagering pool will kick off Friday, and 2yo champ Forte is the top individual choice on the morning line.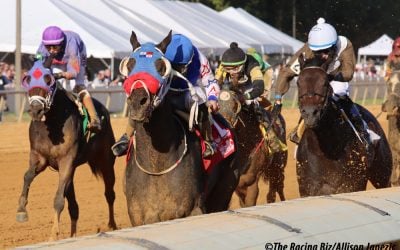 We provide full-card picks and analysis for this afternoon's races at Laurel Park.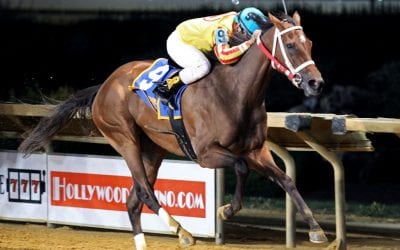 We provide picks and analysis for this evening's card at Charles Town Races.