Laurel Park picks and ponderings November 14, 2020
In which we pick the races from Laurel Park each day…
Post time: 12:25 p.m.
Carryovers: Rainbow Jackpot Pick 6 — $14,637  Super High 5 –$1,060 Late Pick 5 — $0
ANALYSIS
RACE 1: CLAIMING $5,000 (CONDITIONED), 3-YEAR-OLDS AND UP, FILLIES AND MARES, 1 1/16 MILES
2-1-3-6
#2 Thunderturtle (5/1): Comes in off a sharp win against n/w2L horses at Charles Town, coming from behind to get up for the win. She's lightly-raced, with this being her eighth career start, and has shown she can handle this distance without much trouble. 
#1 La Shirimp (9/5): Her most recent win came under the most ideal circumstances possible. She set a loose lead against three others, and held on for the win in a mile contest. Why is that still a positive? There's no other speed in this race, so she could get a very similar trip here.
#3 Simmard Shenanigan (2/1): Tends to fall off the pace, and lumber along to get a piece of the exotics. She's the only one in the field to run a brisnet figure in the 70s in each of her last four starts.
RACE 2: MAIDEN CLAIMING $25,000, 2-YEAR-OLDS, 5 1/2 FURLONGS
5-8-6-2
#5 It's Sizzling Time (4/1):  Scratched out of a $16,000 spot a few days ago to run here. He ran huge on debut, shrugging off an early challenge and opening up a clear lead late, before being tracked down. Last out was a different story: he was forced to duel through brutal fractions, and stopped badly. This is a tougher spot than the one he scratched out of, but he still looks fast enough to outrun the others early on. 
#8 Portal One (9/5): Midwest invader goes first off the claim for Hugh McMahon. Got outkicked in the stretch by a superior rival in his last start at Keeneland, but still held well for third. Workouts since coming to Maryland have been strong. 
#6 Uncle Cecil (8/1): Lacey Gaudet popped with a 2-year-old firster in a maiden claiming race on Thursday. She'll look for another win with this one. He hasn't had too many workouts, but they've been increasingly sharp.
RACE 3: CLAIMING $5,000 (N/W2L), 3-YEAR-OLDS AND UP, 1 MILE
2-14-11-6
#2 Feature Act (6/1): Tries winners for the first time, after a sharp win going 1 1/16 miles last out. Cuts back a bit, to a distance that he finished well at earlier in the year. 
#14 Hidden Talent (5/1): He was another ballyhooed midwestern invader in his last start, and was pounded to 1/1 in his first start off the claim. Unfortunately for him, he raced wide throughout and backed up. The post draw is far from ideal, but he's still got good form from his prior starts, including a win at a mile at Oaklawn Park. We'll see if he can improve at all.
#11 Runner Runner Indy (5/1): Just missed in his last try going a mile, surging in the stretch to lose by half a length. He's been the runner-up in his past three tries, but he got caught behind funky pace scenarios in all those races. With a more honest setup here, he's got a big chance to finally break through.
ANALYSIS
RACE 4: CLAIMING $16,000 (CONDITIONED), 3-YEAR-OLDS AND UP, 1 MILE
1-3-6-7
#1 My Man Pots N Pans (3/1): Runs for just the second time since March, and for the first time since June 5. He backed up badly in his last race, but that was a much tougher field than he'll face here. Won against better back in January, and ran two big races later in the winter meet. Workouts have been steadily strong. He might need a race, but he also might not need his best to beat this field.
#3 Muhlenberg (9/2): Won two in a row at Delaware Park, both times running away from the field going the two-turn mile. Trevor McCarthy gets aboard for the first time. He should relish this distance around one turn, with that long stretch. 
#6 Thatwouldbegrand (7/2): Ran an impressive race four back to beat n/w2L claimers, with a strong figure of 87. He hasn't been able to match that in his last few, but has shown good closing speed, and has solid recent form.
RACE 5 – STARTER OPTIONAL CLAIMING $25,000, 3-YEAR-OLDS AND UP, 1 1/16 MILES
9-8-7-6
#9 Hard Sting (6/1): He's been taking steps forward since returning off a long layoff. Most recently, he smashed the competition against maiden claimers, earning a figure of 86 while winning by eleven lengths. 
#8 Welling (5/2): Made his first start for the Kieron Magee barn last out, and battled well turning for home to hold on for second. His form declined when facing better over the summer, but against these types, he tends to run figures in the 80s, which should be good enough to win here.
#7 Silent Malice (3/1): Goes first off the claim for Rodolfo Sanchez-Solomon, after two efforts where he raced evenly in the stretch and managed to grab a piece. He managed a win when he got a dream setup; it's more likely he'll stumble along for an exotics spot once again here.
RACE 6: CLAIMING $5,000, 3-YEAR-OLDS AND UP, FILLIES AND MARES, 6 FURLONGS
1-4-8-5
#1 Starting Tour (9/5): Wired a very similar field in her last start, beating a lot of the rivals she'll face here. She once again has the best early pace figures, and a perfect post position. 
#4 Majestic Pic (4/1): Finished second to Starting Tour last out, closing from far out of it while running on strong till the end. Beat a conditioned field two back when she was forwardly placed. Julio Correa might want to try that strategy here.
#8 Petion Lass (8/1): In that same race, she fell more than twenty lengths out of it early on. Trying to make up that much ground in a six-furlong race, especially one with a gate-to-wire winner, is an impossible task. She tried her best, finishing a fast-closing third. Assuming she doesn't fall impossibly far behind again, look for her to make a big bid for the lead late.
ANALYSIS
RACE 7 – SMART HALO STAKES, 2-YEAR-OLDS, FILLIES, 6 FURLONGS
5-2-1-7
#5 Prodigy Doll (5/2): Ran a huge race against n/w1x horses last out, lasting on a speed duel and drawing off to an impressive nine-length win. Unlike a few of the other speedsters in here, she's shown she can withstand pace pressure from high-quality horses and have something left. She'll be very tough on the lead.
#2 Out of Sorts (2/1): She was uber-impressive in her maiden win, stalking the pace and drawing off while never feeling the whip. It was a nice building block off her debut, where she broke slowly and still ran on well to finish fourth. There's a lot of speed in front of her here, if any of them get burned out, she'll be right there to pick up the pieces.
#1 Street Lute (5/2): Turned in a big effort in the Small Wonder Stakes two back at Delaware Park. She dueled through fast fractions, but drew off for an easy win. Comes in here off a second-place finish in the Maryland Million Lassie, where she made a good middle move and just missed.
RACE 8: JAMES LEWIS STAKES, 2-YEAR-OLDS, 6 FURLONGS
 9-3-4-5
#9 Lugamo (8/1): Took a big step forward second out, where he easily dispatched his dueling partner and drew off to win a n/w1x allowance. He's cutting back after big wins at a mile and at seven furlongs, but based on his late pace figures, I'm not sure he wants those distances. Against tougher competition, six furlongs might play well for him.
#3 No Cents (6/1): He's improved in each of his three starts, cumulating with a gutsy win against open allowance horses last out. Trevor McCarthy already won a 2-year-old stakes with a Jersey-bred this week, can he get another?
#4 Dalton (5/2): That other Jersey-bred, Pickin' Time, won the Smoke Glacken Stakes in a hard stretch battle with this rival. This one ran a lifetime top figure in that race, and has been working well for his first start in six weeks.
RACE 9: MAIDEN CLAIMING $16,000, 3-YEAR-OLDS AND UP, 6 FURLONGS
1-6-2-10
#1 Booyakasha (3/1): Midwestern invader was scheduled to make his local debut against $10,000 horses last week, but was scratched. He pressed the pace and faded in his last start against better, now, he'll be able to control the terms from the inside.
#6 Wye Mumbo (5/1): Ran his best races earlier in the year while going short. Even though he put in some good closing rallies, it looked like two turns wasn't his forte. Should enjoy the cutback in distance.
#2 Tiz Auction Time (7/2): Drops from the maiden special weight level, after a poor start doomed him in his last race. Faced some decent horses in that spot; this field looks a lot friendlier.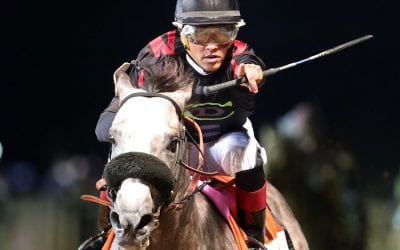 We've got Charles Town picks and preview today as the track presents its Friday card!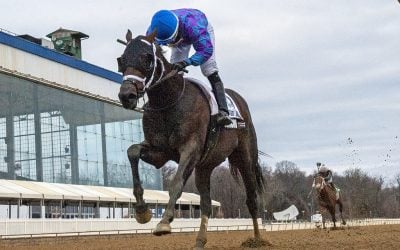 Which Laurel Park jockeys are off to hot starts? Asking for a friend; no, wait, actually asking for the betting public. Answers within…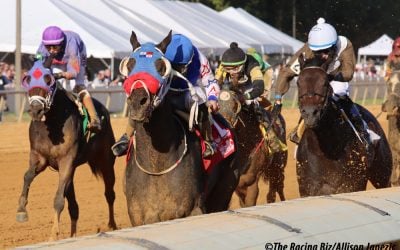 We provide full-card picks and analysis for this afternoon's races at Laurel Park.