Laurel Park picks and ponderings November 13, 2020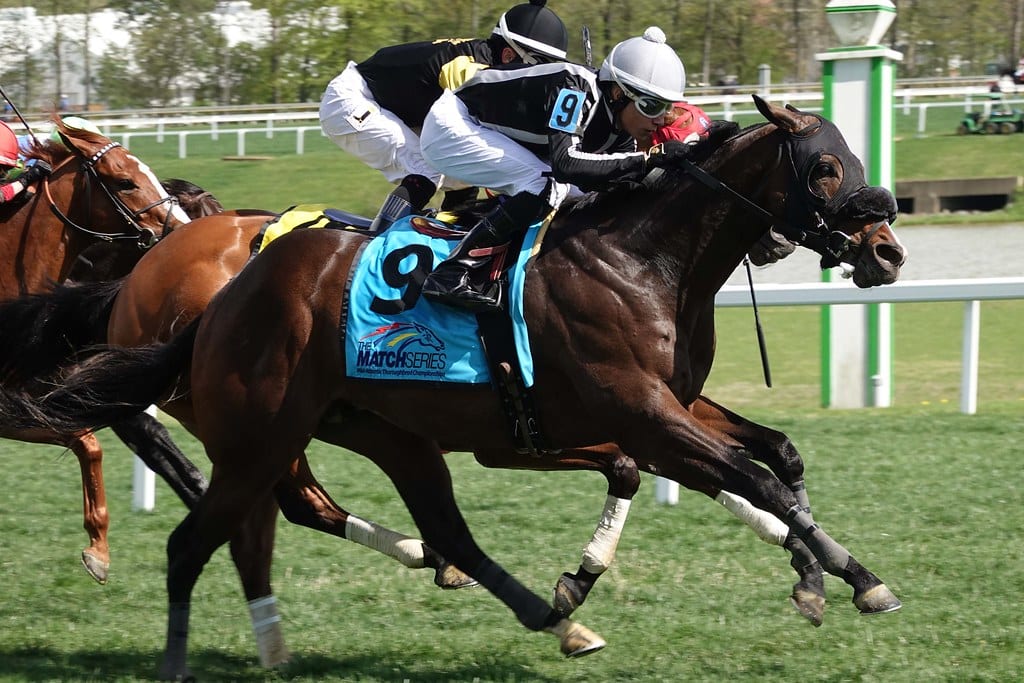 ANALYSIS
RACE 1: STARTER OPTIONAL CLAIMING $25,000, 3-YEAR-OLDS AND UP, FILLIES AND MARES, 1 1/16 MILES
4-7-1-6
#4 Ski Bunny (7/2): Tries winners for the first time, after defeating a maiden claiming field that she could not have lost to if she tried. The late pace figure for that start is very low, but it's a bit deceiving. Victor Carrasco essentially pulled her up in the last sixteenth, as she had built up an insurmountable lead. In the past, she has run on well going two turns. Anthony Farrior claimed her out of that race; he's 24% with that angle.
#7 MJ's Lady (4/1): Won a stretch battle with Ski Bunny three back to break her maiden. Goes second off a brief freshening, and turned in a bullet workout at Fair Hill last week. This'll be her second start against winners on dirt; she hasn't run a bad race on this surface yet.
#1 Witty Banter (10/1): Recent maiden winner beat a $16,000 maiden claiming field going away in her last start. She's got good experience going long, and is worth a look at a price.
RACE 2: CLAIMING $16,000 (CONDITIONED), 3-YEAR-OLDS AND UP, FILLIES AND MARES, 1 MILE
3-2-7-6
#3 Proud Mandate (3/1): She's made four starts since returning off a nine-month break, and she's taken a step forward in each one. Last out, in a 5 1/2 furlong contest, she closed from far out of it to lose by 1 1/2 lengths. Counting on her being able to continue improvement, and handle the stretch-out without trouble.
#2 Lake Chicot (6/1): Wired the field three back over the speed-favoring Saratoga track, in a seven-furlong contest. Goes first of the claim for Jamie Ness, and looks like the lone speed. Could be tough to catch if things go her way up top.
#7 Punk Rock Princess (7/2): Came from off the pace last out, and picked up the pieces to finish fourth. That's a change of pace from her usual style, where she's on or near the pace. Going to be interesting to see which strategy Jevian Toledo will opt to use here.
RACE 3: MAIDEN SPECIAL WEIGHT, 3-YEAR-OLDS AND UP, FILLIES AND MARES, 7 FURLONGS
3-8-5-1
#3 Zola B (8/1): Cuts back in distance after several tries going long. Last out, she almost wired the field going 1 1/8 miles, but faded in the last eighth. She's stepping up from maiden claiming company, but it's not a super-tough field here, and she's got the pace advantage.
#8 Gold Finch (4/1): Improved sharply in her first race off the layoff, hanging in well to finish fourth, while improving her figure by nine points. Workouts since that last race have been getting sharper and sharper.
#5 Peace with Honor (4/1): She got taken out of her element last out, getting jostled around at the break. In spite of that, she closed well for third. She's also been improving since returning from a layoff, and should be forwardly placed if she breaks cleanly.
ANALYSIS
RACE 4: CLAIMING $12,500, 3-YEAR-OLDS AND UP, 6 FURLONGS
2-1-7-6
#2 Successful Zip (5/1): Easily beat a similar field three races back, cruising on the lead. Couldn't get to the lead last time and wasn't a factor; he'll seek to rebound here.
#1 Kingston Pike (4/1): The better half of the Ness entry, he's hit the board in eight races of ten this year, without a win. He always gets his trip, he just hasn't been able to get it done. Still, he's one of the few in here who can steadily run figures in the 80s, marks good enough to win this race. Trevor McCarthy gets aboard for the first time.
#7 Odds On (5/1): A winner of two in a row earlier in the year at this track, he may have been outclassed in his last start, the Maryland Million Starter Handicap. He ran on to finish a solid fourth, now gets a needed cutback in distance and some class relief.
RACE 5 – MAIDEN CLAIMING $25,000, 2-YEAR-OLDS, FILLIES, 5 1/2 FURLONGS
4-13-11-3
#4 Miss Leslie (5/2): She's run on well in both her starts, including a solid third against better last out. Both her figures are in the 70s, so as long as she keeps up her form, she's in good shape. 
#13 Keepyourskateson (9/2): Crossed the wire first in her debut, but was disqualified after drifting in. She has good tactical speed, and should enjoy a good trip rating on the outside. When she backed up last time, she was facing slightly better company; her first race was against $25,000 horses.
#11 Aprilness (6/1): Improved sharply second out, showing speed and hanging in till the last eighth. This is in sharp contrast from her debut, when she was no factor. It was also her first start in almost four months. Second off the bench should be even better.
RACE 6: ALLOWANCE OPTIONAL CLAIMING (N/W3X), 3-YEAR-OLDS AND UP, 5 1/2 FURLONGS
2-6-4-5
#2 Lewisfield (4/5): This uber-classy sprinter comes in off a third-place finish in the Maryland Million Sprint. His only bad race this year came at Charles Town, when he showed little over the bullring. He's enjoyed more success over this track, with seven wins from sixteen starts. He'll look for a fast pace to run into.
#6 Lost in Limbo (3/1): Faced a tough n/w2x field last out, a race that might have been as strong as this group, and drew off to a strong win. Although his didn't get there two back, he had to close from behind in a five-furlong race over a Pimlico track not as favorable to closers, and still finished fourth. A very viable upset candidate.
#4 Reform School (6/1): West Virginia invader does his best running when he sets the pace. He wasn't able to close when in a two-turn sprint at Charles Town last out, but cruised when allowed to set the pace earlier this year. What happens in the opening eighth will likely determine how he does.
ANALYSIS
RACE 7 -MAIDEN CLAIMING $40,000, 2-YEAR-OLDS, 7 FURLONGS
7-10-12-3
#7 Hello Hot Rod (9/5): Brittany Russell has been insane with 2-year-olds lately, with four winners from nine starters. She just missed getting another 2-year-old winner with this one, who surged and missed by a neck in his debut. He's got the top last-out figure by seven points. As long as he keeps up his debut form, he'll be very tough.
#10 Woodchuck (6/1): He got action on debut, against straight maidens at Presque Isle, but flattened to fifth. Turned in a good bullet workout recently at Penn National, and now ships here. Looks to improve second out.
#12 Aloysius Luck (6/1): Ham Smith and Trevor McCarthy teamed up to win with a 2-year-old yesterday; they'll try it again here. This firster has a good, steady worktab. The board will tell the story.
RACE 8: STARTER OPTIONAL CLAIMING $16,000, 3-YEAR-OLDS AND UP, 6 FURLONGS
9-5-6-7
#9 Phantom Ro (3/1): He couldn't get to the lead against much better last out, and subsequently ran a pretty flat race. Prior to that, he had finished at least second in five straight races, after being on or near the pace. In this spot, as long as he breaks cleanly, he shouldn't have much trouble getting to the front.
#5 Nomo Ron (5/2): Won at this level last out in impressive fashion. Has great middle pace figures, and should pack a solid closing punch around the turn.
#6 Air on Fire (7/2): Another speedy sort, he got entangled in a tough pace duel last out going a mile, and backed up as such. He's had some time off since that race, and now should be ready to fire his best. Raced well both on the lead and off the pace earlier in the year.
RACE 9: MAIDEN CLAIMING $10,000, 3-YEAR-OLDS AND UP, 1 1/16 MILES
2-5-8-7
#2 Elusive Motion (3/1): He looks like the fastest horse early on. In his last dirt race, he made a premature move to the lead, and flattened out. He'll look to time things a bit better here.
#5 Hinting (7/2): Drops to a career-low level, and has held his own on dirt, including a near-miss in a match race back in August. The two turns is the only question.
#8 Nicky Bear (8/1): Showed promise on grass in his last two, running by far his two best figures. He'll try to transfer that form over to dirt, where he's been slowly getting better, but still struggling.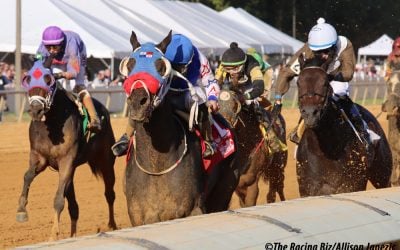 We provide full-card picks and analysis for this afternoon's races at Laurel Park.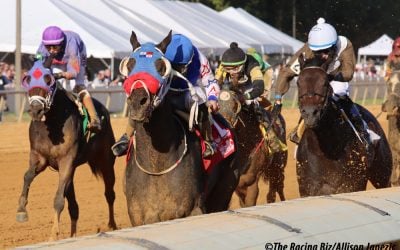 We provide full-card picks and analysis for this afternoon's races at Laurel Park.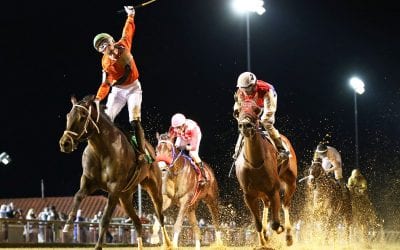 Full-card picks and analysis for this evening's live racing card from Charles Town Races!