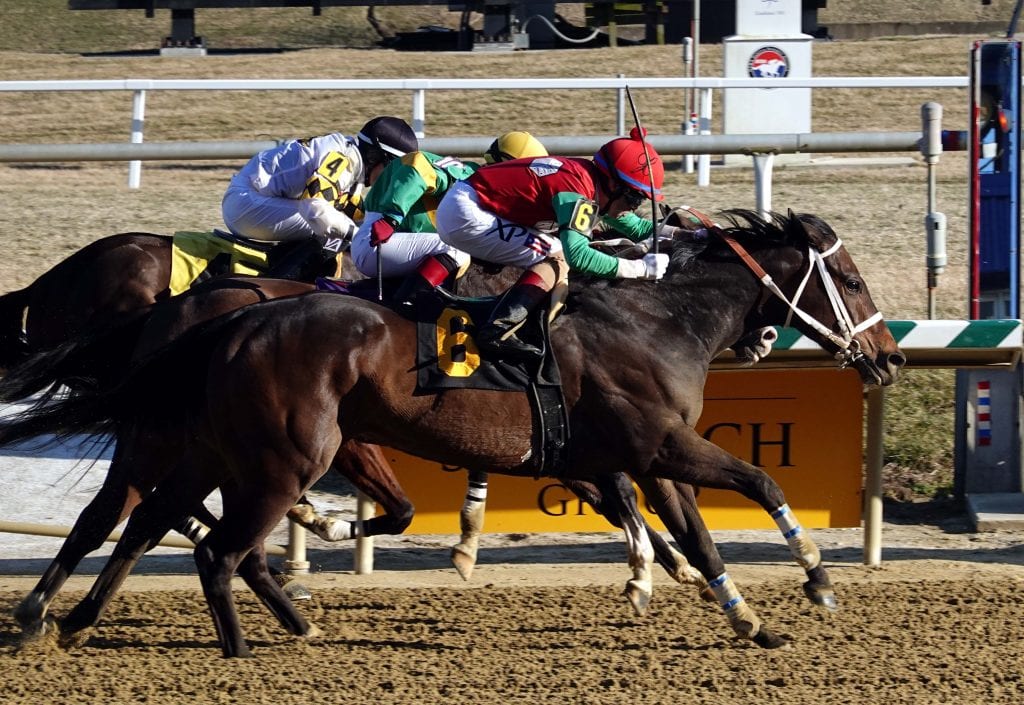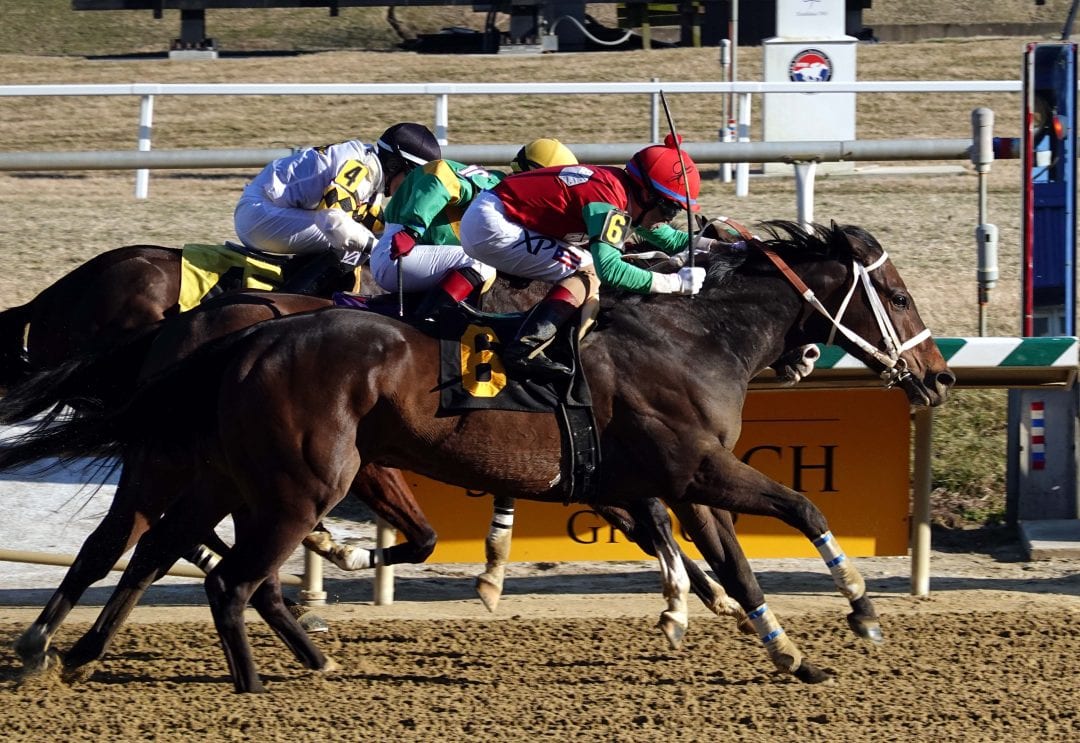 ANALYSIS
RACE 1: STARTER OPTIONAL CLAIMING $8,000, 3-YEAR-OLDS AND UP, FILLIES AND MARES, 1 1/16 MILES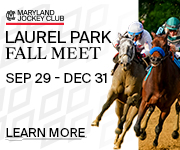 6-7-3-4
#6 Wicked Solution (4/1): Got away with some very slow fractions last out at Penn National, and coasted to the win. There's not a lot of speed signed up for this one, so she could get another very friendly pace scenario. 
#7 Nana's Shoes (5/2): Was scratched out of a tougher spot yesterday in order to race here. She's first off the claim for Michael Gorham, who hits at 23% with such horses, and has a closing style that'll play out well at long distances.
#3 Misdriven (5/1): Jamie Ness sends out two in here, I'll lean towards what will likely be his longer-priced entrant. Got pace-compromised last out, and ended up finishing third, while making deceptively good ground. Trevor McCarthy, Ness's go-to rider in Maryland, gets the mount on this one. Worth noting that Jamie Rodriguez, who is Ness's top jockey in Delaware, has the mount on the other one.
RACE 2: MAIDEN SPECIAL WEIGHT, 2-YEAR-OLDS, FILLIES, 6 FURLONGS
9-4-5-1A
#9 Out of Sorts (5/2): Off a strong closing effort on debut, she was going to be the favorite a few weeks back, in a very tough maiden field. Unfortunately, some shenanigans at the gate caused a late scratch. Now she's back, with two sharp works under her belt since then, and faces a softer field. The Russells are always good with 2-year-olds. Going to be very tough. 
#4 Saliza (3/1): I always like 2-year-olds with experience, but this filly's been runner-up in all three starts in her career. That's usually not a good sign. Last out, she got a good stalking trip and battled on in the stretch, but couldn't get by. A good horse to key in exactas underneath Out of Sorts.
#5 Flirting Miss (6/1): Mike Trombetta sends out a pair; both command respect. I'll lean towards this one, as she's been working strongly and has McCarthy in the saddle. 
RACE 3: CLAIMING $16,000 (CONDITIONED), 3-YEAR-OLDS AND UP, FILLIES AND MARES, 1 MILE
4-2-8-3
#4 Shake d'Moon: Got caught on the lead in a race where the pace totally fell apart, and held on the best of anyone who was near the top early on. In contrast, the track she's racing on here has been leaning towards speed over the past few days. That bodes very well for her. 
#2 Athenasqueen: Takes a needed drop in class after showing little against allowance horses. She's run a brisnet figure of 77 in four of her last five races, which bodes very well for this spot. Two back, against similar, she chased loose leader Odd Gal all the way around, but was clear of the rest.
#8 Desbordes: She's a chicken-or-feathers type. Either she runs a big race, or she turns in a total clunker. Most of that depends on if she can get a clear lead. If she does, she's in good shape. McCarthy gets aboard this New York shipper, and she looks fast enough to clear with the right ride.
ANALYSIS
RACE 4: MAIDEN CLAIMING $10,000, 2-YEAR-OLDS, 6 FURLONGS
4-11-2-5
#4 The King's Cheek (5/2): He took a big step backwards off a promising debut, which isn't good. He got claimed out of that race by Jamie Ness, who puts Jamie Rodriguez in the saddle for the first time. Looks to bounce back and regain his form from that first start, where he ran on well and just missed. 
#11 Silver Sun (9/2): He's two photo finishes away from not being a maiden anymore. Alas, he lost his last two starts by a neck and a nose, so he's in here. Made a lunge for the lead when he lost at six furlongs, then lost a protracted stretch battle when going a mile last out. At this sprint distance, I have to imagine he'll need one well-timed move.
#2 Inject the Light (10/1): Just about everyone else in the field has raced at least once, and most of them have raced badly. As such, I'm inclined to take a shot with this first-time starter. Anthony Pecoraro is a solid 12% with debuters in maiden claimers, and the works have been steady. Crazy things can happen in crazy races.
RACE 5 – CLAIMING $5,000 (N/W2L), 3-YEAR-OLDS AND UP, 7 FURLONGS
6-2-9-12
#6 Sojourner (8/1): Broke his maiden in gate-to-wire fashion two starts back. This'll be just his second try against winners, a refreshing change in this field full of chronic losers. His early speed will be an asset over this track. With many bad favorites taking action, he could go off at a very bettable price.
#2 Unconquered Spirit (20/1): It's a race full of chronic losers and bad favorites, so let's try a longshot. He broke his maiden two starts back at Presque Isle Downs in impressive style, closing from behind to win it. Takes a slight drop in class after a dull try going long. He could, at least, suck up and get a piece of the exotics at long odds.
#9 Sin Bin (15/1): It's not every day you see McCarthy named on this big a longshot, but that's what we've got here. This gelding gets back to dirt after some grass tries, and he's never lost against winners on dirt. He's shown a good closing kick that could earn him a check in this spot.
RACE 6: MAIDEN SPECIAL WEIGHT, 2-YEAR-OLDS, 6 FURLONGS
9-2-4-7
#9 Rapid Response (9/2): He improved a bit in his last start, chasing a well-meant loose leader and finishing second. It doesn't look like he caught a super-strong maiden field, so his experience should carry the day. 
#2 Golden Gulley (7/2): Another one with experience, he gets blinkers on after a wide, flat trip. He's gotten plenty of wagering action in each of his two starts, and I'd expect him to be well-backed once again. 
#4 The Big K (5/1): This Cal Lynch firster has looked well-meant in the mornings. The board will tell the story; the 5/1 morning line suggests he'll receive some action.
ANALYSIS
RACE 7 – ALLOWANCE (N/W1X), 3-YEAR-OLDS AND UP, FILLIES AND MARES, 6 FURLONGS
9-7-12-8
#9 Kisses for Heidi: Got a good trip stalking the pace and battled on in the stretch to win last out. Declined a bit off a big effort two back at Churchill Downs, where she tried to rally wide, always a difficult task there. This'll be her first try against winners, in a race where she looks like one of the speediest members of the field.
#7 Villamoura: She's the preeminent early speed, in a race where horses love to stalk, but not take the initiative and set the pace. The only downside is that she tends to get wound up before the race, and has caused problems in the gate in each of her last three races. That might work fine in races against maiden claimers, but against these types, she'll need to save as much energy as she can.
#12 Carolina Ice: Katie Davis is also the regular rider on Patriotic Punch, but she jumped off that one to ride this mare. She's got a stalk-and-pounce style that has gotten her the win in two of her last three races. She wasn't much of a dirt horse earlier in her career, but she's run back-to-back lifetime tops on this surface.
RACE 8: MAIDEN CLAIMING $10,000, 3-YEAR-OLDS AND UP, 1 1/16 MILES
4-5-9-7
#4 Pardon the Pun (2/1): Jonathan Joyce is looking for his first riding win since 2013 on Sunday's card. He's got an excellent chance of getting that score on this one. No one looks fast enough to go with him early, and if he can sneak away and set slow fractions, it'll play right into his hands.
#5 Feature Act (5/2): Put in some strong closing rallies going a mile, then showed little when stretching out. I'm willing to give him another chance to show his stuff going longer.
#9 Infinity (15/1): He's lightly-raced, drops for a career-low tag, and has some early speed. All those factors combine for a possibly upset.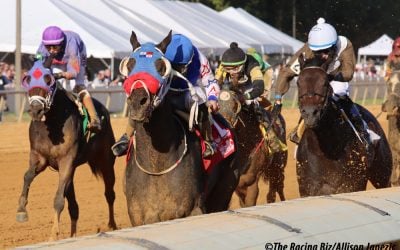 We provide full-card picks and analysis for this afternoon's races at Laurel Park.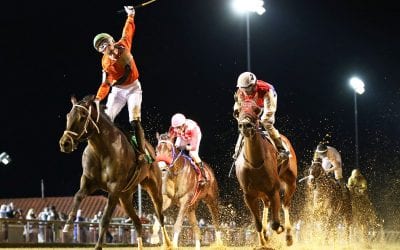 Full-card picks and analysis for this evening's live racing card from Charles Town Races!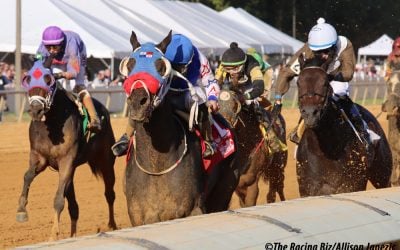 We provide full-card picks and analysis for this afternoon's races at Laurel Park.