Laurel Park picks and ponderings October 31, 2020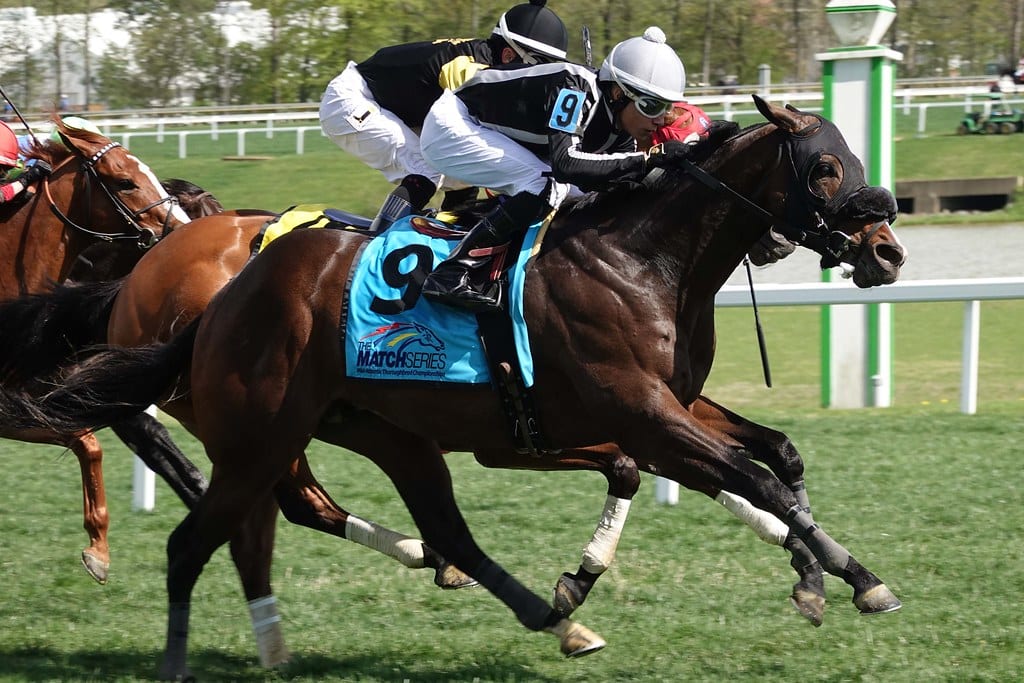 Dirty. Photo by Allison Janezic.
In which we pick the races from Laurel Park each day…
Post time: 12:25 p.m.
Carryovers: Rainbow Jackpot Pick 6 — $775  Super High 5 –$0 Late Pick 5 — $0
 ANALYSIS
RACE 1: STARTER OPTIONAL CLAIMING $25,000, 3-YEAR-OLDS AND UP, 1 MILE
5-6-4-1
#5 Instigated (7/5): Shipped here off the claim from Churchill Downs last out, and handily defeated a maiden claiming field. He's got plenty of early speed, and the dirt has been playing towards speed as of late. He could end up with a very comfortable trip.
#6 Mr. Hand Full (8/1): He's also shown plenty of early speed in the past, but he's also backed up on the lead in his last few. Over this track, he might forget how to stop.
#4 Runner Runner Indy (2/1): In both of his last two starts, he's fallen far behind a loose leader, and left himself with too much to do. Ideally, he'll want to sit close to the pace, and not let a horse like Instigated sneak away. From there, he's got a good closing punch that should get him another runner-up finish.
RACE 2: STARTER OPTIONAL CLAIMING $16,000, 3-YEAR-OLDS AND UP, 1 MILE
3-9-11-7
#3 Successful Cure: He finally broke through to win two starts back, sitting a great trip and drawing off, earning a brisnet figure of 90. In his next start, he battled gamely in the stretch to lose by a head. He holds a big speed figure edge over the rest of these, and has good tactical speed. 
#9 Gallinipper: His last start can be readily excused, as he was held in the gate and declared a non-starter. It was still a pretty strong effort, though, as he rushed up and gained tactical position, holding on to finish second. When he's allowed to break cleanly, he tends to set the pace, and sometimes gets loose. That's a big asset over this track. 
#11 English Tavern: Needed every bit of the long one-turn mile stretch in his last dirt race, breaking his maiden by half a length with a sustained stretch bid. He's lightly-raced, making just his fifth career start. Looking for him to close and get a piece once again.
RACE 3: CLAIMING $8,000, 3-YEAR-OLDS AND UP, 6 FURLONGS
1-4-8-5
#1 Successful Zip (5/2): He's got early speed from the inside post, an asset that got him two wins over the summer meet. Last out, he was fractious before the start, and got involved in a very tough pace duel. Here, he'll look to control the tempo.
#4 In the Loop (4/1): Ran a big race last time at Delaware. He got involved in a tussle through very fast fractions, but shook them off and drew off to win. He's going to have to run a similar race here, with likely pace pressure from Successful Zip.  
#8 Sunman (6/1): Scratched out of a longer spot on Thursday to go here. He took full advantage of the mile last out, drawing off to an easy win after stalking the pace. If the track doesn't play as well to speed, and the early leaders burn themselves out, he'll be right there to pick up the pieces. 
ANALYSIS
RACE 4: MAIDEN CLAIMING $10,000, 3-YEAR-OLDS AND UP, FILLIES AND MARES, 1 1/16 MILES
2-7-3-1
#2 Ski Bunny (3/5): I know it's not much fun picking horses who are odds-on on the morning line, but she's got a gigantic speed figure edge over the rest, and is in for the tag for the first time. Definitely not worth a win bet, but a horse that you can single in the pick 5 with confidence. 
#7 Square Peg (15/1): Almost wired the field last out at Delaware, falling short in the final sixteenth to lose by 3/4 of a length. She's lightly-raced and has ever-important early speed. If, for whatever reason, Ski Bunny doesn't fire, this one could wire them at a price.
#3 Po Dunk (12/1): Got hung wide all the way last out, and didn't have a chance. She's drawn further to the inside, is second off the claim for Claudio Gonzalez, and gets top Delaware jockey Alex Crispin aboard. Look for her to be near the pace.
RACE 5 – ALLOWANCE OPTIONAL CLAIMING (N/W2X), 3-YEAR-OLDS AND UP, 5 1/2 FURLONGS
9-14-7-4
#9 Phantom Ro: He looks like the fastest member of a classy field. He ran huge last out at Pimlico, dueling through very fast fractions, drawing clear of his dueling partner, only to get outkicked by a perfect-trip rival. Should be tough on the lead once again. 
#14 Carey Times: Another speedy gelding, he's won his last two races while being on or near the pace. Last out, he soundly beat an open n/w1x field after drawing off to a clear lead. Earlier in the year, he would tire when challenged on the pace, but he looks like he's come into his own as the year has gone on. I don't expect him to fold unless the pace is absolutely blistering. 
#7 Pianzi: Won three in a row at Monmouth Park earlier in the year, stalking the pace and drawing off to beat Jersey-bred fields handily. Should enjoy a great trip off all these speed horses, and has the late pace figures to make an impact in the stretch.
RACE 6: MAIDEN CLAIMING $10,000, 2-YEAR-OLDS, FILLIES, 6 FURLONGS
7-8-1A-4
#7 Quickstrike (9/2): Improved sharply second time out, checking at the start, rushing up, and fading in the last sixteenth. With a cleaner break, she should take yet another step forward. 
#8 Magic Election (5/2): Finished a very distant third behind two pretty good horses. The winner, Trip to Freedom, came back to finish third in the Maryland Million Lassie. This filly's been working well since that last race, and trainer Cal Lynch is 25% with horses making their second start. 
#1A Brooke N Logan (5/1): It's likely that only one half of this Ness entry goes. Both look solid, but I give the slight edge to this one, with some slightly faster recent workouts. Jamie Rodriguez, who was Ness's go-to rider at Delaware, has the mount. 
ANALYSIS
RACE 7 – CLAIMING $5,000 (CONDITIONED), 3-YEAR-OLDS AND UP, 5 1/2 FURLONGS
7-3-12-9
#7 Frank's Legacy (5/1): Speaking of Rodriguez and Ness, they'll team up in this spot as well. Won three in a row over the winter in Florida, then showed little in his first start off a long break last out. He consistently ran figures in the 80s during his winning streak, numbers that would win this one easily. I have to imagine that last race was just a prep, and now he's ready to fire a big one.
#3 Robber Bob (3/1): It looked like he would wire a similar field last out, but he got tired in the last eighth and was caught. If the track is playing towards speed again, that could carry him to victory. 
#12 Victory Given (5/1): Hard-knocking gelding cuts back from a mile race, where he spooked in the middle of a rally. His two most recent wins have come in sprints, and he's got an dependable closing kick. 
RACE 8: ALLOWANCE (N/W1X), 3-YEAR-OLDS AND UP, FILLIES AND MARES, 1 MILE
 3-2-6-8
#3 Pilot Episode: Cruised to a 17-length win in her last start, where she was allowed to set an uncontested pace. Depending on how the complexion of this off-the-grass affair shakes out, she could get a similar trip here.
#2 Inside the Box: Won her first start when she was forwardly placed and pulled away. Last out, she fell too far behind the pace to make a serious impact. Made a decent rally for third, but she'll need to be more aggressive to stand a serious chance.
#6 Nana's Shoes: Goes first off the claim for Michael Gorham, who is 23% with such horses. Tends to rate just off the pace and roll in the stretch. That could play very well over the long stretch. 
RACE 9: CLAIMING $10,000 (N/W2L), 3-YEAR-OLDS AND UP, 6 FURLONGS
9-3-6-5
#9 Spud (4/1): He probably would've crossed the wire first in his last start at Parx, if not for getting brutally cut off in the stretch. As it were, he was put up by disqualification. Lightly-raced gelding should stalk the pace on the outside. 
#3 Dr. Rusty Raymond (12/1): Recovered nicely from a bad start last out to break his maiden at Charles Town by a neck. He's improved his figure in his last four starts, running a relatively strong 73 in that last race. 
#6 Just Enough (8/1): Another one trying winners for the first time, he's also going to be prominent on the early pace. His last-out figure of 75 is a lifetime top by seven points.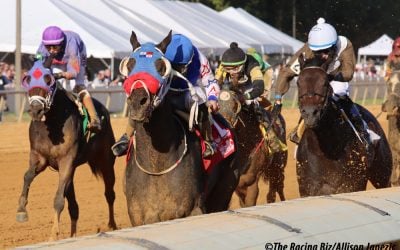 We provide full-card picks and analysis for this afternoon's races at Laurel Park.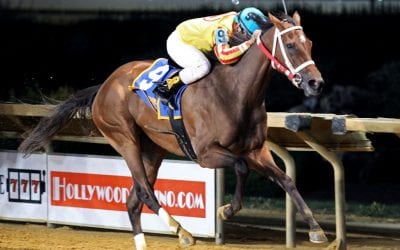 We provide picks and analysis for this evening's card at Charles Town Races.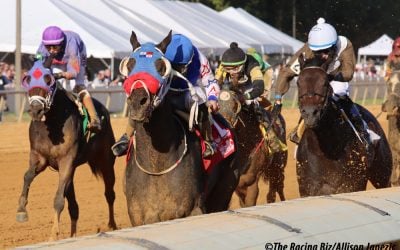 We provide full-card picks and analysis for this afternoon's races at Laurel Park.