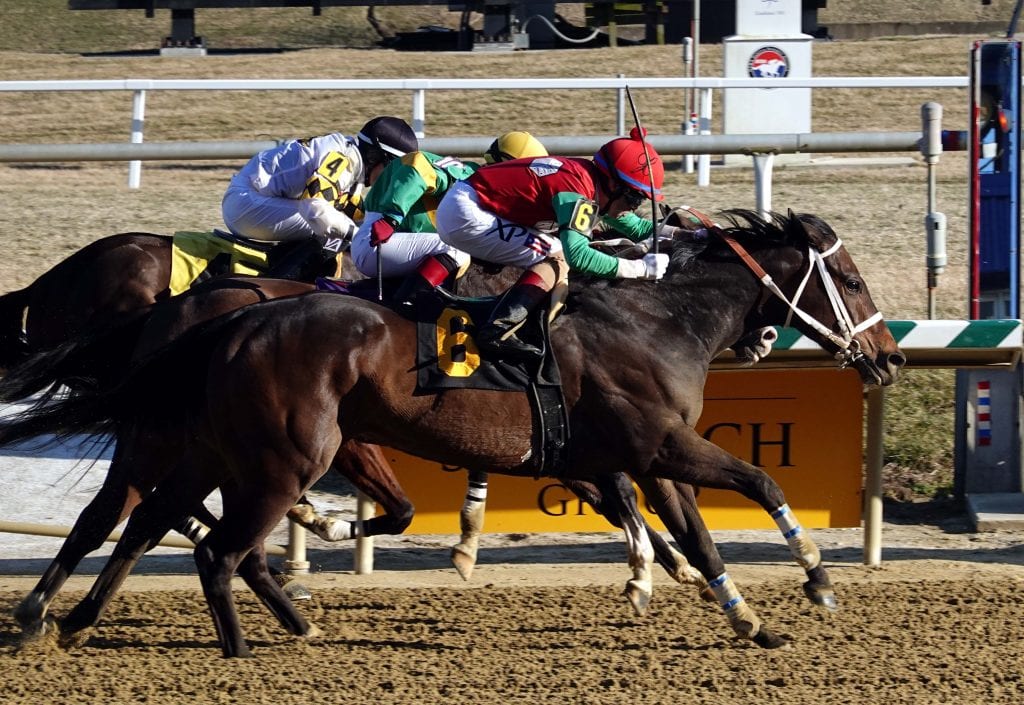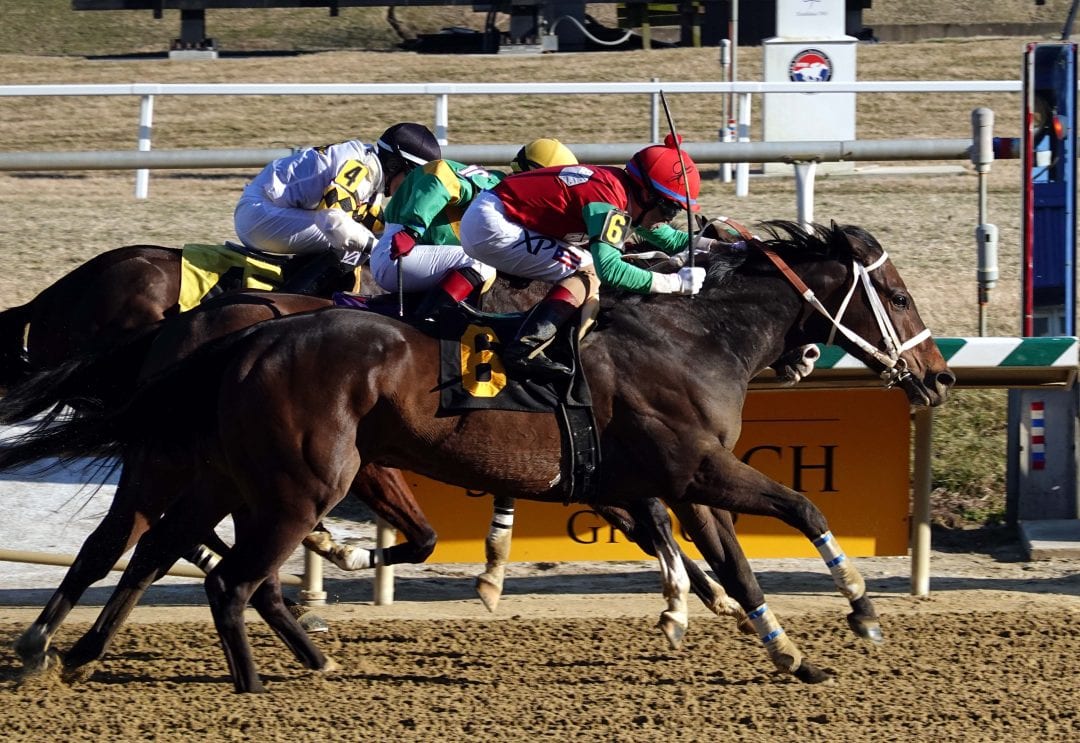 Anna's Bandit. Photo by Laurie Asseo.
In which we pick the races from Laurel Park each day…
Post time: 12:40 p.m.
Carryovers: Rainbow Jackpot Pick 6 — $2,075  Super High 5 — $1,779 Late Pick 5 — $0

Notable: Until further notice, no fans are allowed to attend the races at Laurel Park. For more info, click here.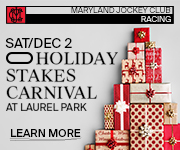 ANALYSIS
RACE 1: CLAIMING $16,000 (N/W2L), 3-YEAR-OLDS AND UP, 1 MILE
4-7-12-13 (GRASS: 14-11-3-10)
#4 Holy Saint: Cuts back around one turn and takes a slight drop in class. He inadvertently had to come from off the pace in his last race, after a bad break, but held well for third despite racing wide throughout. He's also fairly lightly-raced; this is just his seventh career start. 
#7 Classy Solution: Raced well in his last start at the one-turn mile, battling on the lead and yielding late. That's the only time in his recent races that he's been on the lead; usually he stalks the pace and grinds in the stretch for a share. He's had many tries against winners without success, but looks like he can rally on and grab a piece. 
#12 Silent Malice: He was superfically impressive in breaking his maiden last out, and he's run other good figures in the past. Still, how likely is it he gets away with another 26 second opening quarter? Not likely at all, I would say. Ran some good races while stalking the pace and trying to grind past; it'll be interesting to see if Trevor employs that style again, or if he decides to send. 
RACE 2: CLAIMING $5,000 (N/W2L), 3-YEAR-OLDS AND UP, 5 1/2 FURLONGS
6-3-4-1
#6 Derek's Boy (5/2): Enters here off a big effort at Charles Town, where he rallied from far back in a 4 1/2 furlong race to miss by just a neck. That track is not favorable to closers, Laurel is more friendly to those coming from behind. J.D. Acosta, who has been riding him at Charles Town, keeps the mount here.
#3 Moon Watcher (3/1): Seeks to bounce back after a poor performance last out. Goes first off the claim for Anthony Farrior, who hits at 24% with that angle. Tends to press the pace and wilt; looks to take a step forward fifth time out.
#4 Gone Home (6/5): He's got standout figures, and faces the easiest field he's seen in a while. Still, can you take low odds on a horse who's 1-for-23? This might finally be a field he can win against, but I can't bet him to win at that price. The type of favorite I'd try to beat.
RACE 3: MAIDEN CLAIMING $40,000, 3-YEAR-OLDS AND UP, 1 MILE
4-12-11-8 (GRASS: 9-2-5-8)
#4 Paint Music for Me: Michelle Nevin trainee ships back to Maryland after a big race first off the layoff. Always runs brisnet figures in the 70s, which haven't been good enough yet. However, he's been working steadily since his last start, on August 14, and this isn't the strongest field.
#12 Super Houdini: Tends to fall way behind and make up ground in the stretch to hit the board. His best race was under circumstances a lot like this one: he finished second in an off-the-grass maiden claiming race, riding in the inside. The best bet for Wes Hamilton would be to try to keep him midpack, while ideally not losing too much ground.
#11 Point Driven: Drops for a tag for the first time, and catches a fairly soft field. Closed well after bad breaks in two of his last three races, with his only clunker coming when he was outclassed at Saratoga. The distance is his only question. The last time he went a one-turn mile, at Gulfstream Park in January, it didn't go so well. 
ANALYSIS
RACE 4: CLAIMING $12,500, 3-YEAR-OLDS AND UP, 5 1/2 FURLONGS
3-9-1-12 (GRASS: 5-7-10-1)
#3 Smart Step: Battled well to finish second at this level in each of his last two races. He's run at least an 84 in each of his last six races, a figure most of his rivals struggle to hit even once. Looks very tough.
#9 Spokane Eagle: Tends to show blazing early speed and fade. Even if Smart Step can catch him, this one generally hangs on pretty well; the only time he completely backed up was against much better horses at Belmont Park. Can definitely manage to snag second or third. 
#1 Battlebus: Showed speed earlier in his career, but he's come from off the pace in his last few. That may prove to be an asset, as this race is loaded with early speed. Finished a solid third in his last start against better, with a respectable kick from behind. 
RACE 5 – MAIDEN CLAIMING $16,000, 2-YEAR-OLDS, FILLIES, 5 1/2 FURLONGS
2-3-4-6
#2 Mineshaft Magic (2/1): In a race light on established form, taking the horse trained by Claudio Gonzalez and ridden by Angel Cruz is pretty safe. She's been working well at Parx for her debut. 
#3 Twice Served (9/2): Robert Bailes firster has also been working well, and has some decent wet track breeding. 
#4 Who Knows What (4/1): Plunges in class from maiden special weight company. She's raced well every time, but still doesn't know how to break. If she can leave cleanly, she'll be very tough. It's still a big "if", however. 
RACE 6: ALLOWANCE (N/W1X), 3-YEAR-OLDS AND UP, MD-BRED, 5 1/2 FURLONGS
2-11-12-13 (GRASS: 7-10-3-6)
#2 Abuelo Paps: He burned some money in each of his last two tries at this level, closing well while just missing. He ran some big figures in those spots, and there's a lot of speed for him to run into. I'll give him one more shot. 
#11 Forfiftyfiverocket: Ran huge last out, showing speed, battling on the pace, and lasting to miss by just a neck. He came from just off the pace in his races prior; his only bad effort was when he checked severely and lost lots of ground.  
#12 Start With Yes; Battled with Nick Papagiorgio in his last race, and lost to that rival after a prolonged stretch duel. He's best known for his closing speed, so 5 1/2 furlongs might be too short for him. Nonetheless, he's in top form and has some great speed and late pace figures. 
ANALYSIS
RACE 7 – ALLOWANCE OPTIONAL CLAIMING (N/W2X), 3-YEAR-OLDS AND UP, 1 MILE
12-9-7-6 (GRASS: 5-1-10-2)
#12 Galerio: In the midst of a phenomenal campaign, finishing in the top two in nine of his ten races this year. Showed a lot of fight coming from behind in his last race, battling in the stretch to win by a nose. He's already won twice at the one-turn mile this year, and hasn't run lower than an 88 in his last nine races. 
#9 Rough Sea: He hasn't been seen since June, but has been throwing down some bullets in the morning getting ready for his return. Crushed a n/w1x field two back, then faced a much better n/w2x field last out and fell flat. He's also relatively lightly-raced, with just nine races to his credit, but has improved each time out.
#7 Paradise Pride: Didn't have to beat much in his two big wins earlier this year, but still looked pretty impressive in victory both times. He crushed two fields here and at Delaware by a combined 15 3/4 lengths, running figures in the 90s both times. Looks to stalk and pounce. 
RACE 8: CLAIMING $16,000, 3-YEAR-OLDS AND UP, FILLIES AND MARES, 6 FURLONGS
2-1-3-4
#2 Lake Chicot (7/2): Saratoga shipper has blazing speed and an inside draw. Should be able to clear from the top and draw off from the rest. 
#1 Le Petite Papillion (6/1): Lightly-raced filly has already won twice in her first five races. Last out, she got the trip stalking the pace, and wore down the leaders for the late victory. Looks to get a good trip stalking on the inside, and will take advantage if the speed falters.
#3 Proud Mandate (7/2): Makes her third start off the layoff, and her first outing for Anthony Farrior. Improved sharply last out, finishing third with a strong wide rally.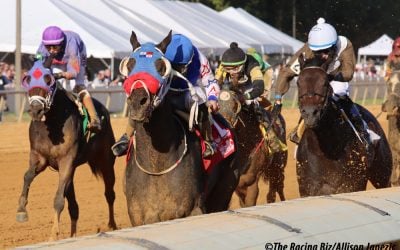 We provide full-card picks and analysis for this afternoon's races at Laurel Park.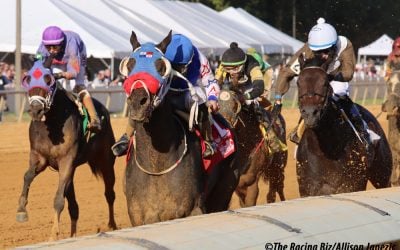 We provide full-card picks and analysis for this afternoon's races at Laurel Park.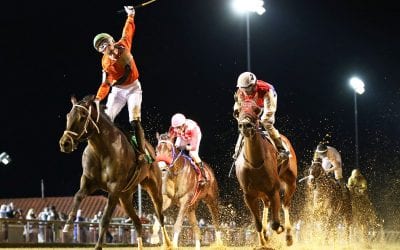 Full-card picks and analysis for this evening's live racing card from Charles Town Races!