Pimlico picks and ponderings October 1, 2020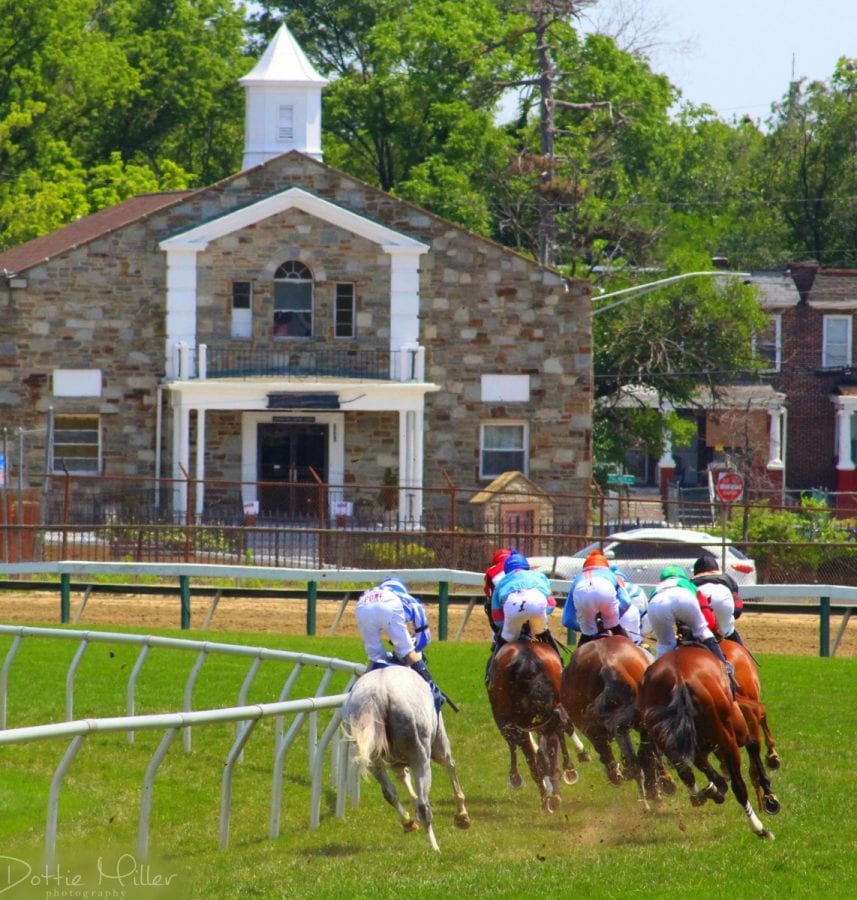 Horses round the first turn at Pimlico. Photo: Dottie Miller
In which we pick the races from Pimlico each day…
Post time: 12:40 p.m.
Carryovers: Rainbow Jackpot Pick 6 — $3,102  Super High 5 — None Late Pick 5 — None
Notable: Until further notice, no fans are allowed to attend the races at Pimlico. For more info, click here.
ANALYSIS
RACE 1: CLAIMING $5,000 (CONDITIONED), 3-YEAR-OLDS AND UP, FILLIES AND MARES, 6 FURLONGS
6-3-7-5
#6 Susikin (7/5): She was impressive in her last start, lasting on a three-way speed duel and drawing off to an easy victory. Her pace figures look fast enough for her to cross over and set the tempo without too much trouble. The dirt was pretty speed-favoring last weekend; if it keeps up, this one could be over.
#3 Greasedlightning (3/1): Her brisnet figures, especially in her last two, tower over those of the rest, even Susikin's. The main problem: she keeps getting great setups off the pace, but lacks a big closing punch. Last out, she got the setup, but made only mild ground in the stretch and got second. If Susikin and Barbsgray Lion burn each other out, she might be able to take advantage, but even then, it's no guarantee. 
#7 Lady Rozina (8/1): If you dismiss her last race, where she did nothing, she's steadily run figures in the 70s, while getting up to win after stalking the pace. That last race was over a sloppy track; while today's surface has some moisture in it, it should be pretty fast. Perhaps that'll help.
RACE 2: MAIDEN SPECIAL WEIGHT, 2-YEAR-OLDS, 1 1/16 MILES
9-2-4-5
#9 Excursion: Had a slow break on debut at Saratoga, before rallying a bit in the stretch and getting fourth. Gets blinkers on and the riding services of John Velazquez, who's in town to ride Authentic on Saturday. 
#2 Plamen: In his first start, at Delaware Park, he got entangled in a pace battle. While he won the battle with his dueling partner, he lost the war, finishing a clear-cut second to a closer. If he can stretch out, his early speed will make him dangerous.
#4 Romp: Fell way, way behind in his first race, and closed from way out of it for second. He's going to have to show more early speed to be a contender here, but demonstrated a punch that will be impactful if he can stay moderately close. 
RACE 3: CLAIMING $10,000 (CONDITIONED), 3-YEAR-OLDS AND UP, 6 FURLONGS
7-8-3-1A
#7 Robber Bob (3/1): Wired the field two starts back at Colonial Downs, and was defeated last out after racing wide off a very fast pace. Now, he's the main speed, and can control his destiny on the front end. John Robb and Xavier Perez are a tough trainer/jockey combo, hitting at 17% over the past sixty days.
#8 Girls Love Me (7/2): He's shown speed in the past, but has adopted a mid-pack style in his most recent races. Comes off a solid third-place finish at this level, where he closed strongly in the stretch going a mile. 
#3 Twixy Cat (7/2): Drops in class after facing better up and down the mid-Atlantic. He was in great form prior to the break, including a drawing-away win with an 81 figure, but has struggled since then. This'll be his chance to show that he's not washed up. Look for him to rate off the speed from the inside.
ANALYSIS
RACE 4: CLAIMING $12,500, 3-YEAR-OLDS AND UP, 1 1/16 MILES
1-5-6-4
#1 Our Star: Didn't look like much of a factor on grass, but now that this race has been moved to dirt, she's going to be very tough. She's run figures in the 80s three times on this surface this year, all against slightly tougher. 
#5 Hell of Afire: Recently got a freshening after two poor efforts. Prior to that, she steadily ran figures in the 80s, and was second in a West Virginia-bred stakes at Charles Town three back. It's possible the wheels have completely fallen off, but it's not a strong field, so she should suck up for a piece just by default. 
#6 Beyond Forever: Doesn't have any speed whatsoever, and as noted, the track's been playing towards speed. Still, she's run some solid late pace figures, and ran a strong figure of 79 in her first race off a layoff last out. That came after a bad break, setting her even further back than anticipated. 
RACE 5 – ALLOWANCE OPTIONAL CLAIMING (N/W2X), 3-YEAR-OLDS AND UP, FILLIES AND MARES, 6 FURLONGS
3-6-2-1
#3 Dontletsweetfoolya (3/5): Looks like an absolute standout over the field, to the point where it's kind of surprising she's not in the Miss Preakness on Saturday instead. She won two straight at Laurel over the summer, with dominating front-running trips. The only hard part will be outrunning Le Weekend to her inside; if she does that, it's ballgame.
#6 Gifted Heart (5/1): Maryland Million-eligible filly likes to sit off the pace and pounce. It backfired in the Charles Town Oaks, but she ran on to finish a solid second last out at this level. Even if Dontletsweetfoolya runs away from these, this filly can stalk and grab a piece.
#2 Le Weekend (3/1): Comes back to Maryland after a stint at Delaware. In both her races there, she set fast paces and drew off to victory. The presence of Dontletsweetfoolya makes things tricky for her: she's going to have to work hard to outrun her rival, and the odds of her getting a trip like she did two back are close to nil. Still, she lasted in a blazing duel last out, so maybe she can hang in there and give her rival a fight. She's also Maryland Million-eligible.
RACE 6: JIM MCKAY TURF SPRINT, 3-YEAR-OLDS AND UP, 5 FURLONGS (GRASS) 
2-6-8-4
#2 Texas Wedge (9/5): Raced wide in each of his last two, against some of the country's top grass sprinters, and came close both times. All three of his recent figures have been at least 93, which is better than most of these are capable of running at their best. Should get an honest pace to run into and draw off turning for home.
#6 Completed Pass (4/1): Had an Afleet Alex moment in the stretch of the Laurel Dash, when he clipped heels and almost went down. Undeterred, he recovered and won. He won this race last year with a gutsy effort, albeit against a weaker field. He's remembered how to break after some trouble with that earlier in the year, so look for him to be a major factor on the pace. And, of course, don't forget about the combo of Claudio Gonzalez and Angel Cruz.
#8 Tiger Blood (7/2): The chief challenge to the early dominion of Complete Pass. He couldn't quite get to the lead in his last three, but when he set the pace going short over the winter at Gulfstream, he was close to unbeatable. If Trevor is aggressive, he can try to clear Complete Pass and run them off their feet.
ANALYSIS
RACE 7 – MAIDEN CLAIMING $25,000, 2-YEAR-OLDS, 6 FURLONGS
6-9-8-5
#6 Doublebarrelbourbon (10/1): Lacey Gaudet hits at a sharp 16% with first-time starts, and this one's workouts have been solid. This is the kind of race where it's worth taking a shot with a price.
#9 Natty Beau (7/2): He's shown speed in each of his last two and given way. Trevor McCarthy gets aboard for the first time, and he should be used aggressively.
#8 Nobody Knew (4/1): Drops for a tag for the first time. He showed promise against straight maidens first out at Delaware, showing speed and hanging around for third. Seeks a rebound after a dull try last out at Parx.
RACE 8: THE VERY ONE STAKES, 3-YEAR-OLDS AND UP, FILLIES AND MARES, 5 FURLONGS (GRASS)
8-7-5-10
#8 Jo Jo Air (3/1): Set the pace and just missed in this race last year. In her last race, at Del Mar, she got a great trip stalking the pace and rolled by. There's plenty of speed in here, so all Paco has to do is take back and wait for the leaders to burn themselves out.
#7 Ode to Joy (8/1): A very live longshot, given the way this looks on paper. In her last grass race, at Laurel in May, she came from far out of it off a fast pace to beat a n/w3x field by half a length. Granted, it's a long stretch at Laurel, and it wasn't a great field, but it demonstrated her closing kick quite well. Look for her to be flying in the lane.
#5 Wild About Star (12/1): Similar to Ode to Joy, she likes ti stalk and roll. She won this race last year, by sitting just off a very fast tempo, and getting up over Jo Jo Air late. This'll be her third race of the year, and her first on grass. 
RACE 9: CHICK LANG STAKES, 3-YEAR-OLDS, 6 FURLONGS
7-9-6-10
#7 Dreams Untold (8/1): This could be the breakout race I've been waiting for from him. He made noise in January with his maiden win at Parx, then ran a gigantic race in the Miracle Wood at Laurel next out. Last out, he ran a career-top figure against Pennsylvania-breds, drawing off impressively in the end. Should be just off the pace, and has the power to outkick them turning for home. Trevor takes the mount for the first time. Worth a long look at a price.
#9 Yaupon (4/5): In a race like this, it's almost impossible to bet a horse like this at low odds. Still, he's going to be very tough in here. Comes off a sharp win in the Amsterdam, when he set a half in 44.3 second and kept on going. He's going to encounter pressure on the early lead, but he looks good enough to withstand it.
#6 Double Crown (8/1): This Maryland-bred comes back to his home state, after a campaign at Gulfstreeam. He won two stakes down there, stalking the pace and just getting up to win. Might get outkicked if one of the frontrunners draw off, but he's a strong exotics candidate.
RACE 10 – MAIDEN SPECIAL WEIGHT, 3-YEAR-OLDS AND UP, 1 1/16 MILES
8-5-10-2
#8 Pool Shark: It's true that his only race came more than a year ago, but it was the exact kind of race that might win here. He went to the front end, encountered pressure, and tired out. Now, he's in a race with less early speed. Could end up cruising around quite easily. 
#5 American Piper: Flattened out after rating just off the pace in each of his two starts, against New York-breds. He's lightly-raced, and his figures have been relatively sharp. We'll see how he does stretching out. 
#10 Good Luck Legacy: Rallied nicely after a slow start to get third on debut, back in December. He hasn't been seen since then. Might need a race off the break, but has been working steadily, including a six-furlong drill. That indicates his people prefer longer distances for him.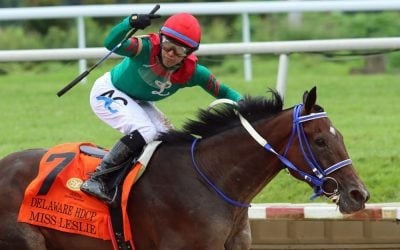 Racing returns to Delaware Park May 24, and we return with Delaware Park picks and analysis for the track's 86th racing season.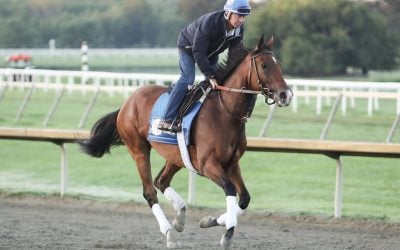 Saturday's Parx Racing card features the Grade 1 Cotillion and Grade 1 Pennsylvania Derby, making it the biggest day of the year at the Bensalem track.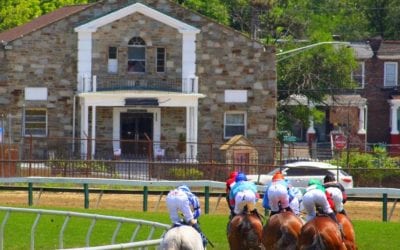 We provide full-card picks and analysis for this afternoon's races at Pimlico.