Pimlico picks and ponderings September 26, 2020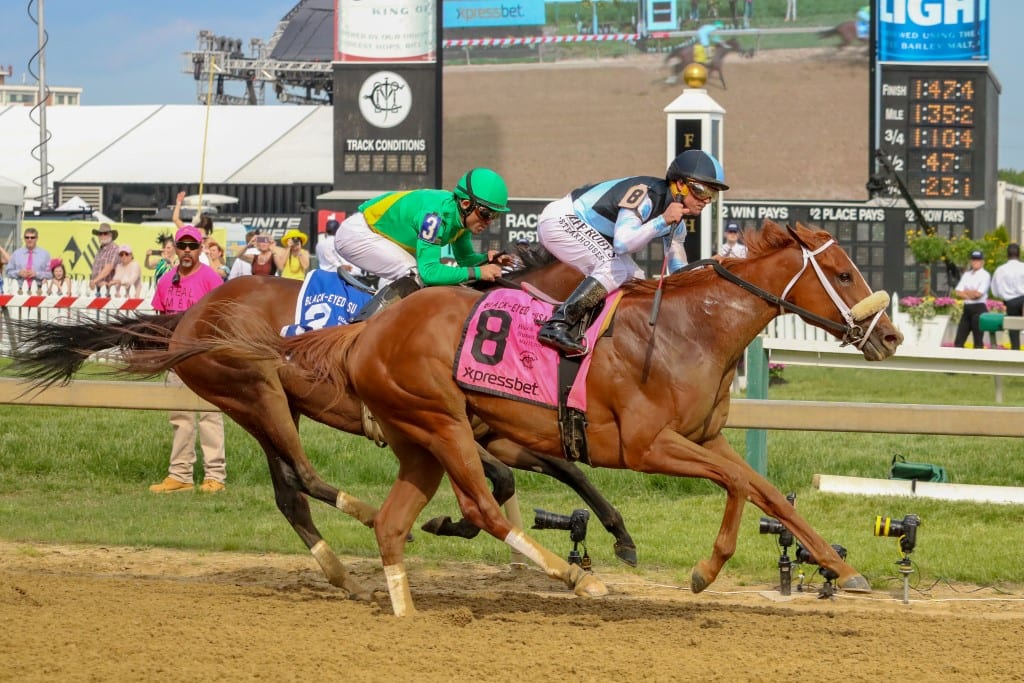 Point of Honor. Photo: Dottie Miller
In which we pick the races from Pimlico each day…
Post time: 12:40 p.m.
Carryovers: Rainbow Jackpot Pick 6 — $2,011 Super High 5 — $0 Late Pick 5 — $0
Notable: Until further notice, no fans are allowed to attend the races at Pimlico. For more info, click here.
ANALYSIS
RACE 1: CLAIMING $5,000 (N/W2L), 3-YEAR-OLDS AND UP, 1 1/16 MILES
5-1-3-2
#5 G Man (8/5): Comes in off a professional maiden win, where he went gate-to-wire at six furlongs. He looks like the only serious speed in the race, so he could very well steal it on the front end. 
#1 Runner Runner Indy (3/1): He also broke his maiden impressively two races ago, then was a complete non-factor last out at Delaware Park. He trailed throughout and lost by 22 lengths, without an apparent excuse. If it was a physical issue, I have to imagine it's been remedied since then, and that he's ready to fire a big one. He had been improving, with a good closing kick, prior to that Delaware race.
#3 Gottaway (7/2): Had to battle hard to break his maiden last out at Delaware, lasting in a long stretch battle. Trevor McCarthy gets aboard for his first race against winners.
RACE 2: MAIDEN SPECIAL WEIGHT, 2-YEAR-OLDS, FILLIES, 1 1/16 MILES
11-3-4-2
#11 Lisheen: Fell way behind on debut, but made some mild ground in the stretch of a 5 1/2 furlong contest. Going long, can she step it up? Certainly possible. 
#3 Cajole: The only horse entered for main-track-only, she's coming off a runner-up finish in her debut at Delaware. In that race, she showed little early, but rallied on and made some ground late. The horse she finished directly ahead of, Juror Number Four, came back to win at Laurel Park a few days ago.
#4 Lady Blakeney: Another one who made ground off a slow pace in her debut. That was on grass, now she'll switch over to the dirt. Trainer Arnaud Delacour hits at 30% with horses second time out. 
RACE 3: MAIDEN CLAIMING $25,000, 3-YEAR-OLDS AND UP, 6 FURLONGS
6-4-1-7
#6 Paul's Plunder (3/1): Ran well in her debut last November, hanging in there to finish third after racing wide on a hot pace. This'll be her first race since then, but as long as she runs antwhere close to her debut race, she'll be tough. 
#4 I'd Like to Know (8/5): Goes second off the claim for Claudio Gonzalez. In his first race for that outfit, he battled on the lead and faded to third behind a big favorite. Works since that race have been strong, including a 48 1/5 second four-furlong drill last Saturday. 
#1 Zen Pi (3/1): Showed a new dimension in his last race. He didn't show any early speed after a rough break, but moved wide and got second. It's the first time he's hung in there late, and is a positive sign for moving forward. 
ANALYSIS
RACE 4: CLAIMING $16,000 (CONDITIONED), 3-YEAR-OLDS AND UP, 1 1/16 MILES
9-2-1-11
#9 Gins and Tins: Managed to get caught up in a speed duel in his last dirt race, which is not easy to do in a three-horse field. In spite of that, he held on for second with a solid figure of 82. He's shown the ability to rate on both dirt and grass, which should come in handy here.
#2 Absalom: Wired the field going a one-turn mile two races back, then got a bit too ambitious on the lead last out and tired. He's drawn the closest to the inside of any speed horse in here, so if Karamanos wants it, he can drop his mount over to the lead and try to slow things down. If he does it successfully, he could put the rest to sleep. 
#1 Back to Back: Races second off a very long layoff, after a rather flat race in his first start back from the absence. Broke his maiden on dirt impressively at Tampa Bay Downs last March, and battled well for third over the synthetic at Presque Isle Downs last October.
RACE 5 – MAIDEN CLAIMING $25,000, 2-YEAR-OLDS, FILLIES, 6 FURLONGS
3-5-2-7
#5 Star of Shanghai (3/1): You can toss her last race; she stumbled badly at the start and never had a chance after that. She ran a 60 in her debut; if she builds off that race, she's going to be tough. 
#3 Golden Moon Shine (12/1): Tries a tag for the first time, after showing brief speed against straight maidens on debut. Worth a shot at a price. 
#2 Shackaboom (9/5): Another one dropping in class, she made her debut for $40,000 last out, and showed brief foot before checking out. Not sure if she's worth it if she goes off at or near her morning line, but is still worth a look for multi-race bets.
RACE 6: ALLOWANCE (N/W1X), 3-YEAR-OLDS AND UP, FILLIES AND MARES, 5 FURLONGS
3-2-7-1
#3 Magical Anna: In contests like this one, early speed is a premium asset. This filly has speed to spare, coming off a gate-to-wire win against starter optional claiming company last out. Lauralea Glaser should gun her to the lead and not look back. 
#2 Spun Glass: A Presque Isle invader for the Mike Trombetta barn, she's trying winners for the first time, after a sharp maiden win on the synthetic last out. Fell flat in her lone start on conventional dirt, two back at Monmouth Park, but I'm willing to give her another chance. 
#7 Carolina Ice: Closed sharply to win against Maryland-breds in her last race. She was all-out to win at six furlongs, so I'm not sure how her closing kick will play at five furlongs. Still, she's worth a look for the underneath spots.
 ANALYSIS
RACE 7 – MAIDEN CLAIMING $10,000, 3-YEAR-OLDS AND UP, FILLIES AND MARES, 1 1/16 MILES
3-6-5-1
#6 Why Not You (3/1): Came in second in each of her last two starts at this level, with long, grinding rallies. Could stand to be closer to the pace this time, otherwise, she might leave herself with too much to do.
#7 Sister Seville (10/1): She's fairly lightly-raced, having competed just three times, and tries dirt for the first time after a string of grass tries. Has shown something resembling early speed before fading, and in this race largely devoid of speed, it wouldn't surprise me to see her on the front end.
#5 Chambered Bullet (4/1): In a field like this, a first-time starter looks attractive almost by default. John Robb and Xaiver Perez are always a dangerous combo, and this filly's workouts have been on the improve. 
RACE 8- ALLOWANCE OPTIONAL CLAIMING (N/W2X), 3-YEAR-OLDS AND UP, 5 FURLONGS
10-1-3-4
#10 Zyramid: Cleared his n/w1x condition last out at this distance at Delaware, cruising on the front end. This is a similar field to last time, in that it's a largely grass-centered field trying dirt. If he can get to the lead, he could run the rest off their feet. 
#1 Bull Shark: The only other one in the field who's primarily a dirt horse. He was sent off as the favorite last out, in a tough field, and fell flat after setting the pace. Most of his reputation was built on his race two back, when he drew off to win handily in his first race off a long break. He's shown the ability to stalk and pounce, so he doesn't have to be forced into a speed duel. Trevor McCarthy, who is 2-for-2 aboard him, gets the call. 
#3 Blessed Arion: Steadily ran figures in the high 80s and 90s last fall, which would make him a strong contender here. Unfortunately for him, he hasn't raced since November 17. Will be tough if he can get back to form right away, but he might need a race. 
RACE 9 – STARTER OPTIONAL CLAIMING $25,000, 3-YEAR-OLDS AND UP, 1 1/16 MILES
3-1-6-5
#3 Runningforhome (5/2): Lasted on a pace battle and drew off to win at Parx last out. It was a career-best figure by eight points, and form from Parx doesn't always translate to other tracks. Still, he's a young horse who was on the upswing even before this race, so he could be simply rounding into legitimately good form. 
#1 Late Breaking News (6/1): Has early speed and the inside post in his third race off the bench. Showed speed and won easily twice over the winter, but hasn't been able to last in two recent races. He'll get the trip he wants, if he's good enough. 
#6 Moonlight Shadow (9/2): Takes a much-needed drop in class after a string of races against n/w2x company. He's had to close off slow paces lately, and will need to either be closer or get some honest fractions to run into. Stretching out from sprints should help his closing style.  
RACE 10: ALLOWANCE (N/W1X), 3-YEAR-OLDS AND UP, FILLIES AND MARES, 1 1/8 MILES
9-10-2-8
#9 Curly Ruth: Broke her maiden very impressively on dirt at Monmouth two starts back, vying for the lead and drawing off handily. This will be her first start on this surface against winners. Trevor McCarthy gets the mount for the first time.
#10 Inside the Box: Another recent maiden winner, she stalked the pace and drew off to a handy score last out, with a sharp brisnet figure of 85. That was just her second race of the year; can definitely see her taking a step forward here.
#2 Mona Luna: Lasted on the lead after vying for command going this distance last out. Workouts since that maiden win have been sharp, including a bullet drill two back.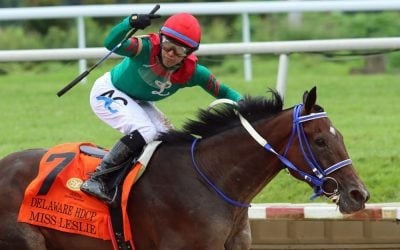 Racing returns to Delaware Park May 24, and we return with Delaware Park picks and analysis for the track's 86th racing season.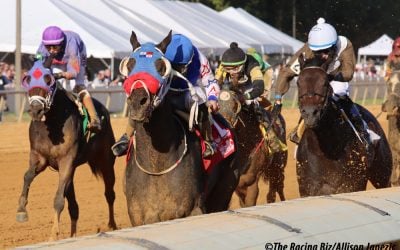 We provide full-card picks and analysis for this afternoon's races at Laurel Park.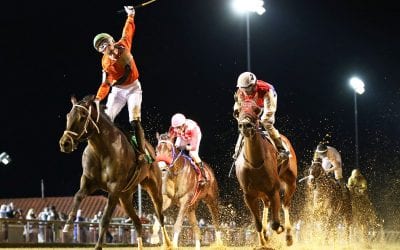 Full-card picks and analysis for this evening's live racing card from Charles Town Races!