DELAWARE PARK PICKS AND HORSES TO WATCH: SEPT. 26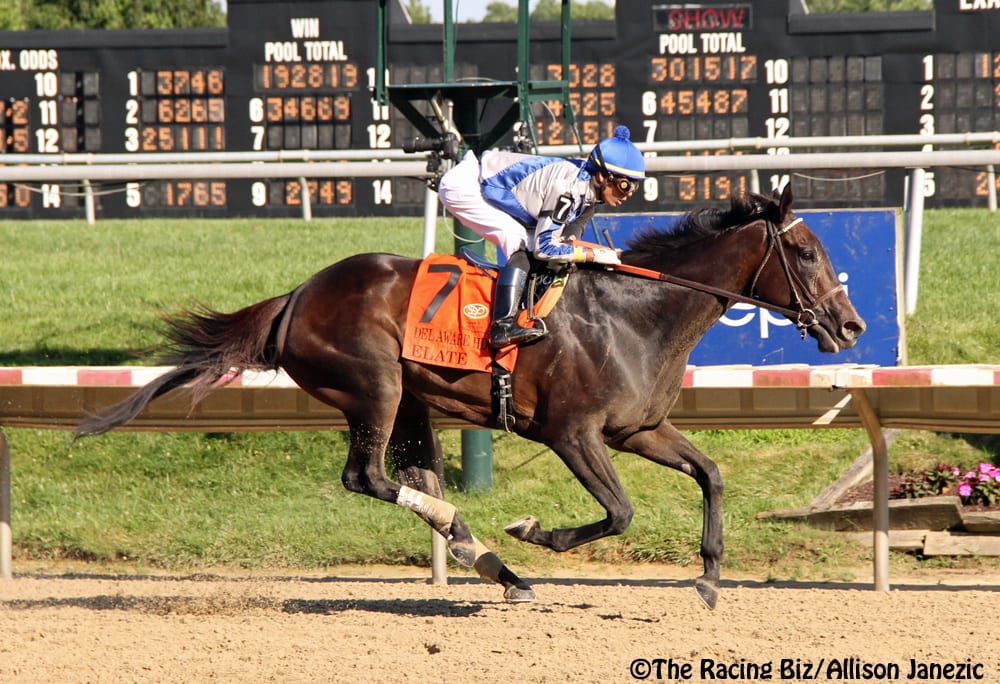 Delaware Park has an 11-race card on tap for this Owners Day extravaganza. Post time for the opener is 1:15 p.m., and we've got Delaware Park picks. For more on the card, read our preview.
How'd we do last time at Delaware Park?
RACE 4 – TAX-FREE SHOPPING DISTAFF
#8 Pink Caddy (2-1): A winner of four of six, including one over the strip; won PA-bred stake last time at Parx, and show horse returned to take the open-company Regret at MTH… #7 Crazy Bea (10-1): She'll need an A+ effort but enters this contest in good form; runner-up effort in last seriously flattered when winner returned to win G3 Charles Town Oaks, and three of four to run back have won next… #2 Dancer's Melody (5-1): Ritchey-trainee has won two straight, makes third start off the bench… #1 Madam Meena (3-1): Must find a way to turn tables on top choice, who thrashed her three back…
RACE 5 – SMALL WONDER STAKES
#11 Street Lute (9-2): Pretty nice effort to win on debut despite nearly whiffing the turn for home and running greenly; there's some talent here… #9 Hickory Dickorydoc (15-1): Difficult trip on debut makes this one's victory look better than it seems at first; she hopped at the break to be last, then rushed up along the rail, slipped past the the 1-2 favorite, and prevailed; one of her beaten rivals won next… #10 Heart Full of Soul (7-2): Only stakes winner in the group hasn't done a thing wrong so far, but let's see how she handles the ship-in from Minnesota and short rest… #2 Juror Number Four (10-1): Back-to-back decent efforts to kick off career
RACE 6 – GOVERNOR'S DAY HANDICAP
#3 Wait for It (8-5): Chalk couldn't enter in much better form, has shown ability to lead, stalk, or close… #6 Militiaman (12-1): Pricey Broken Vow gelding is bred to be a runner and couldn't have done it much more easily than he did last time in first try on dirt; gets class test today… #7 Fact Finding (2-1): Makes third start off the bench, including a nice win last out; two-back effort perhaps better than it looks: contest has produced four next-out winners including a G2 winner… #5 Honor the Fleet (8-1): Bested by Wait for It and Fact Finding in last two but keeps running good races
RACE 7 – GEORGE ROSENBERGER MEMORIAL STAKES
#14 Bramble Queen (7-2): Must overcome challenging outer post but has been seeing better company than these; last out winner Xenobia's a G3 winner, and Ballston Spa winner Starship Jubilee just took the G1 Woodbine Mile last out over the boys… #3 Tightly Twisted (5-1): Defending champ has caught tough rivals in last two turf bouts, fits with this group and may have advantage over major rivals with better post… #6 Lagom (10-1): Lightly raced sort moving in the right direction with three wins in four starts, easy score versus allowance foes… #13 Ebullient (8-1): Draw a line through disastrous last race; prior efforts fit, and didn't miss by much versus top choice two back
RACE 8 – NEW CASTLE STAKES
#8 Aspect (6-1): Closing sort could give small Ritchey barn banner day; nice win last time at trip, three back, in race that produced four next-out winners… #3 Whereshetoldmetogo (4-1): Not a bad try last time when fourth in the Polynesian versus some heavy hitters… #7 Golden Candy (10-1): Delaware lover (never worse than third in seven tries here) was no match for Aspect three back but has won two in a row since… #4 Threes Over Deuces (3-1): Closing sort keeps churning out good races, though usually without winning; loves the trip
RACE 9 – FIRST STATE DASH
#6 Newyearsblockparty (5-2): Only defeat to date came to $475k Asmussen trainee who was G3-placed; clearly best when winning last, and only rival who seemed a threat isn't here… #5 Kenny Had a Notion (6-1): Up late to prevail on debut, though it's notable rider Cintron jumps ship… #2 Maythehorsebewithu (5-1): Cintron lands here; easy debut winner seemed to get discouraged last time when others got the jump on him, gets blinks on today… #10 Singlino (12-1): Easy winner versus lesser in last
LATEST HANDICAPPING