Laurel Park picks and ponderings September 5, 2020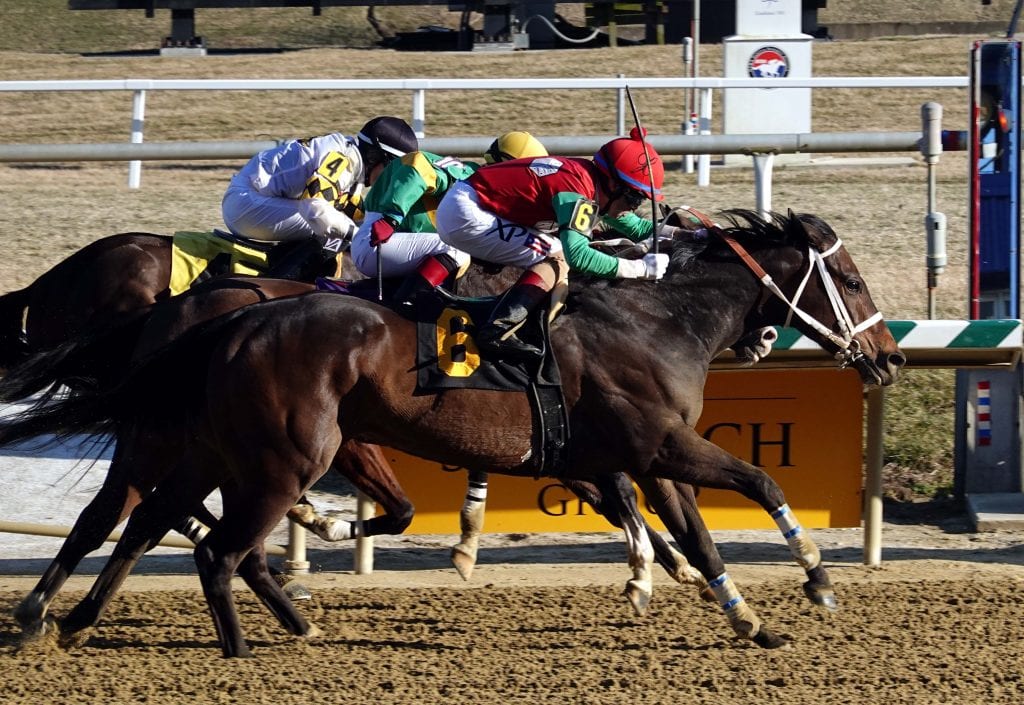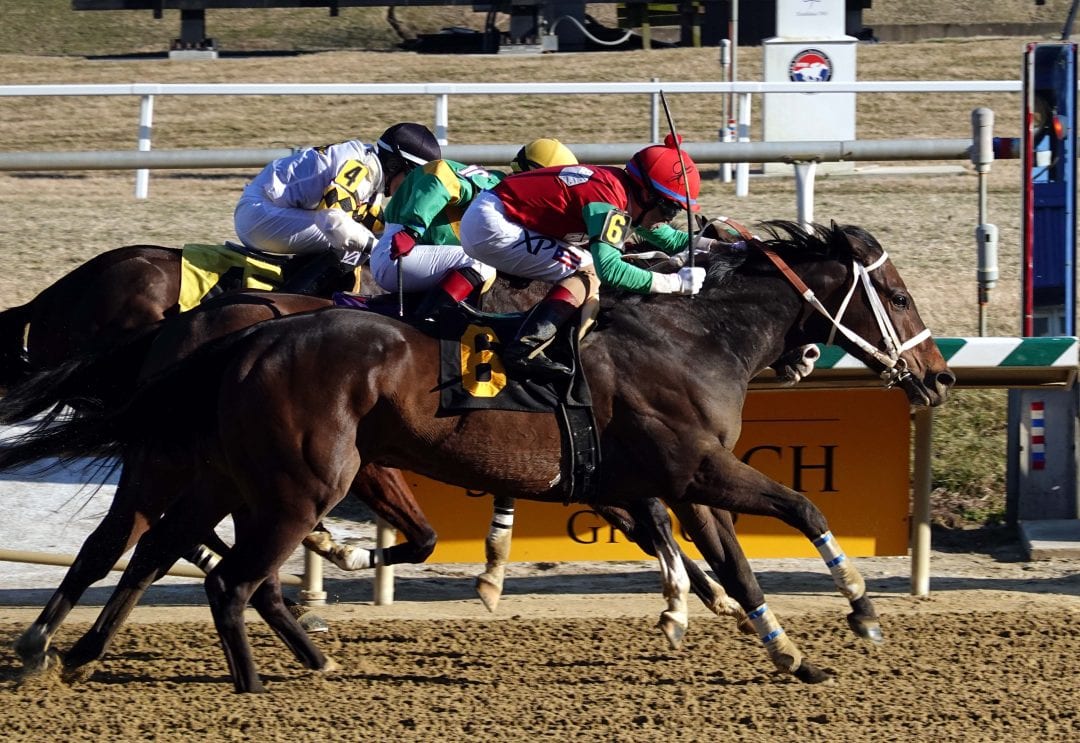 Anna's Bandit. Photo by Laurie Asseo.
In which we pick the races from Laurel Park each day…
Post time: 12:10 p.m.

Carryovers: Rainbow Jackpot Pick 6 — $5,424; Super High 5 — $2,267; Late Pick 5 — None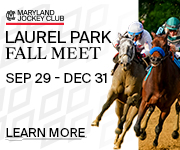 Notable: Until further notice, no fans are allowed to attend the races at Laurel Park. For more info, click here.
ANALYSIS
RACE 1: MAIDEN CLAIMING $40,000, 3-YEAR-OLDS AND UP, FILLIES AND MARES, 1 1/16 MILES (GRASS)
2-3-7-5 (DIRT: 4-7-9-6)
#2 Gale (3/1): Impressed on debut, closing from way downtown to lose by just a length after being forced six-wide. Jonathan Thomas is a very impressive 35% with horses second time out, in a sample size of 65 runners. How many of them looked as good as this one did in their first start? I doubt many of them.
#3 Inside the Box (5/1): Drops for a tag for the first time, in her second start of the year. Last year at Colonial Downs, she closed well in two races, losing by less than three lengths both times. It looked like she was prepping for a spot at that track, before plans were forced to change. Like Gale, she should be well behind early and make a strong move late. 
#7 Beckon (5/2): In direct contrast to the first two, this one looks like the primary speed of the race. She was scratched out of a shorter spot two days ago, now goes back to a distance where she's tired in the stretch the last two times she's tried it. The main advantage she has here is there's no one to press her. Ideally, she'll slow down the tempo early and leave the closers with too much to do. 
RACE 2: TWIXT STAKES, 3-YEAR-OLDS AND UP, FILLIES AND MARES, 1 1/16 MILES 
5-3-1-4
#5 Wicked Awesome (3/1): Drops in class after racing in two tough stakes at Delaware Park. In her last race at this track, she crushed a n/w2x group going a mile, and matched her career top brisnet figure of 93 in the Obeah Stakes next out. Looks prime to stalk the pace and make a big move on the turn. 
#3 Artful Splatter (4/1): She's 7-for-13 over this track, and is the primary speed of this field. Last fall and winter, she won five races in a row, including the Geisha Stakes against Maryland-breds. Every time, she was on or near the pace. Barring some terrible gate mishap, she's going to be there again, and that'll make it tough on her rivals.
#1 Smooth With a Kick (8/5): Almost certain to be overbet because of her connections, who include Chad Brown and Trevor McCarthy. Still, there's no denying that her last win, in a n/w1x allowance at Saratoga, was impressive. It was her second start off a long break, and she can absolutely take another step forward here.
RACE 3: CLAIMING $16,000 (N/W2L), 3-YEAR-OLDS AND UP, FILLIES AND MARES, 5 1/2 FURLONGS (GRASS)
9-14-8-2 (DIRT: 5-7-8-12)
#9 Midship Lady (8/5): She held her own against n/w1x company earlier in the meet, including a traffic-filled third three races back. Even though her races have gotten less and less visually impressive, her speed figures have held steady in the mid-80s. Drops in for the tag for the first time, in a race largely filled with proven losers. Will be tough.
#14 Defy Expectations (3/1): One of the others in here who isn't a proven loser, she broke her maiden impressively last out in her local debut. In a race without much speed, it wouldn't surprise me to see Toledo put her on the lead from the extreme outside. She stalked and pounced in that big win. 
#8 Pins and Needles (15/1): Returns to her preferred surface after a few dirt tries. Steadily runs figures in the mid-70s on grass, and held on well in her first start off the layoff, which was her last grass race. Has shown tactical speed in the past, which might prove helpful in getting a jump on the rest.
ANALYSIS
RACE 4: ALMA NORTH STAKES, 3-YEAR-OLDS AND UP, FILLIES AND MARES, 6 FURLONGS
4-2-3-6
#4 Amy's Challenge (8/5): Stakes-placed twice at Oaklawn Park earlier in the year, she's coming off a dominant effort in an allowance at Delaware. She crushed that group by almost six lengths, widening with every stride in the late stages. Turned in a bullet workout on August 31, suggesting that she's ready to fire a maximum effort. If she does, the rest of these are running for minor awards. 
#2 Never Enough Time (6/1): Ran huge last time, lasting in a prolonged speed duel, then battling gamely against a surging Bye Bye Bertie. She lost that race by half a length, but she was almost certainly the best horse in the race. It looks like she'll encounter pace pressure here as well. Nonetheless, she's proven herself resilient enough to hang on best she can.
#3 Chalon (7/2): A stakes winner in both of her last two races. Last out, she was pressed on the pace, but drew off from the others and won the Incredible Revenge at Monmouth Park going away. Should once again be a factor on the early pace. 
RACE 5 – MAIDEN SPECIAL WEIGHT, 2-YEAR-OLDS, FILLIES, 6 FURLONGS
2-4-5-1
#2 Miss Marley (5/2): Looks like the best one with experience in the race. She finished second in her first start to impressive winner Tiz Ferguson, while finishing almost three lengths of third. On a steady work pattern at Fair Hill since then, and looks to improve second out. 
#4 Hitch a Ride (6/1): Recent workouts have been very strong, including a bullet five-furlong drill last week. Gary Capuano is a respectable 14% with first-time starters. 
#5 Moquist (5/1): The Dale Capuano barn, on the other hand, is 26% with their debuters. She's been working steadily since late June, and looks ready to fire a big one. 
RACE 6: DEPUTED TESTAMONY STAKES, 3-YEAR-OLDS AND UP, 1 1/16 MILES
2-1-6-3
#2 Infuriated (5/1): Enters off a ridiculously impressive race against a tough allowance field at Parx. He opened up a big lead early, and simply ran them off their feet. His figure of 104 in that race is the best last-out mark in the field by six points. He looks like the lone speed in this field, and Trevor will surely send him right to the lead. 
#1 Grumps Little Tots (3/1): Was claimed out of his last start at Saratoga by Saffie Joseph, who is 34% with such horses. Ran a career-top figure of 98 in that race, after closing off a slow pace. 
#6 Harpers First Ride (5/2): Got second in that allowance that Infuriated exits, after falling ten lengths off the lead at one point. He might find himself in a similar spot if Infuriated doesn't come back to the field, but if he does, Harpers' got the best late pace figures in the field and a strong affinity for this track.
ANALYSIS
RACE 7 – MAIDEN CLAIMING $16,000, 3-YEAR-OLDS AND UP, 1 1/16 MILES (GRASS)
12-8-5-14 (DIRT: 5-6-8-10)
#12 Walk Up Music (7/2): Takes a big drop in class from straight maidens at Delaware, in a race where he was visually unimpressive, but earned a big figure. If he runs back to that form in this race, it'll be over.
#8 Back Charge (7/2): Got a little too excited on the lead in his last few races, and tired in the last eighth of a mile. Once again looks like the dominant speed. Toledo will have to nurse him along a bit more than he did last time, and not open up any crazy long leads. That would tire him out for the stretch run. 
#5 Glacier Park (12/1): Closed well despite a wide trip last out at Tampa Bay Downs. Makes his first start since May 3 here, but has had a steady worktab since late July. 
RACE 8- POLYNESIAN STAKES, 3-YEAR-OLDS AND UP, 6 FURLONGS
5-3-8-2
#5 Laki (5/2): Lovable gelding won his 2020 debut against stakes company three back, then just missed in two stakes-quality races here. It would've been nice to see him finish the job in both those spots, but he's got tactical speed and a big heart, both important qualities in a race like this. 
#3 Eastern Bay (7/2): Broke slowly last out, wasn't rushed up, but still closed to miss by half a length. In fact, he missed second to Laki in that race by just a neck. A two-time winner earlier in the meet, he'll be tough if he can break cleanly and get to his usual spot on the front end. 
#8 Whereshetoldmetogo (9/2): Comes back home after a sojourn in the midwest for Brad Cox. Now, he's under the care of Brittany Russell. Showed little in his season debut at Prairie Meadows, but was consistently good last fall, with steady figures in the 90s. Trevor gets the mount for the first time. 
RACE 9 – ALLOWANCE (N/W1X), 3-YEAR-OLDS AND UP, FILLIES AND MARES, 7 FURLONGS
4-2-7-5
#4 Dontletsweetfoolya (2/1): Enters here off a devastating maiden score, the culmination of four straight improving efforts. Looks fast enough to outrun everyone else and blow them away. 
#2 Indy Takes Charge (7/2): Lost to the uber-impressive Hello Beautiful two races ago, then opened up a big lead going a mile before getting caught in the last jump. Cuts back in distance here, off some impressive workouts.
#7 Escape Fund (7/2): Was very impressive in breaking her maiden at Saratoga two back, then was awful in an allowance there last out. Lightly-raced enough for me to give her another try. 
RACE 10 – ALLOWANCE OPTIONAL CLAIMING (N/W2X), 3-YEAR-OLDS AND UP, FILLIES AND MARES, 5 1/2 FURLONGS (GRASS)
4-5-7-14 (DIRT: 1-6-11-13)
#4 Hannah's Smile (4/1): Ships from New York after holding her own against better over there. Always runs figures in the range between 84 and 88, a range good enough to win this race. 
#5 Unaquoi (6/1): Closed well last out to win a n/w1x contest at Colonial, in a race that was more impressive in real life than on paper. She's 4-for-8 over this grass course, including a win at this condition last fall. 
#7 Why Now (12/1): She hasn't raced in almost a year, but Rodolfo Sanchez-Solomon is an impressive 32% with horses off a 90+ day break. Had a streak of three wins from five starts over this track last year. If she goes off at near her morning line, she'll be a good value play. 
RACE 11- STARTER OPTIONAL CLAIMING $25,000, 3-YEAR-OLDS AND UP, FILLIES AND MARES, 1 1/16 MILES (GRASS)
12-10-9-2 (DIRT: 7-8-9-10)
#12 Ribbon Winner (7/2): Closed strongly last out at Monmouth Park, making a four-wide rally to just miss, while earning a career-top figure for the second straight race.
#10 Awesome Jazz (9/2): Has struggled to pass horses late in her last two, but has made her presence felt in those races. Last out, she closed wide at this level to miss by just a length.
#9 Alleria (5/1): Almost wired the field in her last grass race, before getting caught by Lagom, one of the better horses of this level, in the last fee strides. Should once again be used on the front end.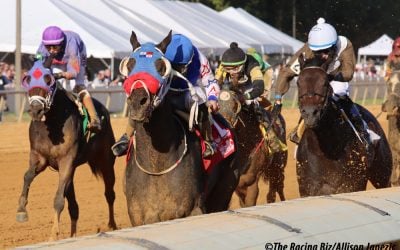 We provide full-card picks and analysis for this afternoon's races at Laurel Park.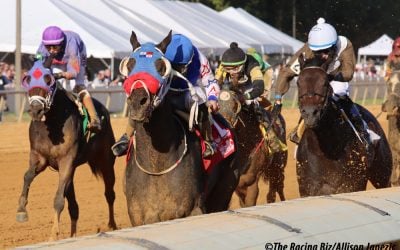 We provide full-card picks and analysis for this afternoon's races at Laurel Park.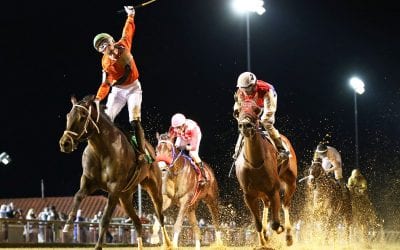 Full-card picks and analysis for this evening's live racing card from Charles Town Races!