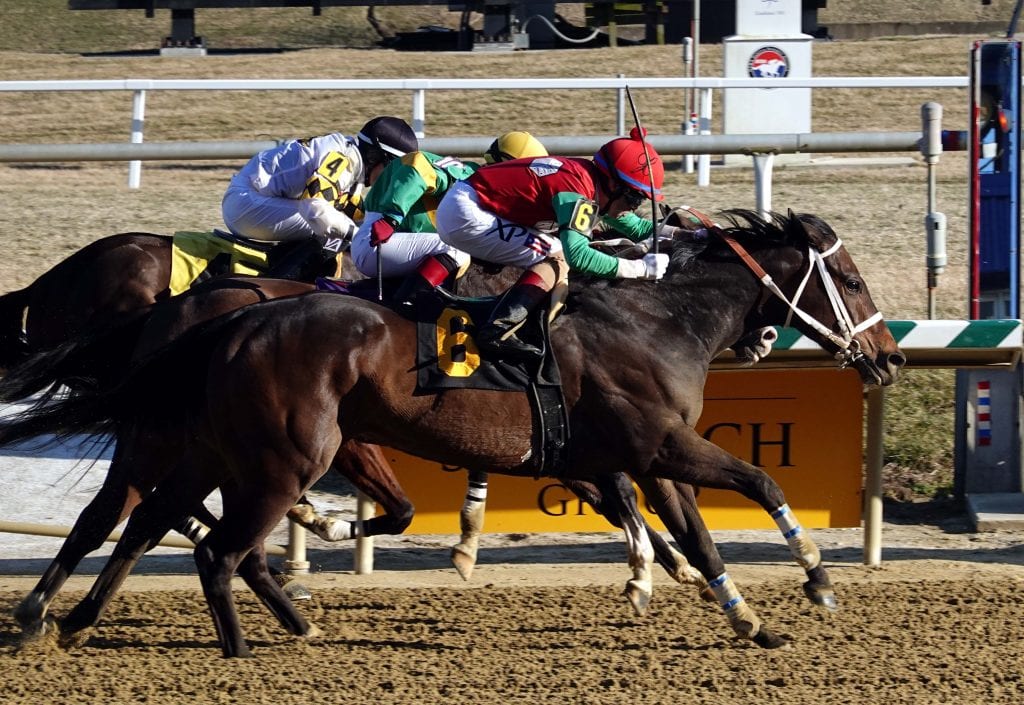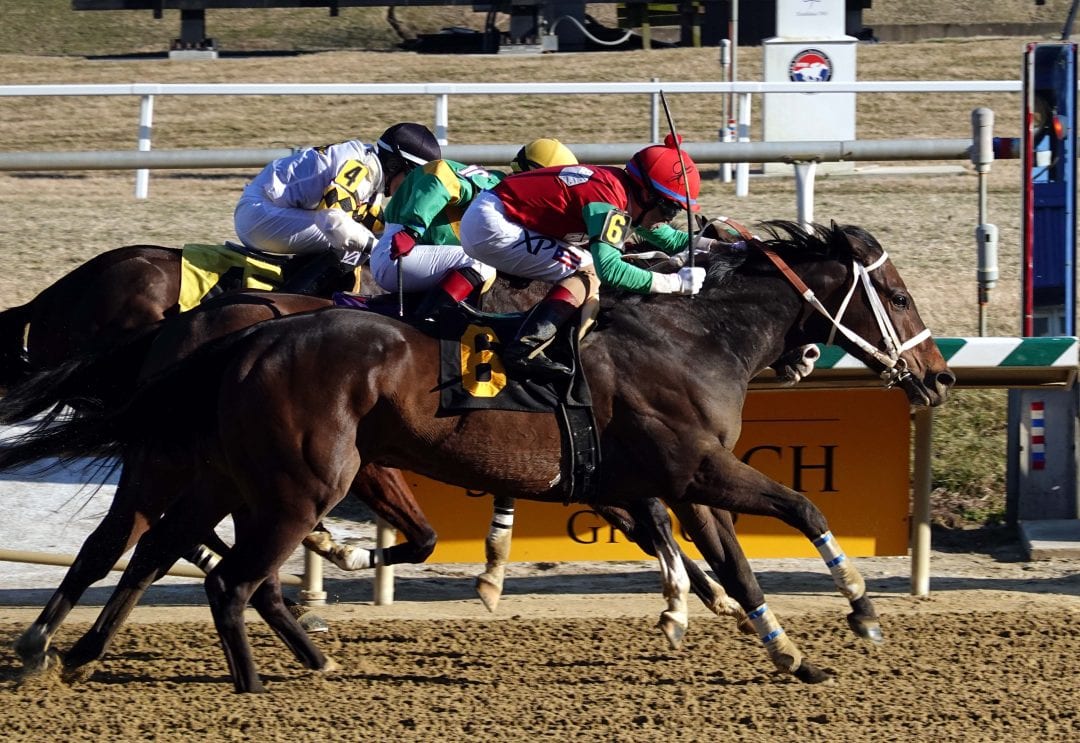 Anna's Bandit. Photo by Laurie Asseo.
In which we pick the races from Laurel Park each day…
Post time: 12:40 p.m.
Carryovers: Rainbow Jackpot Pick 6 — $4,810  Super High 5 — $2,743 Late Pick 5 — $0
Notable: Until further notice, no fans are allowed to attend the races at Laurel Park. For more info, click here.
ANALYSIS
RACE 1: MAIDEN CLAIMING $40,000, 3-YEAR-OLDS AND UP, FILLIES AND MARES, 5 1/2 FURLONGS (GRASS)
1-6-7-5 (DIRT: 8-6-7-10)
#1 Whispurring Kitten (5/2): Showed blazing speed in her last start, lasting on the lead through brutal early fractions. There's no one who can keep up with her early if she can maintain that speed, so she could end up lonely on the lead.
#6 Factorintheheat (7/2): Improved steadily last out, as she closed well in the stretch to get third. The winner of that race, Coconut Cake, came back to win a Maryland-bred allowance in her next race. She tends to make her moves a bit prematurely, but is able to hang around late and get a piece. 
#7 Beckon (9/5): The 0-for-10 record is, at best, unsightly, but she's mostly been competing in longer races. IN her last two races, around two turns, she had the lead late before drifting out and stopping. Cuts back in distance, which should help someone like her with tactical speed and a lack of stamina. 
RACE 2: CLAIMING $10,000 (CONDITIONED), 3-YEAR-OLDS AND UP, FILLIES AND MARES, 1 MILE
1-6-3-4
#1 Princess Georgia (3/1): Faced a better field at this level last out, and faded after getting stuck three-wide. Now, she's drawn to the inside, and should save more ground while rating just off the pace. If the primary early speed, Baby Bam Bam, gives way, Princess Georgia will get first run. 
#6 Polished Copper (3/1): Gets back on dirt after an uninspiring try on grass last out. In her prior dirt race, she made a strong move from behind to win at 5 1/2 furlongs, earning a career-best brisnet figure. The last time she ran around a one-turn mile, at Churchill Downs last September, she fought on well after making a move on the turn before tiring in the last eighth. Looking for some improvement here. 
#3 Baby Bam Bam (5/2): She's won four races in a row, putting the field to sleep on the front end every time. This is probably the toughest field she's ever faced, so I'm not sure if she'll be able to do that here, but she looks tough to reel in on the front end nonetheless. 
RACE 3: MAIDEN CLAIMING $16,000, 2-YEAR-OLDS, FILLIES, 5 FURLONGS
8-1-2-7
#8 Claire's Darling (3/1): Has just three listed workouts, but two of them were bullets, and the other one was pretty sharp as well. John Robb is not great when sending out first time starters, but he is tough when teaming up with Xavier Perez. Worth looking at in this field.
#1 Social (7/2): Another lightly-worked firster, her most recent drill was one of her best, going four furlongs in 49 1/5 seconds. As previously alluded to, no one who has experience in this field has really asserted themselves, so it's the perfect kind of race for a first-time starter to jump up and steal the money. 
#2 Kens Lady (12/1): Showed serious speed for the first time in her last race, opening up a clear advantage over straight maidens before caving to pressure. She's stopped badly on the lead in all three of her races, but this is also the weakest field she's faced. Maybe she won't get as much pressure, maybe they're not good enough to swamp on her, maybe she'll just be braver. Either way, an intriguing longshot. 
ANALYSIS
RACE 4: CLAIMING $16,000 (CONDITIONED), 3-YEAR-OLDS AND UP, 5 1/2 FURLONGS (GRASS)
13-10-2-12 (DIRT: 6-5-13-8)
#13 Sea Lover (2/1): Blazingly fast Florida invader ran two brisnet figures in the 90s earlier in the year at Tampa Bay Downs and Gulfstream Park. Both times, he set a very fast early tempo, and had enough left to hold off the closers. Faced a fairly tough allowance group last out; now gets lots of class relief. If he can set a sub-22 second opening quarter, which shouldn't be too tough over this track, he'll be gone. 
#10 Shelly Island (12/1): Closed very well in his last start, flying down the stretch to lose by half a length in his first start in more than six months. He tends to make a big rally and grab a piece, so he looks like a prime candidate to pick up the pieces after Sea Lover has blown them away. 
#2 Dizzy Sight (6/1): Improved sharply when cutting back in distance last out at Colonial Downs. He stalked the pace and surged to get second, narrowly missing his all-time brisnet top, with a 79. His grass races have gotten visually better every time out; wouldn't be surprised at all with a peak performance here.
RACE 5 – CLAIMING $12,500, 3-YEAR-OLDS AND UP, 1 MILE (GRASS)
4-8-1-10 (DIRT: 6-13-3-2)
#4 National Honor (3/1): Absolutely gobbled up ground in his last race, storming up the rail to miss by just 3/4 of a length. He got a good pace to run at in that race, and there's a lot of cheap speed in here who should give him a similar setup.
#8 Eldritch (9/2): Raced well in his first start shipping from Northern California, closing inside to get fifth. He comes out of the same race as National Honor; that rival had a bit of a head start on him in the early stages, but this one nevertheless closed strongly in his own right. Steadily ran figures in the mid-80s last year in SoCal; those kind of numbers are good enough to win this one. 
#1 Golden Spear (5/2): He'll get a lot of money simply by virtue of shipping from New York, but he's got the form to back up his reputation. He had to try to come from behind in his last race at Saratoga, which has been a losing proposition there this meet. Two back, over a fairer track at Belmont Park in his first race off the layoff, he closed well to get second. I think he'll run much truer to that form here.
RACE 6: CLAIMING $5,000 (CONDITIONED), 3-YEAR-OLDS AND UP, 1 MILE
9-3-1-2
#9 Souper Catch (5/2): He was uber-impressive in his last dirt race, powering from behind to beat a n/w2L field going away. Comes into this race with the best last-out brisnet figure by seven points, and he's got a bullet workout since that start, at Delaware. Looking for another big effort here. 
#3 Always Forgiven (4/1): Made a premature move in his last race, at Charles Town, where he closed from far out of it to take the lead with more than a quarter-mile to go. After that, he tired and finished third.  When he timed the move better two races back, he battled down the stretch and won by a neck. He always breaks slowly and has to be rushed up; the key for Ortiz will be to be patient and let him make his move at the right time.
#1 Lucid Dream (6/1): Closed well to get third last out against better, running his best figure since January in the process. Should keep improving off the layoff.
ANALYSIS
RACE 7 – CLAIMING $12,500, 3-YEAR-OLDS AND UP, 1 MILE (GRASS)
3-5-10-8 (DIRT: 7-11-2-4)
#3 Flowmotion (8/5): Cibelli looks to have them surrounded in both divisions of this race. This one beat a strong starter handicap field two races ago, then finished a game second in allowance company last out. He's run at least an 88 on the brisnet scale in his last five starts; none of his rivals have eclipsed that mark once in their last two races. As long as he shows up, he wins. 
#5 Rule Yourself (12/1): Florida shipper was dull last out after racing wide all the way. Closed well in the two races prior, albeit against weaker competition. Worth a shot at a price.
#10 Minister's Strike (3/1): Gets back on the Laurel grass, a surface he won on with a strong rally four races back. Last out, he got hung out in the five-path against a better field at Monmouth Park, and his rally fell short. While his figures have been declining in his last few, they've been slight declines, and he ran better than his figure in that last race. Looking for a big effort here.
RACE 8: ALLOWANCE (OPEN), 3-YEAR-OLDS AND UP, FILLIES AND MARES, 5 1/2 FURLONGS (GRASS)
1-4-5-8 (DIRT: 8-1-6-3)
#1 Mr Al's Gal (3/1): Both halves of the Jose Camejo entry look good here; I'll lean towards this half. She scored in a Louisiana-bred allowance in her last grass race, despite a world of traffic. Makes her third start off the layoff here, and has great tactical speed. 
#4 Dendrobia (10/1): Impressively won a n/w2x allowance in her last race, with a strong sweeping rally. Should pack a strong closing punch once again. 
#5 Romantic Moment (7/2): Makes her first start since January 25, when she was well-beaten in stakes company while going two turns. Last year, she won twice on grass, including an impressive win over this track last October. She might need a race to round into form, but still worthy of respect. 
RACE 9: MAIDEN CLAIMING $16,000, 3-YEAR-OLDS AND UP, FILLIES AND MARES, 6 FURLONGS
1A-5-6-7
#1A Trelis (3/1): Got plenty of wagering action in her debut, set a wicked early pace, and faded. Should be able to settle down her speed here, and if she does, could take them gate-to-wire.
#5 Sevilla Sangria (4/1): She's been knocking on the door at this level, with two straight runner-up efforts. Has good tactical speed and should be a factor late.
#6 Lady Fox (5/2): Drops for a career-low tag, after a third-place finish against tough $25,000 horses. Earned a career-high figure of 75 in that spot; a number that would be good enough to win this one.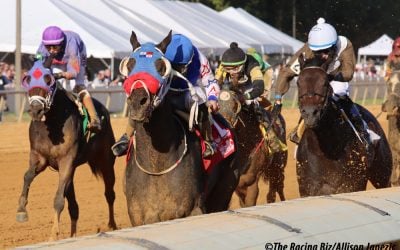 We provide full-card picks and analysis for this afternoon's races at Laurel Park.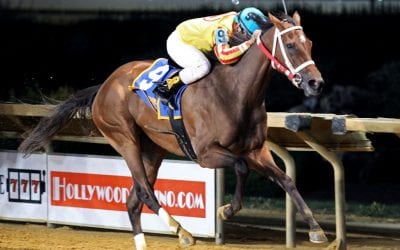 We provide picks and analysis for this evening's card at Charles Town Races.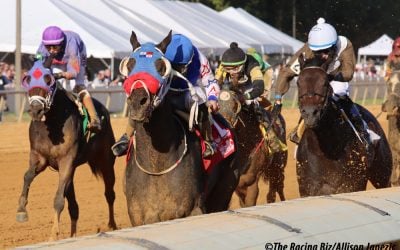 We provide full-card picks and analysis for this afternoon's races at Laurel Park.