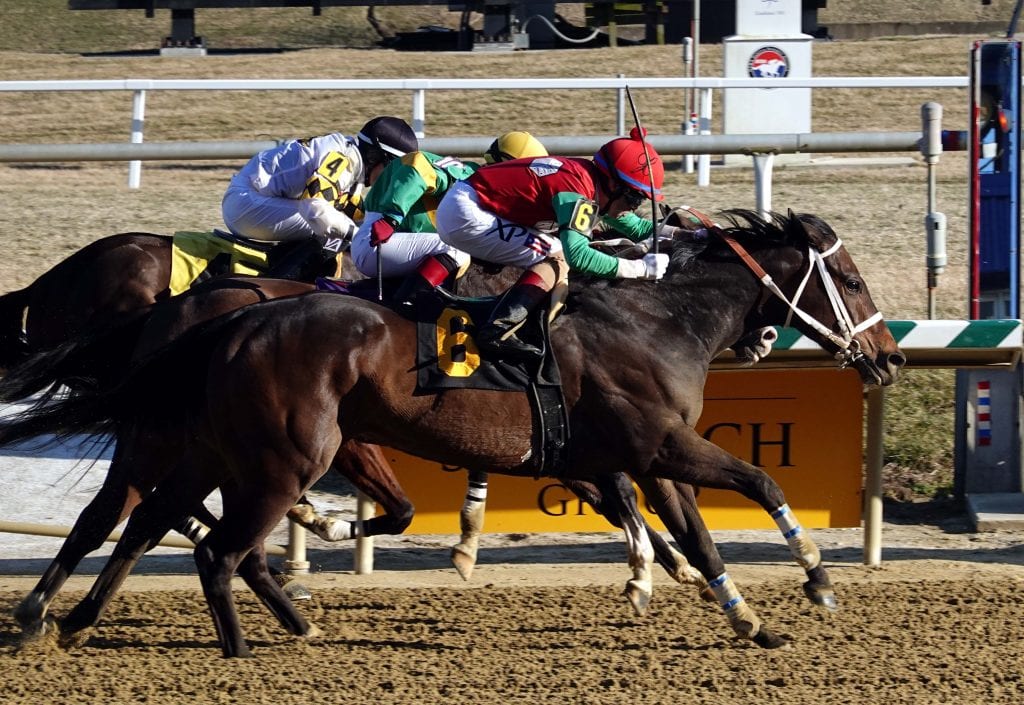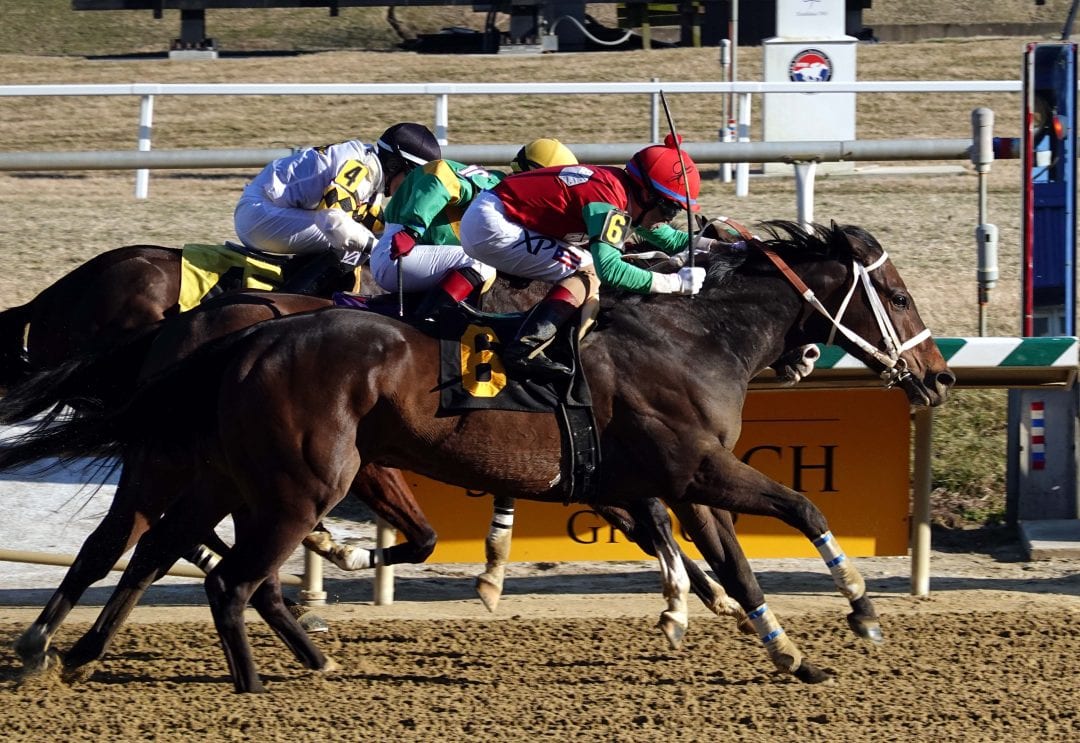 Anna's Bandit. Photo by Laurie Asseo.
In which we pick the races from Laurel Park each day…
Post time: 12:40 p.m.
Carryovers: Rainbow Jackpot Pick 6 — $3,096  Super High 5 — $1,066 Late Pick 5 — $4,170
Notable: Until further notice, no fans are allowed to attend the races at Laurel Park. For more info, click here.
ANALYSIS
RACE 1: CLAIMING $16,000 (CONDITIONED), 3-YEAR-OLDS AND UP, FILLIES AND MARES, 5 1/2 FURLONGS (GRASS)
11-9-1-5
#11 More or Less (4/1): Comes off a sharp n/w2L win, where she too the field gate-to-wire in a dominant front-running score. She's got a bit of a tougher task here, having to break from the far outside, but she's fast enough to cross over and get the trip she wants.
#9 Algodonal (9/2): Cuts back in distance from two turn races, after consistently showing speed and fading in longer races. She has some tactical speed that could come in handy here. Despite the visually unimpressive races, her brisnet figures have steadily been in the mid-70s, putting her in the hunt with the major contenders.
#1 Missimmard (8/1): Recovered from a bad break in her last grass race to finish a fast-closing fourth. Takes a drop from the starter optional claiming level, and might get overlooked in the wagering.
RACE 2: STARTER OPTIONAL CLAIMING $16,000, 3-YEAR-OLDS AND UP, 7 FURLONGS
8-4-3-2
#5 Phantom Ro (7/2): Rolled to victory in his local debut, sitting just off the lead and blasting off. That race got him a 92 figure, the best last-out figure in the race, but it was also his best race in a long time. Can he duplicate it? He'll get pace to run at, and it's his second start off a layoff. I'll give him a chance to run another big one. 
#4 V.I.P. Code (7/5): In his only two recent bad races, he was the victim of bad trips. Three races back, he was wide all the way and stopped. Last out, he was pace compromised and couldn't catch the winner, though he did finish a clear-cut second. This time, he's the one with the best early pace figures, so he shouldn't fall too far behind off the early tempo. From there, he can make his customary strong middle move.
#3 Cause He's Western (4/1): Runs first off the claim for Kieron Magee, who has been heating up a bit after a slow start. Last out, the horse closed well in the stretch to lose by a neck, which snapped a three-race winning streak. He shouldn't have trouble stretching to seven furlongs, considering  he's won at a mile and 1 1/16 miles.
RACE 3: MAIDEN SPECIAL WEIGHT, 3-YEAR-OLDS AND UP, 1 1/16 MILES (GRASS)
2-10-1-4
#2 Bold Quest (6/1): He's shown a few dimensions in his brief career so far. When racing in the mid-Atlantic earlier in the year, he closed well from behind twice. Last out at Keeneland, he showed speed at 1 3/16 miles before fading on the final turn, earning a career-top figure. What will Toledo elect to do here?
#10 Makoto (10/1): The only one in the field with back-to-back recent figures in the 80s, he had a clear lead in the stretch last out before being run down. Bettors may be wary of him stepping up from a maiden claiming race, but he's third off the layoff, he's lightly-raced, and he has some of the top pace and speed figures in the field.
#1 First Law (9/2): Closed well in his two career starts, both of which came going short. It's unclear if he can get the extra ground, but he's shown enough life in those two races to merit respect. 
 ANALYSIS
RACE 4: STARTER OPTIONAL CLAIMING $16,000, 3-YEAR-OLDS AND UP, FILLIES AND MARES, 1 1/16 MILES
4-5-6-3
#4 Si Mamacita (4/1): Showed a new dimension in her last race, coming from off the pace to win going away. That'll be helpful in a race with a lot of pure speed horses. Her speed and pace figures are very sharp; the only question is how she'll handle the stretchout around two turns. 
#5 Stiva (5/1): One of the aforementioned speed horses, she won two in a row on grass earlier in the meet, then wired a dirt field last out. If she can get away with an uncontested lead, she's going to be very tough to catch. 
#6 Annika Gold (7/5): A Delaware Park shipper for Jamie Ness, she most recently won an allowance going long on dirt, after making a very sudden move to the lead. She hit the wall in the stretch of that race, but held on to win by 1 1/2 lengths. Prior to that, she had run three figures in a row in the 80s, with two wins over this track in that stretch. Should show tactical speed and come after the leaders on the turn. 
RACE 5 – MAIDEN SPECIAL WEIGHT, 2-YEAR-OLDS, FILLIES, 1 MILE (GRASS)
4-9-3-6
#4 Lady Blakeney (3/1): Arnaud Delacour sent out an impressive maiden winner on Thursday, he'll look for another win with a firster here. Like his Thursday winner, she has been working well at Fair Hill and looks well-bred for grass. Trevor McCarthy was named to ride, but he's on the sidelines after going down. A replacement is TBA at press time. 
#9 Superhelpful (7/2): Experience in races like this is indeed "super helpful", and this filly is coming off a solid second in her grass debut at Keeneland. She came from behind to grab the runner-up spot at 5 1/2 furlongs. Her dam, Franscat, has produced five grass winners from nine foals to race. 
#3 Line Dancing (8/1): This Michael Matz firster is also well-bred for the lawn. Her dam, Choreograph, was a solid grass horse, and she's produced five winners on that surface. 
RACE 6: CLAIMING $16,000 (N/W2L), 3-YEAR-OLDS AND UP, FILLIES AND MARES, 1 1/16 MILES (GRASS)
1-5-6-7
#1 Gennie Highway (7/2): Her best figure came going long on grass: a second-place finish against better to wrap her campaign last year. This'll be her third race off the layoff; in her first race off a long break, she closed well to get third in a 5 1/2 furlong dash, running not far off her lifetime top figure. 
#5 Roziere (8/1): Ships down from Saratoga, where she made a start over a grass track that has been playing to inside speed. She got hung wide at the back of the pack, and it went about as well as you'd expect. Prior to that, she broke her maiden over a more fair course at Belmont Park, in her first race off the layoff. Could slip through the cracks off that better-than-it-looks last race.  
#6 Mayan Queen (12/1): Comes off a determined maiden win, where she grinded down the stretch to win by a head, earning a lifetime top figure of 74. One of a few in here to have never lost against winners, she's the most lightly raced and, in my opinion, has the most upside of anyone in the bunch. 
ANALYSIS
RACE 7 – MAIDEN CLAIMING $40,000, 3-YEAR-OLDS AND UP, 7 FURLONGS
7-5-4-3
#7 The Cairo Kid (8/5): Drops for a tag for the first time, and has speed figures that tower over the rest. His three most recent numbers are 84, 87, and 80; only one horse has run an 80 once within their last three. Should have this group at his mercy. 
#5 More Twirl (10/1): He received some decent wagering action in his dirt debut last out, and was in contention when his jockey lost the whip. He's worked well since then, and now gets lasix for the first time. 
#4 Maybe Someday (10/1): Gets the much-needed addition of blinkers after racing greenly in his last start. He set the pace and tired going a mile, now cuts back to seven furlongs and has that all-important race under his belt. Turned in a bullet workout on August 22; should be ready to fire a big one third time out. 
RACE 8: ALLOWANCE (N/W1X), 3-YEAR-OLDS AND UP, MD-BRED, 1 MILE (GRASS)
4-13-5-6
#4 Can He Shine (5/1): He almost wired a field at this level two races back, losing only to the classy Nick Papagiorgio. The only serious speed threat in here, Dundalk, is racing for the first time in more than a year, so I don't know if he'll fire a huge bullet first off the bench. If Can He Shine gets loose, he'll be tough to reel in. 
#13 Somekindofmagician (3/1): Won his last start at Parx, stalking the pace and driving by in a race where he was much the best going in. He might have been the best horse two races back; he lost by just 3/4 of a length despite getting cut off in the midst of a move. He'll have to draw in to this one, but if he does, he'll be tough. 
#5 Broker's Reward (6/1): Mike Trombetta has been dangerous with just about everyone he's been sending out lately. This one hasn't been seen since November, but he did win his last grass start at this track, his figures last year were steadily in the low 80s, right around where he needs to be to win this one. Two of his last three workouts at Fair Hill were bullets. 
RACE 9: MAIDEN CLAIMING $16,000, 3-YEAR-OLDS AND UP, FILLIES AND MARES, 1 MILE (GRASS)
4-9-15-12
#4 Esther's Fortune (5/1): Showed a lot of heart in her grass debut last out, battling on the pace and drawing clear in the stretch, only to be run down late. This'll be just her fourth start overall, and her third off the layoff.
#9 Perfect Kind (7/2): Another one racing third off the layoff; this for the dangerous Kelly Rubley/Julian Pimentel trainer/jockey combo. Closed well in her last grass race to get second going short, but has some good races going long. She was a front-runner last year, came off the pace in her last start: what will Pimentel do with her here?
#15 Maliceinthepalace (7/2): Saratoga shipper wasn't a factor while trying to close off that speed-favoring track in her last start. Her only race on this track wasn't that impressive on paper, but it was her first race off the layoff, and she had a ridiculously wide trip. I'm willing to cut her some slack.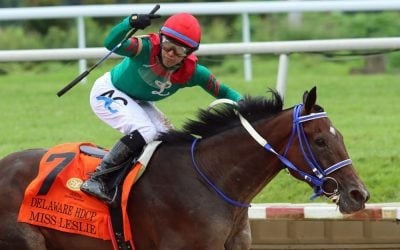 Racing returns to Delaware Park May 24, and we return with Delaware Park picks and analysis for the track's 86th racing season.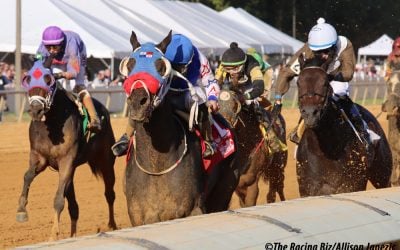 We provide full-card picks and analysis for this afternoon's races at Laurel Park.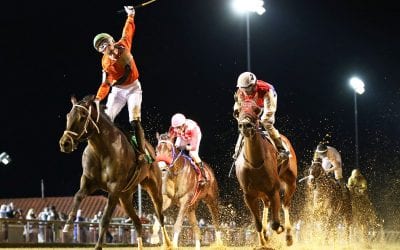 Full-card picks and analysis for this evening's live racing card from Charles Town Races!