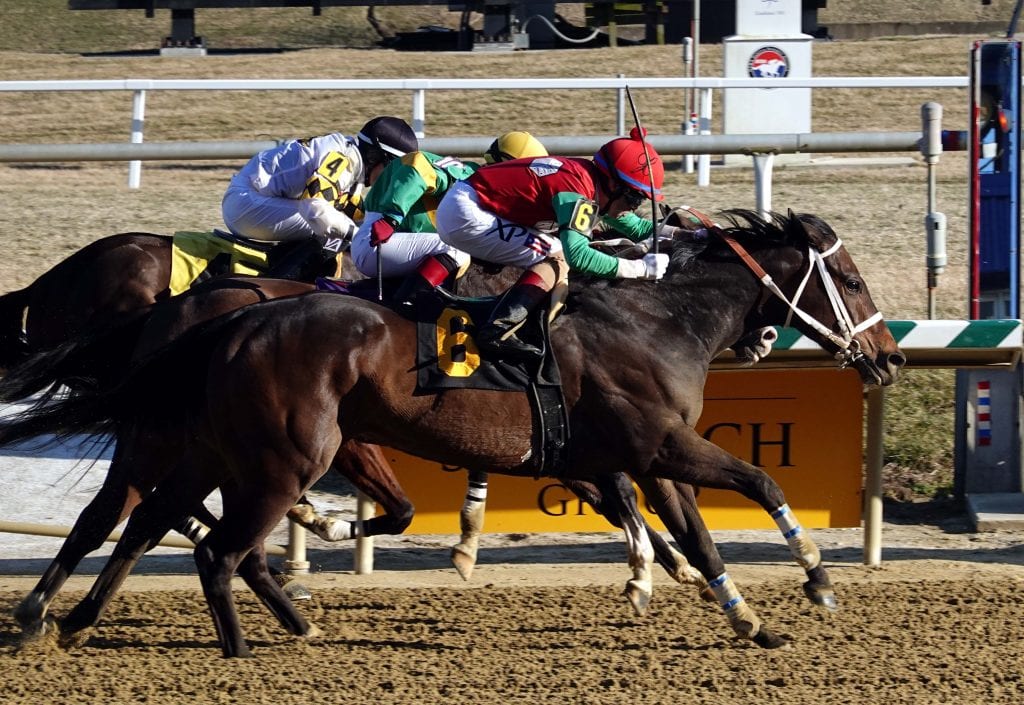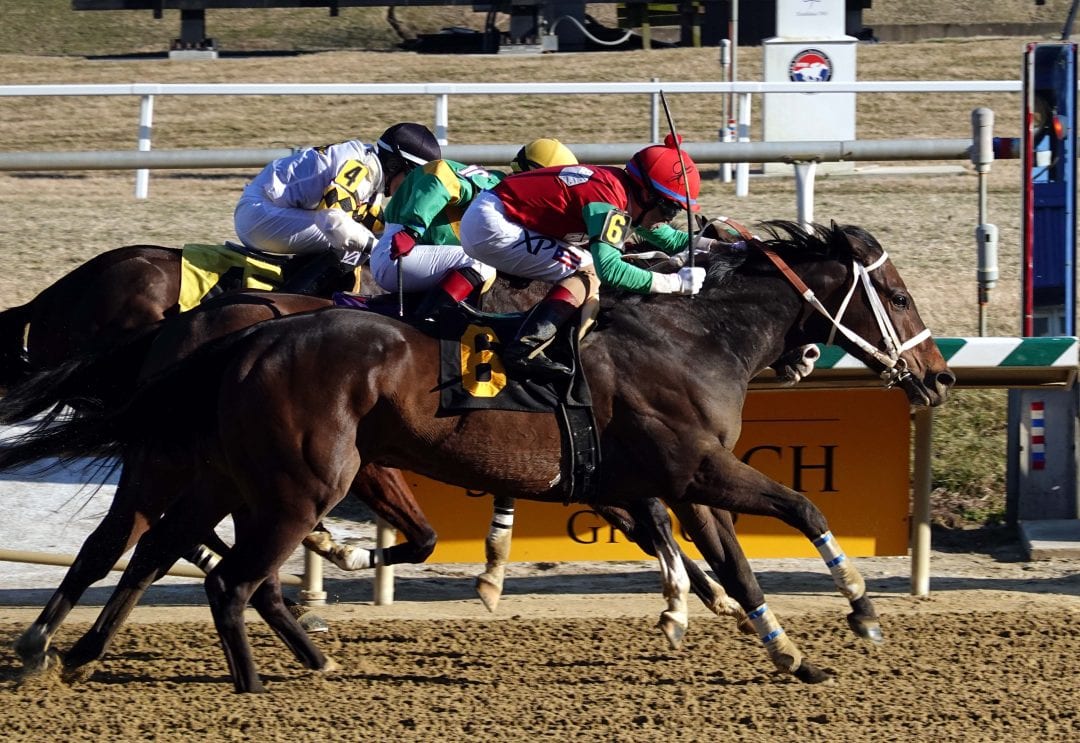 Anna's Bandit. Photo by Laurie Asseo.
In which we pick the races from Laurel Park each day…
Post time: 12:40 p.m.
Carryovers: Rainbow Jackpot Pick 6 — $1,996  Super High 5 — $0 Late Pick 5 — $0

Notable: Until further notice, no fans are allowed to attend the races at Laurel Park. For more info, click here.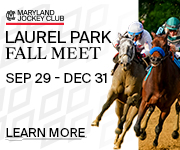 ANALYSIS
RACE 1: CLAIMING $5,000 (CONDITIONED), 3-YEAR-OLDS AND UP, 6 FURLONGS
3-6-2-1
#3 Higher Purpose (3/1): This speedball got caught up in a duel in his last race, and stopped badly. This time, he's far and away the fastest horse early on, so he should be able to set an uncontested pace. From there, he could prove tough to catch. 
#6 Approvethismessage (7/5): Trevor McCarthy makes his triumphant return to Laurel in this race, on this Texas invader first off the claim for Hugh McMahon. In those Texas races, he tended to make big moves in two-turn races, only to flatten out late. Now, he's cutting back in distance, which could make those moves more powerful. His brisnet figures tower over those of the rest; he's the only one in the race to run at least an 80 in his last three races. 
#2 Talent Scout (7/2): He shipped in here from Charles Town in his last race, made a strong move to the lead on the turn, and drew off to a sharp score. He'll have to run down tougher horses and outkick stronger rivals here, but nevertheless could rally and grab a piece underneath. 
RACE 2: CLAIMING $5,000 (CONDITIONED), 3-YEAR-OLDS AND UP, 1 MILE
5-2-3-6
#5 Booby Trap (3/1): He's been steadily improving all year, most recently running a game second while losing a battle in the stretch. He raced fine going 6 1/2 furlongs, but his move was had much more impact when stretching out to this distance in his last race.
#2 Indian Ghost (4/1): Goes second time at the condition after being outkicked by Booby Trap last out. Two races back, he soundly beat a n/w2L claiming field, with a strong rush to the lead. He was denied that opportunity in his most recent start when forced to check. With a clean trip this time, he could draw into contention turning for home and stay there. 
#3 Victory Given (5/2): That last race concerns me somewhat: he stopped on a dime without much of an excuse in his last race at Delaware Park. He had been racing well at shorter distances over the track, consistently running figures in the high 70s/low 80s. Will a return to a surface he prefers be beneficial?
RACE 3: CLAIMING $16,000 (N/W2L), 3-YEAR-OLDS AND UP, 1 1/16 MILES (GRASS)
7-4-8-2
#7 Stand My Ground (4/1): Faces a n/w2L claiming field for the first time, after two races against better. He came from way, way out of it in both those races, and didn't have much of a chance as such. When he was closer to the pace three races back, he made a strong move and won a maiden claiming race going away. In a paceless race, Perez should keep him relatively close to the lead, to enable maximum use of his kick. 
#4 Sin Bin (6/1): Made his first start of the year last out at Colonial Downs, and came from far out of it to lose by 1 1/2 lengths. His workout since that race, on August 22 at Pimlico, was an absolute bullet, going four furlongs in 47 2/5 seconds. Very lightly-raced gelding should move forward second off the layoff, especially with a career-top first off the bench.
#8 War Lance (6/1): Stepped up second off the layoff last out, checking early, losing ground, and rerallying to finish third. He's had a few more chances at the level than I'd like, but he's been rounding into top form, and McCarthy will get on for the first time. 
ANALYSIS
RACE 4: MAIDEN SPECIAL WEIGHT, 2-YEAR-OLDS, 5 1/2 FURLONGS (GRASS)
10-9-8-4
#10 Arrest Me Red (7/2): Strong-working firster for Arnaud Delacour looks perfectly bred for the grass. The board will give a better idea for this one; wouldn't be surprised if he went off much less than his morning line. 
#9 No Obligation (4/1): Looks like the slightly better of the two Motion firsters. Had a bullet workout at Fair Hill two works back, going five furlongs in 1:01 1/5. Motion tends to be overbet with horses like this, but it doesn't look like the strongest maiden field in the world, and a less-than-best effort could get it done. 
#8 Kentucky Cool (12/1): Excellent worker looks like the value of the field. It's not clear if he's a grass horse, necessarily, but his drills show that he's got some ability, and he could slide under the radar in this race.
RACE 5 – STARTER OPTIONAL CLAIMING $25,000, 3-YEAR-OLDS AND UP, FILLIES AND MARES, 6 FURLONGS
4-2-1-6
#4 Suzysellsseashells (5/2): Broke her maiden very impressively last out, closing off a hot pace to win going away. She improved her figure 14 points in that race, up to an 84. She was a vet scratch in her last race, but worked well since the scratch, suggesting any ailments are behind her. Looking for another big effort here. 
#2 Brut Rose (4/1): Goes third off the layoff, after closing well in the stretch second off the break. Granted, that was a fast pace she closed into, but she went quickly on her own in the lane, ultimately losing by half a length after being forced to steady. 
#1 Magical Anna (7/2): She wasn't able to get to the lead, where she likes to be, in her last start. As such, she chased the leader all the way around and got second. This time, there doesn't look to be anyone to go with her, so she should be able to get the front-running trip she wants. 
RACE 6: CLAIMING $16,000 (CONDITIONED), 3-YEAR-OLDS AND UP, FILLIES AND MARES, 1 MILE (GRASS)
1-6-5-4
#1 Instinctive (5/1): Showed some fight on the lead in her last out, holding on after being pressured on the pace to win a n/w2L claiming race. I don't know if she'll get to the lead here, but she'll at least be right on the pace, and has enough fight in her to get there.
#6 Bird Tycoon (9/2): Got a good trip in her last race at Parx, inheriting the lead after the early front-runners faded from the scene. Could get a similar setup here, should Instinctive and some of the other speedsters give way. She earned an 82 in that race, the best last-out grass figure by eight points. 
#5 Pink Pearl (6/1): Drops to this level for the first time, after racing wide throughout against much better in her last race. She finished up the track with a blah figure, but it was her first start of the year. She'll stretch out from 5 1/2 furlongs here; while her best figures are going short, her only win was going long. 
ANALYSIS
RACE 7 – ALLOWANCE (N/W1X), 3-YEAR-OLDS AND UP, 1 1/16 MILES (GRASS)
2-7-1-11
#2 McElmore Avenue (5/1): He's turned in two nice closing rallies at the meet, both times falling short against better horses than he'll see here. Brittany Russell began the meet on a hot streak; she hasn't had that many starters this month, but is dangerous nevertheless. 
#7 Mr. d'Angelo (7/2): Last year's Maryland Million Turf winner made his first start of the year against n/w2x allowance company last out. He finished third in that race; the winner, Papal Law, came back to win next out at Presque Isle Downs, while the runner-up, Artemus Bridge, was coming off a win at Dealware. This one is a deep closer, but he still races well even without a pace to run into. 
#1 Clear Vision (6/1): Spent the winter running on the grass at Fair Grounds, where he had two rough trips. Last fall, he ran two figures in a row of 88 or better on the lawn. This'll be his first race since February 14, wouldn't surprise me if he needed a race to get back into form. Still, him at top form with a clean trip is dangerous.
RACE 8: ALLOWANCE (N/W1X), 3-YEAR-OLDS AND UP, 1 MILE
6-2-1-4
#6 Galerio (8/5): Seeks his third win in a row, after a dominant victory against Maryland-breds last out. He's stretching back out from six furlongs here, but handled the one-mile distance with ruthless efficiency two starts back at Parx. Wouldn't be surprised if he eventually ran in stakes company. 
#2 Universal Payday (2/1): .Comes here off a starter allowance win at Saratoga, where he stalked the pace and drew off. The runner-up that day, The Rock Says, came back to win an allowance race here. He's run a lifetime top figure in three straight races; can he keep it up?
#1 Paul the Waiter (9/2): This stablemate of Galerio has won his last two dirt races, both at Parx, by a combined 14 1/4 lengths. He had to come off slow paces both times, but nevertheless roared away with the win. Will be tough if he can get his usual stalking trip, and there's no reason why he can't. 
RACE 9: MAIDEN CLAIMING $16,000, 3-YEAR-OLDS AND UP, 5 1/2 FURLONGS (GRASS)
3-6-7-8
#3 Straightouta Congtin (6/1): He was in it until late last time, battling on in a three-horse duel that he ultimately lost in the last sixteenth. It was a new lifetime-best figure, and it was his second start off the break. I'll give him another chance.
#6 Championship Alley (5/2): Has some experienced grass form from over the winter in Florida, and comes in here with two bullet workouts in a row. Those good races have come in routes, and this is a sprint, but his front-running style looks more suited towards sprints anyway. 
#7 Divine Proportion (30/1): In a crazy field like this, sometimes it's worth taking a shot on a longshot flyer. This one's running on grass for the first time, has some recent good works, and trainer Valora Testerman does show a win with a horse making the surface switch.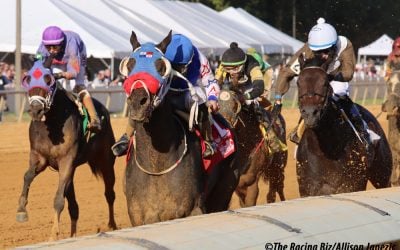 We provide full-card picks and analysis for this afternoon's races at Laurel Park.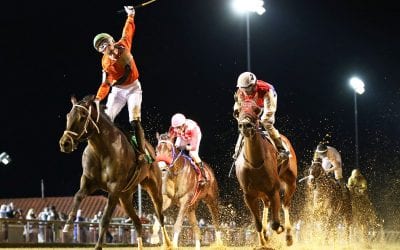 Full-card picks and analysis for this evening's live racing card from Charles Town Races!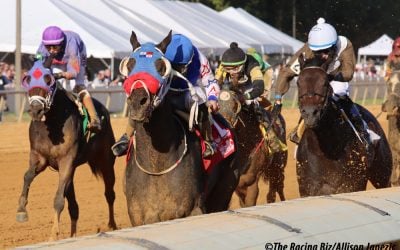 We provide full-card picks and analysis for this afternoon's races at Laurel Park.