Laurel Park picks and ponderings August 22, 2020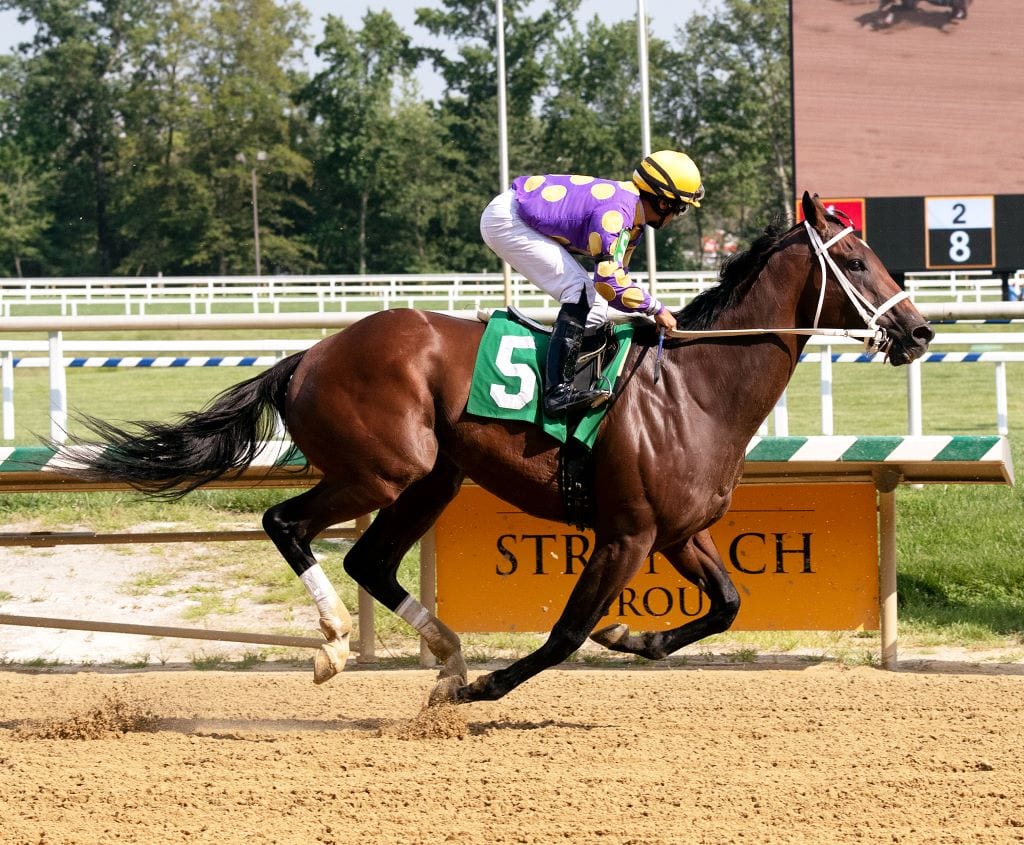 Old Time Revival.
In which we pick the races from Laurel Park each day…
Post time: 12:40 p.m.
Carryovers: Rainbow Jackpot Pick 6 — $1,286 Super High 5 — $673 Late Pick 5 — $0
Notable: Until further notice, no fans are allowed to attend the races at Laurel Park. For more info, click here.
ANALYSIS
RACE 1: MAIDEN CLAIMING $10,000, 3-YEAR-OLDS AND UP, FILLIES AND MARES, 1 MILE
7-1-6-4
#7 Tea in China (2/1): Closed well from behind to get third on the grass last out at Colonial Downs, in her third lifetime start. Her only dirt race looks like a disaster on paper, but she was pressed on a fairly fast pace, so it's no wonder she stopped badly. There's nothing resembling quality speed in this race, so the pace should be a lot more favorable. 
#1 Molly Bolts (8/1): Improved her brisnet figure nineteen points, up to a 59, in her last dirt race. She lost all chance at the start when she had to check, but rallied well in the stretch to get fourth. Gets back on the dirt here after a grass try, and looks to be on the upswing.
#6 Meet Michelle (9/5): Over the winter, she finished a strong closing second twice at this distance and level. Hasn't been quite as good since the break, but improved in her second start back, and could go over the top here. 
RACE 2: CLAIMING $5,000 (N/W2L), 3-YEAR-OLDS AND UP, 1 MILE
3-1-5-4
#3 Pistoleiro (9/5): While he did get a fast pace to run at in his last race at Colonial, it was still a pretty impressive closing kick. He made up ten lengths in the late stages to lose by less than a length. Now races second off the layoff, and tries winners on dirt for the first time. Should roll past any tired leaders late.
#1 Stucco (7/2): That last race is much different than it looks, based on the running lines. A loose leader opened up a gigantic margin on the rest of the field, throwing the pace scenario out of whack, and leaving this front-runner at a disadvantage. When he got in a normal type of race two back, he led most of the way before getting caught. The only other serious speed in the race is a cheap sort who looks like he struggles at longer distances, so this one shouldn't have much trouble getting clear by the time they round the turn. 
#5 Voodoo Valley (9/2): Steadily runs figures in the 60s, and tends to stumble along to get a piece of the exotics. That's fine by me. 
RACE 3: MAIDEN CLAIMING $16,000, 3-YEAR-OLDS AND UP, FILLIES AND MARES, 5 1/2 FURLONGS (GRASS)
5-12-3-11 (DIRT: 13-5-2-3)
#5 Scarlet's Song (6/1): Raced greenly on debut, against $25,000 maidens, but closed well despite racing greenly. Tried dirt maidens at Saratoga next out, that didn't go so well. Now tries a career-low level and has shown enough promise to make her worth a bet.
#12 Dixie's Fascinator (5/1): Keeps improving in her grass races this meet, most recently finishing second to a much-the-best winner who ran away from the rest. Might have been overused in her last start, which was on dirt, but now goes back to her preferred surface. Should rate off the leaders and pounce. 
#3 Lookin for Candy (8/1): Tried to run with the aforementioned runaway winner last out, and couldn't do it. Despite that, she narrowly missed third. Not as much quality speed on in here, so things should be easier up front for this lightly-raced filly. 
ANALYSIS
RACE 4: CLAIMING $5,000 (CONDITIONED), 3-YEAR-OLDS AND UP, FILLIES AND MARES, 6 1/2 FURLONGS
7-1-2-3
#7 Blue Sky Venezuela (4/1): Closed strongly to get up and win against gems of a slightly lesser water last out. There's two speedballs in here who could burn themselves out, and that would set up perfectly for this filly to surge and win. 
#1 Group Text (5/2): Another strong closer, her form is somewhat obscured by her dull races at Charles Town. Take out those races over a track she doesn't appear to like, and you've got a filly who consistently runs figures around 75. Finished a strong second in her first race back from the break, and should take another step forward here. 
#2 Lady Rozina (3/1): Elvis Trujillo, once a top jockey in the mid-Atlantic region, is looking for his first training win, and this is as good a horse as any to get him that milestone. She recovered from a poor start last to finish a solid third, and is tied for the best average late pace figure in the race. 
RACE 5 – STARTER OPTIONAL CLAIMING $25,000, 3-YEAR-OLDS AND UP, 1 1/16 MILES (GRASS)
5-11-2-1 (DIRT: 11-6-3-7)
#5 Bold Trek (6/1): Turned in a nice effort in his first race against winners, closing from well behind to lose by less than four lengths. His two best grass figures have come when he's going long on the surface, and that's what he's doing here.
#11 Team Effort (3/1): He's set fast paces by himself in his last two races, and held on well both times. This is the easiest field he's encountered this meet, so if he can slow down the tempo favorably enough, this one could be over by the time they enter the stretch. 
#12 Lexatoga (6/1): Improved sharply to break his maiden last out at Delaware Park, closing off a moderate pace to win going away. He's one of a few in here coming in here off a maiden win, but he's the lightest-raced of those who didn't have very favorable circumstances in that first score. 
RACE 6: CLAIMING $10,000 (CONDITIONED), 3-YEAR-OLDS AND UP, FILLIES AND MARES, 6 FURLONGS
6-1-3-8
#6 Stay Out (9/5): Closed out her 2019 campaign with a very impressive win against starter optional claiming horses, winning by six lengths going away. Doesn't catch a strong field in her return to the races, and should have her way with this group even with the long break.
#1 Susikin (3/1): It's been the same story in her last three races: she opens up a big lead, looks home, but get caught late. Especially with some quality speed to her outside, in Stay Out, she looks like a good bet to hang in there again, but not get it done. 
#3 Third Card Down (10/1): Hung in there well to finish third last out at Delaware. It's not clear if she's at her best over this track, but she's battled well in most of her recent races, and should get the pace edge over some of the equal-quality closers in this race.
 ANALYSIS
RACE 7 – MAIDEN CLAIMING $40,000, 2-YEAR-OLDS, FILLIES, 5 FURLONGS
3-2-5-1
#7 Betcha By Golly (2/1): Finished third on debut last out, behind the very impressive Tiz Ferguson. I don't think there's any budding prodigies in this group, so as long as she doesn't go backwards, she's got a big chance. 
#8 Proper Attire (4/1): Comes out of the same race as Betcha By Golly. In that race, she broke very awkwardly, rushed up, then flattened out and was fourth. She got plenty of wagering action there, going off at 4/1. If she goes off the same price in this maiden claimer, that would be very enticing.
#3 Who Knows What (10/1): Finished an even third on debut at Colonial after racing wide throughout. Trombetta and Pimentel is always a dangerous trainer/jockey combination.
RACE 8: ALLOWANCE  (N/W1X), 3-YEAR-OLDS AND UP, FILLIES AND MARES, 5 1/2 FURLONGS
4-9-1-3 (DIRT: 6-4-3-2)
#4 Beacon of Truth (9/2): Broke very slowly in her grass debut, but still made up a lot of ground at the way back of the pack. Got the maiden win on dirt next out in impressive style. Her grass form is a bit hidden, but she looks like she's got a lot of upside over the surface. 
#9 Coconut Cake (5/2): Closed well off a fast pace to break her maiden in impressive style last out. This'll be her first start against winners, and has shown enough of a closing punch to look like a threat against them. 
#1 Carolina Ice (5/1): She may have gotten a great trip in her last race, closing off a fast pace, but it represented a lifetime top figure, and she raced on well even when clear. Lauralea Glaser has been riding hot as of late, and gets the mount on this one for the first time. 
RACE 9: STARTER OPTIONAL CLAIMING $25,000, 3-YEAR-OLDS AND UP, 1 MILE (GRASS)
12-10-7-4 (DIRT: 3-6-13-10)
#12 Soglio (7/2): Grade 3 placed in 2019, he's coming off a win against a strong open claiming field at Gulfstream Park in February. That was his first start in eight months, and yet he still closed well off a slow pace for the victory. He's got to deal with another layoff here, but that shouldn't be too big a hurdle, if semi-recent performance is an indicator.
#10 Lucky Ramsey (5/1): Can't let a card go by without giving some love to a Claudio Gonzalez/Angel Cruz horse. This one's just missed in his last two grass races, stalking the pace while being unable to get by in the stretch. He comes in here with a steady band of figures in the 80s, and looks like one of the most consistent members of the field.
#7 Atreyu (8/1): Comes in here in career-best form, off two solid wins against open claimers at Delaware. He got a bit tired two back, but it was his first race off the long break. Next out, he pounced and drew away handily. The 8/1 morning line would be appetizing.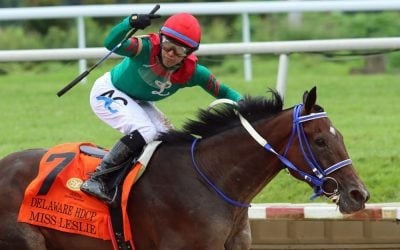 Racing returns to Delaware Park May 24, and we return with Delaware Park picks and analysis for the track's 86th racing season.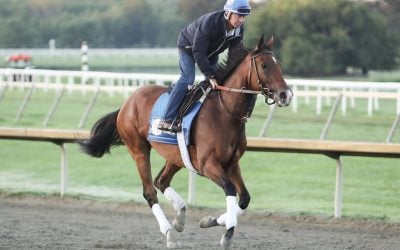 Saturday's Parx Racing card features the Grade 1 Cotillion and Grade 1 Pennsylvania Derby, making it the biggest day of the year at the Bensalem track.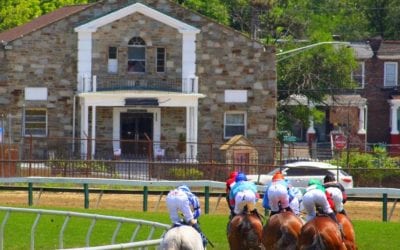 We provide full-card picks and analysis for this afternoon's races at Pimlico.