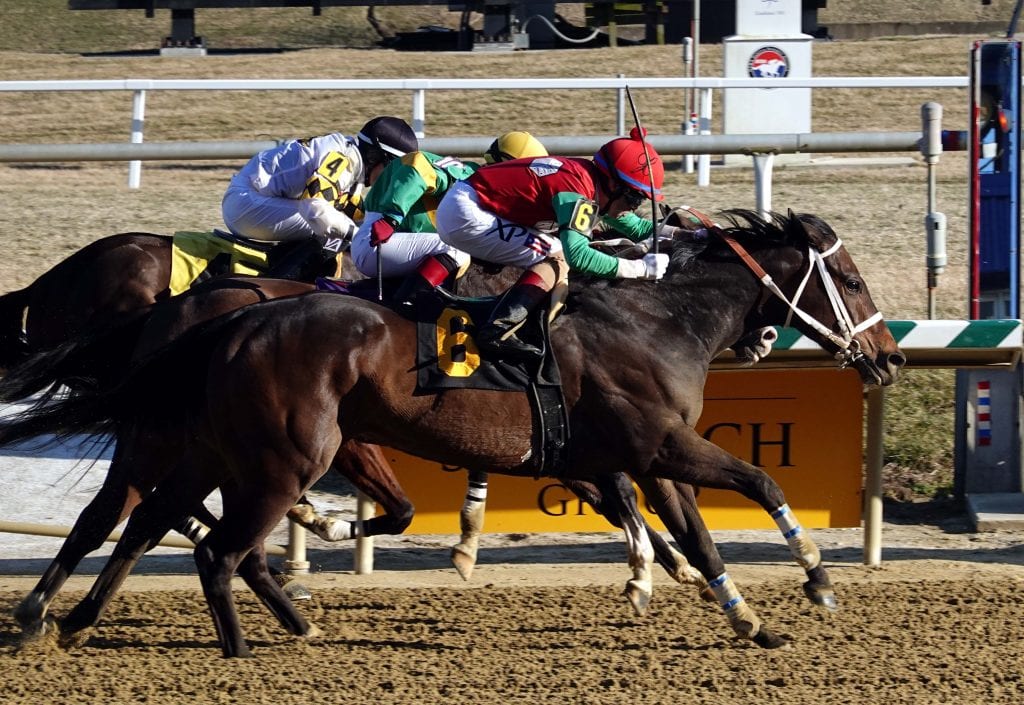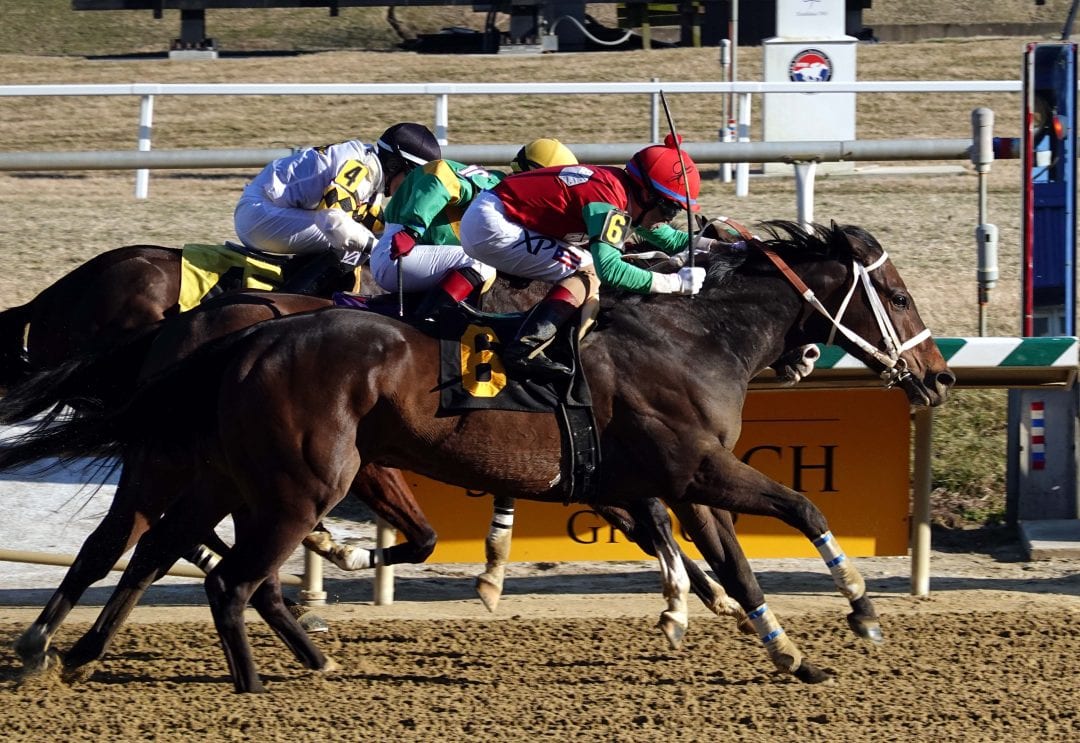 Anna's Bandit. Photo by Laurie Asseo.
In which we pick the races from Laurel Park each day…
Post time: 12:40 p.m.
Carryovers: Rainbow Jackpot Pick 6 — $607  Super High 5 — $0 Late Pick 5 — $0
Notable: Until further notice, no fans are allowed to attend the races at Laurel Park. For more info, click here.
ANALYSIS
RACE 1: CLAIMING $10,000 (N/W2L), 3-YEAR-OLDS AND UP, FILLIES AND MARES, 5 1/2 FURLONGS
1-5-6-2
#1 Lucky Ninety Nine (7/2): That was a pretty good n/w2L claiming field she lost to last time, but she was a non-menacing sixth, running a race that wouldn't win any type of n/w2L claimer. It was a major step backwards from her maiden win two back, where she won handily in her first race off more than a year's break. I'll give her another chance, especially considering this field looks like no great shakes.
#5 Zig (8/5): She's the only one in the race with steady brisnet figures in the 70s, and she's first off the claim for Dale Capuano, who is 20% with that angle. On the other hand, she's had plenty of tries against n/w2L claimers, losing at low odds several times. How many chances can you give her?
#6 Fille d'Esprit (6/1): The only one in the field to never lose against winners, she's coming off a maiden claiming win where she got a great stalking trip and drew off. It was in just her second lifetime start, to boot. She'll look to get a similar trip here. 
RACE 2: MAIDEN CLAIMING $10,000, 3-YEAR-OLDS AND UP, 1 MILE
8-4-3-2
#8 Elusive Motion (7/2): Capuano teams up with Weston Hamilton in race 1; they're on another live one here. He had absolutely no chance of beating the winner in his last race, who was about three thousand times the best. This one more then held his own, though, he was a clear-cut second over the rest, and ran a career-high figure of 66. 
#4 Nic Nic Boom (6/1): Third behind Elusive Motion in his last race, he's another lightly-raced sort coming off a career-top. He made up ground willingly in the stretch in that start, and should be coming from behind once again.
#3 Runner Runner Indy (8/5): John Robb and Xavier Perez have been running hot all season long, and for that reason alone, this one is sure to take a lot of money. He improved sharply in his second start off the layoff, closing six-wide around the turn to get a minor share. I'm not quite sure if he wants this distance, but is still worth respecting. 
RACE 3: MAIDEN CLAIMING $40,000, 2-YEAR-OLDS, 5 1/2 FURLONGS
4-6-8-1
#4 Don't Dare Me (5/2): Lost a heartbreaker on debut at Delaware Park when he had the lead late against straight maidens, but got run down. He received a lot of wagering action in that race, got a big speed figure, and has been working strongly since that race. All signs point to him. 
#6 He's a Shooter (2/1): Ran on well in his first start at Parx, finishing a clear-cut third. His figure wasn't nearly as good as that of Don't Dare Me, but he nevertheless showed plenty of speed in that race, which is a good sign. What will draw bettors to him is his trainer: Claudio Gonzalez is 35% with horses second time out. 
#8 Da Bozak (9/2): Angel Cruz did not get the mount on the Gonzalez horse here, rather, he gets the nod for Crystal Pickett's charge. This horse closed well in both his races at Charles Town, most recently drawing alongside the leader late before flattening out. He's also one of the most experienced horses in the race; this is his third career start.
 ANALYSIS
RACE 4: CLAIMING $12,500, 3-YEAR-OLDS AND UP, FILLIES AND MARES, 5 1/2 FURLONGS (GRASS)
13-6-5-4
#13 La Piu Bella (5/2): Wow, what to make of that last race? it's the best last-out grass figure of anyone in the field by eleven points, an an 89, and it was earned first off the long layoff. It was earned at Parx, and while that can be a quirky surface, she ran figures in the 80s at other tracks last year, so I don't think it's a fluke. She's also going out for trainer Niall Saville, who hits the target whenever he fires a bullet: he's 4-for-5 on the meet. Looking for a big effort from this one, should she draw in. 
#6 Eifs (7/2): She won at this level last out at Penn National, albeit in a three-horse field. Still, it was a professional showing, and got a recent grass race into her. Closed on well for third against similar at this track two back, with a bigger figure. 
#5 Caterina One (8/1): Turned in a game effort against slightly worse two starts back to win by a nose, then got a bit too ambitious last out and showed little. This level is somewhere in the middle, which will suit her well. Look for her to be prompting the pace in the two-path or so.
RACE 5 – CLAIMING $16,000 (CONDITIONED), 3-YEAR-OLDS AND UP, 6 FURLONGS
6-3-7-1
#6 Robber Bob (9/2): Enters here off two impressive wins in a row, most recently effortlessly dusting a n/w2L claiming field at Colonial Downs. He's won while on and just off the pace, so even though there's a lot of speed in here, that shouldn't faze him too much. 
#3 Forfiftyfiverocket (3/1): If anyone will take full advantage of a blistering pace, it's him. He did that in his last race, closing off a strong second quarter to run down Willmakeyouhappy for the victory. He may have won two back, as well, if he didn't have to check late. Look for him to be flying in the stretch. 
#7 Our Philly Special (6/1): In his two races at Churchill Downs over the winter, he raced off the rail, which is no way to be over that track. Despite, that he ran figures in the upper 70s and low 80s, putting him in the hunt to win this one. Got a race under his belt at Penn National to prepare for this race. Looks to be on or near the pace.
RACE 6: MAIDEN SPECIAL WEIGHT, 2-YEAR-OLDS, FILLIES, 5 1/2 FURLONGS (GRASS)
10-5-4-12
#10 Kewpie Doll (5/2): Would've liked to see a little more of a closing kick in her last race, but it was against way better, and she still ran on well to get third. Lauralea Glaser has been riding well as of late; she's been in the top two in 12 of her 19 starts at the meet.
#5 Hey Babe (4/1): Cal Lynch sends out this firster, who has a very grassy pedigree. Her sire, Kitten's Joy, needs no introduction. Her dam, Humorous Miss, was a stakes winner on grass, and competed in graded stakes on the surface four times. It's possible that she'll end up wanting to go longer, but I'm still expecting a good account of herself.
#4 Lisheen (5/1): One of two firsters for Graham Motion in the race. Both figure to be overbet, but I'll give this one a slight edge. She had a nice bullet workout at Fair Hill a few days ago, and has a strong grass pedigree.
ANALYSIS
RACE 7 – ALLOWANCE (N/W1X), 3-YEAR-OLDS AND UP, FILLIES AND MARES, 1 1/16 MILES (GRASS)
9-8-2-7
#9 One Last Trial (6/1): Her grass debut last out was a strong one. She closed off a slow pace to beat a Maryland-bred allowance field by a length, showing tactical speed and running a great late pace figure. That is often a dangerous combination.
#8 Cambeliza (5/2): Broke her maiden at 13/1 at Kentucky Downs last September, then was probably the best horse in a n/w1x allowance next out at Keeneland. She hasn't raced since that October 25 start, so she lacks the fitness edge that some of the others in here have. Still, this isn't a great field, and Arnaud Delacour knows what he's going with horses off a break.
#2 Fed Up Fired Up (6/1): Had to close off two slow paces in her most recent races, but was beaten less than four lengths both times. She improved her figure nine points in her second start off the layoff, and should take another step forward in this race. Ideally, she'll either be a bit closer to the pace than usual, or it'll be a bit faster than in races past.
RACE 8: ALLOWANCE (N/W1X), 3-YEAR-OLDS AND UP, FILLIES AND MARES, MD-BRED, 6 FURLONGS
6-1-3-2
#6 Quiet Imagination (3/1): Comes in off an impressive win against open company at Delaware Park, where she stalked the pace and drove away to the win. She's improved in every race this year, and has tactical speed that will suit her well over this track. 
#3 Bunting (5/2): Came back first off the layoff last out, and just missed in a close finish to Gifted Heart, who is pointing for the Charles Town Oaks next week. She's been second in four of her last six, so I'll look for her to move on the turn and finish second behind Quiet Imagination. 
#5 Sarah's Treasure (8/1): While her figure improved in her last race, visually, it was a duller race than two back. She was on a very fast pace going a mile, and gave way. Now, she goes back to six furlongs, where I think she usually turns in her best efforts. Could slip through the cracks at a price.
RACE 9: MAIDEN CLAIMING $16,000, 3-YEAR-OLDS AND UP, FILLIES AND MARES, 1 MILE (GRASS)
3-12-1-10
#3 Mayan Queen (7/2): Looks like a "now or never" type spot. She was dull in two races against stronger to begin the season, running figures in the upper 60s and low 70s. This kind of race fits her very well.
#12 Patriotic Punch (9/5): She's gotten better in every grass race she's run, most recently hanging in well against $40,000 horses. She's only made three starts on the lawn, so the 0-for-10 mark isn't quite as bad as it looks.
#1 Celebre (9/2): Lightly-raced filly is the only one who has never lost for a tag. She raced against straight maidens last out, and prompted the pace briefly before fading. Looking for improvement here, in what will be her second start in the United States.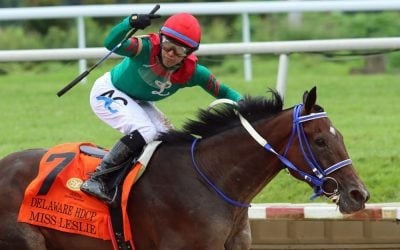 Racing returns to Delaware Park May 24, and we return with Delaware Park picks and analysis for the track's 86th racing season.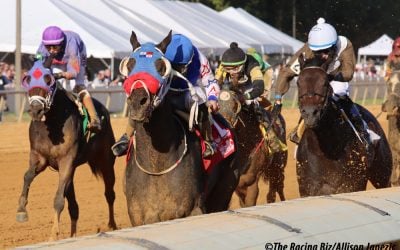 We provide full-card picks and analysis for this afternoon's races at Laurel Park.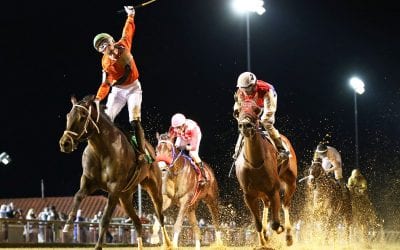 Full-card picks and analysis for this evening's live racing card from Charles Town Races!