Laurel Park picks and ponderings August 8, 2020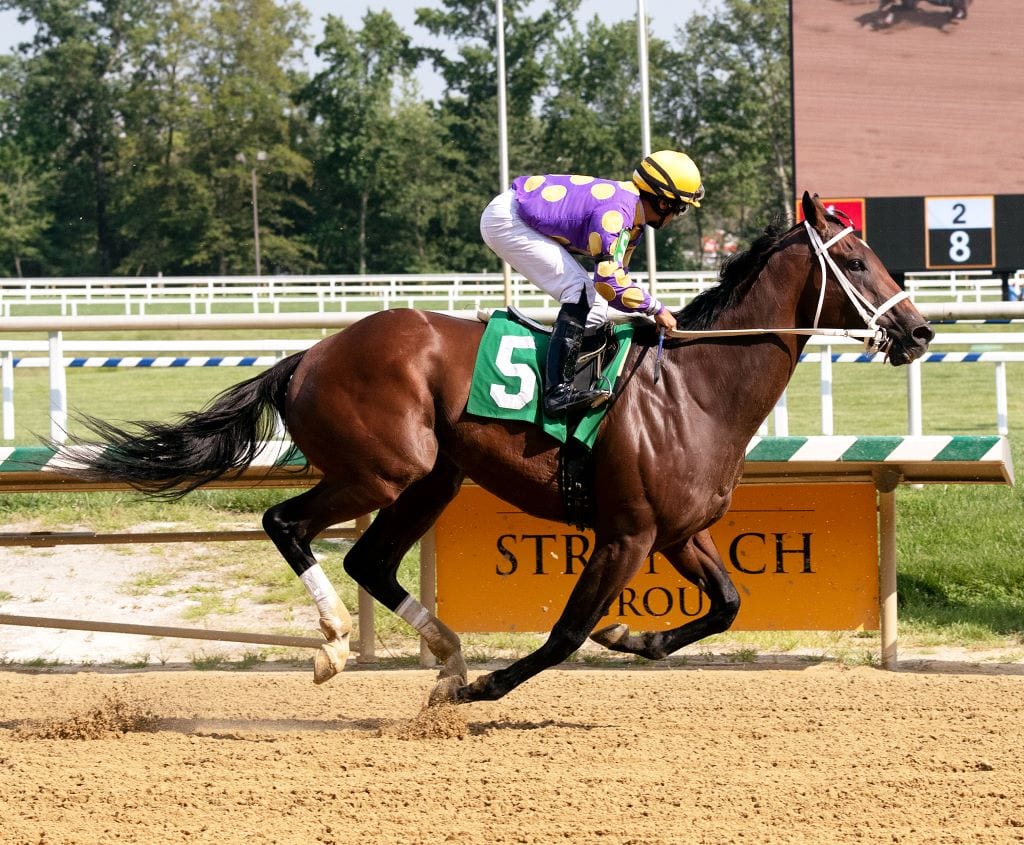 Old Time Revival.
In which we pick the races from Laurel Park each day…
Post time: 12:40 p.m.
Carryovers: Rainbow Jackpot Pick 6 — $5,389 Super High 5 — $0 Late Pick 5 — $0
Notable: Until further notice, no fans are allowed to attend the races at Laurel Park. For more info, click here.
ANALYSIS
RACE 1: MAIDEN SPECIAL WEIGHT, 2-YEAR-OLDS, FILLIES, 5 FURLONGS
3-4-1-2
#3 Betcha By Golly (4/1): They paid a pretty penny for this filly, spending $150,000 for her last year at the Fasig-Tipton Maryland sale. Her works for Graham Motion have been strong and steady, most recently going four furlongs at Fair Hill in a sharp 49 2/5 seconds. Looks well-suited for this short distance.
#4 Tiz Ferguson (5/2): One of two for Cal Lynch, this one has the advantage of experience. She won a photo for second on debut at Monmouth Park, after racing wide throughout in a 4 1/2 furlong affair. Draws a bit further to the inside here, and has some good works since that July 4 outing. 
#2 Miss Marley (6/1): Similar to Betcha By Golly, she's been working strongly at Fair Hill. Julian Pimentel gets aboard for Michael Matz; Pimentel has been riding a hot hand over the last week or so. It'll be interesting to see if she gets enough action to drive her price below the 6/1 morning line. 
RACE 2: CLAIMING $5,000 (N/W2L), 3-YEAR-OLDS AND UP, FILLIES AND MARES, 6 FURLONGS
2-1-6-4
#2 Cheers N Applause (7/2): In her last start, she got involved in a battle for the lead at seven furlongs, and stopped cold in the last eighth of a mile. Now cuts back in distance by a furlong, and has a decided pace advantage over the rest of the field. If Marquez sends her aggressively enough, he could put her on a clear early lead and let the others chase her around.
#1 Girl Next Door (8/5): She got a good trip off the pace battle that Cheers N Applause was involved in, and made a strong rally to lose by less than 3/4 of a length. It was by far the best race she's ever run, and she'll seek to build off it here. Should sit midpack and try to get rolling late.
#6 Trans Mississippi (9/2): Goes first out for Wayne Potts and ships up from Florida. She had some degree of trouble in each of her last three starts, and now faces the easiest group she's ever encountered. Her pace figures have her getting first crack at Cheers N Applause should that leader tire, but her running style doesn't quite reflect that. Going to be interesting to see how Toledo employs her.
RACE 3: CLAIMING $12,500, 3-YEAR-OLDS AND UP, 1 MILE (GRASS)
12-7-2-5 (DIRT: 4-7-8-11)
#12 Bondurant (8/1): Runs third off the layoff for Bruno Tessore, who is a strong 8-for-24 with that angle in recent times. His first start off the bench resulted in a solid-closing fifth against a better field than he sees here, followed by a fourth-place showing in a washed away contest. Ran well against $16,000 foes over the winter and spring in Florida, with several figures in the mid/high-80s. No reason he can't do the same thing here. 
#7 Dashing Lou (10/1): Looks to be the primary early speed, and should end up alone on the lead. The last time that happened, three races back on this track, he finished second. The horse he lost to, Bobby G, would be odds-on in this race. 
#2 National Honor (2/1): That was an eye-catching rally in his last race, flying up the inside to just miss the victory. He also got a very fast pace to run at that day. Two races ago, when he had to close into a slow pace, he didn't do so hot. It's hard to see him not at least contending if he gets the right setup, but given the aforementioned lack of speed, it's a big "if". 
ANALYSIS
RACE 4: MAIDEN CLAIMING $16,000, 3-YEAR-OLDS AND UP, FILLIES AND MARES, 6 FURLONGS
1-2-7-5
#1 Foalsfillyspecial (6/1): Ran a strong fourth on debut against slightly worse, despite racing wide the entire way. Now draws towards the inside, and should save ground just off the pace. 
#2 Cornetta's Choice (9/5): Drops off a fourth-place finish against a fairly strong $25,000 field, where two of the horses who finished ahead of her came back to win. Dilodovico and Karamanos are always dangerous together, but they've been especially hot as of late. Has a great chance as long as she runs back to  her last few speed figures.
#7 Sevilla Sangria (3/1): Was claimed two back for $16,000 by Rodolfo Sanchez-Solomon, who put her in a grass race going long last time. After showing early speed, she unsurprisingly gave way. Now gets back to her preferred conditions, and should be forwardly placed early on. 
RACE 5 – MAIDEN CLAIMING $25,000, 3-YEAR-OLDS AND UP, 1 MILE (GRASS)
8-9-1-10 (DIRT: 9-10-8-4)
#8 Hinting (10/1): Showed promise in his grass debut, albeit at 5 1/2 furlongs. Despite having to check twice on the turn, he never really gave up in the stretch, and boxed on to finish fourth. Worth a shot if the price is right.
#9 Hard Sting (5/2): Races as a gelding for the first time, and makes his first start for a tag. He hasn't raced since November, but Dale Capuano is a sharp 20% with horses off a 90+ day layoff. His competition in New York was much better than this; will be in good shape as long as he's ready to roll first out.
#1 Unlikely (15/1): Speed was terrible over the Belmont Park grass this spring, and it put this one at a pretty significant disadvantage. Goes third off the layoff here, and ships down to face slightly easier rivals. Horses can close over this grass course, and he's got pretty good late pace figures. I don't think you'll get his 15/1 morning line, but he's still worth respecting. 
RACE 6: CLAIMING $5,000 (CONDITIONED), 3-YEAR-OLDS AND UP, 6 1/2 FURLONGS
3-1-9-4
#3 Sunman (7/2): Won at Laurel three times last year, going against better competition every time. This'll be his first race since October 4 of last year, but he catches a fairly soft bunch. John Robb has quietly had a strong meet, going 8-for-29. He's a sharp 21% with horses first off the long break. 
#1 Zitarrosa (3/1): Another one taking a drop in class, he's coming off a fifth-place finish against starter allowance foes. He may have hurt himself in that race, because he hasn't raced since that June 20 outing, and didn't return to the worktab until August 5. To win this one, he'll have to return to his winter form, when he won three of five with figures in the mid-80s. He wasn't too far off that mark last out, and should go right back to it if he's 100%.
#9 Tricky Lion (2/1): Races second off the layoff, after a dull effort on grass last out. He's got that race under his belt, and goes back to his preferred surface. Last year, he consistently ran figures in the low/mid-80s, which would be enough to win this race. The only question is if he can recover his form as an 8-year-old, or if he's simply lost a step. If he shows his usual early speed, which he didn't do last time, he's got a shot.
ANALYSIS
RACE 7 – ALLOWANCE OPTIONAL CLAIMING (N/W3X), 3-YEAR-OLDS AND UP, FILLIES AND MARES, 5 1/2 FURLONGS (GRASS)
5-4-6-1 (DIRT: 4-3-8-7)
#5 Dendrobia (5/1): One of the few pure sprinters in the field, she's coming off a huge effort in a n/w2x race, closing from way downtown to win by a length. Look for her to be rolling from far out of it once again. 
#4 Gigging (9/2): This promising filly comes in off a speedy n/w2x allowance win on dirt, where she opened up a clear early lead and never looked back. That was her 3-year-old debut, and she ran a lifetime-best figure by thirteen points. It's not clear yet if she's as good on grass as on dirt, but if she goes fast enough early, it might not matter. 
#6 Lemon Zip (7/2): On one hand, Karamanos has been riding well, Niall Saville, is a ridiculous 4-for-5 to begin the meet and her figures tower over those of the rest. On the other hand, she's been racing primarily at nine furlongs or longer, and this is only 5 1/2 furlongs. What to make of this spot? How will she handle it? If she can, she'll probably win, but for the moment, I'm kind of baffled.
RACE 8: ALLOWANCE  (N/W1X), 3-YEAR-OLDS AND UP, MD-BRED, 1 1/16 MILES
7-4-6-5
#7 The Rock Says (9/5): You don't see Robertino Diodoro send many horses to Maryland, but he's bringing this one from Saratoga. In his last start, he chased all the way, and finished second. Now, he looks like the fastest horse early in a field largely devoid of quality speed. He should have his way with this group.
#4 Pitching Ari (9/2): Probably the only one who could maybe challenge The Rock Says early on, he's going second off the layoff, after a dull comeback try at Parx. He had a very nice four-race win streak before going on the sidelines, peaking at a 92 during that stretch. Dangerous if he can take that step forward.
#6 Tap the Mark (3/1): Uber-consistent sort also goes second off the layoff, most recently finishing second at this level after getting bounced around. He doesn't have much early speed, but a strong late kick, so he'll need things to be somewhat honest early on to have a good shot. 
RACE 9: STARTER OPTIONAL CLAIMING $16,000, 3-YEAR-OLDS AND UP, 5 1/2 FURLONGS (GRASS)
6-7-5-1 (DIRT: 2-8-4-6)
#6 The Queen's Jules (9/2): Another Wayne Potts invader from Florida, his most recent grass start saw him get a strong-closing second. She's been knocking on the door for a while down there, but hasn't been able to break through on grass. His figures have been steadily good, and this looks like a drop in class. Is this the moment?
#7 War Stroll (5/2): Has won his last two, both on the Laurel grass, despite rough trips both times. Steadily runs figures in the mid-80s, and should be rolling late.
#5 Yummy Bear (2/1): Was very fast way back when, steadily running figures in the 80s against better back in 2018. Unfortunately for him, he hasn't been seen since then. Brittany Russell has been doing a great job training this meet, so if anyone's going to have this horse ready off a 21-month layoff, it's her.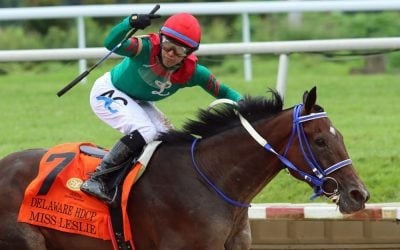 Racing returns to Delaware Park May 24, and we return with Delaware Park picks and analysis for the track's 86th racing season.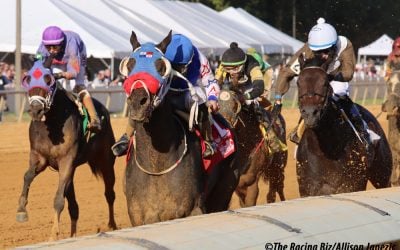 We provide full-card picks and analysis for this afternoon's races at Laurel Park.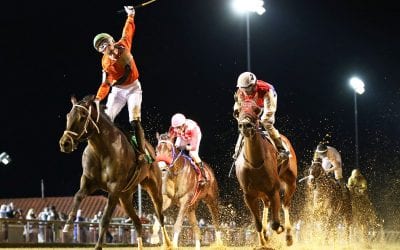 Full-card picks and analysis for this evening's live racing card from Charles Town Races!