Nick's Picks: Colonial Downs picks August 5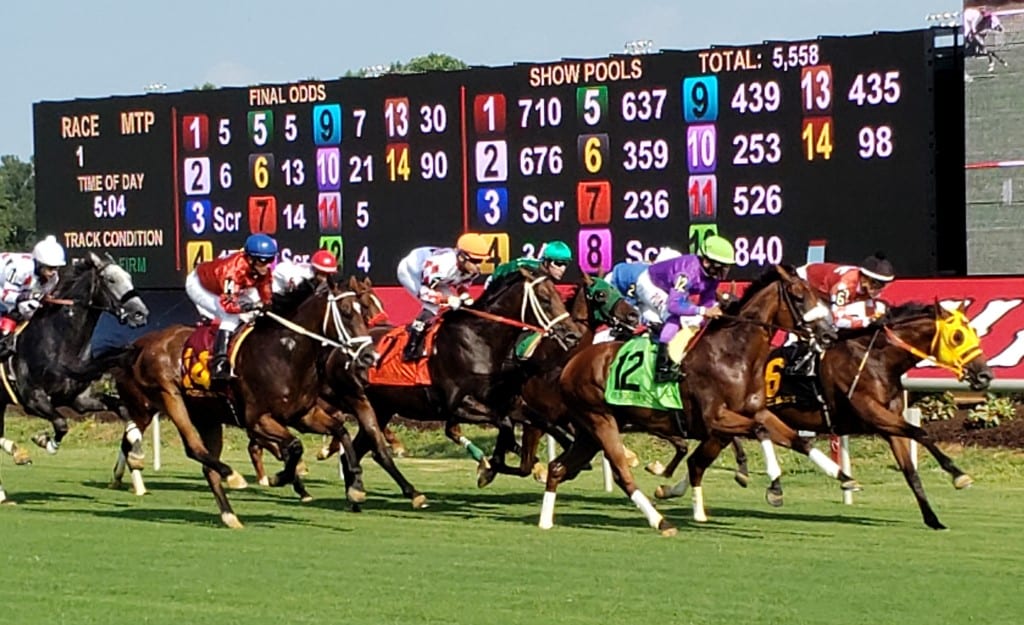 Racing at Colonial Downs. Photo by The Racing Biz.
Nick's Picks is back with Colonial Downs picks and analysis during the 2020 live meeting.
As he has done every year since Colonial Downs opened — all the way back in 1997 — Nick Hahn will share his picks and analysis, plus news and notes and opinions on the Colonial meet.
Also this year, he will share full-card picks from Derby Bill Watson, the legendary former on-air handicapper for Colonial Downs.
It's safe to say there are no better guides to racing in New Kent than Nick and Bill.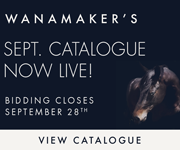 NO PICKS TODAY. COLONIAL IS OFF THE TURF AND HAS A 5:00 POST TIME.
ROCKIN' AND ROLLIN'
On Monday's Nick's Picks, I challenged the Colonial Downs turf course to take on Hurricane Isaias for Tuesday's race card.  Thankfully, it never got the chance as racing was postponed after five-plus inches of rain fell in New Kent largely overnight (5.13 inches at the Richmond airport).  As indelible the memory of past turf accomplishments at Colonial is, especially under Colonial Downs 1.0, Tuesday's cancellation serves as a reminder that in this modern era, the safety of the horses and jockeys must come first.  Good thing I'm not track management.  Rescheduling racing for this Sunday works just fine.
Few would have been more disappointed about Tuesday's cancellation than jockey Rebecca LaBerre, who must be running to the jockey's room after Monday night's three-win performance.  With Trevor McCarthy and Forest Boyce gathering wins in bunches early on, there has been a slow creep among the rest of the jockey colony to do so — until LaBarre's breakout performance on Monday.  Colonial has been a launching pad for jockey careers over the years, and racewatchers have been waiting to find someone to go with Boyce and McCarthy this meet.  Labarre took a step on Monday night towards doing so.
"We're off to a good start.  We're going to be rocking and a-rolling," LaBarre told Darrell Wood after winning the first race. 
Rockin' and a-rolling?  She stole Darrell's harness racing catchphrase.
NICK'S NOTES
SCOREBOARD—Getting two top winners across the wire on Monday's sped-up racing card was enough to draw iron but did some damage to the backboard.  Brick!  Teammate (Derby Bill) picked up the slack with three top wins including a long range $22.60 top winner with Miss Chloe G in the seventh race on Monday night.
HANDLING THE SWITCH?—Reported handles at Colonial Downs through the first four days of racing have surpassed the $1 million mark per race day showing that without fans, the switch to early week racing from the previous weekend slate was worth it.  Average handle over the first four days is $1,252,730, similar to previous first days of Colonial's first era.
NICK'S PICKS PLAY OF THE DAY— No picks with Colonial off the turf today. Seven of nine races had been scheduled for the green stuff.
DERBY BILL DAILY DOUBLES— No picks with Colonial off the turf today.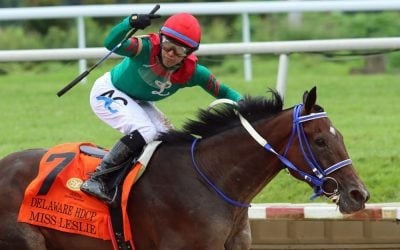 Racing returns to Delaware Park May 24, and we return with Delaware Park picks and analysis for the track's 86th racing season.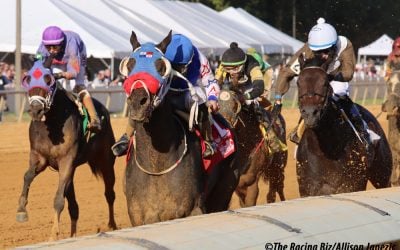 We provide full-card picks and analysis for this afternoon's races at Laurel Park.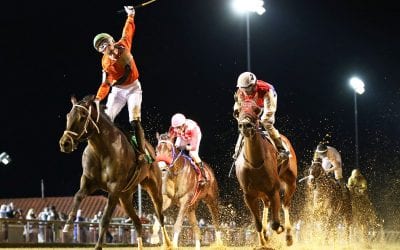 Full-card picks and analysis for this evening's live racing card from Charles Town Races!