Laurel Park picks and ponderings July 30, 2020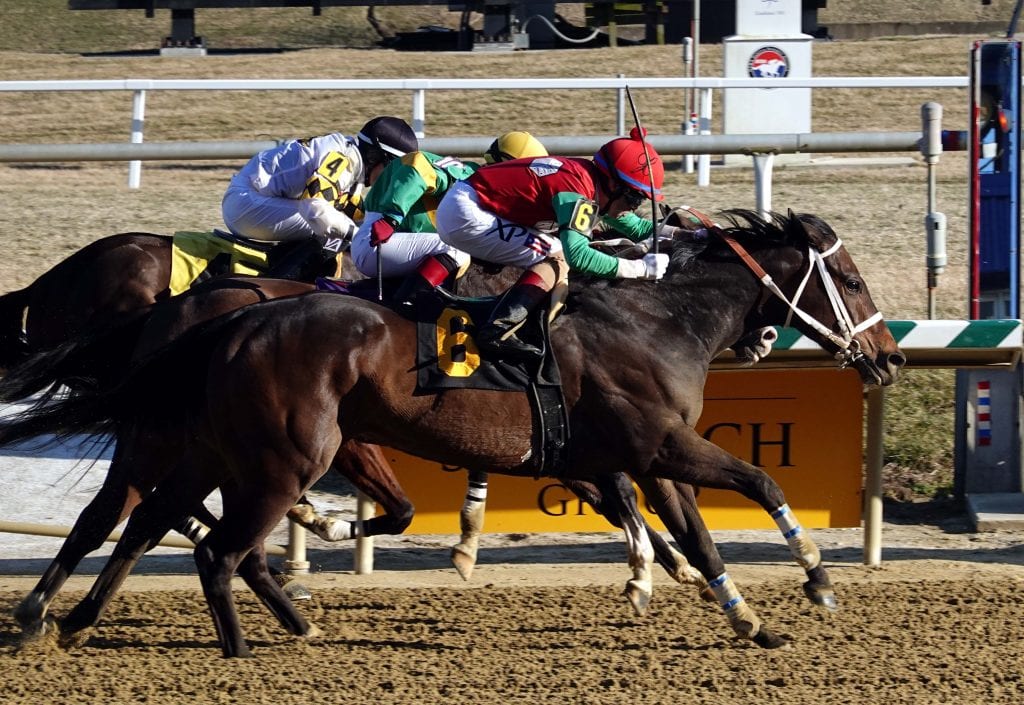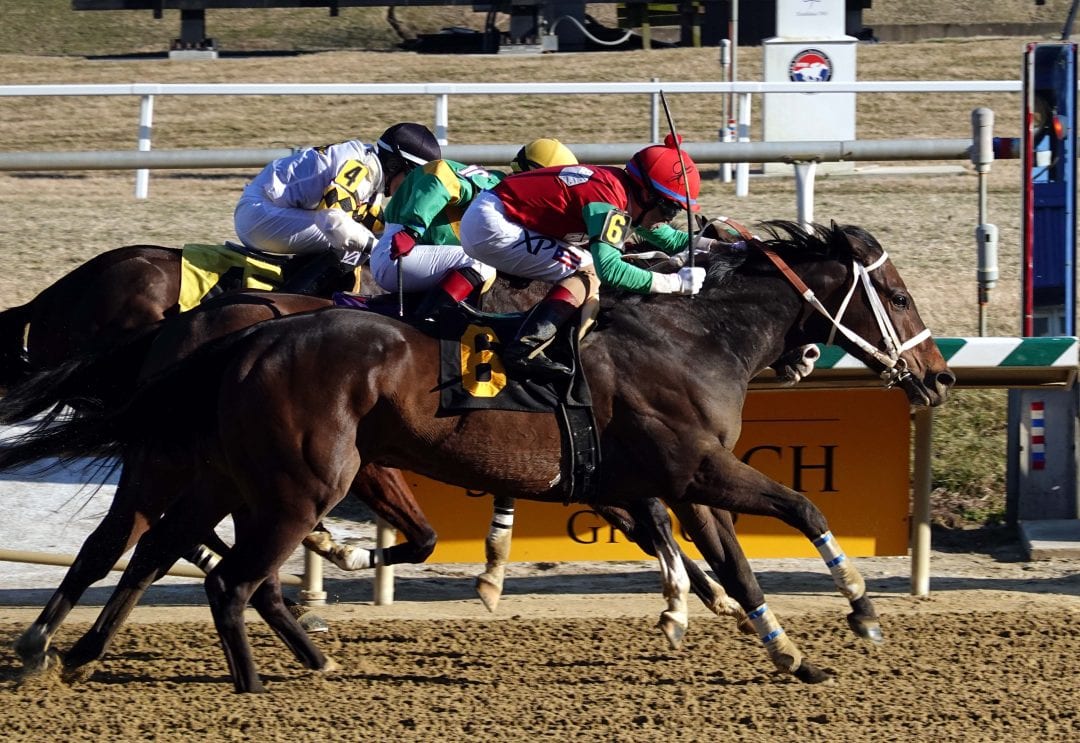 Anna's Bandit. Photo by Laurie Asseo.
In which we pick the races from Laurel Park each day…
Post time: 12:40 p.m.
Carryovers: Rainbow Jackpot Pick 6 — $0  Super High 5 — $0 Late Pick 5 — $0
Notable: Until further notice, no fans are allowed to attend the races at Laurel Park. For more info, click here.
ANALYSIS
RACE 1: STARTER OPTIONAL CLAIMING $25,000, 3-YEAR-OLDS AND UP, 5 1/2 FURLONGS (GRASS)
7-4-6-5
#7 Oak Bluffs (3/1): The grand old man of east coast grass sprints seeks his 21st career win in this spot. Comes in off a desperate win against softer at Gulfstream Park, where he closed from far behind to win a photo finish. He got a very fast pace to run into that day, and I don't know if he'll get that good a scenario again. Nonetheless, he's going to be heard from late. 
#4 Teak (3/1): The exact opposite of Oak Bluffs, he's got the best early pace figures in the race, and will seek to take them gate-to-wire. He tends to get in trouble if he has to duel, but he's naturally fast enough that, as long as Karamanos is aggressive, he can get the trip he needs. 
#6 Axtell (5/1): Makes his third start off the layoff, and battled well in the stretch two back at this track, losing by just half a length. Has a good stalking style that puts him in a great spot as they turn for home. 
RACE 2: CLAIMING $16,000 (CONDITiONED), 3-YEAR-OLDS AND UP, 7 FURLONGS
6-3-5-2
#6 Imthetapitnow (3/1): He was forced to check soon after the start in his last start, and it cost him a good 3-4 lengths. Forced completely out of position, he had no chance. Back in the winter, he ran back-to-back brisnet figures in the 80s, numbers that would be good enough to win here. He was drawn on the rail last out, now, he's got the outside post, and should steer clear of trouble. 
#3 Willmakeyouhappy (2/1): Lightly-raced gelding is first off the claim for Anthony Farrior, who hits at 20% with that angle. Started off his career 2-for-2 over the winter, then struggled in his first start after the break. He went to grass last time, and didn't do anything there, either. It would be nice to see a workout since that last start, but I'll give him another chance to find his good form. 
#5 Forfiftyfiverocket (5/1): Closed well to get second in his last race, closing sharply in the last quarter-mile. The speed in here looks tough, but if they falter even a little bit, he'll be around to clean up their mess. 
RACE 3: MAIDEN CLAIMING $16,000, 3-YEAR-OLDS AND UP, 5 1/2 FURLONGS (GRASS)
4-10-1-8
#4 Hair of the Dog (5/1): He ran a respectable figure of 60 on debut, then improved by ten points in his last start. He got into a tough speed duel, dismissed his dueling partner, held off another rival in the stretch, but was passed late by a deep closer. If he takes another step forward here, the rest are going to be in trouble. 
#10 HRH Jellybean (8/1): An interesting change-of-pace type. In his debut, on grass, he fell far behind early, and closed to get seventh. He switched to dirt last out, and pressed the pace wide before fading. A lightly-raced horse showing that much early speed suddenly is a promising sign, and now he gets back to what looks like his preferred surface. Hopefully, he'll work out an easier trip this go-around.
#1 Next Stop Pokipc (5/2): Goes third off the layoff, after a big front-running effort two starts back, and a third-place finish in a race washed away last out. He's got good enough tactical speed to be able to sit a trip. 
ANALYSIS
RACE 4: CLAIMING $5,000, 3-YEAR-OLDS AND UP, 1 MILE
4-3-1-5
#4 Battle Ready (5/2): He had been in good form prior to the break, then made his return against n/w1x allowance company at Charles Town. He didn't take to the track well at all, finishing a distant last. Turned in a good workout at Laurel a few days ago, going four furlongs in 48 seconds. He's raced well both on the lead and just off it, and should relish the return to the one-turn mile. 
#3 In Him With Him (2/1): Jumps to open company after a determined win against the restricted sort last out. He hasn't quite returned to his late 70s/early 80s figure form that he showed earlier in the year, but perhaps he'll get back to top shape in his third race off the layoff. 
#1 Ridgemont High (6/1): Crushed the field in his last start at Penn National; unfortunately for him, that was back on March 5. He's coming off the longest layoff of anyone in here by a long way, but he's still got the best last-out figure in the race. Should sit a good trip off the pace on the inside.
RACE 5 – MAIDEN CLAIMING $40,000, 3-YEAR-OLDS AND UP, FILLIES AND MARES, 1 MILE (GRASS)
5-4-8-1
#5 Beckon (4/1): Ran a big race first off the layoff, almost wiring a similar field. There's no serious speed to press her here, so I expect a similar setup. With some of the rust shaken off, she should be able to finish the job. 
#4 Zola B (6/1): Closed sharply in her debut at 5 1/2 furlongs, taking advantage of a fast pace up front to pick up some pieces. Earned a figure of 77 in that race, which is big for a debuter at this class level. Shouldn't have a problem with the longer distance. 
#8 Mona Luna (8/1): Goes third off the break for the team of Trombetta and Pimentel, who guided her to a third-place finish behind Beckon in her last race. Improved slightly in that last race compared to her first start off the layoff. Looking for another step forward here.
RACE 6: ALLOWANCE (N/W1X), 3-YEAR-OLDS AND UP, FILLIES AND MARES, 5 1/2 FURLONGS (GRASS)
3-1-5-2
#3 Beantown Baby (8/5): Got the perfect stalking trip against starter optional claiming horses last out, then pounced and blew the field away. There's a few speed-and-fade types in here, and she's got great late pace figures, so I'm fully anticipating another perfect stalking trip.
#1 Olive Kat (6/1): May very well have won at this level two races back, if she wasn't blocked in the stretch while full of horse. As it was, she got up for fourth, a race where the top two finishers, including Beantown Baby, came back to win. Jamie Ness is a brutally efficient 28% with horses going dirt to grass. 
#5 Midship Lady (6/1): She's hit the board at this level twice at the meet, and might have been the best horse last out. She got caught in traffic and ended up third, making up several lengths in the last few strides. A cleaner trip would do the trick here.
ANALYSIS
RACE 7 – STARTER OPTIONAL CLAIMING $25,000, 3-YEAR-OLDS AND UP, FILLIES AND MARES, 6 FURLONGS
3-5-8-1
#3 Brut Rose (8/1): Broke her maiden impressively with a big figure at Fort Erie two races back, then raced wide against tougher in her comeback effort, and flattened out. Should sit just off the pace, and it's worth a shot at possibly big odds that she'll find her form from last year.
#5 Suzysellsseashells (9/2): On one hand, that was an absolute dream of a trip last time. On the other hand, she didn't hesitate once she hit the front; she drew off for an impressive win, with a giant late pace figure. Making her second start off the bench, I don't see a reason why she should regress that much, and given how the front-runners in here look, she could take advantage of another crumbling pace.
#8 She's a Black Belt (5/1): The 1-for-10 lifetime mark is no great shakes, but she's also been facing better competition up in New York. Interesting to see Michelle Nevin send this Saratoga-based filly down: did a spot up there not go, or is she looking for a W? Either way, it's something to be intrigued by. 
RACE 8: ALLOWANCE (N/W1X), 3-YEAR-OLDS AND UP, FILLIES AND MARES (MD-BRED), 1 1/16 MILES (GRASS)
9-10-2-6
#9 Quiet Company (3/1): The "lightbulb" angle was in full effect for her last start. After finally breaking her maiden two races back, she got up to win a n/w1x allowance race at Indiana Grand. The figures she earned in both of hose spots would be good enough to win this one. Makes her first appearance in her home state, and should enjoy a great stalking trip.
#10 Waiting for a Star (6/1): The other Sagamore-bred horse in the race, she loved it over the Laurel grass last fall, but has struggled in her two starts so far this year. One was at 5 1/2 furlongs, which may have been too short for her, and the other was against a tough allowance group at Delaware. Finally gets the conditions she wants here, and looks to return to her best form. I doubt you'll get 6/1, but she nevertheless looks like a great alternative to Quiet Company.  
#2 Jumpstartmyheart (8/1): She was rounding into career-best form at the end of last year, closing strongly to finish third in the Maryland Million Starter Handicap to wrap things up. Finished a solid fourth in her return to the races last out, against tough open claimers. Xavier Perez, who has quietly had an excellent summer meet, gets aboard. 
RACE 9: MAIDEN CLAIMING $16,000, 3-YEAR-OLDS AND UP, FILLIES AND MARES, 1 1/16 MILES (GRASS)
3-2-8-6
#3 Kate Carmack (5/2): Got caught behind a loose leader last time, and made a mild rally only to flatten out. There's no speed in here whatsoever, and she has been somewhat forwardly placed, so there's a chance Feargal elects to send her. If he does, this filly will be tough. 
#2 La Silueta (3/1): Sometimes, it's a misguided notion that deep closers in sprints are better served in routes. Still, it's become clear that 5 1/2 furlongs is a bit too short for her, and she has been running on well lately, so maybe the stretchout will do her good. Third off the layoff will help.
#8 Melisande (2/1): Takes a slight drop in class from the $25,000 level, and has lost by less than a length in each of her last two races. Earned a giant figure of 77 last out, and that's going to lure a lot of money to her corner. I don't know if I'd take a price as low as 2/1 or less on her, but she's worth respect, and use in multi-race bets.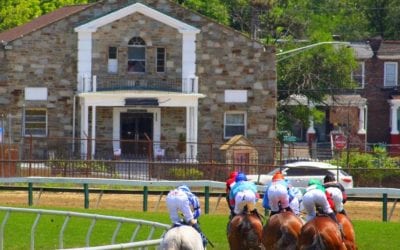 We provide full-card picks and analysis for this afternoon's races at Pimlico.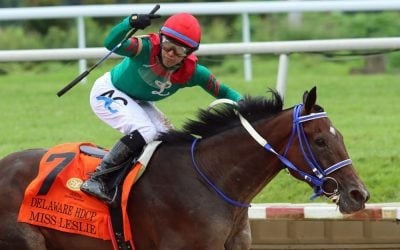 Racing returns to Delaware Park May 24, and we return with Delaware Park picks and analysis for the track's 86th racing season.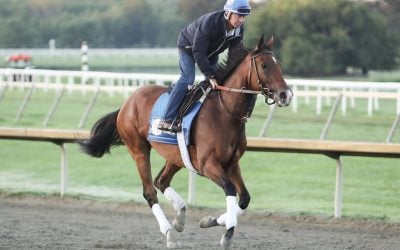 Saturday's Parx Racing card features the Grade 1 Cotillion and Grade 1 Pennsylvania Derby, making it the biggest day of the year at the Bensalem track.