Laurel Park picks and ponderings July 25, 2020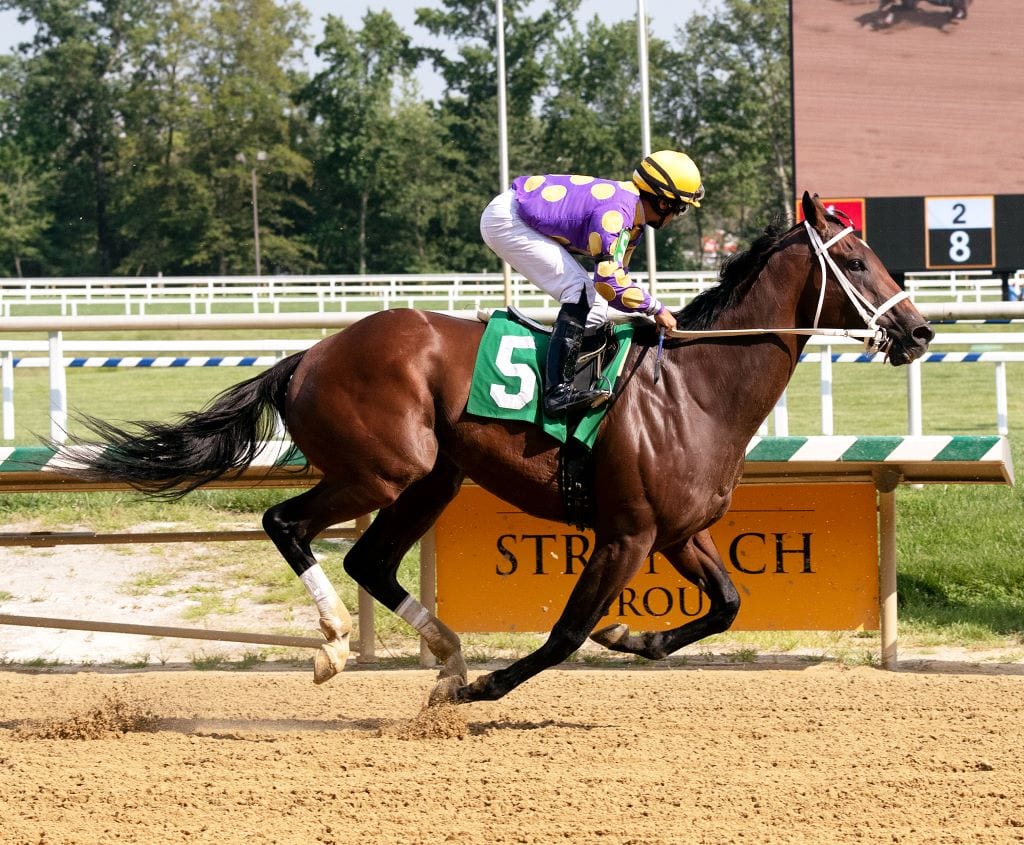 Old Time Revival.
In which we pick the races from Laurel Park each day…
Post time: 12:40 p.m.
Carryovers: Rainbow Jackpot Pick 6 — $2,314  Super High 5 — $0 Late Pick 5 — $0
Notable: Until further notice, no fans are allowed to attend the races at Laurel Park. For more info, click here.
ANALYSIS
RACE 1: STARTER OPTIONAL CLAIMING $25,000, 3-YEAR-OLDS AND UP, 1 MILE 
3-5-7-6 (GRASS: 3-5-7-4)
#3 Tauber: Finished a competitive second at what is technically the same level in his last race, being outkicked by Cam's Carter in the stretch. This off-the-grass affair looks significantly weaker; certainly there's no one in here on par with Cam's Carter. Has plenty of speed and should be forwardly placed. The only question is the distance: that last good race was at six furlongs. He's raced well going long on grass before, which inspires some optimism. 
#5 Real Factor: Makes his first start on dirt in more than a year, but he's not without hope on the surface. His one career win came over the surface, and he twice ran a brisnet figure above 80. A number like that would be good enough to win this race. Closed decently in both of his recent grass starts; should be in fine form for this spot.
#7 Toe Curlin' Kiss: Packs quite a closing punch, but almost always leaves himself with too much to do. In his second dirt race back, he went six furlongs, which is way too short for him. Next up, he went a mile, and made up six lengths in the final quarter to finish a strong fourth. Looking at him to get a piece of the exotics, possibly at a decent price. 
RACE 2: MAIDEN CLAIMING $10,000, 3-YEAR-OLDS AND UP, 1 MILE
7-8-9-1
#7 Bambino (8/5): A horse named after a Maryland-bred, in a field largely comprised of them. This Florida-bred has spent his entire career in that state, and now goes first time out for trainer Jose Corrales. He's what known in speed handicapping as a "triple fig"; that is, the worst figure within his last three races is better than anyone else's best in that span. His worst number in his last three was a 68, which is five points better than anyone else has done in their last three races. 
#8 Elusive Motion (5/1): Lightly-raced gelding gets the X-Man aboard for the first time, with Sheldon Russell on the sidelines. He backed up badly in his last start, but that was against a tougher field, and he improved his figure by seven points. Can he keep up the improvement here?
#9 Overpower (4/1): Recovered from a slow break last out to just get up to finish third. He's demonstrated a decent closing kick in his last few, and should enjoy it first time down the long stretch. 
RACE 3: ALLOWANCE OPTIONAL CLAIMING (N/W3X), 3-YEAR-OLDS AND UP, 1 MILE
7-6-1-4 (GRASS: 3-2-4-5)
#7 Tybalt: Finished second behind his stablemate in his last race, while finishing ahead of stakes-quality horses. He's put in good closing rallies in his last several races, usually falling too far behind a slow pace. There doesn't look to be much speed in here, so the key for Whisman will be to keep him close to the lead. 
#6 John Jones: Made what looked like a winning move in his last race, at this level, before flattening out and losing a photo to Tybalt. He ran a 93 in that race, a little bit below Tybalt's last out number, but it was also his first start in almost 3 1/2 months. With that last race under his belt, and a bullet workout in between, he should turn in a maximum effort here.
#1 Westerland: Faced better allowance horses in his most recent dirt starts, back in the fall of 2018, then got a win over the synthetic at Turfway Park on New Year's Eve after a stalking trip. He's shown semblance of speed in the past, so it wouldn't be a shock to see him near the lead.
ANALYSIS
RACE 4: STARTER OPTIONAL CLAIMING $25,000, 3-YEAR-OLDS AND UP, 6 1/2 FURLONGS
1-6-2-7
#1 Divine Interventio (5/2): Got up to win at this level in his last start before the break, then stretched out maybe a little further than he would've liked last out, and didn't fire. Cutting back in distance second off the layoff should serve him well. The only other horse in the field who consistently runs comparable figures doesn't have as much early speed.
#6 Cerulean Springs (7/2): After trying many times against n/w2x allowance horses, he finally takes a drop to an easier level. He's the above-noted horse whose figures can go with those of Divine Interventio, but he's going to have to come from far back. With not as many high-quality horses in front of him, will they give way and let him swoop them?
#2 Ballivor (7/2): Another one taking a drop in class, he turned in a dud last out, but consistently ran in the 80s and 90s last year. That was his first start in more than four months; did he simply need a race? Possibly, but I would've liked to see at least *some* life out of him.
RACE 5 – MAIDEN CLAIMING $16,000, 3-YEAR-OLDS AND UP, FILLIES AND MARES, 5 1/2 FURLONGS
11-3-8-4 (GRASS: 3-11-5-6)
#11 Mighty Molly: Second off the layoff for Jamie Ness, after narrowly missing in her grass debut last out at Delaware Park. In the race before that, she showed speed at Parx before giving way in the last sixteenth. Karamanos is a smart guy, though, and he knows this filly can rate. That way, he doesn't have to try and clear from the extreme outside post. 
#3 Splashertown: An unknown on dirt, she ran a huge race on grass last out, dueling against maiden special weight company before giving way in the last eighth. Showed enough promise there to make me think she can adapt here. Gets first-time lasix as well.
#8 Dixie's Fascinator: She's been on the improve in her last few, and her two dirt starts were both excusable. First time on the surface, she was extremely wide throughout in a tough maiden claiming field at Pimlico. Next time out, she was off the pace at Timonium, which is an impossible situation to win from. This is a more honest scenario. 
RACE 6: CLAIMING $5,000 (N/W2L), 3-YEAR-OLDS AND UP, 5 1/2 FURLONGS
7-8-9-5
#7 To the Front (4/1): This is the easiest field of winners he's ever faced. He was claimed for $10,000 two back out of a race at Churchill Downs where he set a bruising pace and faded in the last three-sixteenths. After that, he stopped against better at Charles Town. If you take out that bullring try, his recent figures are consistently the best in the lot. His name sums up his running style; he'll try to take them gate-to-wire.
#8 Tappin Honor (7/2): Second off the layoff for Ness hits 22% of the time, and he's dropping down to this level for the first time. Last out, he showed speed at Delaware and dropped back on grass. In the race before that, he recovered from a slow start to battle for the pace and hung in well.
#9 Bayano (9/2): Got over the hump in his tenth career start, sitting well off the pace and rolling late. There could be a lot of speed in here again, and it bodes well for him to get another ideal trip.
ANALYSIS
RACE 7 – STARTER OPTIONAL CLAIMING $25,000, 3-YEAR-OLDS AND UP, 5 1/2 FURLONGS
6-4-2-3 (GRASS: 6-4-3-1)
#6 One Fat Kat: Blazingly fast filly has won two in a row, with her win two back coming over dirt in a 4 1/2 furlong contest at Charles Town. There is competitive speed drawn to her inside, but she looks fast enough to clear to the front and go on from there. 
#4 Roman City: Also a winner of two in row, she'll make her first start since a March 4 triumph at Gulfstream Park. Both those scores came on grass, but she's got good dirt form in her lines, including a third-place finish at Keeneland last fall. She should sit off the pace and rally. 
#2 Jenn's the Boss: Went gate-to-wire with a giant figure in her last dirt start. I don't know if she'll get the lead today, but even if she declines off the recent 86 figures a little bit, she's going to be tough.
RACE 8: ALLOWANCE (OPEN), 3-YEAR-OLDS AND UP, 7 FURLONGS
2-7-6-8
#2 Laki (5/2): He got an excellent ride last out, being pumped on down the stretch to overhaul the leader and win the Oceanport Centennial at Monmouth Park last out. Trevor's not aboard anymore, but Karamanos is an excellent replacement, and he should step up second off the layoff. He's got backclass for days, and has hit the board in 14 of 15 over this track. 
#7 Threes Over Deuces (4/1): Finally got over the hump against n/w2x company in his last start, stalking the pace on the inside and boxing on to victory. Victor Rosales, who has been riding well lately, keeps the mount. The horse has some of the best late pace figures in the race, so he should be coming on strong in the stretch.
#6 No Dozing (5/1): Ships in from Belmont Park and goes second off the layoff. He ran a strong figure of 94 in that race, against n/w3x allowance company, which was his first start off the layoff. He has a graded stakes win at seven furlongs on his resume, and he's cutting back here from a mile. Looking for improvement off that race.
RACE 9: CLAIMING $5,000 (CONDITIONED), 3-YEAR-OLDS AND UP, 6 FURLONGS
1-3-2-6
#1 Dirtyfoot (7/2): Lasted on a tough pace battle last out, just missing against a rival better than anyone he'll see here. He'll have to deal with some speed on the far outside, but he's got tactical speed, so he can back off and pounce on the turn if need be.
#3 Smart Step (8/5): Takes a giant drop in class; the last time he was on dirt, it was in a n/w2x allowance race. In his first start of the year, at the intermediate starter optional claiming level, he dropped back quickly and wasn't a factor. His figures from last year would win this easily; has he simply lost too many steps to contend?
#2 Big Boots (5/1): He's hit the board in four of his last five races, but hasn't quite been able to finish the deal with his rallies. Looking to key him underneath some exactas and trifectas.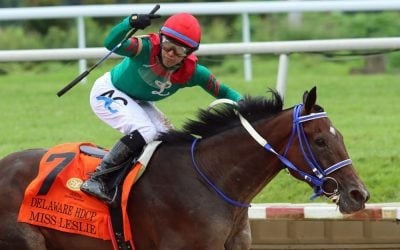 Racing returns to Delaware Park May 24, and we return with Delaware Park picks and analysis for the track's 86th racing season.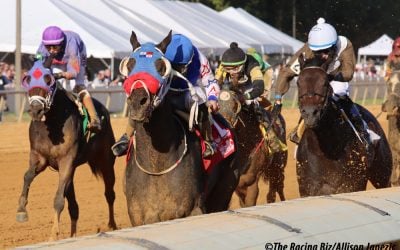 We provide full-card picks and analysis for this afternoon's races at Laurel Park.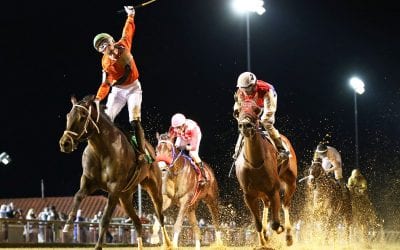 Full-card picks and analysis for this evening's live racing card from Charles Town Races!