Spa selections 2020: Saratoga picks July 24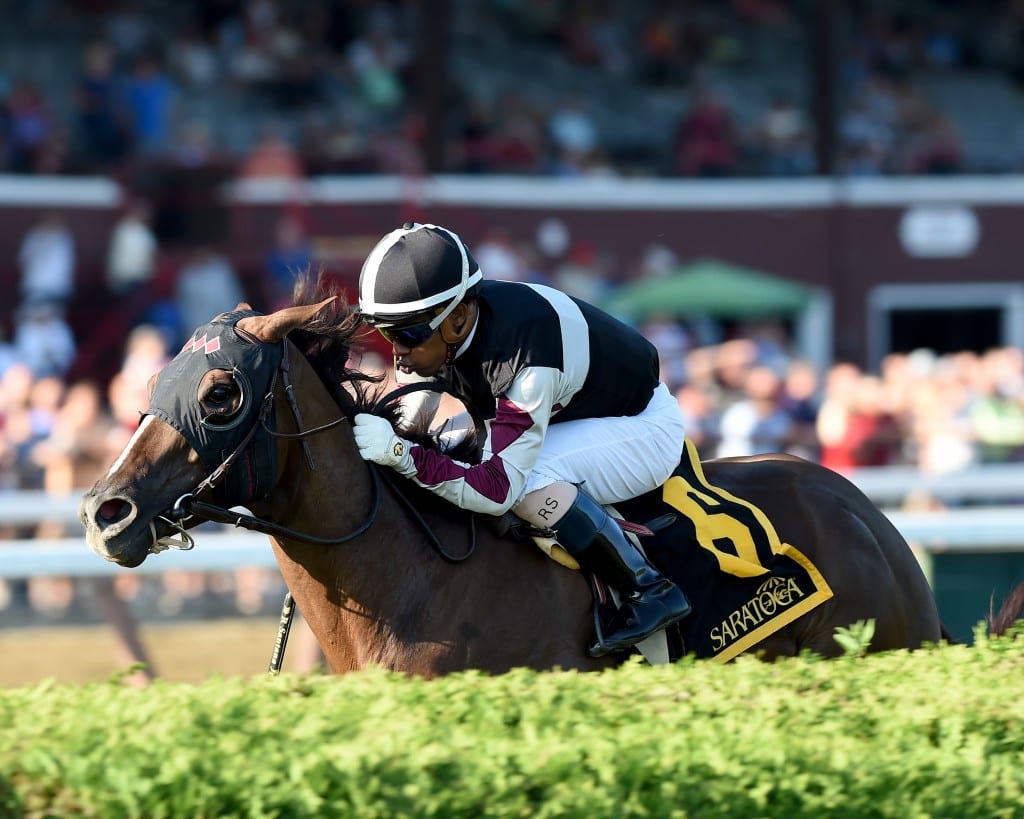 Ginger N Rye won the 2017 Smart N Fancy Stakes at Saratoga. Photo by Chelsea Durand/NYRA.
by Joseph Aiello
In Spa Selections, Saratoga on-site correspondent Joseph Aiello provides Saratoga picks for a handful of key races at Saratoga, including all of the exciting stakes action!
Race 6 – Alw 74000n1x
1. #1 Elle M'a Souri (6-1) – Took six turf tries to finally break her maiden, but the added distance should suit her better than others stretching out
2. #9 Cap De Creus (1-1) – Should close into the money at least, but may be over-bet and has not won in ten tries on the turf despite being classier than this group
3. #6 Coilean Bawn (5-1) – Another who took a while to break her maiden, but the combo of Rosario and Clement can do no wrong so far this meet plus distance shouldn't be an issue
Race 7 – Mdn 62k
1. #8 Snicket (5-2) – Another Rosario and Clement entry, this filly showed some versatility being closer to the pace last time and has the best tries on paper despite struggling to win
2. #7 Magnolia Lady (9-2) – Will be best suited coming from the back and would benefit from some early speed which may be hard to find in this field
3. #2 Towering Gaze (5-1) – Cutting back in distance should help this filly to return to her try two back, where she closed from about eight lengths to nearly miss in the stretch
Race 8 – OC 62500n2x
1. #9 Strike That (3-1) – Comes off a three month layoff, but ran second to Volatile so should see improvement if this gelding returns to form
2. #5 Chateau (8-1) – Gets Irad Ortiz who won five races yesterday, and will look to control on a dirt track that has been biased towards speed
3. #1 Mount Travers (7-2) – Free Enterprise may be more likely to finish in the money, but this colt has had some of his best tries this year although this isn't his ideal distance
Race 9 – Grade III Quick Call Stakes
1. #4 Old Chestnut (6-1) – Getting another speed to compromise Jack and Noah early will give this colt a strong chance to close at a good price
2. #2 Jack and Noah (1-1) – Even with some potential pressure, this grey colt is still the fastest of the group and will win with a repeat of last race
3. #8 Turned Aside (2-1) – Couldn't reel in Jack and Noah last time, but is training well and may get the perfect stalking trip with a clear outside path in the stretch