Laurel Park picks and ponderings July 11, 2020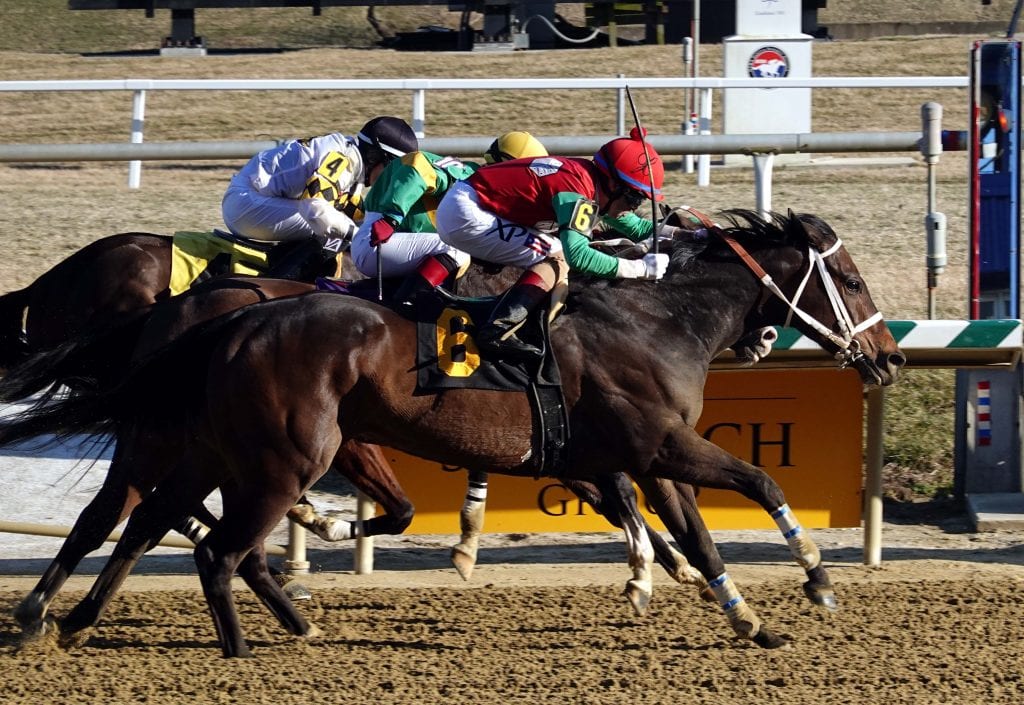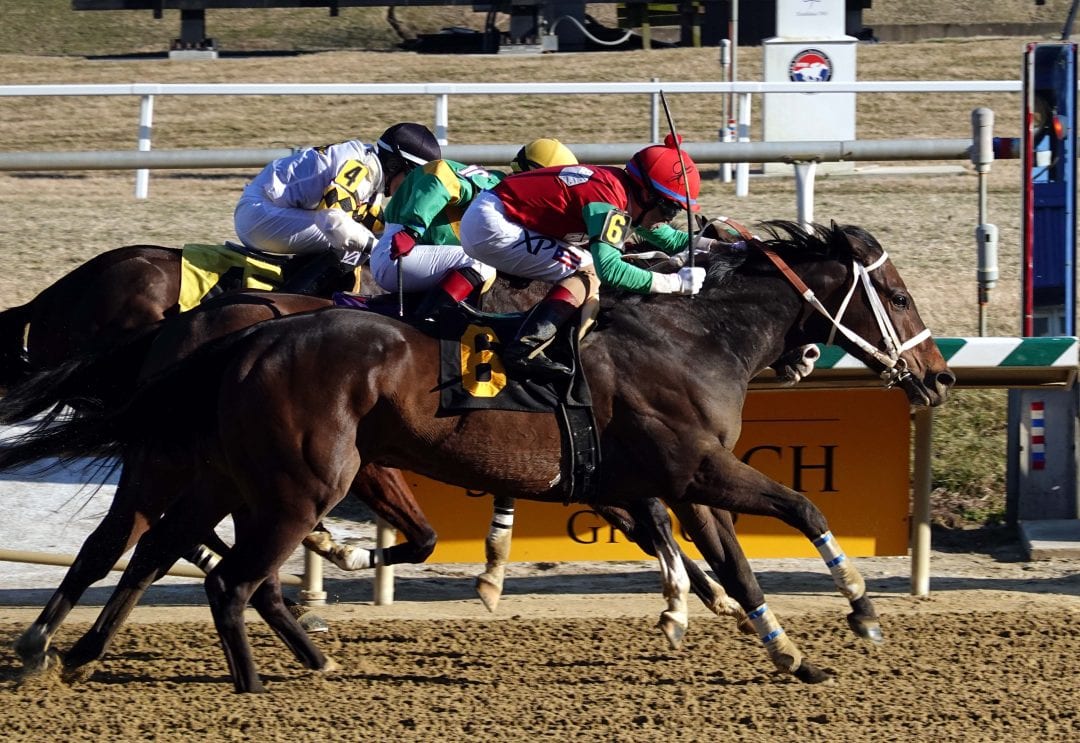 Anna's Bandit. Photo by Laurie Asseo.
In which we pick the races from Laurel Park each day…
Post time: 12:40 p.m.
Carryovers: Rainbow Jackpot Pick 6 — $5,517  Super High 5 — $0 Late Pick 5 — $0
Notable: Until further notice, no fans are allowed to attend the races at Laurel Park. For more info, click here.
ANALYSIS
RACE 1: CLAIMING $16,000 (CONDITIONED), 3-YEAR-OLDS AND UP, FILLIES AND MARES, 1 1/16 MILES (GRASS)
10-2-8-1
#10 Stiva (5/2): Waltzed on an uncontested lead last out, and held on for second two starts back despite setting a very fast pace. There's very little speed in here besides her, so she could get another cushy trip on the front end. From there, she can put 'em to sleep. 
#2 Annie Boo Boo (6/1): Laid a giant egg in her first start off the bench last out. Usually, she makes a strong move from just off the pace, but she fell flat and was a distant sixth. She had been in excellent form last fall over the grass, with very strong brisnet figures in the high 70s. Hoping that she shook off the rust in that last race and is now back to her old ways. 
#8 Stated (7/2): Faced a much, much better field in her last race, and fell behind a slow pace to boot. With that setup, she had no chance. Gets some needed class relief and should be placed somewhat forwardly. If she is, and the pace isn't too slow, she'll make noise late. 
RACE 2: MAIDEN CLAIMING $40,000, 3-YEAR-OLDS AND UP, 1 MILE
5-3-7-4
#5 Super Houdini (5/1): Didn't have any interesting in running at the start of his debut, but managed to close well late to get fifth, after being outkicked by the early leaders. This race is going to be the tell-tale moment for him; ideally, he'll be forwardly placed. Then again, it's possible he just doesn't have any early speed. We'll see, but at his likely odds, I'm willing to take the chance. 
#3 Silent Malice (8/5): What to do? On one hand, his figures look superior to those of the rest. On the other hand, he's had several tries at the level, and keeps falling short at low odds. Then again, he clipped heels and didn't change leads two starts back, then got outkicked last out by a mud freak better than anyone he'll see here. I might be overthinking it, but I don't know if I want to play a horse like this at very low odds. 
#7 Artistic Reason (9/2): Showed a glimmer of hope in his lone dirt start so far, which came in his debut. In a very inexperienced field, he was forced to alter course several times in a cavalry charge, but ran on to finish respectably. Motion and Lynch are usually better on the grass, but in a field like this, you can trust them on dirt, too. 
RACE 3: CLAIMING $16,000 (N/W2L), 3-YEAR-OLDS AND UP, FILLIES AND MARES, 6 FURLONGS
2-7-6-1
#2 Lucky Ninety Nine (4/1): Looked good as new in her first start in a really long time last out, beating a $16,000 maiden claiming field going away. She's the only one in the race to have never lost against winners. Should keep moving forward second off the bench. 
#7 Zig (5/2): It's no secret that Sheldon Russell has been running hot, and Anthony Farrior is 19% first off the claim to boot. She gets a slight class hike from last time, where she was clear late and got run down in the final jumps. Will be on or near the pace. 
#6 Rapidashqueen (8/1): Broke her maiden with a very nice front-running effort two back, then had a rough time of things in a five-furlong dash at Delaware Park. I don't know if she's fast enough to get another clear lead this time, but you can bet Julio Correa will be sending. At the least, she should have a more ground-saving trip than last time. 
ANALYSIS
RACE 4: STARTER OPTIONAL CLAIMING $25,000, 3-YEAR-OLDS AND UP, 5 1/2 FURLONGS (GRASS)
6-5-8-9
#6 Hay Boy (3/1): Won at this level last out, getting a trip off a fast pace and drawing away. The runner-up in that race, Rising Perry, came back to win convincingly last Saturday. He's got good tactical speed, and there's an absolute speedball in here, in Ziggy Mon, who Hay Boy can easily overtake entering the stretch. 
#5 Ohanzee (9/2): A winner of two straight down at Gulfstream Park, he goes out off a brief freshening for the Jane Cibelli barn. Cibelli had a big opening weekend at Monmouth Park, and won with her lone Laurel starter to date last Friday. Improved sharply last out to run a figure of 89, tied for the best last-out figure in the race. Looks to keep taking steps forward, and should also get a good trip.
#8 By the Sey Shore (5/2): Was well-backed against much better last out at Gulfstream Park, and closed well after a wide trip to lose by less than two lengths. Steadily runs in the high 70s/low 80s, but those attractive class lines might drive his price down to unappealing levels. Still, he's gotta be respected. 
RACE 5 – MAIDEN CLAIMING $25,000, 3-YEAR-OLDS AND UP, FILLIES AND MARES, 5 1/2 FURLONGS (GRASS)
12-3-7-10
#12 La Silueta (8/1): Couldn't draw in off the also-eligible list for this level last week, and it may have been for the best, as this looks like an easier spot. Closed strongly to get second at the level last out, in her first start in 9 1/2 months. Feargal Lynch, one of the best grass jockeys here, gets the mount. 
#3 Lilah Mae (8/1): Drops in for a tag for the first time and gets a cutback in distance from 1 1/16 miles. She was in way over her head last out, and should find these sprinters more to her liking. Her figure of 67 from that race would likely win this one. 
#7 Defy Expectations (7/2): Goes out for Brittany Russell for the first time, and projects as the dominant early speed. In her lone grass race so far, at Louisiana Downs in September, she finished second behind Our Lost Love, who has since gone on to win two Louisiana-bred stakes races. Clearly, there's no one that good in this race. 
RACE 6: ALLOWANCE OPTIONAL CLAIMING (N/W2X), 3-YEAR-OLDS AND UP, 7 FURLONGS
8-9-4-7
#8 Absentee (7/2): Turned in a big effort first off the bench last out, closing from behind to get second in a very similar field to this one. He's got great late pace figures, and more early speed than other horses in the race with strong closing kicks, so he'll have the jump on them. Jorge Duarte is 29% going second off the layoff. 
#9 Fortunate Friends (7/2): Another one going second off the layoff, he was on a fast pace last out and hung around to get third. Won at this level in his last race before the break. He's should get a slower pace this time out; there isn't a lot of quality early speed. 
#4 Bobby G (5/2): Just missed in his last start, closing strongly at a mile to lose a photo with Laurel-loving Bustoff. He's improved his figure in three straight dirt starts, peaking at a 97 last out. It's the best last-out figure by six points. Karamanos hops off to ride Fortunate Friends for Dilodovico; Angel Cruz gets the mount here. 
– ANALYSIS
RACE 7 – MAIDEN CLAIMING $16,000, 3-YEAR-OLDS AND UP, 1 MILE (GRASS)
13-5-6-14
#13 Embrace the Grind (2/1): Ran a giant race first off the bench last out at Delaware. He got a great trip stalking the pace, made a big move and got clear late, only to be run down in the final strides. Earned a figure of 70 in that spot, and ran as high as a 72 as a 2-year-old last year. 
#5 Flushed (4/1): Goes back to the flats after some steeplechase tries. This'll be his first start for a tag in a non-steeplechase race. He showed some good closing kick way back when, and has had some good five-furlong drills getting ready for this race. Can Jonathan Sheppard get it done?
#6 Nite Tripper (10/1): Had a brutal break on debut last out, and found himself far behind in a 5 1/2 furlong sprint. Still closed respectably well in the stretch. You should get the right price on him second time out, if the morning line is any indication. 
RACE 8: MAIDEN SPECIAL WEIGHT, 3-YEAR-OLDS AND UP, 5 1/2 FURLONGS (GRASS)
1-7-6-2
#1 Josef is Real (5/1): Recovered from a rough start to close nicely and get third, earning a solid figure of 79. That was an extremely inexperienced bunch, now he tries grass for the first time against a hodgepodge cast. Turned in a bullet workout on Sunday, going four furlongs in 47 1/5 seconds. Willing to give him a shot on this surface. 
#7 Jestful (10/1): Closed well in his first grass start, last October, to get fourth in a blanket finish. One of three horses in the main body getting lasix for the first time, should benefit from it in his 3-year-old debut. 
#6 The Cairo Kid (3/1): Makes his grass debut after a running a gigantic third on dirt last out. Earned an 87 in his first race back from the break, which would win this race if he can duplicate it on the lawn. Looks like one of the dominant speeds, to boot.  
RACE 9: ALLOWANCE OPTIONAL CLAIMING (N/W2X), 3-YEAR-OLDS AND UP, FILLIES AND MARES, 1 MILE
1-3-5-7
#1 Artful Splatter (3/1): Had some kind of trip last out at Delaware, getting forced wide on the first turn, then getting caught in a brutally fast second quarter. In spite of that, she battled down the stretch and lost a three-horse photo. Uber-consistent filly should have a much easier time on the lead here.
#3 Indy Union (9/2): Got caught in an impossible spot last out at Churchill Downs, when she was well off the pace on the speed-favoring surface. In spite of that, she earned a figure of 83, which might be good enough to win this race. Jeremiah Englehart hits at 25% second off the bench. 
#5 Jennemily (2/1): Makes her first start since a dismal outing in the Nellie Morse Stakes in March. She's been working well at Belmont Park, but Steve Asmussen's sent her back down here to find a race that fits her condition. If you toss that last race, she's been in great form, with two impressive wins at Aqueduct in the winter. A strong contender, to be sure, but likely to be overbet because of her trainer. 
RACE 10 – ALLOWANCE (N/W1X), 3-YEAR-OLDS AND UP, MD-BRED, 1 1/8 MILES (GRASS)
12-8-11-5
#12 Nick Papagiorgio (3/1): Drops in class after an open $12,500 score two starts back. It won't be as easy to get to the lead from that far outside post, but he's got good enough tactical speed that he can rate as a backup plan. Jamie Ness is 22% second off the layoff, Horacio Karamanos gets the mount from the absent Trevor McCarthy. 
#8 McElmore Avenue (7/2): Came from way downtown to get fourth in a tough open group last out. Lightly-raced gelding makes his second start of the year, and his second appearance on grass. Should take a step forward against this weaker bunch. 
#11 Can He Shine (6/1): The main threat to the speed of Nick Papagiorgio, he came very close to wiring the field last out, before getting caught by the uber-classy Chocolate Ride. Pimentel will almost certainly be sending. 
Race 11- MAIDEN CLAIMING $10,000, 3-YEAR-OLDS AND UP, 6 FURLONGS
5-2-3-6
#5 Air Token (7/2): Made his first start in almost a year last out, and was relatively impressive, as he made a mild rally up the inside and held on for fourth. In a race full of proven losers, he's making just his third career start. 
#2 Bayamo (2/1): I mean, it's his third start off the layoff, and he's raced very well at the level both times this year, but he's also burned a lot of money in those efforts. Are you willing to give him one more shot at low odds?
#3 Elusive Motion (10/1): Another lightly-raced sort, he backed up badly over a wet track last out, but now gets a fast one. Will that be the wake-up call? In a field like this, it's worth the gamble.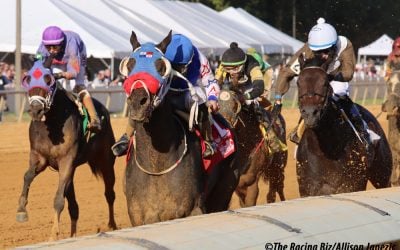 We provide full-card picks and analysis for this afternoon's races at Laurel Park.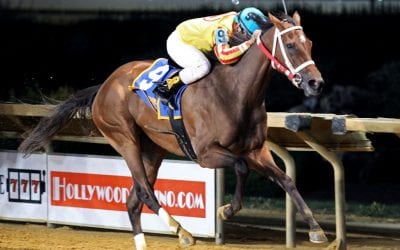 We provide picks and analysis for this evening's card at Charles Town Races.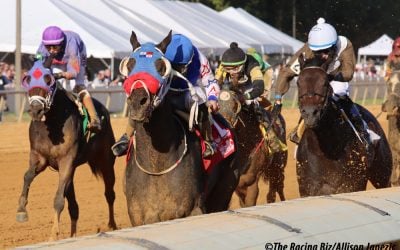 We provide full-card picks and analysis for this afternoon's races at Laurel Park.