Laurel Park picks and ponderings June 27, 2020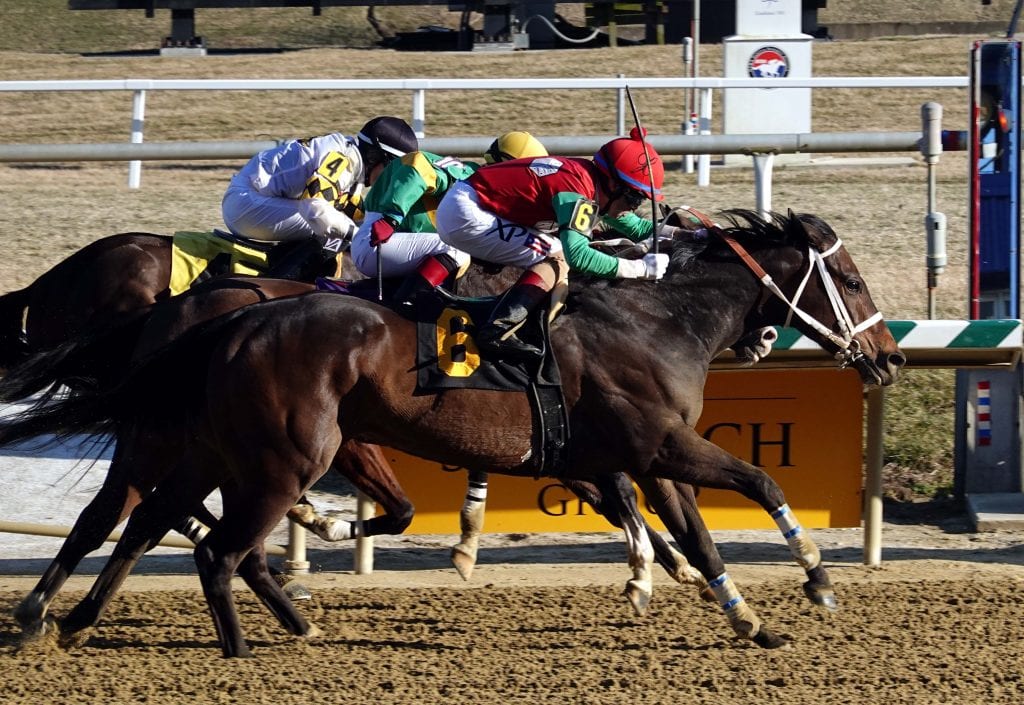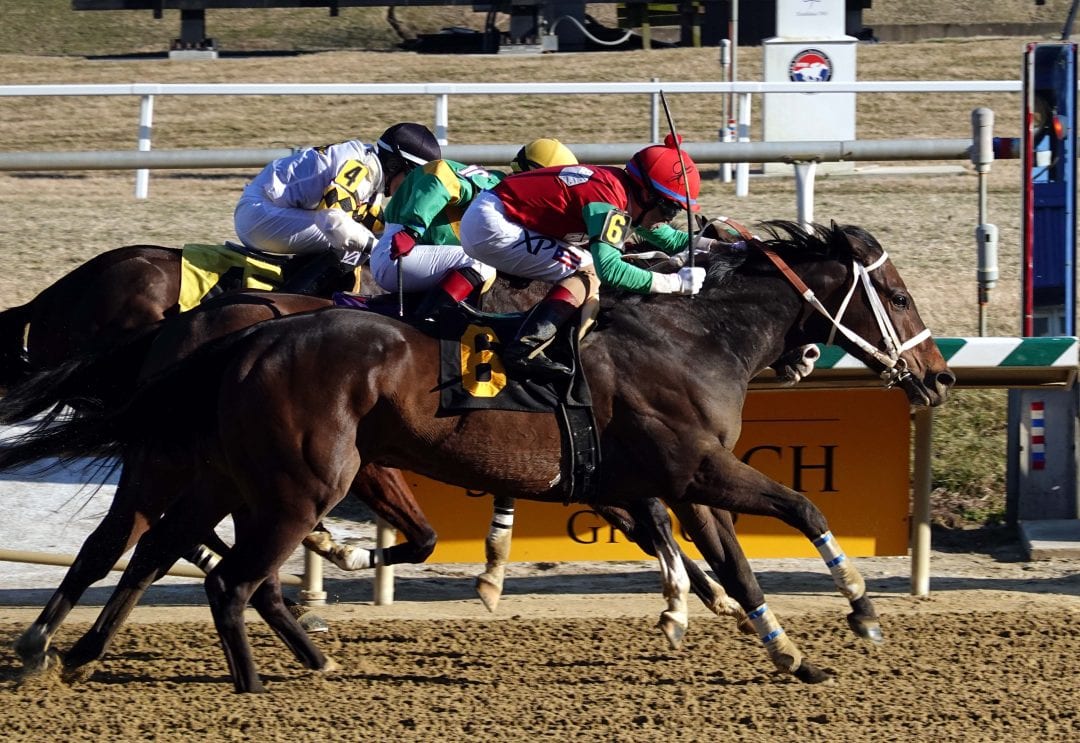 Anna's Bandit. Photo by Laurie Asseo.
In which we pick the races from Laurel Park each day…
Post time: 12:40 p.m.
Carryovers: Rainbow Jackpot Pick 6 — $0  Super High 5 — $1,980 Late Pick 5 — $13,549
Notable: Until further notice, no fans are allowed to attend the races at Laurel Park. For more info, click here.
ANALYSIS
RACE 1: MAIDEN CLAIMING $16,000, 3-YEAR-OLDS AND UP, 5 1/2 FURLONGS (GRASS)
1-13-5-2
#1 Feature Act (6/1): Takes a career-low drop in class and goes to the grass for the first time. His late pace figures on dirt were great, so his relatively respectable form should translate to the lawn. Ran two brisnet figures in the 60s over the winter against better; a race like that would be good enough to win.
#13 Palace Kid (9/5): Gulfstream invader goes out first time for Claudio Gonzalez, and should be a rocket from the far outside post. He's also taking a big drop in class, and should be able to outrun everyone early on.
#5 Winston's Way (3/1): Goes first off the claim for Dale Capuano, who is 20% with such horses. He raced on the grass twice last year, with his best race coming at five furlongs. In that race, which was his first career start, he began slowly and closed well to get second. He should move up off that race, with all the experience under his belt.
RACE 2: CLAIMING $16,000 (N/W2L), 3-YEAR-OLDS AND UP, FILLIES AND MARES, 1 1/16 MILES (GRASS)
2-5-9-7
#2 Shezalemondropkid (10/1): Showed some promise on the grass in Kentucky way back when, and won her first race at Charles Town last out, after more than a year layoff. She's the only horse in the main body of the field who has never lost against winners, and was good enough at two to make me think she'll be even better at four.
#5 Trois Ponts (5/1): Rallied well against similar in her last race, closing to get fourth after racing last early on. Makes her second start off the layoff for Claudio Gonzalez, who employs Victor Carrasco in the saddle for this one. This will be Carrasco's last weekend at Laurel this meet, before shifting his tack to Monmouth Park. 
#9 Sayyida Al Hurra (6/1): Motion and McCarthy teamed up for a win on Friday with a recent Tampa Bay shipper; they'll try to do it again here. She finished second in an off-the-grass affair here last out, then was flailing against somewhat better down in Florida. Her mid-70s figures in those races would be good enough to win this one. 
RACE 3: MAIDEN CLAIMING $10,000, 3-YEAR-OLDS AND UP, FILLIES AND MARES, 6 FURLONGS
2-5-9-4
#2 Eloquent Lady (2/1): Ran some great races against much better over the winter, including a near-miss against $40,000 three starts back. Last out, on the grass, she battled on the lead, and gave way. Now gets back on her preferred surface, and has the dominant speed from the inside. 
#5 Keeper in Spite (9/2): Received lots of wagering action in her last start at this level, and got the perfect trip before tiring late. Could get a similar setup here, but doesn't look fast enough late to hold on to the lead.
#9 Khalos Vision (7/2): Has managed to hit the board four times in a row at this level, but can't quite put it all together. She's gone off as the favorite three times in a row, to boot. Still, she's consistently running figures in the upper-60s, so maybe she'll stumble into a victory. 
ANALYSIS
RACE 4: MAIDEN CLAIMING $40,000, 3-YEAR-OLDS AND UP, FILLIES AND MARES, 5 1/2 FURLONGS (GRASS)
16-3-15-5
#16 Whispurring Kitten (7/2): Ran a ridiculously good race last out against straight maidens. She was on an absolutely bruising pace, dueled her partner into defeat, but hung on gamely and lost by only 1 1/2 lengths, behind two rivals who got perfect trips. Takes a drop in class here, and there's virtually no chance that the pace is going to be as fast this time. 
#3 Lemon Drop Kiss (10/1): Katharine Voss is a sharp 3-for-10 with firsters in maiden claiming races of late, and this filly has some good grass breeding and a pretty sharp worktab. Wouldn't be surprised with a big effort first out. 
#15 Spun Glass (8/1): Exits the same race was Whispurring Kitten. She was near the pace in that race, and while she didn't hang on quite as well, she lost by "only" 5 1/2 lengths. She got plenty of action in that race, too, suggesting promise. Workouts since then have been good, including a recent four-furlong drill in 49 seconds. 
RACE 5 – CLAIMING $5,000 (N/W2L), 3-YEAR-OLDS AND UP, FILLIES AND MARES, 6 FURLONGS
7-12-3-8
#7 Silver Sides (6/1): Dropped down to this level for the first time last out, in her second start against winners. She was wide every step and gave way late. I'll give her another try at this level, especially since this'll be her second start off the layoff. 
#12 Girl Next Door (5/1): Lightly-raced filly faces the easiest field of winners she's seen so far, after a disastrous grass effort where she blew the first turn. She won't have to worry about any tight turns on grass here. Her maiden-breaking effort four back is more than good enough to win this; so are the two dirt races where she was up the track against better. 
#3 Just for Spite (12/1): Similarly to Girl Next Door, she's making her second start against winners, and her first one at this level. She has the best early pace figures in the field, and will seek to sprint away from the field from the inside. 
RACE 6: MAIDEN CLAIMING $40,000, 3-YEAR-OLDS AND UP, FILLIES AND MARES, 1 1/16 MILES (GRASS)
3-9-14-5
#3 Beckon (4/1): She's had plenty of chances; I'm willing to give her one more. She's shown speed every time out, and battled on well in every try at this level, only to grimly give way late. This is a pretty inexperienced bunch here; she shouldn't have too much trouble here if she's ready first off the break. 
#9 Mona Luna (6/1): Tries maiden claimers for the first time, after a sixth-place finish against straight maidens last out. Ran a brisnet figure of 70 in that spot after a good middle move, a race that might be good enough to win this one. Julian Pimentel may have had a choice of which of the two Trombetta entries he wanted to ride; he picked this filly.
#14 Patriotic Punch (9/2): Ran a big race on the lead last out, dispatching of her dueling rival and only reluctantly letting the winner by late. Should improve second off the layoff. 
ANALYSIS
RACE 7 – ALLOWANCE OPTIONAL CLAIMING (N/W2X), 3-YEAR-OLDS AND UP, 1 MILE (GRASS)
6-1-3-5
#6 Outofthepark (7/2): Not only does he have a grass race this year, unlike everyone else in the main body of the race, he has a grass win! He got a great stalking trip and rallied to beat a fairly salty n/w1x group in his last race. Rodney Jenkins is a blistering 32% with horses second off the layoff. He ran a brisnet figure of 89 in that last win, which is probably good enough to win this race. 
#1 Papal Law (6/1): Looks like the commanding speed from the inside. He wired two weaker fields over the summer, but it's easy to see him getting a similar setup against this group. If Katie Davis is able to slow things down enough on the front end, it's going to be ballgame. 
#3 No Bull Addiction (12/1): Hard-knocking veteran makes his 8-year-old debut here. In his 2019 bow, he was coming off a similar break, and lost by less than two lengths while running an impressive figure of 90. Unless he's simply lost a step at eight, which is possible, I'd expect a similar result. Should be just off the pace and make his move on the turn.
RACE 8: MAIDEN CLAIMING $10,000, 3-YEAR-OLDS AND UP, FILLIES AND MARES, 6 FURLONGS
3-6-2-7
#3 Dial Emma Reilly (6/1): Dropped way behind in her first start, but closed very well to lose by 7 1/4 lengths, after being as far behind as 17 at one point. She had a rough break in that race, which likely contributed to her trip, and should pack a more meaningful punch if closer to the pace.
#6 Fille d'Esprit (6/1): Ran a big figure on debut, earning a 66 when finishing fifth after a wide trip. Even a slight decline from that number could be good enough here.
#2 Deirdre of Legend (3/1): Drops to a career-low tag, after a good effort against $12,500 horses in her last race at Penn National. She battled on the pace, and managed to re-rally herself to hold on for second. 
RACE 9: STARTER OPTIONAL CLAIMING $25,000, 3-YEAR-OLDS AND UP, FILLIES & MARES, 6 FURLONGS (GRASS)
11-6-10-3
#11 Trixie's Time (9/2): A recently-added member of the Gaudet gang, she's got recent grass form, coming off a third-place finish against open claimers at Gulfstream Park. Her form has been kind of up and down, but she drops in class, has the recency edge, and has good tactical speed. 
#6 Bath and Tennis (8/1): Almost pulled off a 93/1 shocker against similar in her last race, before giving way in the last eighth. Victor Rosales may have made his move a bit too early in that race, but if he times it better, his mount should have enough in the tank late.
#10 Theaterintheround (6/1): Picked up two wins last year while based in New York, consistently running figures in the high-70s/low-80s. This'll be her first start since November 14, but she's been working steadily at Charles Town since early May.  
RACE 10 – STARTER OPTIONAL CLAIMING $25,000, 3-YEAR-OLDS AND UP, FILLIES AND MARES, 1 MILE
3-1-7-1A
#3 Daria's Angel (8/5): Comes off a big win at Aqueduct last out, where she withstood pace pressure and held on to win handily. Either that race or her start two back probably wins this one. Interesting to see Rob Atras send this one down from New York; perhaps a spot up there didn't go?
#1 It's the Journey (5/2): Didn't fire at all going six furlongs at Delaware Park last out, now cuts back in distance and drops in class. She won at this level two starts back after sitting a perfect trip. She won that six-furlong affair with a perfect trip, but won four races back at a mile with a more honest setup. 
#7 So Innocent (8/1): Rallied from way behind to get second in her most recent outing, which was her best in a long time. A good candidate to use at the bottom of exactas and trifectas.
Race 11- STARTER OPTIONAL CLAIMING $16,000, 3-YEAR-OLDS AND UP, 1 1/16 MILES (GRASS)
7-5-11-3
#7 Minister's Strike (4/1): Ness and McCarthy team up on another live one. He was last seen in September, putting in a strong rally to finish second behind Chocolate Ride, who came back to win his first start off the layoff on June 12. Hit the board in seven of eight last year, and should rally well from behind.  
#5 Chocolate Ride (3/1): Speaking of Chocolate Ride: that comeback effort was impressive, as he dove towards the inside late and flew on to just get up. That was a weaker field than he'll see here, but he's got that race under his belt, and just might have enough class to get himself through.
#11 He's One Wild Dude (8/1): This veteran of the Laurel grass checked on the turn in his last start, against tougher in his first race off the bench, lost key early position, and was not a factor. In happier times, he's won six of nineteen races on this track, including a starter handicap win last summer when he battled on the pace and got up. Should race well if he can steer clear of trouble.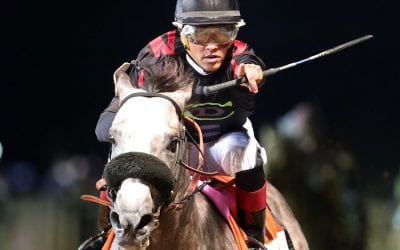 We've got Charles Town picks and preview today as the track presents its Friday card!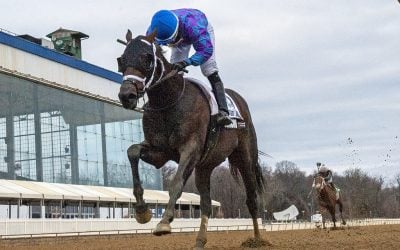 Which Laurel Park jockeys are off to hot starts? Asking for a friend; no, wait, actually asking for the betting public. Answers within…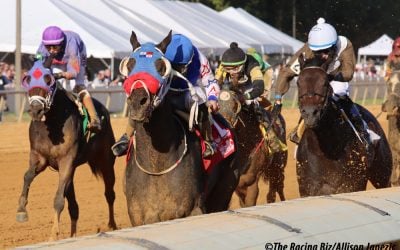 We provide full-card picks and analysis for this afternoon's races at Laurel Park.