Laurel Park picks and ponderings June 12, 2020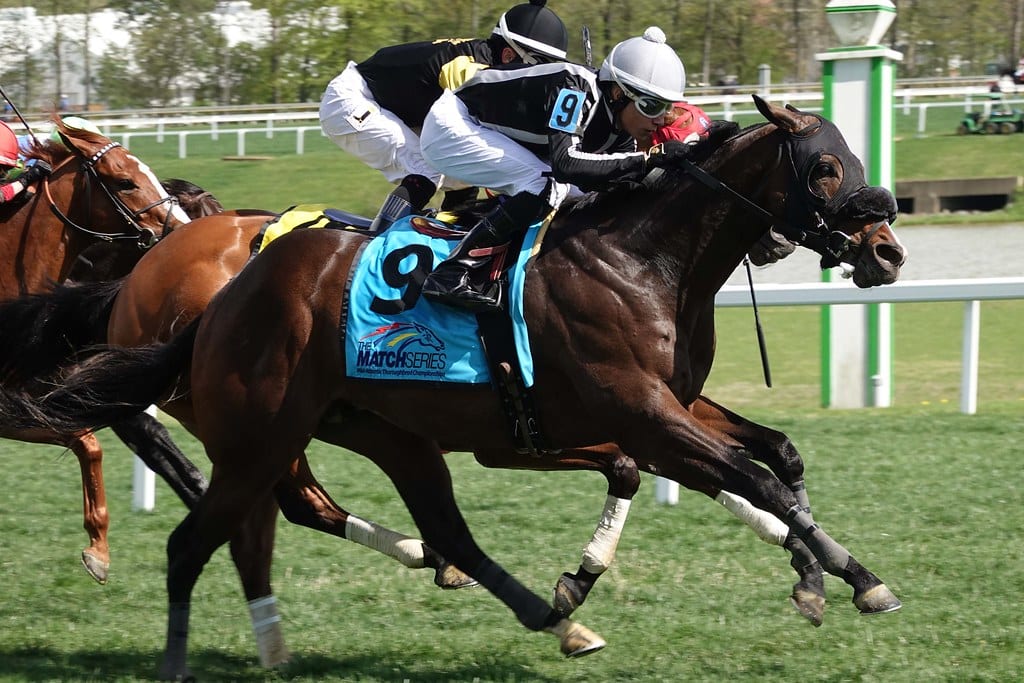 Dirty. Photo by Allison Janezic.
In which we pick the races from Laurel Park each day…
Post time: 12:40 p.m.
Carryovers: Rainbow Jackpot Pick 6 — $3,723  Super High 5 –$1,408   Late Pick 5 — $0
Notable: Until further notice, no fans are allowed to attend the races at Laurel Park. For more info, click here.
ANALYSIS
RACE 1: CLAIMING $12,500, 3-YEAR-OLDS AND UP, 1 1/16 MILES (GRASS)
12-7-8-9 (DIRT: 8-10-4-2)
#12 Lucky Ramsey (7/2): Faced much better on the grass last year at Belmont Park, including a giant runner-up finish in September in his first start off a long layoff. In his most recent grass effort, he was fifth against $40,000 types at Aqueduct in November after racing wide. Makes his first start for Claudio Gonzalez, and gets back to his preferred surface. If he runs back to last fall's races, he'll win. 
#7 Bondurant (6/1): Has some good recent grass form, just missing against $16,000 horses three starts back at Gulfstream Park, and running some strong brisnet figures along the way. He was relatively flat in his last race, and now goes for the Bruno Tessore barn for the first time. Interestingly, he's in for the lower price tag of $10,500, giving him a slight weight advantage.
#8 Cort'n Asong (5/1): He's the controlling speed of the field, and it doesn't look like there's anyone who can go with him early. Could steal it on the front end. 
RACE 2: CLAIMING $16,000 (N/W2L), 3-YEAR-OLDS AND UP, 6 FURLONGS
1-5-8-3
#1 Going to the Lead (9/5): He's going to live up to his name, with speed from the inside. Has by far the best recent figures in the race, earning a brisnet number of 86 last out when finishing third against starter optional claiming foes. In that race, he chased a loose leader, now, he's the one who should be chased. 
#5 Danz a Rebel (7/2): This deep closer has raced just once in the past year, finishing fifth after a wide trip in his seasonal bow. Last year, he ran some great figures against better. Goes first off the claim for Dale Capuano. 
#8 Start With Yes (6/1): Former chronic maiden finally broke through two races back, then disappointed against better last out. This'll be his second start against winners, and his first time at the n/w2L level. Expecting him to prompt the pace. 
RACE 3: STARTER OPTIONAL CLAIMING $25,000, 3-YEAR-OLDS AND UP, 5 1/2 FURLONGS (GRASS)
5-9-12-3 (DIRT: 7-5-1-2)
#5 Tastes Like Plaid (6/1): Drops from the n/w1x allowance level, where he closed well to finish second in his last race. This'll be his first start on grass, but he's got decent breeding for the surface, and that closing kick should play well.
#9 Hay Boy (9/2): Trevor McCarthy had a choice of three in this race, and he picked this one. He's shown consistently good grass form, including a fourth-place finish at this level last summer after a bumpy trip. The 1-for-18 record is somewhat concerning, but he should at least get a piece of the exotics. 
#12 Nomo d'Oro (12/1): His one grass sprint start was relatively impressive, making up decent ground to finish fourth against tougher. Cuts back from a mile, drops from the n/w1x allowance, and is lightly raced. He could surprise at a big price.
ANALYSIS
RACE 4: MAIDEN CLAIMING $16,000, 3-YEAR-OLDS AND UP, FILLIES AND MARES, 1 MILE
6-2-5-8
#6 Sand in My Shoes (7/2): Her first race off the layoff was solid. She showed speed on the grass, before tiring in the last eighth of a mile. Faces a much easier field than that one, has a race under her belt off the layoff, and gets back to what looks like her preferred surface. 
#2 Tea in China (5/1): The only one in the field who has never lost for a tag, she raced wide in her debut against straight maidens on the grass and lost all chance. Should get an easier trip here, and it's a weaker field. There's a bunch of proven mediocrities in here, so it's worth the risk on a relatively unknown factor. 
#5 Cornetta's Choice (4/1): Her last race was her first start off a very long layoff, but she nevertheless got action against better maiden claimers. After a bad start, she didn't have much of a chance. Now drops in for a career-low tag, and has some of the best late pace figures in the race. Expect her to be rolling late.
RACE 5 – CLAIMING $12,500, 3-YEAR-OLDS AND UP, 1 1/16 MILES (GRASS)
2-6-5-7 (DIRT: 4-8-5-3)
#2 Chocolate Ride (9/5): Hard-knocking veteran won his season finale for $16,000 last September, and now makes his debut as a 10-year-old. He looks like the primary early speed, and has tons of back-class. It's possible, with the drop in class and his advanced age, he's no longer the same horse, but he could work out a winning trip.
#6 Elementary (12/1): You have to toss his last race; he had an absolute disaster of a trip. In the race before that, he got stuck behind a very slow pace in a 12-furlong contest and lost all chance. He beat a similar field last summer at Colonial Downs, when he got a pace to run at. He's a great candidate for underneath, with his strong closing kick, but he can't fall too far behind.
#5 Swinging Star (8/1): He's been closing well on the dirt at Penn National, and was a strong-finishing second in his most recent start on the grass last summer. 
RACE 6: CLAIMING $10,000 (N/W2L), 3-YEAR-OLDS AND UP, 6 FURLONGS
4-11-9-5
#4 Bandolini (9/2): Improved sharply to break his maiden last out, making a strong rally up the rail and drawing off to an easy score. He earned a big brisnet figure of 83, the best last-out mark in the race, and a career top by quite a bit. Only has two workouts since that race, but both have been strong. Should race well in his first start against winners. 
#11 Creative Genius (3/1): Privately purchased out of his last race by owner Robert Bone and trainer Claudio Gonzalez. Finished third against a similar group at Gulfstream Park last out, racing wide on both turns, but losing by only four lengths. Most of his adventures have been routing; how will sprinting go?
#9 Outside the Box (4/1): After a big maiden score, he disappointed next out against starter optional claiming foes. Lightly-raced gelding takes a drop and should show a good closing kick.
ANALYSIS
RACE 7 – CLAIMING $16,000 (CONDITIONED), 3-YEAR-OLDS AND UP, 6 FURLONGS
5-6-3-4
#5 Dirtyfoot (5/2): He scratched out of a comparable spot last Saturday to race here. Tries this level for the first time after holding his own against allowance company last year. With a race on the year under his belt, he should take a step forward, and the figures he heard last year would win this race.
#6 Let's Rumble (7/2): A pure need-for-speed type, he's wired two fields in a row, both of them comprised of his fellow three-year-olds. Steps up to open company for the first time, but has by far the best early pace figures in the field. He's going to go as fast as he can, as far as he can.
#3 Walk Away Joe (12/1): Another three-year-old trying his elders for the first time. He's coming off a determined win, battling in the stretch to win by a nose with a strong brisnet figure. Has improved his figure in each of his last five starts, and will seek to keep jumping here.  
RACE 8: ALLOWANCE OPTIONAL CLAIMING (N/W2X), 3-YEAR-OLDS AND UP, FILLIES AND MARES, 1 1/16 MILES (GRASS)
9-14-10-13 (DIRT: 16-15-8-7)
#9 Tass (4/1): Went into the Winter Memories Stakes last out off two gate-to-wire wins. She got the trip she wanted, but couldn't follow through and gave way. She's making her first start since that December outing, and is taking a (slight) drop in class. The question is: can she get to the lead?
#14 I'm Listening (10/1): A four-time winner last year, she has a great stalking style, and fantastic late pace figures. She had to close off some slow paces in those races, but was able t grind her way to victory all the same. With the amount of speed signed on in here, the race could fall right into place for her.
#10 Dixie Cannon (15/1): Ended her freshman year with two impressive wins in a row, both here and at Delaware Park. Gets a stiff test against older horses, but should be involved in the early stages and primed to pounce.
RACE 9: STARTER OPTIONAL CLAIMING $16,000, 3-YEAR-OLDS AND UP, FILLIES AND MARES, 1 MILE
4-2-1-8
#4 Stay Special (3/1): Parx invader stands out like a sore thumb in this spot. Her recent figures, save for one dull effort three back, are miles better than those of the rest. She hasn't raced since October 21, which is of some concern, but she's been working well since February, and should be ready to roll here. 
#2 Cat Giumarello (6/1): Another Parx shipper in fine form, she won two in a row against open claimers, while being a hot commodity at the claim box. Should be on the pace from the inside, and keep things interesting up there. 
#1 So Innocent (8/1): Makes her first start since December, and takes a drop in class from the n/w2x allowance level. Wasn't much of a factor against those types during the second half of last year, but ran figures that keep her competitive with these. Plus, if the pace proves to be hot, she'll be able to pick up the pieces with her strong closing rallies.
RACE 10: MAIDEN CLAIMING $25,000, 3-YEAR-OLDS AND UP, 5 1/2 FURLONGS (GRASS)
6-11-7-2
 #6 Eagle Keeper (7/2): Trombetta firster comes into this spot with a bullet workout at Fair Hill under his belt, going five furlongs in 1:01.2. His breeding suggests that he'll be a solid grass sprinter.
#11 Rarely (5/1): Raced well against straight maidens last year, including a second-place finish in his last start before going on the shelf. The layoff won't do any favors, but the drop in class might.
#7 Power Back (8/1): He tried to wire a field going a mile last out, but gave way in the last eighth. Gets a much-needed cutback in distance, and he's got good grass form way back in his lines.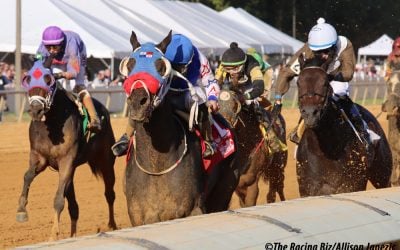 We provide full-card picks and analysis for this afternoon's races at Laurel Park.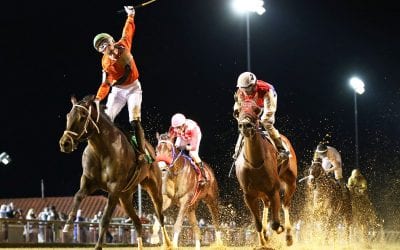 Full-card picks and analysis for this evening's live racing card from Charles Town Races!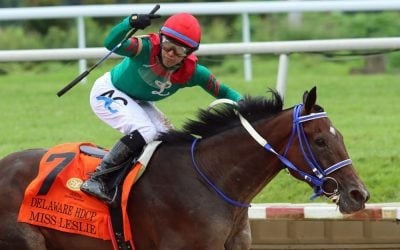 Racing returns to Delaware Park May 24, and we return with Delaware Park picks and analysis for the track's 86th racing season.