Laurel Park picks and ponderings June 8, 2020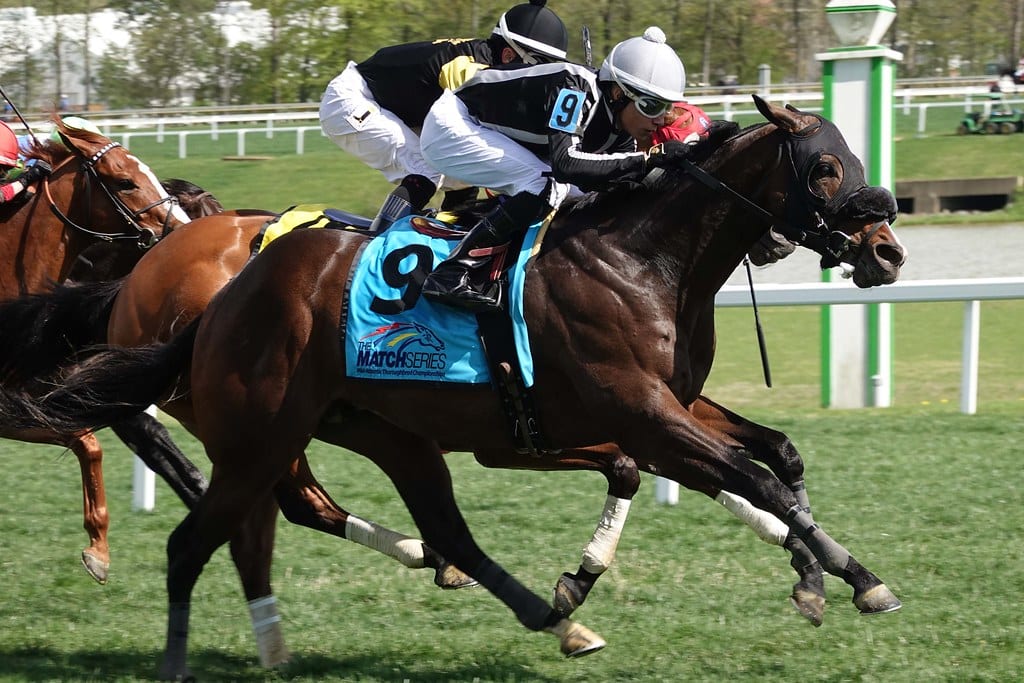 Dirty. Photo by Allison Janezic.
In which we pick the races from Laurel Park each day…
Post time: 12:40 p.m.
Carryovers: Rainbow Jackpot Pick 6 — $1,474  Super High 5 –$1,000   Late Pick 5 — $0
Notable: Until further notice, no fans are allowed to attend the races at Laurel Park. For more info, click here.
ANALYSIS
RACE 1: MAIDEN CLAIMING $25,000, 3-YEAR-OLDS AND UP, FILLIES AND MARES, 5 1/2 FURLONGS (GRASS)
2-3-8-7 (DIRT: 1-5-8-7)
#2 Bourbon Gal (9/5): Ran a big race on debut last summer at Colonial Downs, battling on the lead against straight maidens and hanging in there to lose by just 2 1/4 lengths. She outfinished her dueling partner by almost four lengths, and two of the horses she finished behind went on to win their next starts. Gets lasix for the first time, to boot. The only thing that can slow her down is possible rust from the layoff. 
#3 I Am Aine (20/1): Finished a respectable fifth against maidens of a higher caliber at Belmont Park, in her lone grass try to date. She debuted in an off-the-grass race, suggesting that this surface is what her people have had in mind all along. All winter long, she ran in dirt races, and got buried each time. That could obscure some potential grass ability. 
#8 Bound for Broadway (3/1): Goes first time out for Dale Capuano, who's 29% with debuters. The board will tell the story on this one. 
RACE 2: CLAIMING $5,000 (CONDITIONED), 3-YEAR-OLDS AND UP, FILLIES AND MARES, 6 FURLONGS
6-8-2-10
#6 Lady Rozina (4/1): Finally broke through at the n/w2L level with a strong five-wide brush to the lead. Her figures have been improving steadily over her last few races, peaking at a 79 last out. Interesting to see Kevin Gomez and Avery Whisman swap mounts; Whisman takes the reins on this one, while Gomez winds up on longshot Determined Mission. 
#8 Hand Rail (7/2):  Held on to win in a speed duel two starts back, outfinishing Lady Rozina, then dropped off the pace but made up tons of ground in the last strides in her last race. Her early running lines are kind of all over the place, but she's flashed the kind of dominating speed she'll need to win this. 
#2 Close the Deal (8/1): Her figures improved when stretching out in her last two, but she didn't have the winning kick while going down that long stretch. Cuts back to six furlongs now; if she can put everything together, she can surprise. 
RACE 3: MAIDEN CLAIMING $25,000, 3-YEAR-OLDS AND UP, FILLIES AND MARES, 5 1/2 FURLONGS (GRASS)
2-4-6-9 (DIRT: 2-6-9-5)
#2 Sea Story (3/1): She couldn't draw in off the also-eligible list a few days ago, but now gets in here, thanks in part to the race being split. Ran some figures in the mid-70s last summer against straight maidens, now drops in for a tag for the first time. She'll do her best running at the end. 
#4 Carrot Cake (5/1): Made her grass debut in October of last year, and missed by just 3/4 of a length despite a wide trip. The worktab has been long and steady, and will seek to build off that effort in her first start off the layoff. 
#6 Eloquent Lady (5/2): She's shown plenty of speed on dirt, now we'll see if she can translate it to the lawn. Could very well end up loose on the lead. 
 ANALYSIS
RACE 4: MAIDEN CLAIMING $40,000, 3-YEAR-OLDS AND UP, 1 MILE
4-5-8-3
#4 Jebologist (9/2): He received lots of wagering action in his debut at Penn National against straight maidens, despite being the only first-time starter in the race. He got into a pace tussle with the favorite, but held on well to finish second. Now, he drops in for a tag and stretches out. I don't know how he'll do going this far, but he showed enough heart on debut to make me believe. 
#5 Silent Malice (9/5): Another one trying a tag for the first time, he was sent off at 3-5 in his first start off the layoff in a maiden special weight last out. He was a flat third, but the two horses who finished ahead of him both came back to win next out. Ran figures in the mid-70s as a 2-year-old last year, and should improve second out as a sophomore. 
#8 Welling (2/1): He crossed the wire first last out, but was disqualified for bumping. Two starts back, he lost a photo while running a big figure of 85. Can he finally catch a break?
RACE 5 – STARTER OPTIONAL CLAIMING $16,000, 3-YEAR-OLDS AND UP, 1 MILE (GRASS)
6-9-4-10 (DIRT: 2-9-1-6)
#6 Old Dominion (4/1): The only one in the field with recent grass experience, he's coming off a gate-to-wire win against n/w2L claimers at Tampa Bay Downs. That was his first race against horses that easy, and he responded in kind. This isn't exactly a field of world-beaters, and there's not much speed signed on here. 
#9 Eastport (5/1): He faced a better starter optional claiming field in his most recent grass affair, back in October, and closed to lose by just a length despite a wide trip. Raced on the dirt over the winter at Parx, and was claimed last out by Claudio Gonzalez.  
#4 Love's Legend (6/1): She loves to close, and can close quite strongly, but it's rarely enough to get the job done. She's 1-for-17 over the Laurel grass, with seven other in-the-money finishes. Still, she's got the best last-out figure by five points, and raced well in the Maryland Million Ladies, when she was bottled in most of the way. 
RACE 6: MAIDEN CLAIMING $16,000, 3-YEAR-OLDS AND UP, 5 1/2 FURLONGS
9-3-6-12
#9 Dr. Rusty Raymond (6/1): His form is very up-and-down. Three races back, he almost wired a $40,000 field; in the race after that, he raced wide and was well up the track. Trainer Crystal Pickett is a sharp 20% with horses off a 90+ day layoff. He's shown enough flashes of brilliance to make him worth a bet at around his morning line. 
#3 Boss Onthe Horizon (3/1): Drops in for a tag for the first time, and switches back to dirt. In his first start of the year, back in March at Gulfstream Park, he showed speed against much better and gave way. Here, if he gets the lead, he might not be caught.
#6 Aiken on Tap (10/1): First-time starter has been working strongly at Pimlico, most recently drilling four furlongs in 49.2 seconds. Horacio DePaz could really get them ready first out back when he was training for Sagamore Farm; we'll see how he does with this one. 
ANALYSIS
RACE 7 – ALLOWANCE OPTIONAL CLAIMING (N/W3X), 3-YEAR-OLDS AND UP, 5 1/2 FURLONGS (GRASS)
1-4-8-11 (DIRT: 10-1-7-5)
#1 Completed Pass (5/2): He had been in great form last year, including a win in the Jim McKay Sprint, before he forgot how to break. He's gotten plenty of time off, and has a bunch of bullet workouts  getting ready for this spot. It would've been nice to see a gate work in the mix, but I trust Claudio has him ready to go. 
#4 Duncastle (15/1): He's jumping in class, most recently running in the n/w3L claiming level at Fair Grounds. However, his figures have been consistently strong, running in the mid/upper 80s, and he's got fairly recent grass form. His only recent bad race was when he broke awkwardly two starts back. 
#8 Love You Much (10/1): Gets back on a grass track that he loves; he's finished in the top two nine times from twenty starts over the Laurel grass. At the summer meet last year, he won twice, and added a third-place finish in the Ben's Cat Stakes in between. Should stalk and take advantage of a fast pace. 
RACE 8: MAIDEN CLAIMING $40,000, 3-YEAR-OLDS AND UP, 6 FURLONGS
13-3-11-6
#13 Robber Bob (7/2): He's one of only three in the field with experience, and has shown the most promise of the group by far. Has been knocking on the door at this level, with steady improvement in his last few starts. Most recently, he was second, while flattening out after making a big move. He's raced four times, so he's not quite in chronic maiden status yet. Against this field of inexperienced horses, it should go well. 
#3 Russeldoingthings (4/1): $175,000 purchase has been working strongly for the Russells, and looks as if he'll get bet first out of the box. 
#11 Ima Ima Starboy (12/1): First-timer has two bullet works in his lines, with his most recent drill going four furlongs in a blazing 47.3 seconds. Should be ready to go in this raw group. 
RACE 9: STARTER OPTIONAL CLAIMING $16,000, 3-YEAR-OLDS AND UP, FILLIES AND MARES, 5 1/2 FURLONGS (GRASS)
12-6-2-11 (DIRT: 6-7-12-10)
#12 Eifs (4/1): Gets back on her preferred surface, after some uninspiring races on the dirt over the winter. Won twice on the Laurel grass last year, including a sharp win against Maryland-bred allowance horses. Should prompt and pounce. 
#6 Dance or Stroll (3/1): Drops in class after holding her own against a very strong n/w3x allowance field last week. Trainer Gerald Brooks is 25% third off the layoff. 
#2 Goodnight Moon (10/1): Deep closer turned in some great late pace figures last year on the Laurel grass, and was most recently fifth after an absurdly wide trip. She didn't fire in her last start of the year, at Presque Isle Downs, but has had plenty of time off to recover her form.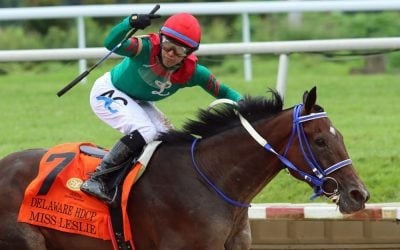 Racing returns to Delaware Park May 24, and we return with Delaware Park picks and analysis for the track's 86th racing season.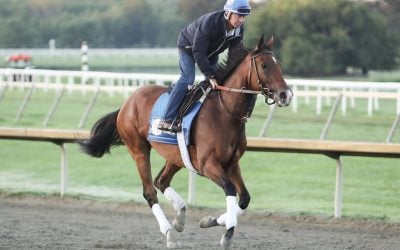 Saturday's Parx Racing card features the Grade 1 Cotillion and Grade 1 Pennsylvania Derby, making it the biggest day of the year at the Bensalem track.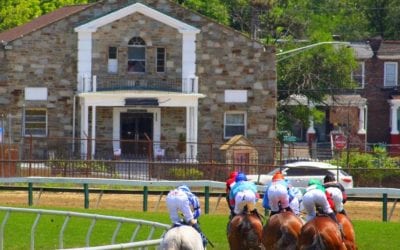 We provide full-card picks and analysis for this afternoon's races at Pimlico.