Laurel Park picks and ponderings June 5, 2020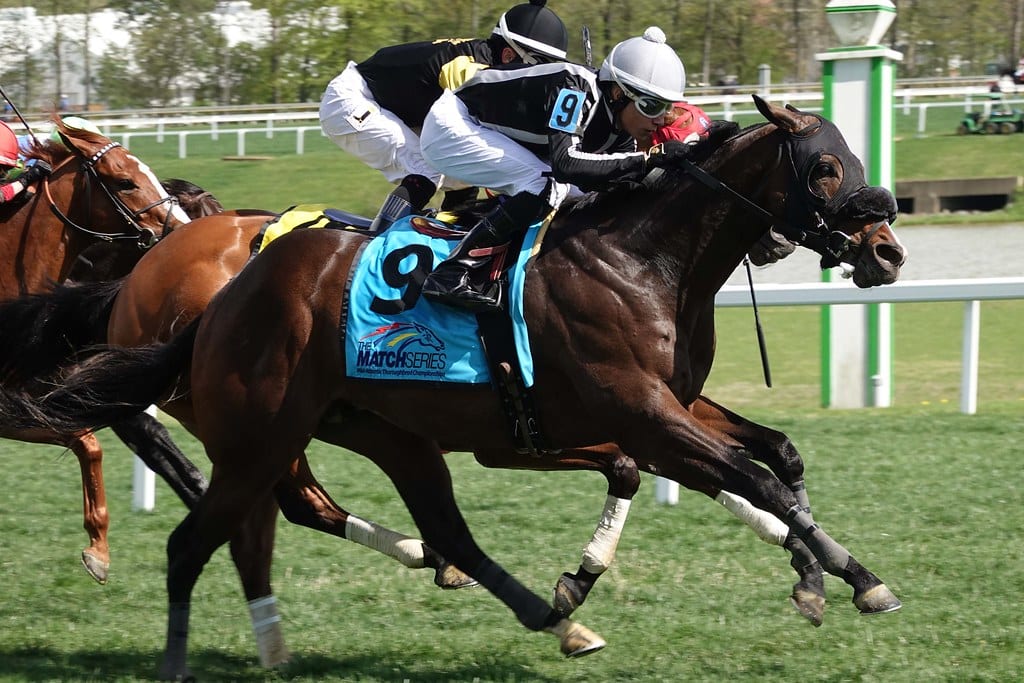 Dirty. Photo by Allison Janezic.
In which we pick the races from Laurel Park each day…
Post time: 12:40 p.m.
Carryovers: Rainbow Jackpot Pick 6 — $31,438  Super High 5 –$30,908   Late Pick 5 — $73,629
Notable: Until further notice, no fans are allowed to attend the races at Laurel Park. For more info, click here.
ANALYSIS
RACE 1: CLAIMING $5,000 (CONDITIONED), 3-YEAR-OLDS AND UP, 6 FURLONGS 
6-2-4-5
#6 Big Boots (9/5): Has a sizable speed figure edge over the rest of the field, consistently running numbers in the high 70s and low 80s. He's also got a good closing punch, which will not be helped by the lack of confirmed speed in the race. Still, if Whisman can keep him close, he's got a good shot. 
#2 Air on Fire (5/2): Speaking of speed, this one could inherit the front end almost by default. He showed speed almost every time in New York last fall, but wasn't aggressively used in his last few. Makes his first start for the Damon Dilodovico barn, and he's been working sharply. Charlie Marquez also gets aboard for the first time. 
#4 Save Me Paula (6/1): His figures have been steadily improving, and he won handily after stalking the pace two starts back at this track. Looks like one who's been on the upswing. 
RACE 2: MAIDEN CLAIMING $25,000, 3-YEAR-OLDS AND UP, FILLIES AND MARES, 5 1/2 FURLONGS (GRASS)
16-4-9-12 (DIRT: 16-13-9-1)
#16 Sea Story (3/1): She'll need a minor miracle to draw in off the also-eligible list, but will be very difficult to beat if she can swing it. Closed very well against straight maidens several times over this track last year, now tries a tag for the first time. The only possible obstacles are the far outside post, and that Dove Houghton isn't especially sharp with horses off a long layoff. Still, it's not a strong field, so she'll be tough if she shows up (literally and figuratively).
#4 Old Line Magic (6/1): No races since October 19, but she shows bullet workout after bullet workout after bullet workout. She was in very sharp form against $40,000 maidens last summer, tailed off a bit in the fall, and now looks ready to rock in her return. 
#9 Rockin Anna Rollin (6/1): Gets on grass after several decent tries on the dirt, picking up checks behind runaway winners after setting the pace. Despite a lower speed figure, her last race may have been her most impressive: she dueled on the lead, and held in there until the stretch, when she finally conceded.
RACE 3: CLAIMING $5,000 (CONDITIONED), 3-YEAR-OLDS AND UP, FILLIES AND MARES, 1 MILE
7-9-2X-8
#7 Letmeslidebyyou (3/1): Made an insanely wide move in her last race, and closed strongly to lose by just 3/4 of a length. Kieron Magee hits at 22% second off the claim. 
#9 Majestic Pic (15/1): She's been knocking on the door at this level, hitting the superfecta in her last three starts. Doesn't have much speed to speak of, but the long mile stretch run should play to her favor. The stretchout from six furlongs should help. 
#2X Hola Princess (3/1): Looks like the better half of the Ness entry. Her figures have consistently been in the high 60s/low 70s range in a race full of inconsistency. She was bet to favoritism in her last race at the level, and while she faded after showing speed, she held on well enough for second. McCarthy would be well-advised to be aggressive.
ANALYSIS
RACE 4: STARTER OPTIONAL CLAIMING $25,000, 3-YEAR-OLDS AND UP, 1 MILE
9-5-1-2
#9 Galerio (2/1): The "lightbulb" angle certainly applied to him in his last start, as he got up to win at this level for his second victory in a row. His two most recent brisnet speed figures are 88 and 90, by far the best last-two average in the group. He just has to keep up his current form, and he'll win handily.
#5 My Good Man (10/1): Plodding closer makes his first start since June 29, when he was a strong-closing second against similar. He won a race like this one in March 2019 going away. He's been on the worktab since March 1 (likely in anticipation of a mid-April return), and trainer Mary Eppler is 24% with horses off a long break. 
#1 My Man Pots N Pans (6/1): He likes to stalk the pace, but doesn't always like passing horses. Two starts ago, he got an excellent trip and was flat in the stretch. Last out, he briefly had the lead in the stretch, but ended up tiring and losing by two lengths. His speed figures have been strong, however, so I have to respect him for the underneath spots. 
RACE 5 – CLAIMING $16,000 (N/W2L), 3-YEAR-OLDS AND UP, 5 1/2 FURLONGS (GRASS)
6-2-4-15-16 (DIRT: 1-2-4-13)
#6 Ready to Run (9/5): You don't often see a stakes-placed horse in a n/w2L claimer, but that's what we've got here. He was third in the Meadow Stables Stakes at Colonial Downs last fall, in the start right after he broke his maiden. Races for the first time since December and tries this level on grass for the first time. He's got plenty of early speed, and will likely try to simply run them off their feet. 
#2 Belmullet (4/1): He's got a similar profile to Ready to Run: a speed horse at this level on this surface for the first time. In his last start, he battled on the pace, but dispatched of his rival easily and won going away, with a strong brisnet figure of 80. Can he do it again, first off the layoff?
#4 Mystic Times (5/1): One of the more recently raced runners in the field, he's making his first start since February 22. Showed good from against better on grass at Belmont Park last summer, including a race where he was on the pace throughout, led in the last eighth, and ended up a game second. This time, it looks like he'll sit just off the leaders. 
RACE 6: STARTER OPTIONAL CLAIMING $25,000, 3-YEAR-OLDS AND UP, 5 1/2 FURLONGS
5-6-4-2
#5 Willmakeyouhappy (7/2): A perfect 2-for-2 in his career so far, with blazing speed in both his outings. He never got tired in his last start against similar, going the last sixteenth in a sharp 6 1/5 seconds. His last start was on February 22, and while trainer Cal Lynch usually isn't that great off that long a break, these are obviously special circumstances. Should be tough on the lead, despite early competition.
#6 Goodluckjohnathan (6/1): The inverse of Willmakeyouhappy, he's going to be roaring from the back of the pack. Last out, he made a strong five-wide bid and made up eight lengths in half a mile. He hasn't won a race in quite a while, so there's a decent chance his rally ends up falling short, but if the pace is fast, it could fall right into place for him. 
#4 Padrino's Heart (10/1): This is his first start since October, when he won a n/w2L claiming race after stalking the pace and drawing off. He got a career-high brisnet figure in that race, to boot. With all the speed signed on in this race, including Willmakeyouhappy and other favorites Bullets Child and Ziggy Man, he could be in an advantageous spot turning for home. 
ANALYSIS
RACE 7 – MAIDEN SPECIAL WEIGHT, 3-YEAR-OLDS AND UP, 5 1/2 FURLONGS (GRASS)
11-10-4-15 (DIRT: 10-2-6-7)
#11 Francatelli (7/2): Lots of unknown quantities in this one, so now's as good a time as any to take a shot with a promising firster. Cal Lynch hits at 25% with first-time starters, and he's got this one working well, including a bullet drill on grass on Sunday.  
#10 Abuelo Paps (5/2): Showed speed and held in there to finish second last out on dirt, with a solid brisnet figure of 84. He requires a clean break to have a shot, but if he can get it, this $35,000 colt should get to the lead and be in the hunt until the end. 
#4 Super E (12/1): Has one grass race in his lines, and it was a big one: he rallied from well out of it to miss by just half a length. His figure of 73 equals the best mark anyone in the field has earned on the grass. Considering his ineffectiveness in his dirt races, he should relish a return to the lawn. 
RACE 8: ALLOWANCE (N/W1X), 3-YEAR-OLDS AND UP, 1 1/16 MILES (GRASS)
4-14-6-3 (DIRT: 3-13-12-15)
#4 Jo's Bold Cat (9/2): In his last race, back in November at Aqueduct, he made a strong move from behind to miss by just two lengths, earning a figure just one point off his career top. Beat a starter optional claiming field here in the race prior, with an identical figure. Should be unwinding from far out of it.
#14 J. Beresford Tipton (3/1): The only on in the field with recent grass form, he ran two big figures in a row when trying this level at Tampa Bay Downs and Gulfstream Park. Delacour hits at 23% off a 46-90 day layoff, and the recent works at Fair Hill have been strong. The field he faced at Tampa Bay, in particular, was similar to what he faces here. There, he broke awkwardly and was forced to wait behind horses.
#6 It's Fate (10/1): Another deep closer, he's improved his figure in each of his last three starts, and is coming off a third-place finish at this level at Tampa Bay Downs. This'll be his first start at this track, and he should find the sweeping turns here to his liking.
RACE 9: ALLOWANCE (N/W1X), 3-YEAR-OLDS AND UP, 1 MILE 
1-6-10-3
#1 Muchacho (4/1): Winner of two in a row at a mile earlier in the year, before tiring after a wide trip going 1 1/16 miles. He now cuts back to his favorite distance, and should be just a sneeze off the pace. 
#6 Buddy's Run (5/2): Ran two gigantic brisnet figures, of 98 and 97, respectively, in his last two races. Last out, he was stacked across the track in a three-wide duel, and hung in there well. He's got plenty of early speed, but he'll have to sustain it down the long stretch run of Laurel's one-turn miles, a tougher task than having to do it on Parx's relatively short stretch runs. 
#10 Royal Crusader (20/1): Has quietly been running some big figures at this level, including a 90 when finishing fifth last out. He'll make his first start since January here, and could be involved in the exotics at a price.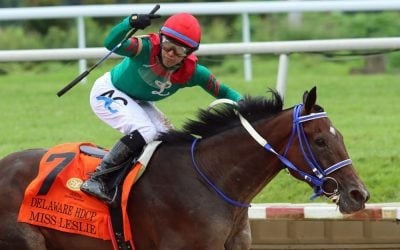 Racing returns to Delaware Park May 24, and we return with Delaware Park picks and analysis for the track's 86th racing season.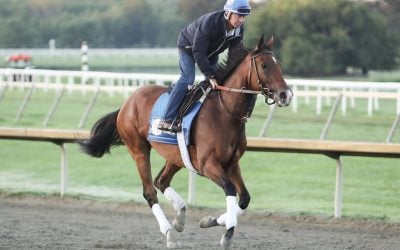 Saturday's Parx Racing card features the Grade 1 Cotillion and Grade 1 Pennsylvania Derby, making it the biggest day of the year at the Bensalem track.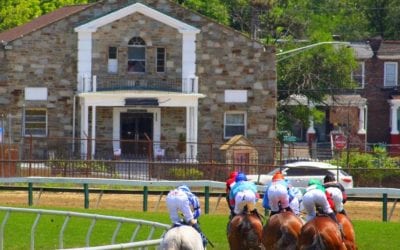 We provide full-card picks and analysis for this afternoon's races at Pimlico.