Laurel Park picks and ponderings June 1, 2020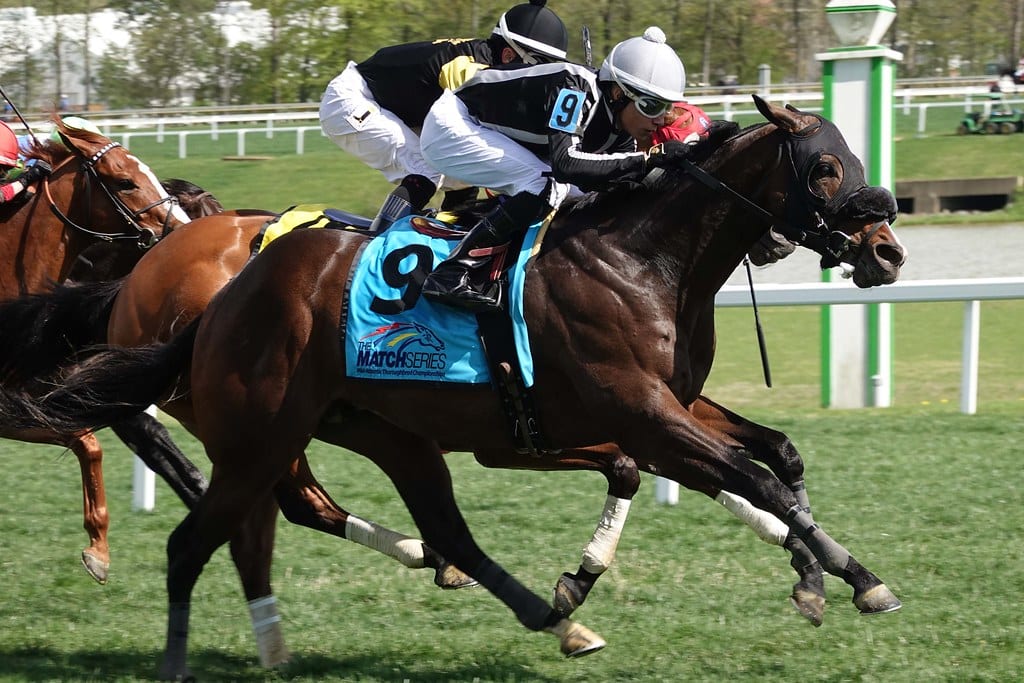 Dirty. Photo by Allison Janezic.
In which we pick the races from Laurel Park each day…
Post time: 12:40 p.m.
Carryovers: Rainbow Jackpot Pick 6 — $23,654  Super High 5 –$2,990   Late Pick 5 — $11,746
Notable: Until further notice, no fans are allowed to attend the races at Laurel Park. For more info, click here.
ANALYSIS
RACE 1: MAIDEN CLAIMING $25,000, 3-YEAR-OLDS AND UP, 1 1/16 MILES (GRASS)
12-9-7-8-3
#12 Fused (6/5): He'll be very tough if he can draw off the also-eligible list. He's never lost against maiden claimers before, after spending a winter against straight maidens at Tampa Bay Downs. In fact, he was well-bet in his last start at that level, and was fanned extremely wide and left without a chance. Motion and McCarthy is always a dangerous trainer/jockey combo.
#9 Skip the Smalltalk (5/1): Didn't do anything in his debut on dirt at Parx, despite getting plenty of love at the windows. Now tries grass and takes a drop in class. Trombetta has has this one working well at Fair Hill. If Fused draws in, it'll be interesting to see who McCarthy picks; he's also named on this one.
#7 Causeforcelebration (1/1): His brisnet figures are much the best in this field, and it's not the strongest group. Still, are you willing to take low odds on an 0-for-21 maiden who's lost more times for a tag than anyone can count? Tread lightly.
RACE 2: CLAIMING $5,000 (N/W2L), 3-YEAR-OLDS AND UP, FILLIES AND MARES, 5 1/2 FURLONGS
6-2-7-5
#6 Tough N Buff (4/1): Jamie Ness trainee drops to this level for the first time. Broke her maiden at Gulfstream Park two back in an impressive front-running effort, then regressed when running against 3-year-old claimers. This race looks to be somewhere between those two worlds. She's lightly-raced enough to make me respect her. 
#2 Next Queen (10/1): Broke her maiden (relatively) impressively at Penn National two races ago, then recovered nicely from a bad start last out to finish second. She won that race with a perfect stalking trip, and should sit another one here. For her sake, hopefully she breaks cleanly.
#7 Eight Oaks (7/2): Runs first off the claim for Carlos Mancilla, who hits at 20% with that angle. Turned in some good showings against much better at Aqueduct last fall, and will seek to rebound off a rather disappointing last race.
RACE 3: CLAIMING $16,000 (N/W2L), 3-YEAR-OLDS AND UP, 1 1/16 MILES (GRASS)
15-2-4-14-10
#15 Real Factor (7/2): Got caught up in a ridiculous pace duel last out, and unsurprisingly backed up badly. There's not much speed to contend with here, so he's going to be able to dictate much easier terms on the front end. Two bullet works at Fair Hill help the cause. 
#2 Wise Men (8/1): He held his own against maiden claimers last summer on the grass, steadily running figures in the mid-70s. A repeat of any of those numbers should win this one easily. This is also his first try against winners. 
#4 Baytown Jimbo (7/2): Goes first off the claim for Hugh McMahon; however, that claim was way back in August. He returned to the worktab in March and has been going steady since then. He was in the midst of a strong move in his last start against similar, before getting snarled in traffic. 
ANALYSIS
RACE 4: CLAIMING $5,000, 3-YEAR-OLDS AND UP, 6 FURLONGS
5-12-9-1
#5 Midnight Cry (3/1): Wired a similar group for $8,000 two starts back, then stopped on the front end after having to go a big faster in the early stages. There's enough speed in here to keep him honest, but both his speed and early pace figures are indicative of a big effort. It doesn't hurt to be a Claudio Gonzalez trainee, either; these are the races where his horses make their bread. 
#12 Lion Lord (5/2): He had his way with $16,000 horses twice, then was claimed for $12,500 in his last race. He beat some pretty salty fields along the way. The question: why is he in for $5,000 here? Did he get left out of the $8,000 race a few days ago, and this is the backup plan? Are they looking for an easy win? Do his people think he's lost a step? He's so classy, he has to be respected, but he isn't worth an automatic bet at low odds. 
#9 Swing Step (20/1): I took chalk with the first two picks; now I need a longshot. He's got great late pace figures in a race that looks like it's got tons of speed. He raced wide last time off the pace, and couldn't come through. Whisman would be well-advised to save as much ground as he can. 
RACE 5 – MAIDEN CLAIMING $25,000, 3-YEAR-OLDS AND UP, FILLIES AND MARES, 1 1/16 MILES (GRASS)
6-5-1-9
#6 Cold Hearted Cat (9/2): She could've broken her maiden twice in Pennsylvania last fall, but got stuck in traffic and lost all chance both times. Improved her figures against NY-bred maidens later on, but couldn't make a dent against those. Now, in her season debut, it looks like she's found a field she can beat. 
#5 Hydra (5/1): Relatively lightly-raced filly has speed to spare and is stretching out on the lawn for the first time. She's worth a shot in a race full of proven losers.  
#1 Not My Money (4/1): She's raced fairly recently, compared to some of these, having made her last start back on February 23. Held her own against straight maidens last fall, and has run by far her best figures on this surface. The dirt experiment over the winter didn't take; worth a shot at going back to the grass.
RACE 6: STARTER OPTIONAL CLAIMING $16,000, 3-YEAR-OLDS AND UP, 1 1/16 MILES
9-10-3-7
#9 V.I.P. Code (4/5): The big pick 5 begins with a race that features a near-universal single, and I'm not sure that he's worth trying to beat. He smoked a similar group at Parx two starts back going two turns, then cut back around one turn and annihilated a field like this despite a fast pace. He's been off more than three months, but recent workouts have been strong, and you have to figure Ness will have him razor-sharp. McCarthy rode a winner for Ness yesterday, he gets the call on this one. 
#10 Savvy Spirit (15/1): Closed well to finish second when going a mile last out. His figures keep improving, and has shown the ability to show speed and come from behind.
#3 Celtic Treasure (12/1): Has early speed to spare, and runs first off the claim for Claudio Gonzalez. He backed up badly when going a mile last out, but managed a clear lead in his last start around two turns and crushed. 
ANALYSIS
RACE 7 – MAIDEN SPECIAL WEIGHT, 3-YEAR-OLDS AND UP, 1 1/16 MILES (GRASS)
3-13-16-5-6
#3 Bold Quest (6/1): $180,000 purchase was well-bet in his debut on dirt last out, and finished fourth after a wide trip. The winner of that race, Toy, came back to win a salty allowance race on Sunday. He has a respectably good grass pedigree, and catches a very unproven field.
#13 Champagne Diet (3/1): Returns to the Tre Abbott barn after spending the winter with Norm Casse in Louisiana. He woke up while down there, finishing third after wide trips while earning big figures in both of his starts. While those races shows that he has a pretty high ceiling, it also shows that he's vulnerable to getting stuck behind a slow pace. Worth respect nonetheless. 
#16 Walk Up Music (6/1): Drops in class after setting the pace and folding last out at Gulfstream Park. His debut back in January was promising, where he was second on debut and earned a big figure of 84. This would be just his third lifetime start, and he's shown good form on grass. That's a rare combination in a race like this.
RACE 8: CLAIMING $5,000 (CONDITIONED), 3-YEAR-OLDS AND UP, FILLIES AND MARES, 5 1/2 FURLONGS
4-7-12-3
#4 Joyful Noise (6/1): She's been knocking and knocking against open claimers in her last few, and has raced quite well, including a second-place finish last out after a four-wide sweep. The last time she faced conditioned claimers, she got a perfect trip and won. With the speed signed on in this race, that could happen again. 
#7 Conquest Hardcandy (7/2): Like Joyful Noise, she sat a perfect trip in her last race and rolled by to win. She couldn't seal the deal in the races just prior to that, but hit the board at juicy odds. In the race two back, she had a rough trip but recovered to rally strongly late. 
#12 Swirrlie Shirlie (3/1): This speedball is also dropping in class after trying open claimers. If she was drawn further to the inside, I'd feel better about her chances of outrunning them, but she's going to have to be hustled hard if she wants the free-rolling trip that suits her best.
RACE 9: ALLOWANCE (N/W1X), 3-YEAR-OLDS AND UP, FILLIES AND MARES, 5 1/2 FURLONGS (GRASS) 
3-6-12-1
#3 Midship Lady (6/1): Took a big step forward with every start as a 2-year-old last year, ending the grass portion of her season with a strong second-place finish at this level. It's not an easy spot to make her comeback, with a bunch of older horses and one super-precocious filly, but the price will be right if she's near her morning line.
#6 Hello Beautiful (8/5): Her people likely have much bigger things in mind than this race. She ended her 2-year-old year with two spellbinding wins against Maryland-bred stakes horses. The Miss Preakness was the target for her return, but with that race scuttled, she was forced to the lawn for her sophomore debut. Considering her form on grass wasn't nearly as good last year, it's reasonable to assume she's in this race strictly as a prep for stakes down the road. Keep that in mind. 
#12 Money Fromheaven (15/1): Dropped from the n/w2x level two back, and turned in an impressive second-place effort where she rallied well from behind. Largely unproven on grass, but so is most of the field. Could upset the apple cart underneath.
RACE 10 – MAIDEN CLAIMING $10,000, 3-YEAR-OLDS AND UP, FILLIES AND MARES, 6 FURLONGS
1-2-6-8
#1 Devil's Revolution (6/1): Debuted for $25,000 and did nothing. Dropped to $16,000 and improved marginally. Now, she's in for $10,000 in her third career start. She gets a new jockey here, in Kevin Gomez. Worth a shot, if only for the class edge. 
#2 Tapping My Heart (10/1): Another one who hasn't done any running so far, but is lightly raced. The bullet workout from May 14, when she went five furlongs in 1:01, leaps off the page. She hasn't raced since August 23, but if she shows any glimmer of ability, it would be a good sign moving forward. 
#8 Keeper in Spite (5/2): Extremely speedy filly tends to go to the front, stay there till the last eighth, and break the hearts of her backers. Runs for this tag for the first time this year, and doesn't look to have much formidable pressure on the front end.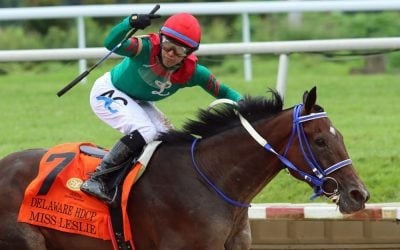 Racing returns to Delaware Park May 24, and we return with Delaware Park picks and analysis for the track's 86th racing season.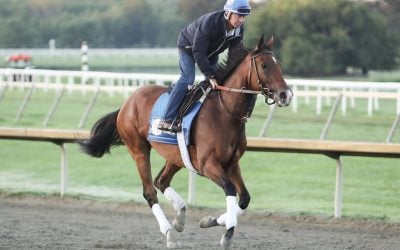 Saturday's Parx Racing card features the Grade 1 Cotillion and Grade 1 Pennsylvania Derby, making it the biggest day of the year at the Bensalem track.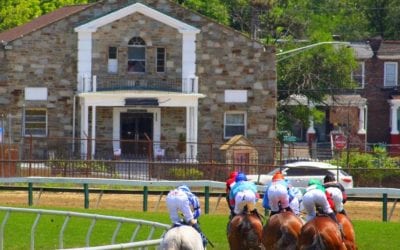 We provide full-card picks and analysis for this afternoon's races at Pimlico.