Laurel Park picks and ponderings May 31, 2020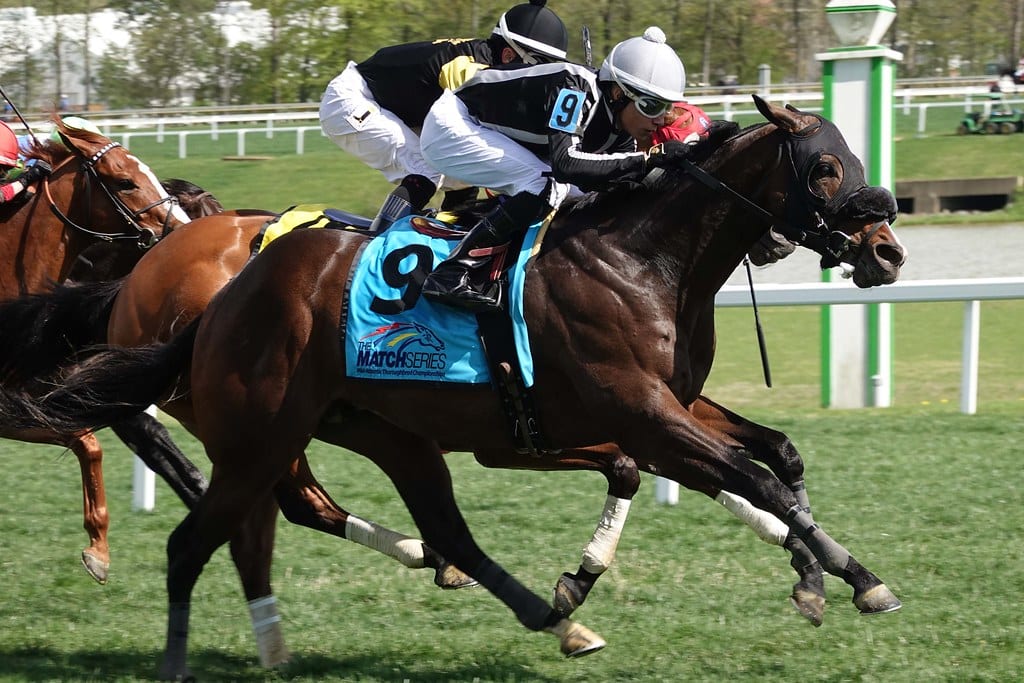 Dirty. Photo by Allison Janezic.
In which we pick the races from Laurel Park each day…
Post time: 12:40 p.m.
Carryovers: Rainbow Jackpot Pick 6 — $19,874  Super High 5 — None Late Pick 5 — None
Notable: Until further notice, no fans are allowed to attend the races at Laurel Park. For more info, click here.
ANALYSIS
RACE 1: MAIDEN CLAIMING $10,000, 3-YEAR-OLDS AND UP, 1 MILE (DIRT)
1-2-7-6
#1 Power Back (1/1): He didn't change leads in his last start, and subsequently finished well up the track. Take out that race, though, and his brisnet figures tower over those of the rest. This is also a career-low class level for him. Obviously, he's going to be a huge favorite, but he's the type where you just single in the multis and move on.
#2 Eje Gamma (8/1): Has been knocking on the door in his last few races at Charles Town, showing speed and giving way. He's going to lead a long, lonely lead, but it's certainly not impossible. At the worst, if he does show speed, he'll at least be able to hang around for the minors over the stragglers. 
#7 Irish Crossing (6/1): One of two in the field who has never lost at this level, along with Power Back. He was completely ignored when debuting against $40,000 horses last out, and sunk like a stone throughout. This is a giant drop in class, though, and his workouts have been sharp. 
RACE 2: CLAIMING $16,000 (N/W2L), 3-YEAR-OLDS AND UP, FILLIES AND MARES, 5 1/2 FURLONGS (GRASS)
8-1-4-2
#8 Utterly Enchanting (6/1): Made up decent ground in her grass debut at Delaware Park last summer, closing from behind to finish fourth with a solid brisnet figure of 76. She's had a few races this year, in contrast to a lot of her rivals, who will be coming in rusty. She'll also get a good pace to run into. 
#1 Can the Queen (5/1): Lasted on the lead through a very sharp pace in her debut last fall, beating a maiden claiming field by 3/4 of a length. That was her only grass race, but it made quite the impression. Even if she gets pace pressure, she's shown she won't back down too easily. 
#4 Bethabara (6/1): She's also had some experience this year, including a victory on dirt. In her two grass races, she rated in midpack and couldn't quite polish it off. With some months having passed since that last race, you'd figure she's going to be more seasoned. 
RACE 3: CLAIMING $5,000 (N/W2L), 3-YEAR-OLDS AND UP, 1 MILE
6-4-2-8
#6 Antrim Aubrey (7/2): Trying the "first time Claudio at this level" angle that worked on Saturday. He was pressed on the lead against slightly better n/w2L horses last out first off the claim, and gave way. Ran a big figure of 76 three starts back against better when he got stuck in traffic. Could end up on the lead and not be caught.
#4 Glengar (6/5):  Ran huge first off a long layoff last out, recovering from a slow beginning. He ran figures in the high 70s and low 80s throughout the fall/winter of 2018/19, figures that would absolutely smash these. Second off the layoff, he should be even better. 
#2 Final Proof (6/1): Makes his first start since January 30; trainer Dale Capuano is 21% off long layoffs. He wasn't aggressively used in his first start against winners, and jockey Avery Whisman lost the whip in the stretch to boot. Should be more forwardly placed this time.
 ANALYSIS
RACE 4: MAIDEN CLAIMING $25,000, 3-YEAR-OLDS AND UP, 5 1/2 FURLONGS (GRASS)
9-1-10-12
#9 Tauber (7/2): Kentucky invader makes his first mid-Atlantic start. He raced twice over the grass in Kentucky last year: in his first start, at Churchill Downs, he was fractious in the gate and didn't really have his mind on running. Next time on grass, he rallied strongly to finish third against a field not unlike the one he sees here. His closing style should play well over the sweeping Laurel turns. 
#1 Commissioner Biggs (4/1):  His only start so far was on dirt, when he showed speed and faded. He was claimed out of that start by Brittany Russell, who has had him working strongly ever since.  His early pace figures are the best in the field, so he shouldn't have much trouble getting to the lead. Will be tough to catch on the front end.
#10 First Fighter (4/1): He's also got lots of speed, and showed a lot of fight when pressed on the pace last out. He battled all the way on the front, and lost by 1 1/4 lengths. His dueling partner, Willmakeyouhappy, won that race, and came back to win another fifteen days later. The only question about this one is how he'll take to the grass.
RACE 5 – CLAIMING $5,000, 3-YEAR-OLDS AND UP, 5 1/2 FURLONGS
2-6-3-9
#2 Bucked Tooth (7/2): Speed played extremely well yesterday, and this guy is the dominant speed in this race. He's been in front at the opening quarter in three out of his last four starts, including a few decidedly clear advantages. He was in very sharp form before the break, and should return from it with a stroll around the track. 
#6 Zombie (2/1): Battled on the lead last out, then reluctantly gave way to a rival who sat a perfect trip off the duel. He's the only one in the field to consistently run figures in the 80s. Ness and McCarthy teaming up makes this one even more interesting. 
#3 Cash Exchange (10/1): Got hung wide at this level last out and lost all chance. In the races before that, he was going too far. Now he gets a cutback in distance and an idyllic post position. He should save ground while sitting just off the lead. 
RACE 6: CLAIMING $5,000, 3-YEAR-OLDS AND UP, 1 MILE
2-10-4-11
#2 Greek God (6/1): This hard-knocking gelding drops in class from the open to the conditioned claiming level. He showed speed and just barely missed numerous times against those types, earning big figures each time. In a race without a ton of speed, it could fall into his lap. 
#10 In Him With Him (9/2): He ran a giant race in his first start off a long layoff, stalking the pace and rallying well to miss by a neck.  Should take another step forward in his second race of the year, and will get first crack if Greek God gives way. 
#4 It's the Journey (6/1): Another member of the Ness/McCarthy team. He got stuck in a world of trouble in his last race, but rallied frantically to miss by just 2 1/4 lengths. Once a stakes-quality horse, he's racing for a $5,000 tag for the second time in a row, and will be heard from late.
ANALYSIS
RACE 7 – MAIDEN SPECIAL WEIGHT, 3-YEAR-OLDS AND UP, FILLIES AND MARES, 5 1/2 FURLONGS (GRASS)
7-12-10-15-2
#7 Smoothover (3/1): Delacour firster cost $300,000, and looks like she'll live up to her hype based on her morning drills. Most recently, she went four furlongs in a supersonic 47.4 seconds. That tied for the fastest time of the morning at Fair Hill; no other worker came within two seconds of that time. 
#12 Code Mettle (8/1): $125,000 purchase for the Mike Stidham barn catches a field of almost entirely first-time starters in her debut. Workouts at Fair Hill have been solid all along. I'll look to the board for further clues. 
#10 Ain't None Lucky (7/2): Hit the board three times as a 2-year-old last year on dirt. She improved each time out, but now makes her first appearance since August. Gets blinkers on as well.
RACE 8: STARTER OPTIONAL CLAIMING $25,000, 3-YEAR-OLDS AND UP, 6 FURLONGS
5-3-9-1
#5 Mary's Jewel (7/2): She blew away a weak field two races ago, then got involved in a tussle with Little Miss Raelyn last out, who was coming off an allowance win. While that rival drew off to win, Mary's Jewel held in well to finish a clear second. Finds a comfort zone spot somewhere in between those two levels, and profiles as the classiest speedball in the field.
#3 Pretty Edgy (5/1): Lightly-raced filly is also dropping in class, after going off as the favorite in a n/w1x allowance contest and coming up empty. She had won two races in a row to begin her career prior to that. Has been spitting fire in the morning, and gets a jockey upgrade to Rosario Montanez. 
#9 Jumping Michelle (3/1): Loves to burn money at this level, having hit the board three times in a row without a win, all at low odds. This is not the strongest bunch, so maybe she's found a field she can beat, but I would steer clear of a win bet at low odds. 
RACE 9: ALLOWANCE (N/W1X), 3-YEAR-OLDS, 1 MILE
1-4-9-12
#1 Dreams Untold (5/2): After an extremely impressive maiden win at Parx, this Pennsylvania-bred looked like a possible dark horse Kentucky Derby contender. He was the heavy favorite in the Miracle Wood Stakes, and got the riding services of Irad Ortiz. Unfortunately for him, he broke disastrously, made a spectacular middle move to draw into contention, then hit a wall and stopped badly. This is his first start since then. If he can break cleanly, he should wallop this field. From there, the sky's the limit. 
#4 Toy (8/1): Finally broke through to win for the first time last out, in an impressive effort. Turned in two bullet workouts in a row getting ready for this spot. Should get a great trip prompting the pace. 
#9 Skyscanner (6/1): Closed well in his 2-year-old finale, missing in the Sapling Stakes by just a neck. Russell jumps off, but Jevian Toledo is a more-than-adequate replacement, especially after his big opening day. The big question: how will he do off the layoff?
RACE 10 – STARTER OPTIONAL CLAIMING $16,000, 3-YEAR-OLDS AND UP, 5 1/2 FURLONGS (GRASS)
10-1-7-8
#10 Battlebus (7/2): He excelled on the Laurel grass last fall, with three wins from four races against gems of a slightly lesser water. A trip to the south this winter didn't quite work out, and he now returns to the site of his greatest triumphs. He's got a need for speed; look for Toledo to put him on the front end early. 
#1 Too Much Data (4/1): One with more recent experience than most of these, he's coming off a third-place finish against open horses on dirt back in February. Last September, he scored a strong win on the Laurel grass, a breakthrough effort after a few near-misses. 
#7 McPherson (5/2): Loved this track last fall, but hasn't raced on it, or anywhere, since October 4. Should prompt the pace and take first run when the leaders tire out. While the worktab has been solid, he might need a race.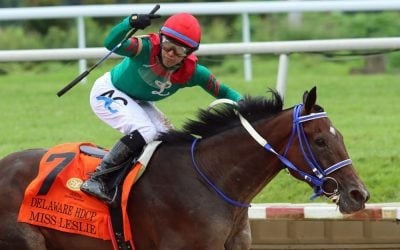 Racing returns to Delaware Park May 24, and we return with Delaware Park picks and analysis for the track's 86th racing season.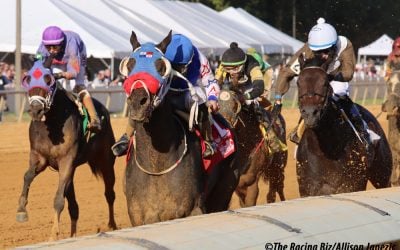 We provide full-card picks and analysis for this afternoon's races at Laurel Park.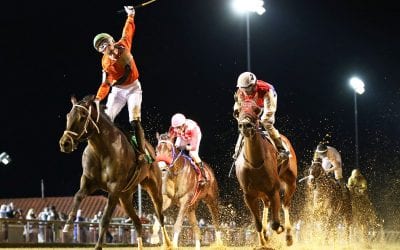 Full-card picks and analysis for this evening's live racing card from Charles Town Races!