Laurel Park picks and ponderings May 30, 2020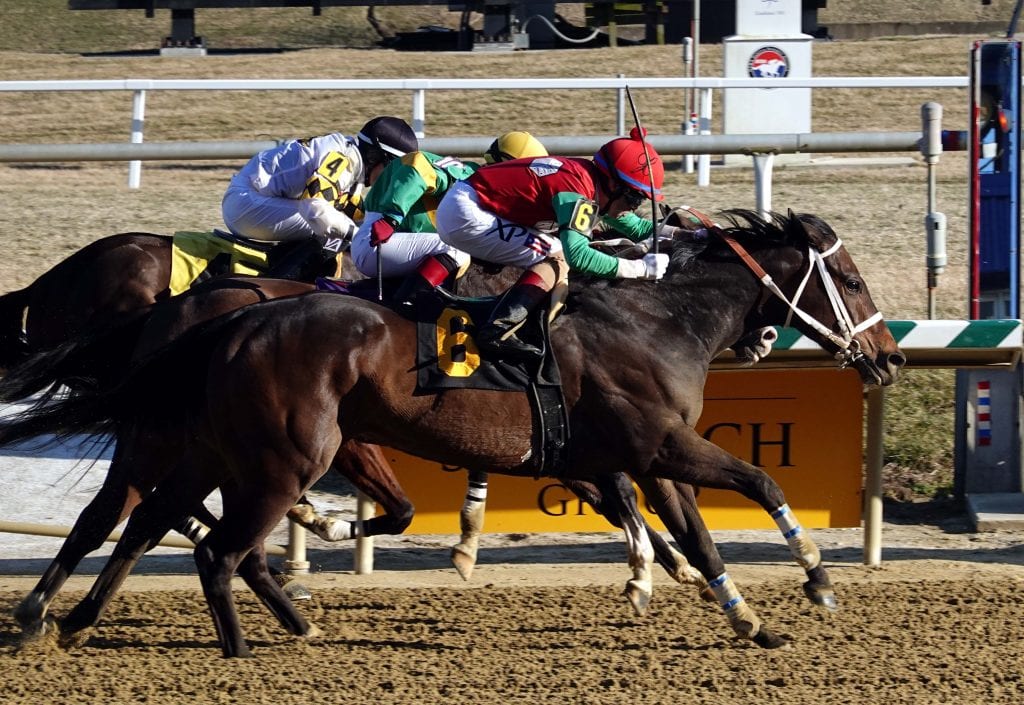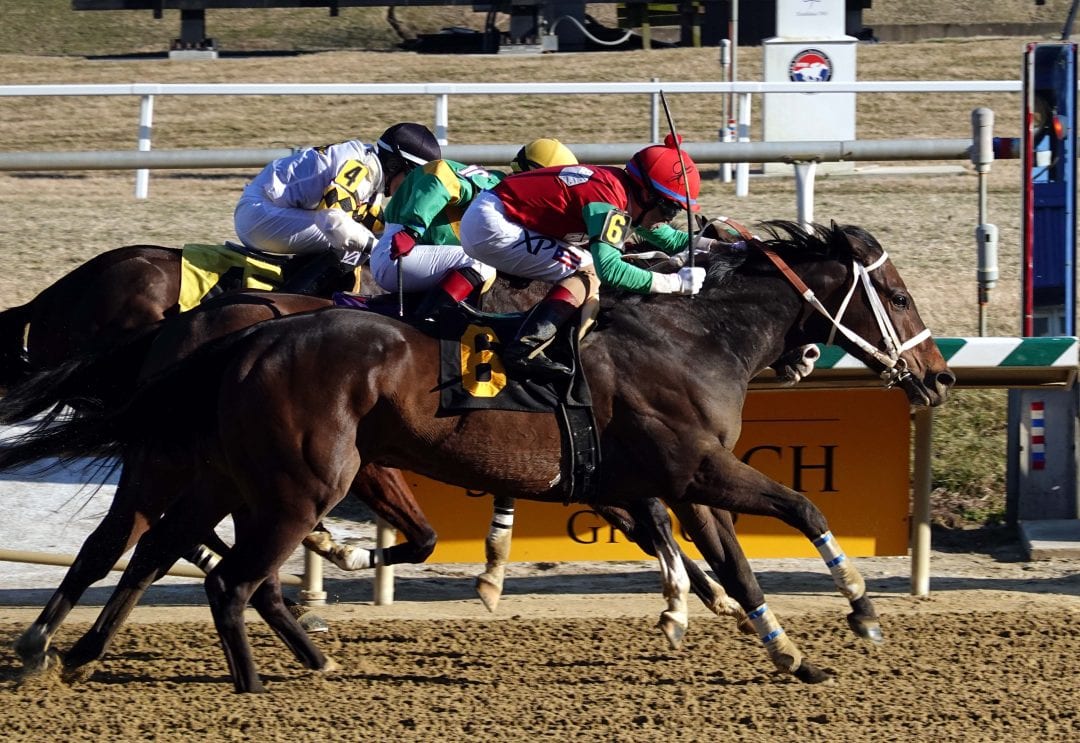 Anna's Bandit. Photo by Laurie Asseo.
In which we pick the races from Laurel Park each day…
Post time: 12:40 p.m.
Carryovers: Rainbow Jackpot Pick 6 — $18,133  Super High 5 — None Late Pick 5 — None
Notable: Until further notice, no fans are allowed to attend the races at Laurel Park. For more info, click here.
ANALYSIS
RACE 1: MAIDEN CLAIMING $10,000, 3-YEAR-OLDS AND UP, 6 FURLONGS (DIRT)
7-9-3-1
#7 Bayano (6/1): You'll have to toss his disastrous last race to believe in him, but if you do, there's a case. Runs for a career-low tag in this spot, and ran very strong brisnet figures in the mid-60s and low-70s last fall. In his race two back, he was in the middle of making a move in a maiden claiming race when he had to check. Works on the year have been strong, including a bullet four-furlong drill in April. 
#9 Junior Jumper (8/1): Finished third at this level last out in a very solid performance, matching a career-high figure, despite bleeding. Gets the hot apprentice Charlie Marquez for the first time, and trainer Mary Eppler is 24% with horses off a layoff of 90 days or longer. 
#3 Perfect Heir (8/1): He's had many, many, many tries at this level, but his figures have been steadily improving, and he gets a cutback in distance to six furlongs. Worth a look to round out the exotics.
RACE 2: CLAIMING $16,000 (N/W2L), 3-YEAR-OLDS AND UP, FILLIES AND MARES, 1 1/16 MILES (GRASS)
4-6-3-7 (DIRT: 1-4-14-6)
#4 Stiva (2/1): Faces winners for the first time, off a dominating victory against maiden claimers in February. She raced against straight maidens on the grass twice last year, at Belmont Park, and Colonial Downs, and held in well each time, with figures in the mid-70s. She'll be tough if she can get on the lead, like she did last time. 
#6 Dynamic Miss (3/1): Rallied from far back last out to miss by less than a length last out at the Meadowlands. This'll be her first start since that October outing, but has been steadily working at Fair Hill over the best few weeks. Will be heard from late. 
#3 Trois Ponts (5/1): Another deep closer, she's also coming off a long layoff, and is trying this level on grass for the first time. When breaking her maiden two starts back, she rallied frantically on the turn, then lasted in a stretch battle to win by a neck. She might need a race off the layoff, but is still worth respecting. 
RACE 3: MAIDEN CLAIMING $10,000, 3-YEAR-OLDS AND UP, 6 FURLONGS (DIRT)
7-2-5-6
#7 Let Me Ask Bob (12/1): He was claimed for $10,000 by Claudio Gonzalez two starts back, then was stepped up to the $16,000 level with disappointing results. Now, he'll go for $10,000 for Gonzalez for the first time. He was good at the level over the winter, hitting the board several times. He'll also get a jockey upgrade from those races, to Victor Carrasco.
#2 Yes Man (7/2): Chased a loose leader last out in a $16,000 race, but held his own and was second, well clear of the rest. Drops for $10,000 for the first time here, and should be on or near the pace. 
#5 Created Special (9/2): Another one taking a drop in class, he had steadily been running figures in the high-60s, before giving way on the pace in his last start. His recent workouts look razor-sharp. Profiles as one of the main speeds. 
 inANALYSIS
RACE 4: MAIDEN SPECIAL WEIGHT, 3-YEAR-OLDS AND UP, FILLIES AND MARES, 1 1/16 MILES (GRASS)
3-9-13-15-16 (DIRT: 5-16-3-4)
#3 Pretty and Fast (5/2): Got wagering in action in her grass debut against Florida-breds in her last race, but hung in the stretch and finished third, beaten less than two lengths. The winner of that race, Lady Panda, came back to win a Florida-bred allowance in her next start. This is a pretty easy maiden field, and she gets blinkers on plus Trevor McCarthy in the saddle. Hoping for some improvements second time out. 
#9 Ylikeddis (3/1): The Rubley/Pimentel trainer/jockey team has a live one here. She's been knocking on the door against maidens, finishing a fast-closing second at Tampa Bay Downs in her last start. Her figures have improved each time out, most recently running a 79, the best last-out figure in the race by five points. 
#13 Maliceinthepalace (6/1): She would've broken her maiden last out at Aqueduct if not for a bad start and a brutal head bob. That was a lifetime-best figure for her by ten points, and her last race for six months. Can she keep up her improvement off that long a break?
RACE 5 – CLAIMING $5,000, 3-YEAR-OLDS AND UP, 5 1/2 FURLONGS
2-12-9-8
#2 Smokin Hot Factor (4/1): Had a very rough trip last out, but closed well and lost by less than two lengths. He was claimed out of that race by Kieron Magee, who is 21% first off the claim. Gets a big upgrade to Alex Cintron, after being ridden by gems of a lesser water in his last few. He's a closer in a race full of speed, to boot. 
#12 Iwishiwasspecial (15/1): Hasn't been able to make up a lot of ground in his last few, but he's never seen a pace like this one. His late pace figures are among the best in the race, and his speed figures are consistently in the upper echelon. Could pick up the pieces at big odds. 
#9 Belmont Ride (10/1): Could get caught up in the pace, but should be able to rate just off the leaders and pounce for the win, just like he did in his last race. 
RACE 6: MAIDEN CLAIMING $25,000, 3-YEAR-OLDS AND UP, 1 1/16 MILES (GRASS)
7-2-1-4 (DIRT: 10-16-1-2)
#7 Storm Tower (5/2): Showed speed and backpedaled in his first two races on grass, then never lifted a hoof when on dirt for his next two. Gets back to his preferred surface for his 2020 bow. His best figures fit right in with the other top contenders, and he should be able to get out to a lonely lead.
#2 Stand My Ground (2/1): His last grass race, back in October, was impressive. Sent off as the favorite against straight maidens, he closed well to finish second. Two races before that, he ran a figure of 81 when second in a $40,000 race, a figure that would soundly beat these. Interesting to see Wes Hamilton jump off for chronic maiden Yes Means No; Feargal Lynch picks up the mount on this one. 
#1 Crazy Kater (10/1): Scored a respectable third in his grass debut in September, after racing wide on both turns. Should enjoy the class drop and the inside post draw. 
 iANALYSIS
RACE 7 – CLAIMING $8,000, 3-YEAR-OLDS AND UP, 5 1/2 FURLONGS (DIRT)
6-3-5-10
#6 Easy River (5/2): A lot of these hard-knockers are capable of firing bullets, but only Easy River consistently fires them. He hasn't run a figure below 85 in his last four races, and won his first three starts of the year before losing a photo against Maryland-bred allowance foes last out. He is taking a big drop in class from earlier in the year, when he beat $16,000 foes, but this is no soft bunch, despite the lower tag. 
#3 Jack Straight (4/1): Sat a perfect trip and drew off to soundly beat an $8,000 field last out. Marquez keeps the mount, and should be able to sit just off the leaders once again. Has some of the best late pace figures in the field, suggesting a strong closing move. 
#5 Lord Simba (8/1): Won two in a row at Parx in the winter, then found the upper open claiming levels a bit too tough for his liking. He ran a sharp figure of 89 last out, but couldn't execute despite a good trip off a duel. Gets a jockey upgrade to McCarthy, and has a bullet drill at Delaware Park from May 16 on his records. Worth a shot at a price.
RACE 8: ALLOWANCE OPTIONAL CLAIMING (N/W3X), 3-YEAR-OLDS AND UP, FILLIES AND MARES, 5 1/2 FURLONGS (GRASS)
6-14-10-5 (DIRT: 10-4-6-7)
#6 Ellyb (3/1): Impressed over the Laurel grass last fall, when she stalked the pace and drew off to handily defeat a n/w2x allowance field. She ran a lifetime top brisnet figure of 93 in that race. This'll be her first start since finishing second in a stakes at Woodbine in October, but Arnaud Delacour is 27% with horses off a long layoff. I expect a big effort first off the bench.
#14 Ode to Joy (6/1): One of the few members of the field with a win in 2020, having won at Tampa Bay Downs in January. Coming off a fourth-place finish against a similar field in the Lightning City Stakes. She's impressed at Laurel in the past, with two wins from four starts on the track. 
#10 Miss Auramet (2/1): She's going to go as fast as he can, as far as she can. She won twice over the speed-favoring Gulfstream Park grass earlier in the year, but how will that style play here? It's a tough question to ask at short odds. 
RACE 9: CLAIMING $5,000 (N/W2L), 3-YEAR-OLDS AND UP, 5 1/2 FURLONGS (DIRT)
9-7-2-3
#9 Golden Spun Lad (5/1): Lightly-raced gelding chased the leader around last out at Penn National, and ended up a solid second with a career-best figure. He broke his maiden with an impressive closing rally here back in November, and should enjoy the return to this track. 
#7 Chuck's Dream (4/1): He got bet off the board in his first try at the level, but he got involved in an early tussle and backed up badly. He was claimed out of that race by Kieron Magee, and has been working well for another shot. That was his first race against winners, and he looks fast enough to outrun most of these, so I'm willing to give him another chance. 
#2 Five Card Draw (9/2): Faces the easiest field of winners he's ever seen, after a rough start last out at Penn National doomed him. Should stalk the leaders, and if they indeed tire out, he'll get first run. That's the trip that worked for him three races back. 
RACE 10 – STARTER OPTIONAL CLAIMING $16,000, 3-YEAR-OLDS AND UP, 1 1/16 MILES (GRASS)
8-13-7-14 (DIRT: 10-11-3-4)
#8 Bay Bridge (10/1): The only one in the field who's a confirmed front-runner. If Johan Rosado is aggressive with him, and is able to set a comfortable early pace, he could be gone. 
#13 No Knock Raid (8/1): Closed well in several starts against tougher last year, but now makes his first start since July 12. He's well-versed over the Laurel track, with four wins from 22 starts. Workouts over the past month or so have been solid. 
#7 Bowsprit (9/2): Won the Maryland Million Starter Handicap last year by closing from the clouds at 14/1. It was by far his best race of the year, so I'm a bit skeptical as to if he can repeat it. Still, it's out there.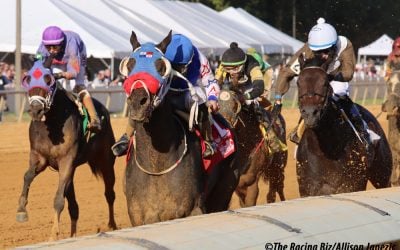 We provide full-card picks and analysis for this afternoon's races at Laurel Park.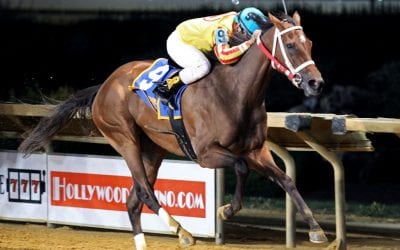 We provide picks and analysis for this evening's card at Charles Town Races.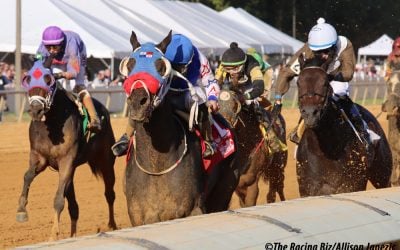 We provide full-card picks and analysis for this afternoon's races at Laurel Park.