Laurel Park picks and ponderings March 6, 2020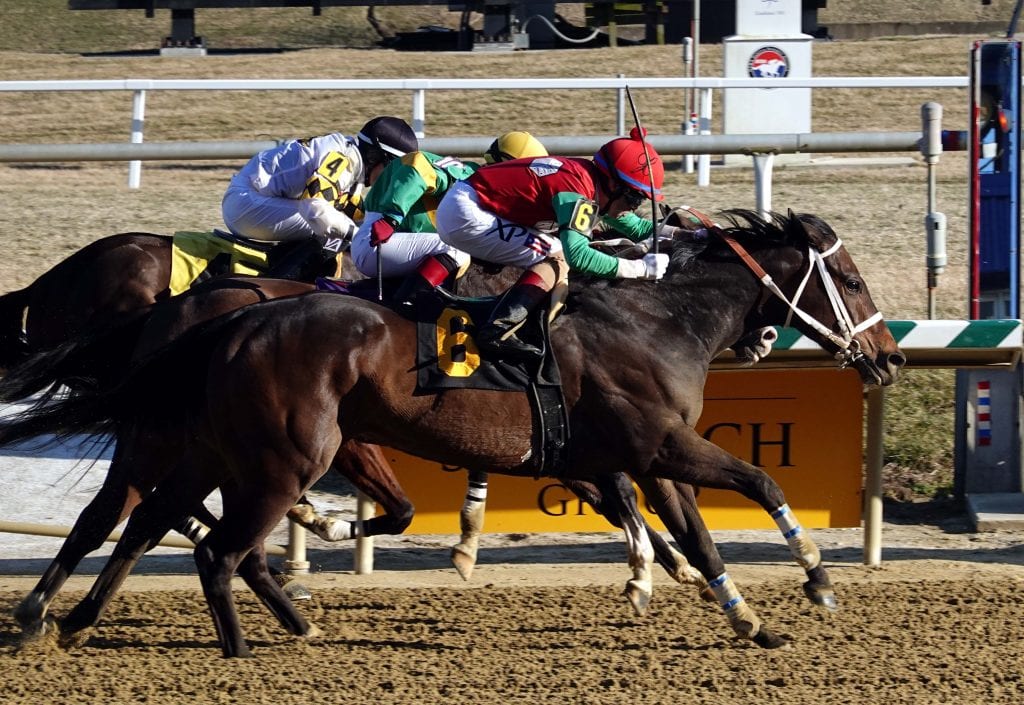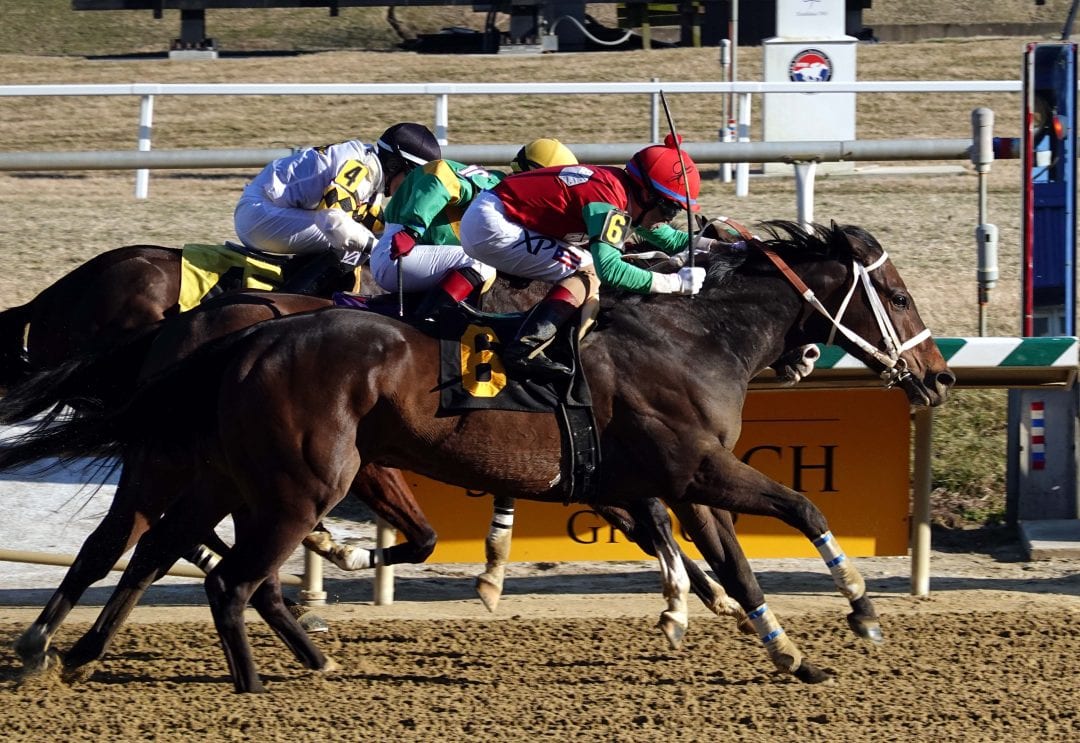 Anna's Bandit. Photo by Laurie Asseo.
In which we pick the races from Laurel Park each day…
Post time: 12:25 p.m.
Carryovers: Rainbow Jackpot Pick 6 — $8,627; Super High 5 — None; Late Pick 5 — None
Notable: With horses making their second start off a layoff of at least 180 days, trainer Cal Lynch had a record of 10:4-4-1 in 2019.
ANALYSIS
RACE 1
4-5-2-3
The fave in this maiden special weight going seven-eighths is #5 Welling (7-5), and the Trombetta trainee gave a good account of himself last time when second against similar, but we think he's worth trying to beat at short odds; in that last one, he and his pace rival got away with easy early fractions in a race where no other horse ran either early or late (the top trio were one-two-three all the way 'round); today, cutting back to seven furlongs, the pace should be hotter, and while fitness won't be an issue, he should have work to do late… The horse who figures to set that pace is top choice #4 The Cairo Kid (2-1), who led a long way on debut before settling for second and can move forward today…
RACE 2 
5-4-7-2
Top choice #5 Cape Lookout (5-2) rallied willingly into third but couldn't seal the deal last time; trainer Magee wins 26% of the time with horses making their second start in his barn that were in the money last time, and this one gets McCarthy in the irons… #4 Cool Man Cletus (8-1) makes his first start in the Maldonado barn after the claim and enters off an easy win versus lesser…
RACE 3 
1-4-5-2
Good try to be second while clear of the rest last time by #1 Eloquent Lady (3-1), and trainer Cal Lynch has been on a heater with horses making their second start off long layoffs; he had a record of 10:4-4-1 in 2019… Speaking of heaters, the continuing-to-be-hot Mancilla barn sent out #4 Special Freedom (2-1) to a good second on debut, and she gets Lasix on for the first time today… We'll have #5 Thunderinthealley (6-1) on the ticket, too; while the dam was a pretty good turf horse – and that could be where this one ends up – one sib won at first asking, this one has been working well enough, and the presence of Pimentel in the irons generally seems a positive…
ANALYSIS
RACE 4
7-1-4-5
Last time out #7 Incubator (7-2) showed speed and tired going two turns at Parx Racing; he can step forward today, and a return to his earlier form would be sufficient to put him right there in this spot; at his best he likes to show speed, and breaking from the outside in a field without a ton of early lick, he might get the trip he wants… #1 Greek God (2-1) has been running reasonably well while competing at this level, and he does like this seven-furlong trip (two wins), though it's worth noting he's lost six straight versus similar… #4 Grosco (10-1) ran pretty well last time while chasing the chalk and can improve in his second start off a three-month break…
RACE 5 
2-1-4-3
This one runs right through the favorite, #2 Artful Splatter (6-5), who enters on a five-race win streak, all at this one-mile distance; among those wins was a Geisha Stakes victory over the redoubtable Anna's Bandit, earner of over $700k; this miss figures to control the pace from the jump and be awfully hard to reel in… #1 Wicked Awesome (7-2) won a first-level allowance at PEN by a pole four back and last out took a tough starter at PRX; five of six to run back have finished in the exacta next out… 
RACE 6 
3-1-4-6
Let's give another crack to #3 Marden (3-1), who ran just OK last time in his first try on a wet racetrack; he should appreciate going two turns, and back on a fast track may do the trick for a runner who's won two of seven… He'll need his 'A' game, but #1 Marylander (9-2) certainly arrives in the right way, off a dominant win versus lesser, and seems to be moving in the right direction… 
ANALYSIS
RACE 7
3-5-2-4
The morning line favorite is #2 My Queen Michelle (2-1), and she deserves to be on the ticket, but we think it's worth trying to beat her for a couple of reasons: 1) after breaking her maiden, she's lost five straight, all against similar; and 2) it's hardly dispositive, but her two highest speed figs both came on off tracks… Our pick to get the money here is #3 Money Fromheaven (5-2); it's a racing truism that the hardest condition for a horse to surmount is that between a first- and second-level allowance, and this miss nearly did it last out, when rallying into second in a two-other-than – despite still having this a-other-than condition available; the onetime stake winner drops into a much more congenial spot today… Not sold on #6 Song of the Night (5-2) who trounced a very weak field at 1-20 odds… Curious to see #5 Black Kettle (8-1), who won nicely at first asking in a race that produced three next-out winners but whose follow-up, at AQU, was just OK versus a middling field…
RACE 8
8-1-3-4
This contest looks to come down to #1 Benintendi (8-5) and #8 Mungojerrie (9-2), and, at the morning line, we'll take the latter… The former won nicely at first asking and has since been second twice at this level; he just missed last time against the hard-hitting Bobby G, and three to five to run back from that contest have finished in the triple next time; he may have gotten a bit tired late last time, so the cutback to seven furlongs should be fine… The latter won his dirt debut — his third race overall — by 16 lengths at TAM and followed that up with a willing second in a game effort in which he led late before falling to a horse sitting a perfect trip off a multi-pronged speed duel; breaking from the outside, he ought to be able to grab the lead or sit right off it and get a friendlier trip than he had last time, when he was wide and between horses…
RACE 9
3-9-6-1
Let's see if we can make the getaway race a profitable one with #3 Highland Lass (6-1); this one is plummetting from two-other-than company to bottom claiming in her third try for Farrior and was eased late in her last; if she can get back to anything remotely approximating her not-so-long-ago form — say, three races back, when she cruised for $16k — she'll be too much for these and at an attractive price…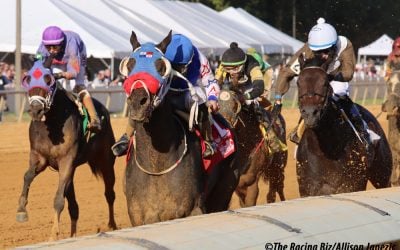 We provide full-card picks and analysis for this afternoon's races at Laurel Park.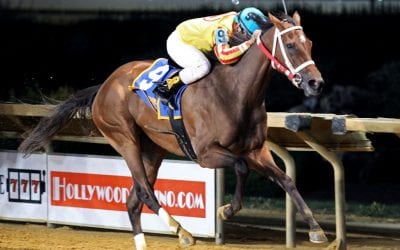 We provide picks and analysis for this evening's card at Charles Town Races.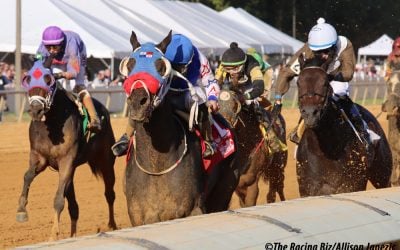 We provide full-card picks and analysis for this afternoon's races at Laurel Park.