Laurel Park 2020 Winter Sprintfest stakes: In Focus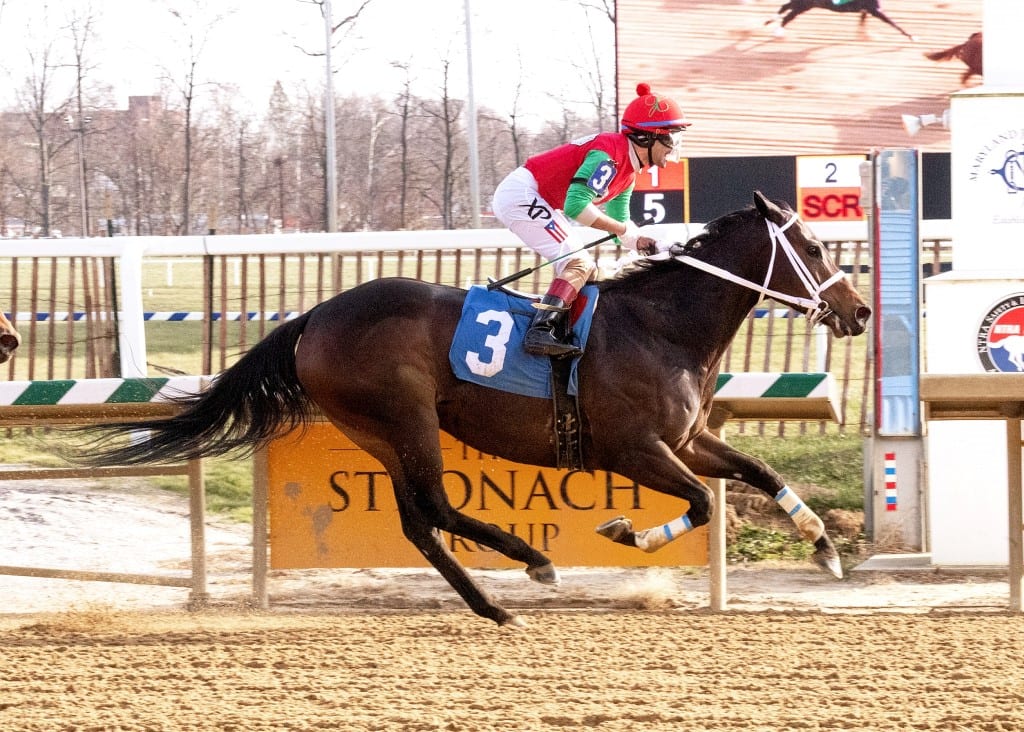 Anna's Bandit won the Politely Stakes at Laurel Park. Photo by Jim McCue, Maryland Jockey Club. 
Saturday's five-stake afternoon at Laurel Park represents the biggest racing day of the winter in Maryland and includes two Grade 3 events, the Barbara Fritchie and the General George.
Post time for the nine-race card is 12:25, and the first stake, the John B. Campbell, goes at 1:50 p.m.
OTHER WINTER SPRINTFEST CONTENT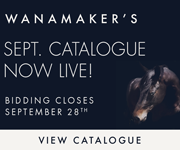 RACE 7 – GRADE 3 BARBARA FRITCHIE STAKES
RACE PARTICULARS: Race 7 (3:20 pm EST), $250,000 guaranteed purse for fillies and mares 4yo and up, 7 furlongs
Anna's Bandit (3/1):

This West Virginia-bred fan favorite takes a crack against graded stakes company. Her figures have taken a notable decline from her peak last summer, and she's coming off a second-place finish in the Geisha Stakes at 2-5. She'll almost certainly be overbet because of her name value. You gotta root for her, but I wouldn't use.

Saguaro Row (9/5):

Coming off a big win in the Interborough Stakes at Aqueduct, where she ran a career-best figure of 102. There isn't a lot of speed in here, so she may not get a pace to run at, but her closing kick lately has been strong enough that she has to be strongly considered.

Blue Eyed Girl (8/1):

She's got the early speed, she's got the figures, and she's won four of her last five. The only thing she doesn't have is the class; this is her stakes debut. What to make of a horse like this? She could run them off their feet, but could also wilt if she gets a challenge from a better horse. Has to be used in multi-race bets, but I can't tell if she's classy enough for the win.

Majestic Reason (4/1):

She loves Laurel Park, finishing in the top two in eight of nine tries here. Coming off a grinding win in the Willa on the Move Stakes, so she's clearly in good form right now.

Victim of Love (8/1):

Upset the What a Summer Stakes last out after being on the pace. She'll get some competition on the front end in Blue Eyed Girl, but she's shown that she can tussle and have enough to fight late. Will that fight be good enough in this battle?

Needs Supervision (9/2):

Got a pace to run at in the What a Summer, but couldn't finish the deal and was second at 3-5. Can she bounce back off that race? She had been in great form prior to that, with a runaway win in the Safely Kept three back ad a decent showing in the Go For Wand. Recent workouts have been blazing. Has to be respected.
THE PICKS
#2 Saguaro Row: Formful sort was G3-placed two back behind G1 winner Spiced Perfection.
#6 Needs Supervision: Will be running late.
#3 Blue Eyed Girl: Will get tested for class but impressed in N2X win over the strip.
#4 Majestic Reason: Distance a question, but she sure does love LRL.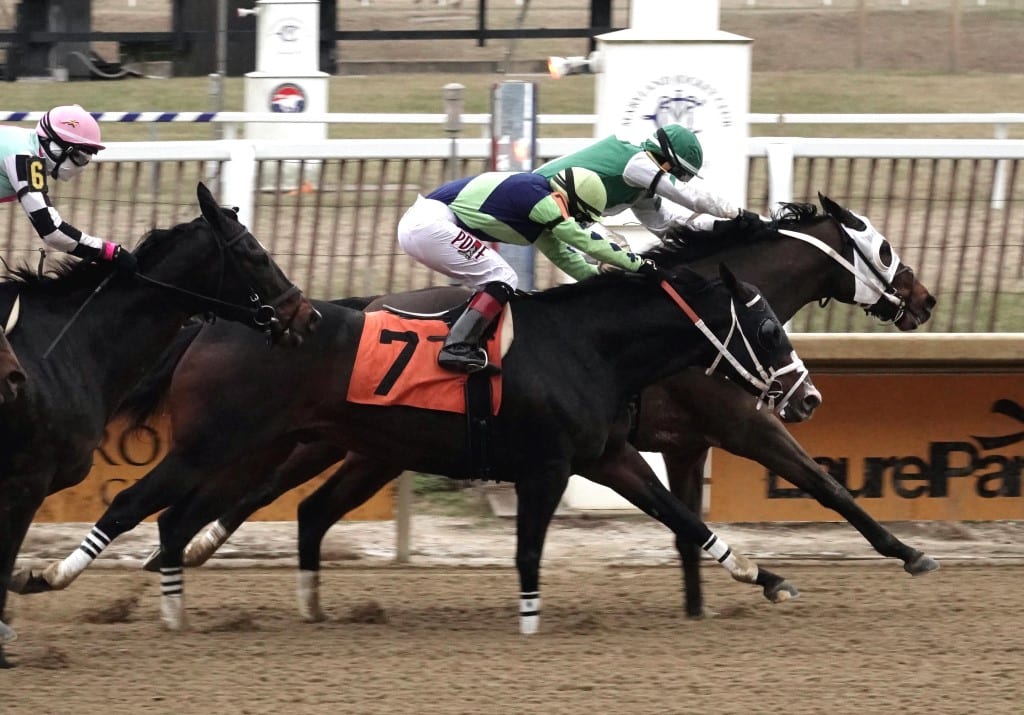 Honor the Fleet held off Threes Over Deuces to win the Fire Plug Stakes at Laurel. Photo by Laurie Asseo.

Race 8 — GRADE 3 GENERAL GEORGE STAKES
RACE PARTICULARS: Race 8 (3:49 pm EST), $250,000 guaranteed purse for 4yo and up, 7 furlongs 
Lone Rock (15/1):

Showed a new dimension last out when beating an allowance field at Aqueduct. He's unproven against sprint stakes company though, and in fact doesn't have any races shorter than one mile in his recent lines.

Wonderful Light (10/1):

He's been holding his own in stakes company as of late, but I don't think his best is enough to get the job done.

Factor It In (15/1):

Has won two allowance races in a row at Laurel, with good stalking trips each time. He can't keep usual jockey Feargal Lynch, who jumps aboard Still Having Fun, so Jorge Ruiz will pick up the assignment. Should get a good setup on the inside off the pace.

Still Having Fun (10/1):

Put himself on the map with a big win in the 2018 G2 Woody Stephens, but hasn't found that good form since then. He's tried a bunch of running styles, to no avail. Cannot endorse here.

Honor the Fleet (12/1):

Another Laurel local in good recent form. He took the Fire Plug Stakes last out after a long stretch battle with Threes Over Deuces. Makes his third start off the layoff here, and should be ready to fire a big one.

Firenze Fire (4-5):

Clearly the classiest member of the field, he won three stakes races last year and was a nose away from taking the G1 Vosburgh. He's run a brisnet figure of at least 100 four times in a row, while most of his rivals struggle to do that even once. Will be very tough to beat.

Three Over Deuces (12/1):

He's been on a hard-luck streak as of late; in three of his last four, he's finished second by less than a length. He always gets a great trip stalking the pace, but is never able to kick away. Not a great trait to have.

Tiz He the One (8/1):

At this time last year, he looked like a very promising horse in the older male division, and was sent to the Razorback Handicap to prove his worth. He promptly got annihilated and was on the shelf for a few months. Has been decent in his comeback, but couldn't get by last out in the Fire Plug.

Wicked Trick (6/1):

He's won six races in a row, and has been on a steady improve for six months. Last out, he crushed a starter allowance field by almost ten lengths, with a gigantic brisnet figure of 107. Can he keep the magic going?
THE PICKS
#6 Firenze Fire:

 Millionaire has too much class for these.

#9 Wicked Trick:

 Winner of six straight versus lesser hoping for lucky seven.

#5 Honor the Fleet:

 Has mounted modest two-race win streak while showing new dimension last out and closing into the pace.
#7 Threes Over Deuces: Back-to-back hard-luck seconds but should get good stalking trip.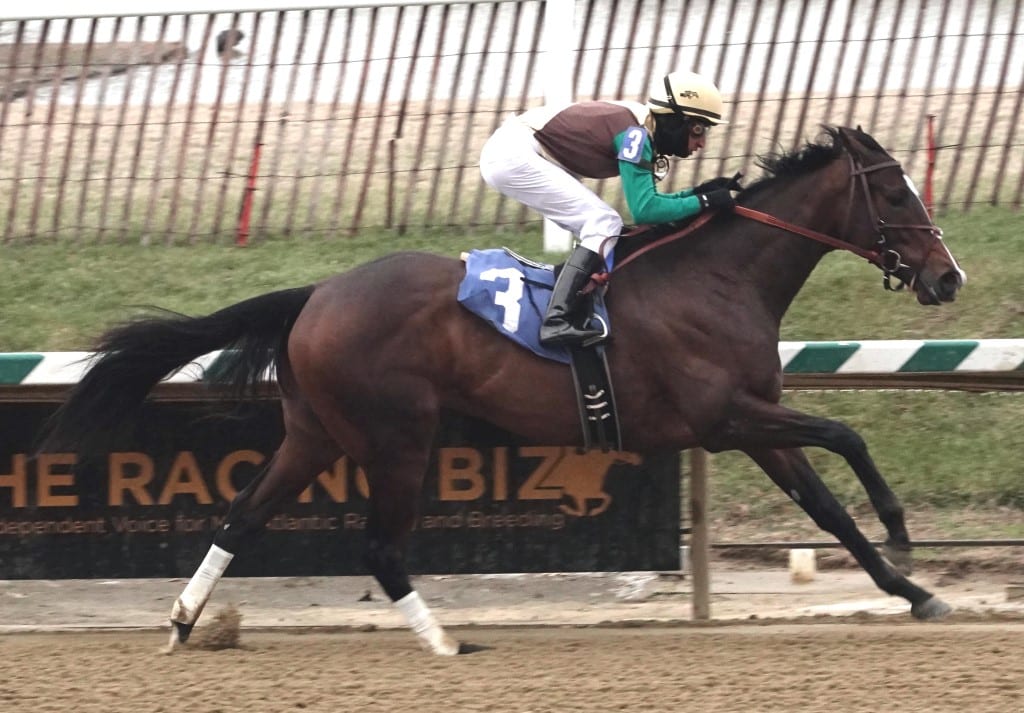 Alwaysmining won the Jennings Stakes at Laurel Park. Photo by Laurie Asseo.

Race 4 — JOHN B. CAMPBELL STAKES
RACE PARTICULARS: Race 4 (1:50 pm EST), $100,000 purse for four-year-olds and up, 1 1/16 miles
Wait for It (5/1):

Rounding into form with a string of good races in Pennsylvania. Beat a good allowance field at Parx with a great stalking trip, and should get a similar setup here.

Bonus Points (20/1):

Stone-cold closer hasn't done much in recent tries against similar. Don't see why this would be different.

Alwaysmining (3/1):

One-time Maryland-bred Derby/Preakness hopeful won the Jennings Stakes last out as much the best. Finished second in open company two races ago, with a career-best brisnet figure. He looks like he's finally starting to come into himself, and that will be dangerous for the rest of these.

Someday Jones (5/2):

McCarthy's pick over Wait for It, he won the Native Dancer Stakes last out going away, beating the other two favorites in this race. He's run at least a 100 in three of his last four starts, with excellent pace figures. The only concern is that he's gotten a pace to run at every time, and if Alwaysmining (or someone else) can slow down the tempo, this closer could get into trouble.

Senior Investment (12/1):

Was impressive in victory last out, but he tends to struggle against allowance company. How will he do against stakes horses?

Monongahela (2/1):

Irad Ortiz has picked up several mounts on the card, this is one of them. The impressive winner of the Iselin has excellent tactical speed. He didn't last in a battle against Alwaysmining last out; if he can slow down the tempo this time, he's in with a great shot.

Forewarned (10/1):

Showing some impressive class lines, but was a complete non-factor in his tries against grade 1 horses last year. Got badly outkicked by Someday Jones when they faced each other in December. Once in a while pops up with a good effort, but I can't bet on it.
THE PICKS 
#3 Alwaysmining: Looks like he's rounding back into form that saw him run the table of Maryland 3yo stakes last year en route to Preakness berth.
#4 Someday Jones: Late-running sort enters in good form, hopes for a pace to run at.
#1 Wait for It: Good-looking win last time; must bring 'A' game against stakes foes.
#6 Monongagela: Bounced a bit last time when third at 6-5 but can get back to best on third after break; don't ignore I. Ortiz in the irons.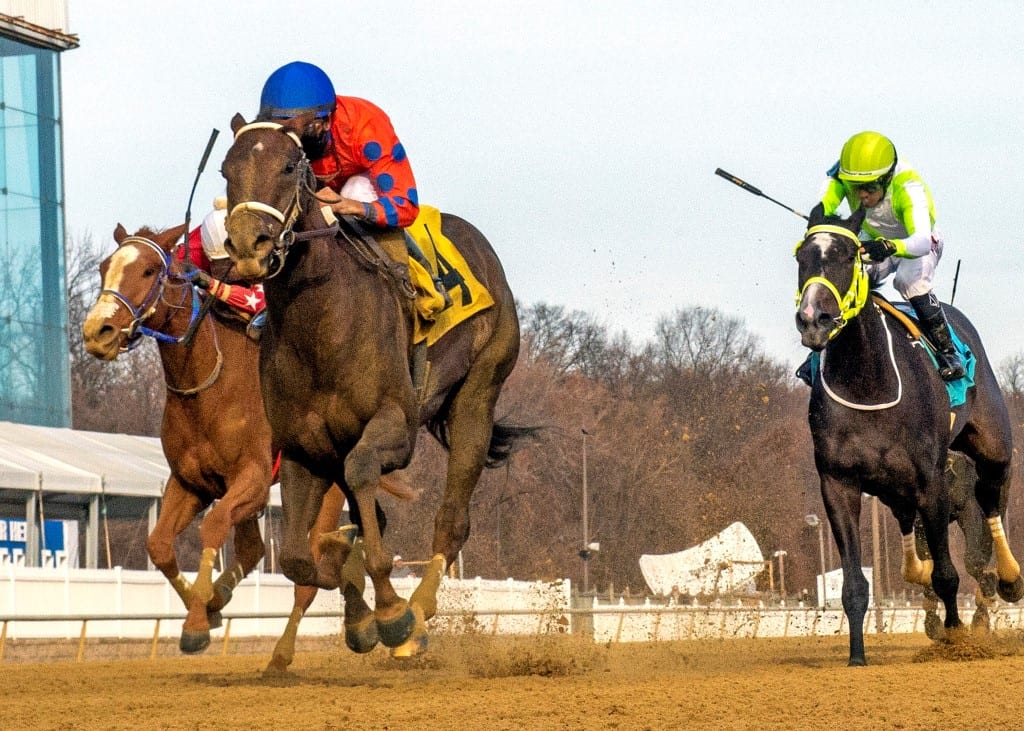 Bella Aurora won the Gin Talking Stakes at Laurel Park. Photo by Maryland Jockey Club.

Race 5 — WIDE COUNTRY STAKES
RACE PARTICULARS: Race 5 (2:18 pm EST), $100,000 guaranteed purse for 3-year-old fillies, 7 furlongs 
Bella Aurora (3/1):

Won the Gin Talking Stakes last out with a strong come-from-behind move. She started out on grass, but since Mike Trombetta moved her to dirt, she's become a new horse, with two career-best figures in a row. If she wins this impressively, will the Oaks become a possibility?

She'smysunshine (12/1):

Got a great setup last out and won going away. It doesn't look like she's on an improving pattern, figure-wise, and I don't think her best is good enough to beat these.

Lady George (15/1):

Got going when clear last out. She's improved sharply in her last two races, and could upset the apple cart underneath.

Paisley Singing (30/1):

Expect her to show speed and give way quickly.

Miss Marissa (4/1):

Take out her start in the Demoiselle, where she got off to a terrible break, and you'll find a filly who's been running good figures and keeping good company. She broke her maiden impressively at Belmont Park in September, struggled against better horses, then was a solid third in the Ruthless Stakes last out. Looking for her to pounce and stalk.

Princess Cadey (5/1):

She's certainly not lacking in experience: this will be her 12th career start. Absolutely smoked an allowance field last out, pressing the pace and drawing off to a big win. She's been running career-best races as of late, and Claudio Gonzalez puts his first-call jockey, Alex Cintron, in the saddle. Worth a look.

Naughty Thoughts (5/1):

Flattened out despite good setups in her last two. Not a great sign.

Sunday Inn (8/1):

Lightly-raced Pennsylvania shipper grinded out a win last out after sitting on the pace. It was her first race off the layoff and a career-best figure; is she rounding into form at the right time?

Bankruptonthebeach (9/2):

Irad gets the mount on this Monmouth maiden-breaker, who hasn't raced since July. Entirely possible Jason Servis has her in peak form right now, but I'd like to see one first before committing at low odds.
THE PICKS

#1 Bella Aurora:

 Versatile sort gets intriguing test here; impressive win could presage taking bigger swings down the road.
#6 Princess Cadey: Something about the Gonzalez barn agrees with this miss; she's been lights-out since the claim and obliterated allowance foes last time.

#9 Bankruptonthebeach: 

Won at first asking but remains a bit of a blank slate, as that July race is her only start to date; ambitious spot for return to action from a barn that can win off the break.

#5 Miss Marissa:

Nice effort last out when third in the Ruthless; draw a line through Demoiselle disaster.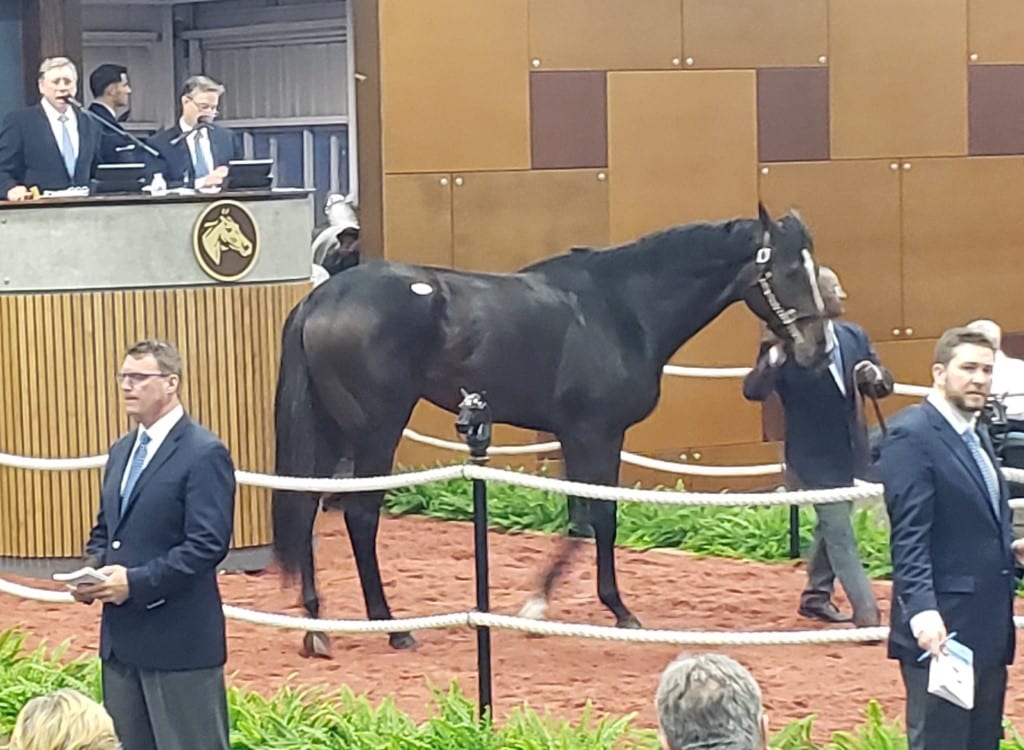 Mine Not Mine at the FT Midlantic mixed sale. Photo by The Racing Biz.

Race 6 — MIRACLE WOOD STAKES
RACE PARTICULARS: Race 6 (2:51 pm EST), $100,000 guaranteed purse for 3-year-olds, 1 mile
Lebda (4/1):

Outkicked in his last few against stakes company, after a promising start to his career last summer.

Gray Gary (20/1):

Jamie Ness trainee cruised to a gate-to-wire win last out at PEN after setting an honest pace. That was definitely against weaker horses than he'll see here, though. He's definitely a need-the-lead type, so if he can't set some cushy fractions, he might find himself in trouble.

Dreams Untold (5/2):

If he broke his maiden by 14 lengths and earned a 98 brisnet figure at Gulfstream, Santa Anita, or Oaklawn, he'd be the latest Derby twitter darling. However, he did it at Parx, so he's a bit under-the-radar coming into this race. If he wins this race, and he should, that could change.

New Commission (8/1):

Backed up in the Withers Stakes after being on the pace. Now cuts back around one turn, where he's excelled. Just missing pulling off a 14/1 upset in the Heft Stakes two starts back, where he rated off the pace and grinded on. What will he do here?

Albert Park (7/2):

Won the Fitz Dixon Stakes at Presque Isle Downs last year, then got outkicked in his sophomore debut at Tampa Bay Downs. It was a career-best figure, and he showed some good closing speed last year. Definitely can suck up for a piece.

Bernie's on Fire (9/2):

Speedy gelding was game in victory last out, winning by a half-length in a n/w1x allowance with a big figure. One of the two Maryland-bred Gonzalez-trained horses in the field, he's going to rate off his stablemate and pounce.

Amen Corner (10/1):

Gets Lasix for the first time after a gutsy maiden win that saw him improve his figure by 20 points. Lynch picks up the mount, as Russell jumps off to ride Mine Not Mine. Workouts coming in here have been sharp.

Mine Not Mine (12/1):

Leaves the Gonzalez barn after selling for $210k and races for Brittany Russell for the first time. He'll have to do it from far back, but he's shown a good closing kick in both of his races.

Romanoff (15/1):

Gonzalez's other entrant in the field, he's won two races in gate-to-wire style, but backed up after encountering pace pressure in the Heft Stakes. I imagine this will be similar.
THE PICKS

#3 Dreams Untold:

 Perhaps a bit under the radar, but this one graduated like a star in the making and gets the chance to prove it here.
#6

 Bernie's on Fire:

 A lot went wrong in the Lewis, but his other two starts are fine; looks for a stalk-and-pounce trip today.
#5

 Albert Park:

 Two-time winner on synthetic (and an even third in a turfy G3), this one showed he could run on the main track when second in the Pasco at TAM.

#7 Amen Corner: 

Gets Lasix following smashing graduation.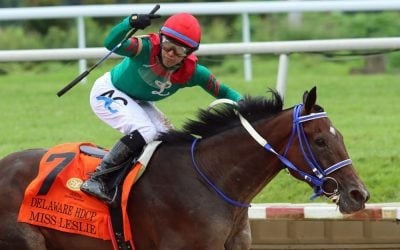 Racing returns to Delaware Park May 24, and we return with Delaware Park picks and analysis for the track's 86th racing season.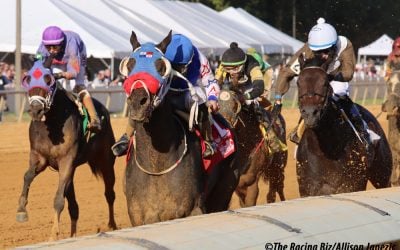 We provide full-card picks and analysis for this afternoon's races at Laurel Park.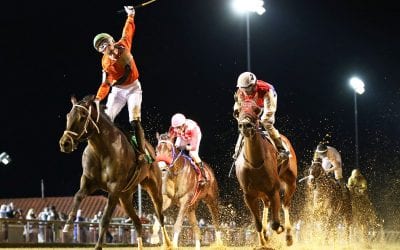 Full-card picks and analysis for this evening's live racing card from Charles Town Races!