Laurel Park picks and ponderings February 8, 2020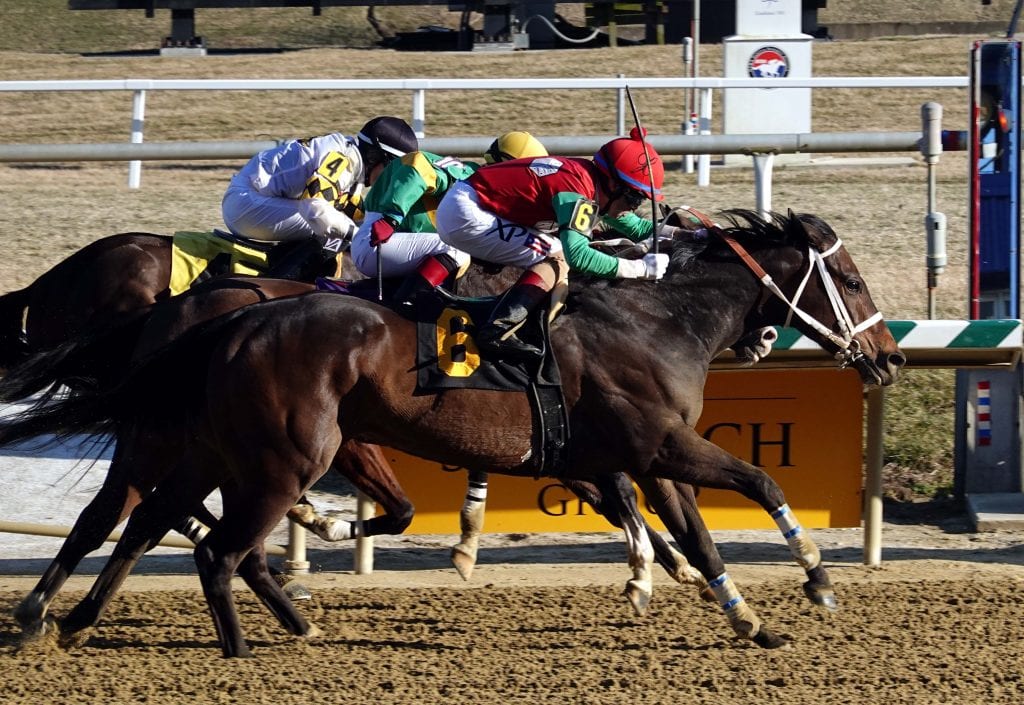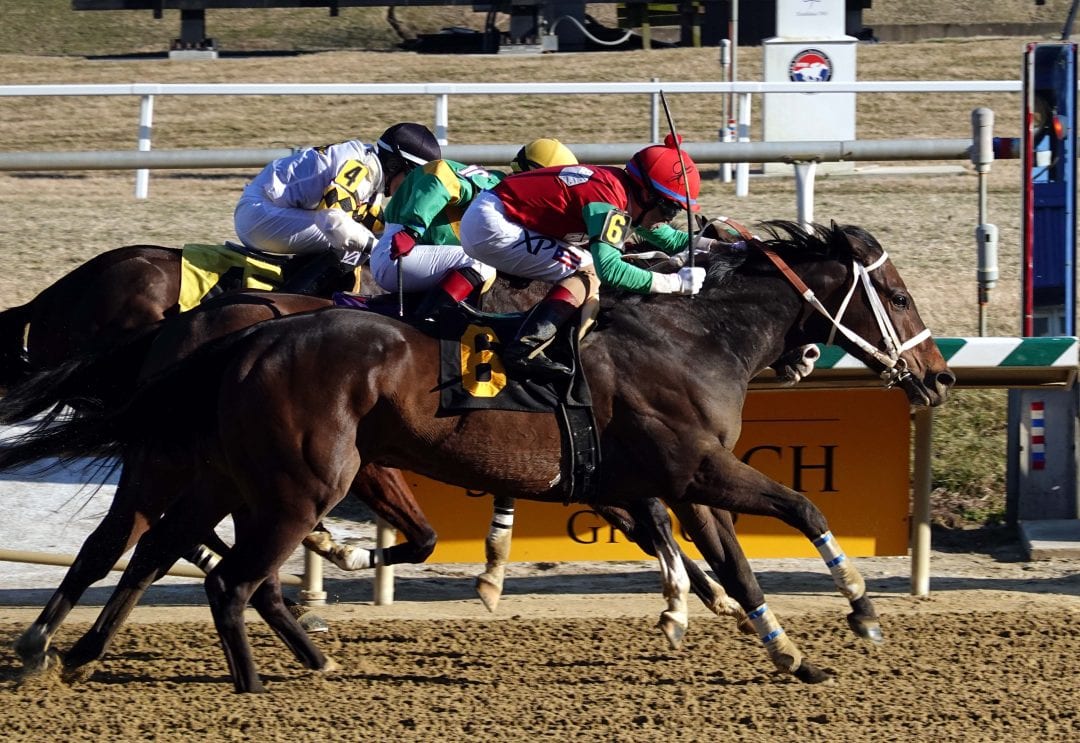 Anna's Bandit. Photo by Laurie Asseo.
In which we pick the races from Laurel Park each day…
Post time: 12:25 p.m.
Carryovers: Rainbow Jackpot Pick 6 — $8,888; Super High 5 — None; Late Pick 5 — None
Notable: Trainer Mike Geralis is 7-for-26 with a $3.43 ROI going route to sprint.
ANALYSIS
RACE 1
5-1-3-4
Even though she failed as the favorite last time, that was a decent effort by #5 Off My Stage (2-1), who ran second against better behind Limited View, who returned to win a second-level allowance/optional claimer; in a race where there is some inside speed, she may sit a winning trip just off 'em… Favored #1 You Made It (9-5) got throttled in allowance company last out, well behind Three Hawk, who in her prior race had finished just a length behind the hard-hitting Anna's Bandit, and prior to that this one had won three straight…
RACE 2 
4-5-8-2
Nothing wrong with the debut of #4 Did I Stutter (4-1), who fought on willingly to be third against similar despite a wide journey; that, plus having run only once in her career, give her the nod over #8 Devilish Affair (3-1), who finished a length ahead of this one in the same race but who is 0-for-5 in her career and had a better trip that day… Kinda feel like #5 Chaysenbryn (6-1) will run better today at an attractive price; her debut against $75,000 maiden claimers was a trainwrck, but trainer Englehart has given her plenty of time (he's 8-for-35 with a $3.11 ROI giving maidens similar layoffs), and while he's dropping her, it's not a particularly aggressive drop, given how poorly she ran; she seems to have been training forwardly for her return to action…
RACE 3 
3-4-5-6
While trainer Scott Lake does not have a good record at Laurel in the last couple years, he actually has a pretty good mark first-off-the-claim at Laurel (10-for-47), as is the case with #3 Easy River (9-2), who won last out against similar and has been in good recent form… Trainer Mike Geralis is 7-for-26 with a $3.43 ROI going route to sprint, and he's doing just about the mother of all route-to-sprint moves with #4 On the Lam (15-1), who ran in a three-turn route at Charles Town last out and here cuts back to 5 1/2 furlongs; he'll be running on late… 
ANALYSIS
RACE 4 
1-2-7-6
The lightly raced #1 Moretti (9-5) cuts the right profile to win this first-level allowance; a $900,000 yearling, he's a half to millionaire Battle of Midway and is a runner trainer Todd Pletcher liked well enough to try in the G3 Withers last year; that didn't go so well, and then he was off from February to November, when he was throttled in an allowance by the popular Bodexpress, but last out, with blinkers removed, he ran on willingly in a nine-furlong allowance at AQU, and here he makes his third start off the bench… #2 Pretty Good Year (9-2) didn't have any answers against a tough group in the Jennings last out, but the Kelly Rubley trainee won a state-bred allowance two back that's produced two next-out winners… #7 Sparty (5-2) got throttled three back against similar, a race in which he was cooked as part of a three-headed speed duel, but trainer Lacey Gaudet has given him a couple of tries against lesser (which he's won) to get his feet back under him and now tries allowance foes once again…
RACE 5 
4-3-2-1
This race looked to have plenty of speed in it, but a couple of scratches somewhat change the complexion… Morning line favorite #3 Bodeflex (5-2) romped last out in a starter/optional claimer but a) we're not totally sold on the quality of that group and b) he figures to have some early heat from #1 Carey Times (4-1)… Let's try to beat him with #4 Souper Highvoltage (8-1), who rallied nicely on debut and, after falling a neck short, was put up via DQ for being bumped in the lane; he's posted a pair of bullet works since that race, and any improvement here could be sufficient… #2 Justwaveandsmile (6-1) graduated last out and figures to get a just-off-the-pace trip…
RACE 6 
2-3-7-6
The two most likely winners here are #2 Leading Man (7-2) and #3 Coffee Please (4-5), with the latter having shown more consistency and posting generally better numbers; so why pick the former on top? In a word, value; the two have seen each other just once, which was two races back for each, and Coffee Please finished a neck ahead of Leading Man, but it was Leading Man who had the worst of the trip that day, steadying into the turn and then checked in the lane while making a potentially winning move; he was outfooted last time in a short sprint but gets the added ground today and can move forward… Look for an improved effort from #7 Spiritus (30-1), who makes his second start in the Farrior barn and was eased last out… 
ANALYSIS
RACE 7 
4-6-2-5
There's no truth to the rumor that we're going to pick #4 Tappin Cat (5-2) every race for the rest of time (or at least until he wins again), but it sure does feel that way; he's run big races on the engine and stalking the pace, and last out he just missed against Harper's First Ride, who's 4-for-7 in his career; he'll probably stalk the pace of #2 King Koa (4-1) in this one and then try to take over in the lane… #6 Degrom (7-2) loves this 1 1/16-mile trip (six wins) and makes his first start in the Gonzalez barn today…
RACE 8
6-4-5-1A
Top choice #6 Successful Zip (3-1) won the speed duel last time but lost the war, as horses that were fifth and sixth early ended up one-two; the cutback to six furlongs won't hurt, and he figures either to be on the lead or sitting just outside #5 Ziggy Mon (5-1) in this contest… Morning line favorite #4 Buddy's Run (5-2) had the worst of the trip when steadying late last time and would benefit from a cleaner trip today…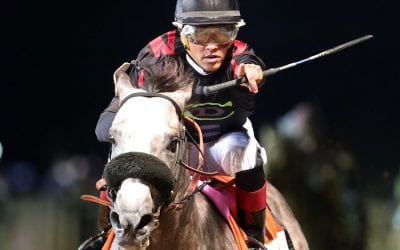 We've got Charles Town picks and preview today as the track presents its Friday card!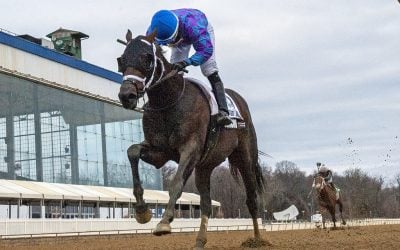 Which Laurel Park jockeys are off to hot starts? Asking for a friend; no, wait, actually asking for the betting public. Answers within…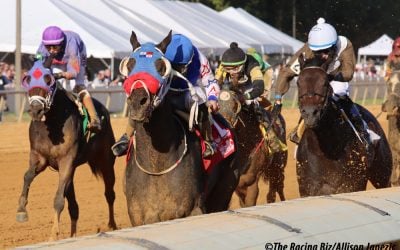 We provide full-card picks and analysis for this afternoon's races at Laurel Park.