Laurel Park picks and ponderings February 7, 2020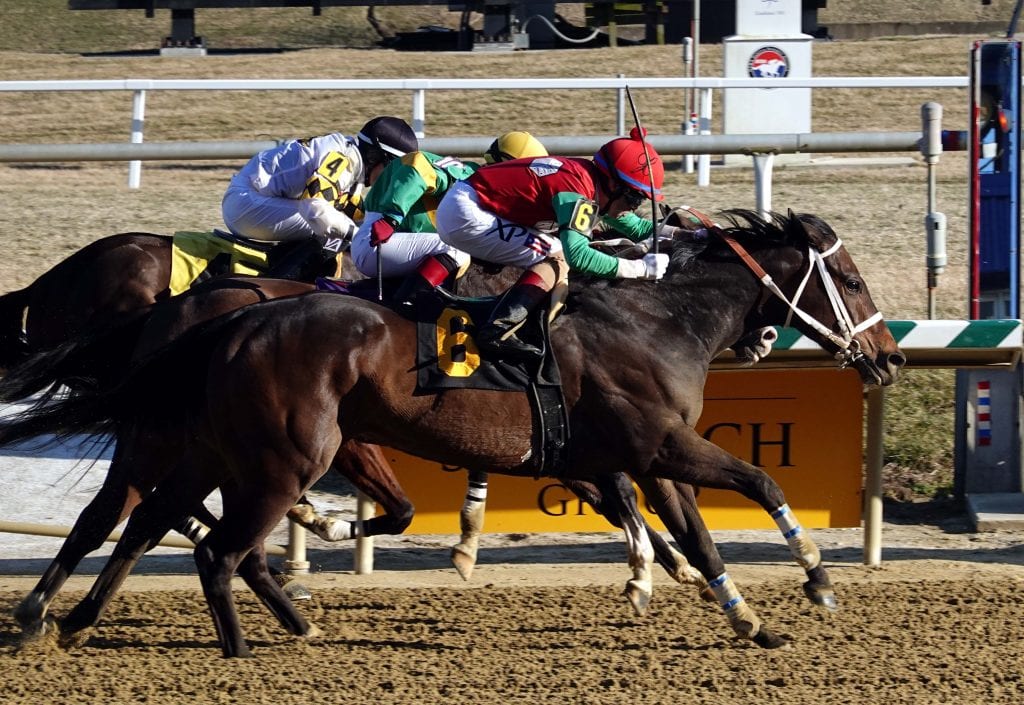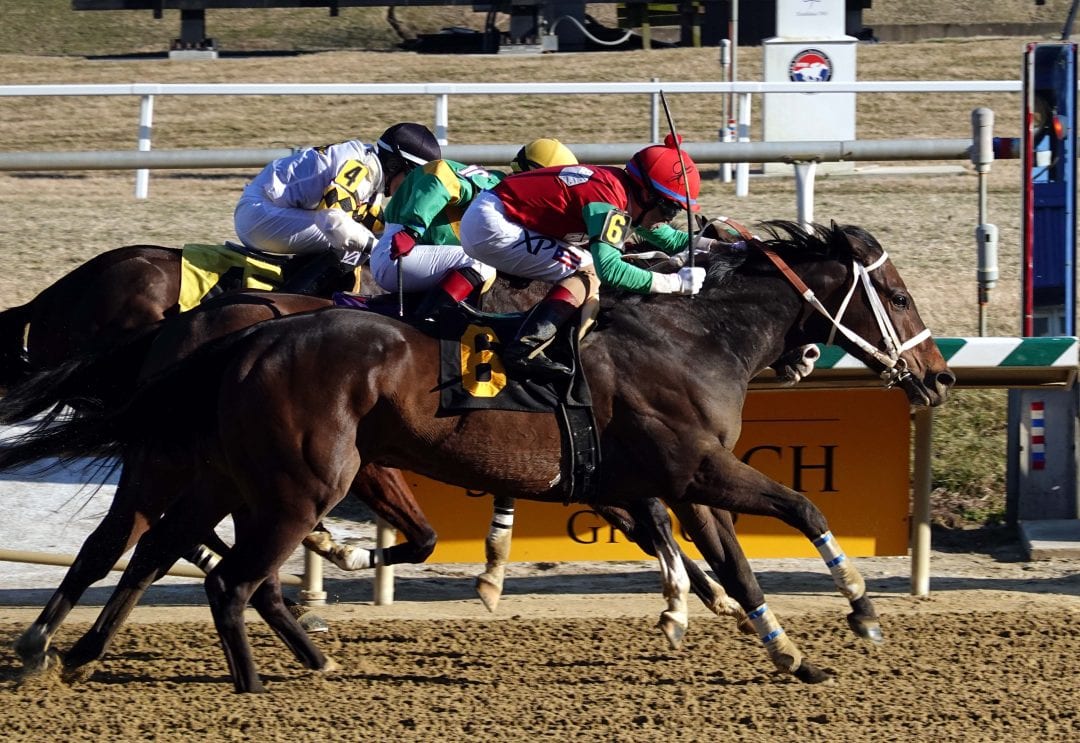 Anna's Bandit. Photo by Laurie Asseo.
In which we pick the races from Laurel Park each day…
Post time: 12:25 p.m.
Carryovers: Rainbow Jackpot Pick 6 — $8,888; Super High 5 — $3,279; Late Pick 5 — None
Notable: Trainer Brittany Russell has a flashy 5-for-13 mark with horses making their first start for her, including 3-for-4 with maidens.
ANALYSIS
RACE 1
3-7-5-6
Another sloppy track in the offing today… Pretty good tries in their mud bows for two likely contenders here, #3 Just Chill Out (7-2), who's our top choice, and #5 Table Max (5-2); the former was fourth against a better group in a race that's produced two next-out winners from five to run back but will have to navigate stretching out to a mile for the first time… The latter is a half-brother to $500k earner Digger and rallied well enough against similar last time, but his only mile try was poor… Look for an improved effort from #7 Smart Entry (12-1); he faced way better without notable success last out, but two back, against similar, he ran a sneaky-good race when rallying a little bit despite finding himself in trouble several times early…
RACE 2 
6-2-1-5
Pretty even group in this starter/optional claimer for horses that have never won three, and we give the nod to #6 Liz's Smile (5-2); the Linda Albert trainee makes her third start off a six-month break, stretches out to a mile distance she likes (5-for-5 in the money), and runs on an off track, which she's done successfully before… Favored #2 Dance and Dance (8-5) galloped against never-two rivals last out in her first stry on the mud…
RACE 3 
1-7-4-6
There looks to be a bit of speed in this maiden contest, which is good news for #1 Khalos Vision (4-1); the late-running sort makes her second start in the Dale Capuano barn and exits a race in which she was knocked nearly off her feet leaving the gate and never much engaged thereafter; Capuano's taking off the blinkers here, and this one gave her best effort — a runner-up try against better — in her second career start, that without the shades… Also losing the shades is #7 Bethabara (3-1), who's been quickly making her way down the class ladder…
ANALYSIS
RACE 4 
5-1-4-3
Slight morning lne favorite #1 Pigeon Creek (2-1) could well win here but is impossible to endorse on top; he's alrady raced (and lost) 12 times, is 0-for-8 on the main track, and has lost at this level seven times; so ya can leave somewhere on the ticket but try to beat him on top… #5 Laurel Lady (5-2) has a couple of OK tries versus similar on the ledger and ought to get a good stalking position in a race light on early speed… No idea what to do with #3 Bless the Rains (4-1); she's a 5-year-old maiden, which is getting a little long in the tooth to remain in the winless ranks, and she didn't run a step last time out; if she can get back to the form she flashed in late 2018, she'll win here… but can she?
RACE 5 
2-5-1-3
Don't love the last out performance of #2 Marden (5-2); he had a good trip pressing a manageable pace but never really got by the leader (he finished a nose ahead of that one) even as a couple of other runners came from farther back to go right on by — but in this spot, he likely is all by himself controlling it up front, and that might make the difference… One of those who went past is here today, in the form of #5 Sassy King (9-2), who ralied smartly at long odds to put a head in front before settling for second behind the 6-5 favorite… 
RACE 6 
4-7-1-8
Upset special in this one as we'll take #4 Lunar Image (10-1); the Southern Image gelding will try an off track for the first time (his breeding suggests that should be fine) and makes his second start in the Magee barn while dropping in half value-wise; Magee is 39% with this move… #7 Indian Ghost (6-1) and #1 Allthewrongreasons (2-1) both rallied from well out of it last time to fill out the bottom two slots of the triple, and they galloped out in tandem, and well ahead of the winner…
ANALYSIS
RACE 7 
1-7-5-4
Huge effort last out by #1 Artful Splatter (9-5) in taking the Geisha Stakes over the redoubtable Anna's Bandit, and even though Anna's Bandit does her best work at slightly shorter distances than a mile, you can believe there's no Anna's Bandit in this group; this miss likely gets free run up front and should be tough to reel in, and, for good measure, she loves an off track; if there's a question, it's what that big effort took out of her, and how that might impact her today… Trainer Todd Pletcher sent down a runner to win last weekend, and he enjoyed it so much, he tries it again here with #7 Team Win (4-1), who ran pretty evenly in an allowance at AQU but may appreciate some easier company… #5 Lilo's Call (20-1) didn't beat much in her debut (and it was almost a year ago), but she did it the way a good horse should and now shows up after a nine-month break; it'll be a heavy lift for her to win today, but keep an eye on her…
RACE 8
8-4-10-2
It was a pretty good try on debut for #8 Golazo (7-2), who rallied into third in a race from which the runner-up returned to graduate; any improvement at all here makes him a handful… Trainer Brittany Russell has a flashy 5-for-13 mark with horses making their first start for her, including 3-for-4 with maidens, such as #4 Royal Thunder (10-1), who'll benefit from dropping out of SoCal maiden special weight company… Trainer Mike Trombetta (14% with 1st starters) sends out #10 Self Awareness (6-1), a Bayern gelding who's a half to a five-time winner.. We're leaving #11 Commissioner Biggs (4-1) off the ticket and may live to regret it, particularly since trainer Cal Lynch is adept with first-timers, but here's why: he's a $50,000 auction purchase last April who's debuting here for a $40,000 tag, and our experience suggests that betting horses making their debuts for less than they cost at auction is a quick way to go broke…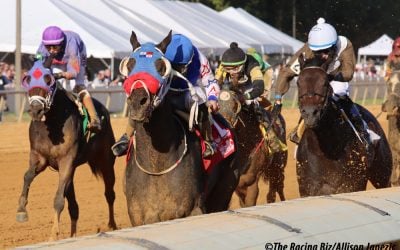 We provide full-card picks and analysis for this afternoon's races at Laurel Park.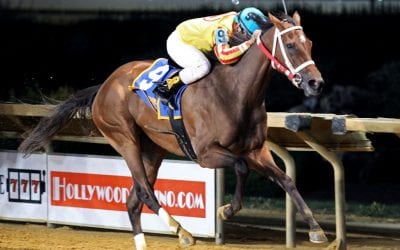 We provide picks and analysis for this evening's card at Charles Town Races.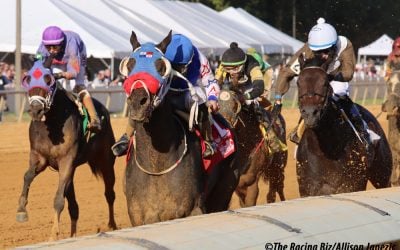 We provide full-card picks and analysis for this afternoon's races at Laurel Park.