Laurel Park picks and ponderings January 30, 2020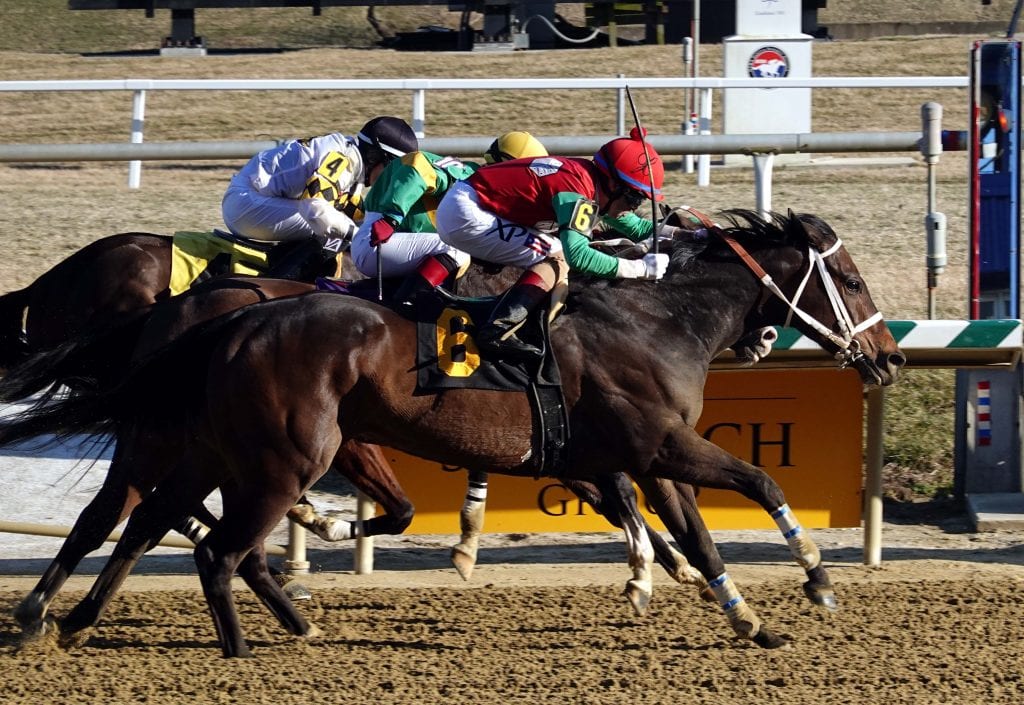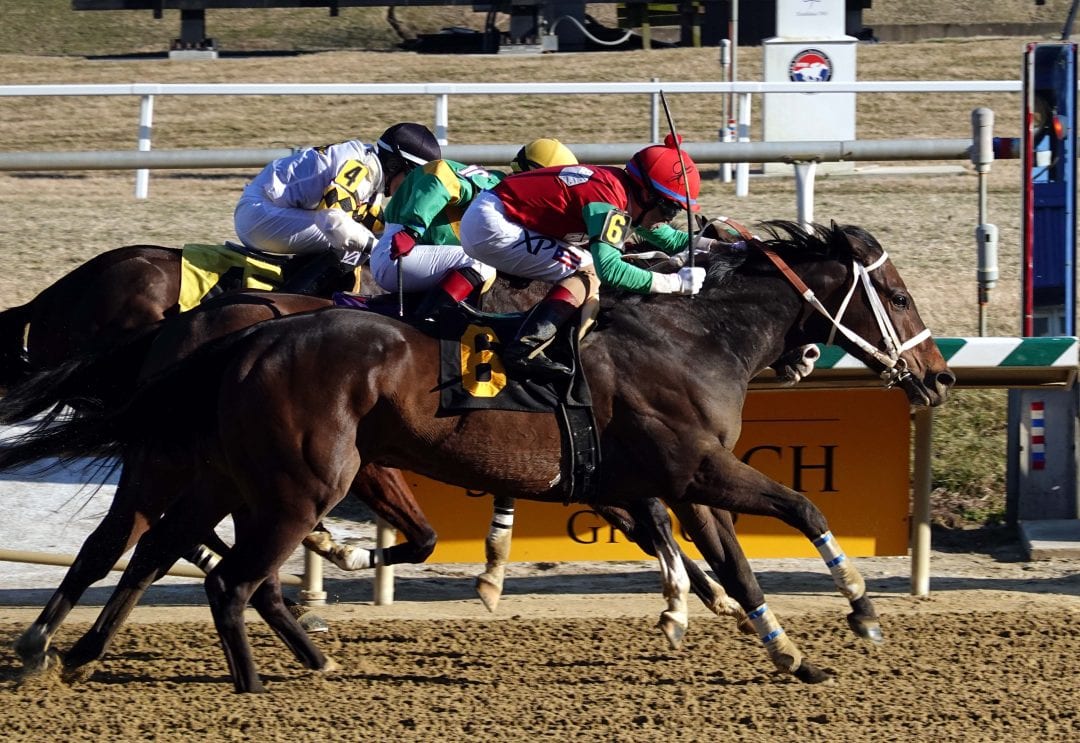 Anna's Bandit. Photo by Laurie Asseo.
In which we pick the races from Laurel Park each day…
Post time: 12:25 p.m.
Carryovers: Rainbow Jackpot Pick 6 — $2,142; Super High 5 — $266; Late Pick 5 — None
Notable: Jockey Jose Montano has a 44% strike rate when riding for trainer Aaron West over a 48-race sample.
ANALYSIS
RACE 1
5-2-1-7
In her career debut, #5 Mighty Molly (5-2) was off a beat slow and got bumped at the start, traveled wide around the turn, and then rallied smartly into third, less than a length from the place horse; it was a solid debut and gives her the look of a winner here in her second start… #2 Raging Blaze (4-1) has been away since June and makes her first start in Brittany Russell's barn; she has a couple of decent tries at higher levels and gets blinks off today… Going the opposite direction is #1 Cornetta's Choice (3-1), who gets blinks on in her first try for trainer Damon Dilodovico and first outing in nearly a year…
RACE 2 
6-4-5-7
In a race where most of the major players look to be running on late, the horse that may benefit most of all from that is #6 Top Hat Warrior (5-2); the Wayne Potts trainee has shown the ability to take 'em gate-to-wire, may be the main speed here, and should appreciate getting back on a fast main track… His figs don't necessarily stack up, but #4 Tarnished Justice (8-1) has finished second three straight versus similar at CT, and get a look at the strike rate of rider Jose Montano and trainer Aaron West: 44% over a sizable sample; it's Montano's only mount here… 
RACE 3 
2-6-4-3
It's a short field in this 3-other-than allowance, but one with plenty of early speed; who benefits if a duel heats up? That should be #2 Factor It In (7-2), who got a good setup last time to win a two-other-than and may well get the right setup again today; the Mancilla barn has been cooking the last couple of months… Favored #6 Charge to Victory (7-5) has two allowance wins, both at PEN; he'll be involved in the early running, and if any of the group survives that, he's most likely… Don't sleep on #4 Hollis (6-1); sure, he's been away almost a year, but the PTK runner is 3-for-4 in dirt races, including a perfect 3-for-3 on a fast track…
ANALYSIS
RACE 4 
2-5-8-4
This is another contest with plenty of early runners, and all of that early zip may be good news for #2 Two L's Meow (9-2), who rallied smartly from mid-pack to defeat a 1-5 favorite to graduate last out in a race that's produced a next-out winner… The speedy #5 Final Proof (3-1) graduated in front-running fashion last time and lands in the right spot to double up — if he can survive the early pressure… The Lori Testerman-trained #8 Rockin Ron (10-1) lands in a good spot after a couple of tries against better and is another who may benefit from the anticipated pace scenario…
RACE 5 
4-1-5-2
Not a great effort last time from #4 Silent Fluidity (6-1), who ran just kinda evenly to be seventh at this level; notable, though, that trainer Cal Lynch protects her in this spot, and even though rider Xavier Perez jumps ship, we think this miss has a chance to get back to her better form, which would be good enough today… #1 Redeemed Spirit (8-1) paid immediate dividends, breaking her maiden first out after being claimed by Dale Capuano, and should be involved from the get-go… Favored #5 Judi Blue Eyes (2-1) has finished in the triple three straight against similar, which is both an argument for her — she's run well at this level — and against her — she's had three cracks at it without breaking through…
RACE 6 
1-6-4-7
Trainer Anthony Farrior handles #1 Cassidy Ave (2-1) in an appropriately aggressive way here by dropping her in for $12,500; he claimed her for $20,000 and over the next five starts shook loose the two biggest remaining conditions she had available in the never-won-three claiming contest and then the a-other-than allowance; she doesn't project to win a two-other-than – he tried that without much reward – and so now he puts her in a claiming spot where she fits and may get taken; she should appreciate getting back on a fast track and has enjoyed success at the distance… Expect #6 Lady Terp (6-1) to be on the engine early in this one; she was outquicked to the first turn last time in a 1 1/16-mile test here (with a quick run-up to the turn), and that left her in a recently unaccustomed spot of stalking the pace from a few lengths back; she ought to be able to lead or press in this spot…
ANALYSIS
RACE 7 
4-7-2-6
Favored #7 Magical Luna (4-5) enters in good form and projects as the most likely winner here; the big question is that she's done her good work on the lead throughout and may have to hustle to get there in this spot, given the presence of #1 Competitive Queen (20-1), who has shown lots of speed in her main-track tries… If that compromises the favorite at all, the most likely winner — and the horse that may over value — is #4 Win Then Grin (7-2), who's won two straight and defeated similar last out; trainer Dale Capuano and jock Sheldon Russell (7-2) win at a 38% clip together with a $5.09 (!) ROI…
RACE 8
1-5-7-6
Trainer Jerry Robb has a couple of chances to inch closer to 2,000 career wins in this claiming event, with #6 Tappahannock (3-1) figuring to be involved in the early running and #1 Seany P (7-2) looking to rally from just off it; the latter has a win at the distance, may sit the trip, and is our top choice here… Let's give another crack to the speedy #5 I'mthetapitnow (6-1), who makes his second start off a five-month break and will look to show improved speedy today after getting clobbered last out vs. vetter… Trainer Harry Wyner doesn't ship to Laurel much but does in this spot attract the services of leading rider McCarthy aboard #7 Powerful Venezuela (6-1)…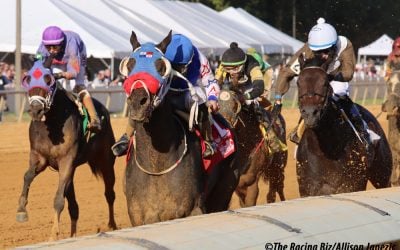 We provide full-card picks and analysis for this afternoon's races at Laurel Park.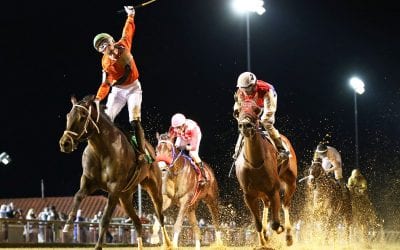 Full-card picks and analysis for this evening's live racing card from Charles Town Races!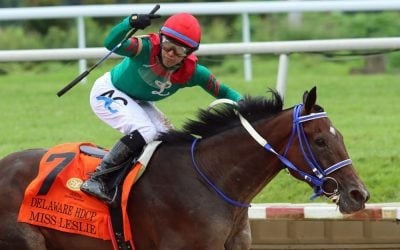 Racing returns to Delaware Park May 24, and we return with Delaware Park picks and analysis for the track's 86th racing season.