Laurel Park picks and ponderings January 20, 2020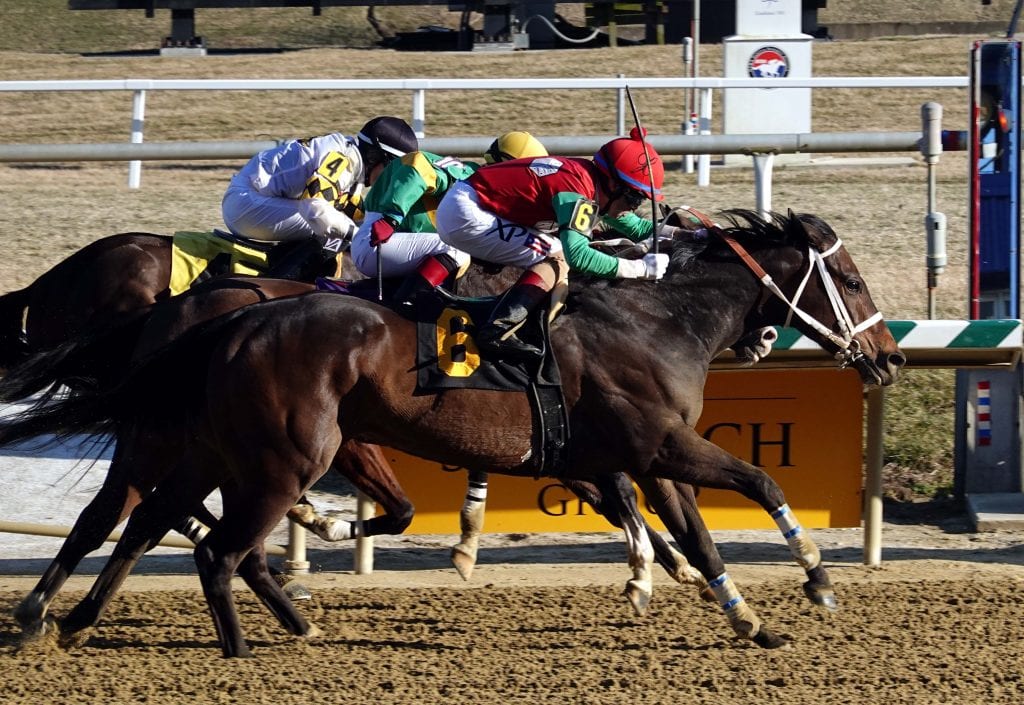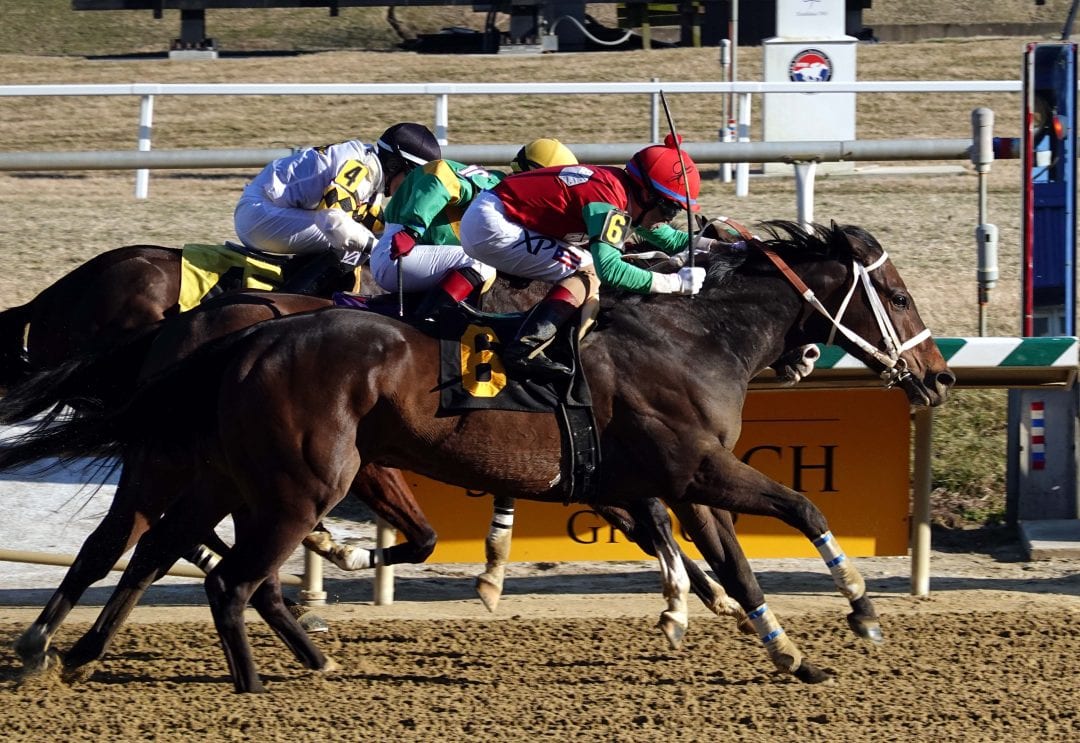 Anna's Bandit. Photo by Laurie Asseo.
In which we pick the races from Laurel Park each day…
Post time: 12:25 p.m.
Carryovers: Rainbow Jackpot Pick 6 — None; Super High 5 — $3,047; Late Pick 5 — None
Notable: Trainer Jose Corrales wins at a 21% clip first off the claim with an ROI of $7.08.
ANALYSIS
RACE 1
2-3-6-1
Morning line fave #3 Under a Spell (3-5) certainly has the speed figs to win here, but he also seems to find ways to lose races; he's lost three straight as the favorite, including three back at 1-5 and last out at 3-10… That's enough of a reason to try to beat him on top, and the most likely horse to do so is #2 Fort Royal (2-1), who ran OK last out one notch higher in a race where the runner-up, My Man Post N Pans, returned to win at another level higher… Trainer Gary Capuano is 7-for-18 when making big drops with his horses, which is reason enough to have #6 San Marco (10-1) on the ticket…
RACE 2 
2-4-1-7
Some of the major players in this contest have done their best work on the lead and may be working at cross-purposes today; that might open this up to a runner who's shown some ability to pass horses, #2 Rookie Salsa (10-1); this guy debuted with major promise, winning at first asking and then taking a stake at Churchill Downs; he hasn't really gone on since and last out was claimed by Claudio Gonzalez; seems worth noting that Gonzalez protects him today first off the claim… Morning line chalk #4 Candygramformongo (7-5) beat better last out and should be formidable unless cooked in the early pace…
RACE 3 
3-2-8-1
When last seen, in the fall of 2018, #3 Universal Payday (7-2) ran a couple of decent races, the most notable of which was a solid third behind next-out Grade 2 winner Maximus Mischief; he's been training forwardly towards his return for trainer Trombetta and attracts the services of leading rider McCarthy… Favored #2 Fast Master (2-1) makes his second start off a nine-month break and should be fit on the cutback from a mile… We'll put #8 The Cairo Kid (10-1) on the ticket; he was a $150,000 auction yearling in 2017 who then was sold at a mixed sale last January for a more modest $29,000…
ANALYSIS
RACE 4 
1A-5-3-7
With the scratch of half the entry, maybe we'll get more appetizing odds on #1A Always Forgiven (4-5), who is just a race or two removed from efforts that would win here… Trainer Lacey Gaudet takes the blinkers off #5 Rumson Rally (6-1), who two back just missed at this level… One of the main contenders here, #3 Campari (5-2), is OK but is winless in seven tries on fast tracks… Kinda worth having #7 Voodoo Valley (12-1) on the ticket; trainer Jose Corrales wins at 21% with a $7.08 ROI (!) first off the claim…
RACE 5 
4-1-6-2
You could make a case for all five of the horses in here (after one scratch), and since that's the case, let's see if we can get an upset home with #4 Sacred Mountain (6-1); the Seville gelding won at first asking after a bit of trouble last out at Penn and the show horse was one of two (from four to run back) to graduate next out; it's rider Beato's only mount of the day… Don't sleep on #1 Bernie's On Fire (3-1), who won by a pole at first asking, ran poorly in a stake in his follow up, and then was gelded and has been away two months; trainer Gonzalez had two entered and scratched the other…
RACE 6 
10-4-8-6
It's a somewhat motley crew lined up for this maiden claimer, and we'll take — kinda by process of elimination — #10 Keeper in Spite (4-1), who showed a bit of speed before backing out in his debut against better and today gets blinks on in his first try in the Robb barn; Robb's 3-for-11 with first-off-the-claim horses in maiden claiming company… Morning line favorite #8 Astarte Gold (2-1) has some decent efforts against better and takes a two-level drop today, but after seven starts seems to be pretty much just a horse… There are five first-timers in here, and this is the exact kind of race in which firsters can win…
ANALYSIS
RACE 7 
1-3-5-2
Top choice #1 Mortal Storm (6-1) makes his first start in the Gary Capuano barn today, and the new trainer protects the horse from being claimed, generally a good sign; he's 5-for-16 with horses making their first try in his operation… #5 Firth (3-1) trounced allowance foes two back but ran poorly last out; a bit of class relief and a little more ground today could play to his advantage…
RACE 8
3-2-7-4
Top choice #3 Sacred Lady (2-1) gave willing chase to the 8-5 favorite last time at this level but could never get to that runner; she may be by herself up front today… Two other from that race — #2 Beckon (5-2) and Stiva (5-2) — also are here, and that trio generally looks like the major players in this spot…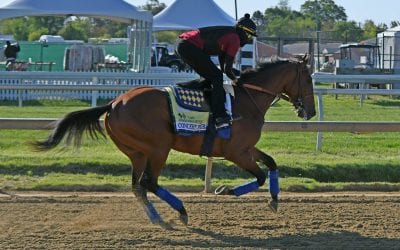 The fourth Kentucky Derby future wagering pool will kick off Friday, and 2yo champ Forte is the top individual choice on the morning line.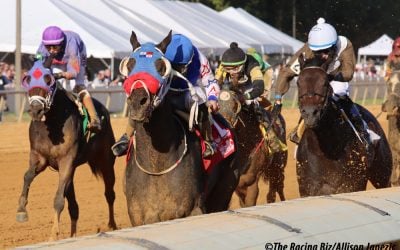 We provide full-card picks and analysis for this afternoon's races at Laurel Park.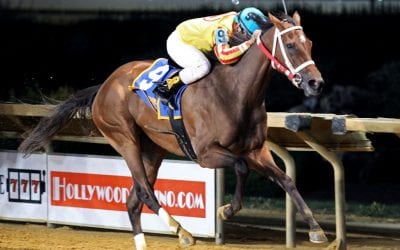 We provide picks and analysis for this evening's card at Charles Town Races.