Laurel Park picks and ponderings January 1, 2020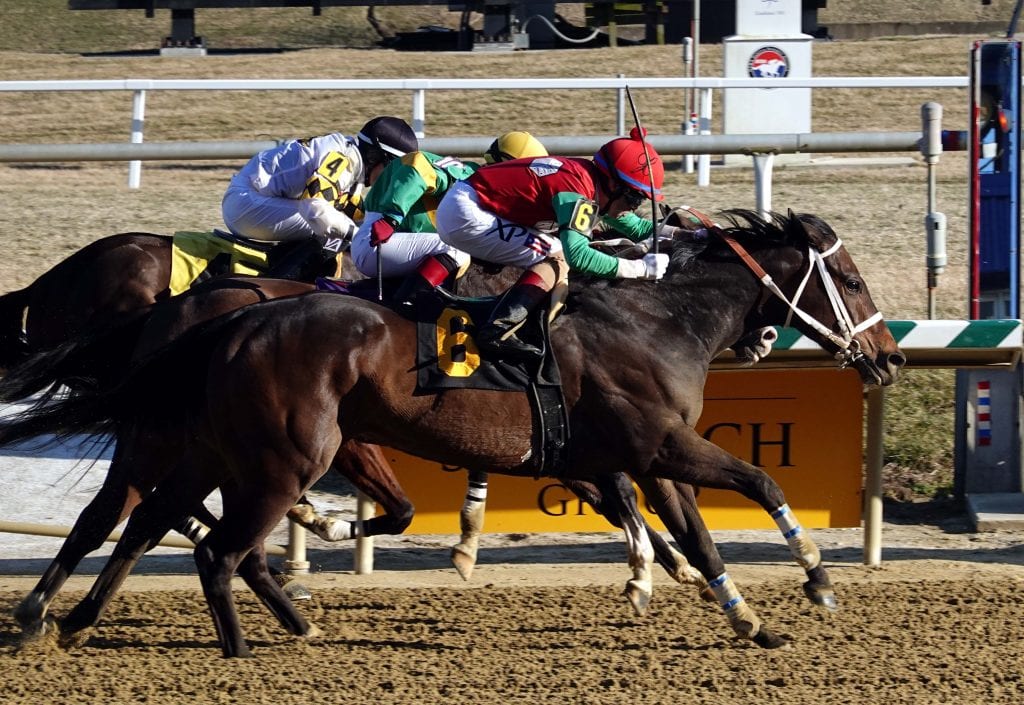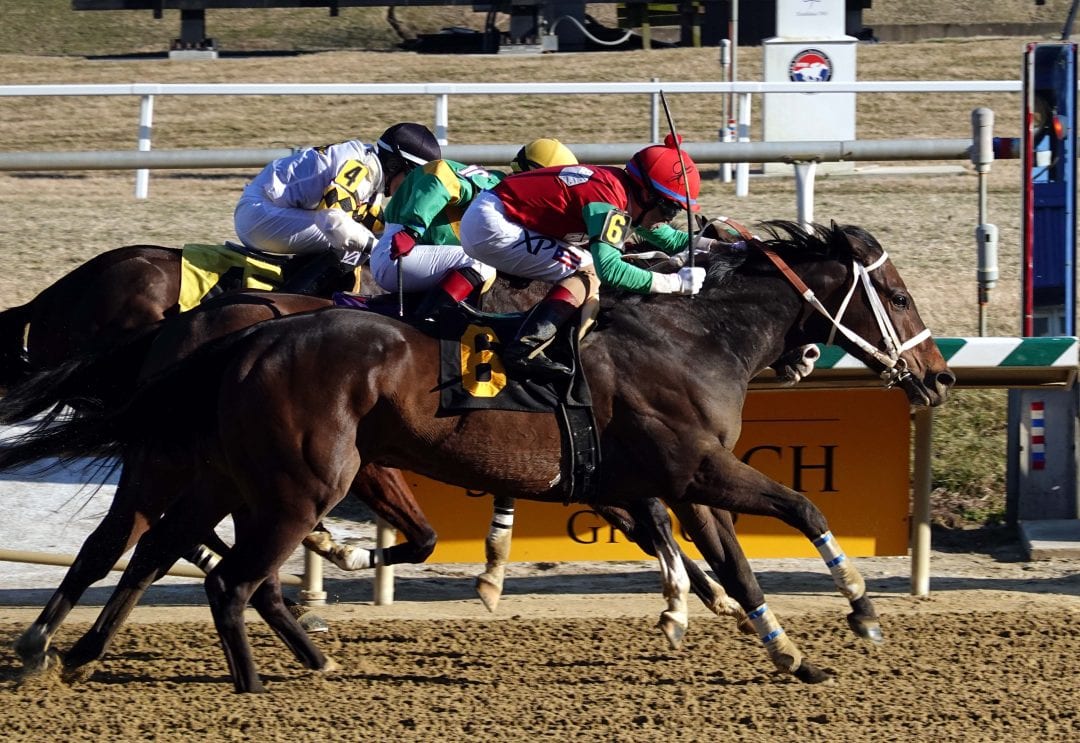 Anna's Bandit. Photo by Laurie Asseo.
In which we pick the races from Laurel Park each day…
Post time: 12:25 p.m.
Carryovers: Rainbow Jackpot Pick 6 — None; Super High 5 — None; Late Pick 5 — None
Notable: Happy New Year!
ANALYSIS
RACE 1
1-6-4-5
New York shipper #1 Paint Music for Me (5-1) was a somewhat indifferent ninth on debut on the turf at Aqueduct in November, but the Munnings colt ought to like getting on the main track; his dam was a main track runner, as was his sire… Favored #6 My Friends Beer (8-5) will try to slurp up a victory after a near-miss last time; the question, though, and the reason we didn't put him on top, is to what extent his improved effort last out was the result of the slop; the only runner to run back from that race did win next out…
RACE 2 
4-8-3-5
In his first try in claiming company, #4 Dance for Oro (9-2) laid waste to a nver-won-two field of $25,000 claimers at PEN last time, winning by almost six while never asked for his best; the last-place finisher that day came back to win an allowance at that track next out, and this one brings his rider along today… #8 Flip (6-1) has won two straight, makes his second start in Cal Lynch's barn, and note that rider McCarthy picks this one over the Jamie Ness-trained #2 Ready and Rich (5-1), whom he also rode last time… The late-running #3 Closer Look (4-1) has rallied into the exacta two straight and will hope for a pace to develop in front of him… Leading trainer Gonzalez sends out a pair, and it seems notable that it's the longer-priceed runner, #5 Grand Oasis (12-1), that he protects from being claimed…
RACE 3 
1-6-2-7
Didn't really want to pick the favorite, #1 Laurel Lady (6-5), but she enters making a three-level drop in class, and that should be enough to put her over the top in a group in which all the runners have holes… #6 Thirsty Again (5-1) and #7 Expect Talk (9-2) exit the same race, on December 22, which seems to have been a slightly better group than this…
ANALYSIS
RACE 4 
7-6-3-4
A couple of speedy types are scratched from this contest, which may work to the advantage of a third speedster, #7 Unbridled Outlaw (3-1), who won for $32,000 three back at Ellis Park and makes his first start in the Farrior barn; note that Farrior entered two and scratched the other in this race… #6 Kingston Pike (2-1) has won two straight since being claimed by Carlos Mancilla, both against similar, and he should factor again here… #3 Hammers Vision (12-1) has been facing better his last couple and just missed when placed against similar four back…
RACE 5 
8-4-6-3
The morning line favorite here, #3 Lucky Leonard (3-1), certainly looks to be a contender, but it's hard to endorse short odds on a horse who's 0-for-15 on the main track… #8 Awesome Buzz (6-1) lands in the right spot here for trainer Kenny Decker and should be forwardly placed from the get-go under Wes Hamilton… #4 Dapper Mun (4-1) rallied a little bit last out against similar and gets blinkers on for the first time today, which might help him be a bit more engaged in the early going…
RACE 6 
4-8-3-6
The favorite in this Maryland-bred allowance, #8 Bunting (9-5), enters with the best resume of the bunch, including a stakes placing, but also feels like a somewhat vulnerable favorite — she lost against similar two back at 3-5 odds — who likely won't offer any value… Let's see if we can beat her with the Kieron Magee-trained #4 You Made It (4-1), who's won two straight, most recently circling the turn and drawing away at the $16,000 level, and is showing two works in the meantime… Frequent Charles Town leading trainer Jeff Runco is not in the habit of running horses just for the hell of it, which makes #3 Right Notion (15-1) a somewhat interesting prospect; she won at first asking at CT after a wide journey and shows up here for just her second career start…
ANALYSIS
RACE 7 
5-4-1-6
The hot favorite scratches out of this contest, as does one of the front-running types, which might leave #5 Outplay (4-1) all by his lonesome in frnot early at a distance at which he's been in the triple all four starts; he has competed well against similar, makes his second start off a seven-month break here, and it's worth noting that trainer Chuck Lawrence liked what he was seeing from him well enough to waive the claiming tag when he brought him back last out… #4 Can't Pass It Up (7-2) has run three very good races since being gelded and enters with consecutive victories… #1 Dothat Dance (8-1) should appreciate the class relief he'll get today; his effort in the Maryland Million Classic might be sneaky good, since the top pair ran one-two all the way 'round…
RACE 8
5-3-2-4
The favorite in this contest, #3 Madame Tiger (8-5), will be winging it on the front end most likely; the concern with her is the unslightly 0-for-4 ledger at the trip, a problem demonstrated last out when, at Penn National, she led to the final furlong as the 9-5 favorite before having to settle for third… Let's see if #5 Hidenseek Sally (8-1) can make some noise here; she doesn't win much and is not in good form, but it's interesting to note that trainer Ness does not drop her farther off a poor effort and also that he attracts rider McCarthy, who also rode the seemingly more-likely #4 Up Hill Battle (5-1) last time out…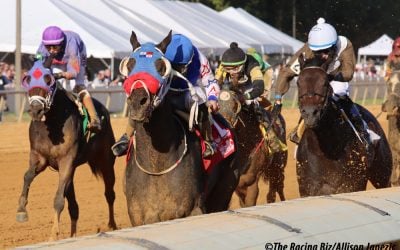 We provide full-card picks and analysis for this afternoon's races at Laurel Park.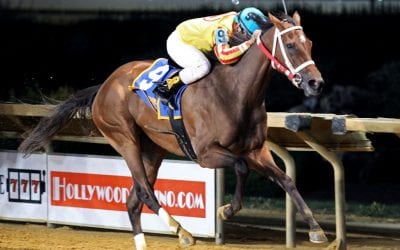 We provide picks and analysis for this evening's card at Charles Town Races.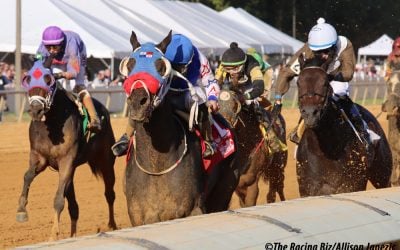 We provide full-card picks and analysis for this afternoon's races at Laurel Park.