The GQ Approach – Laurel October 19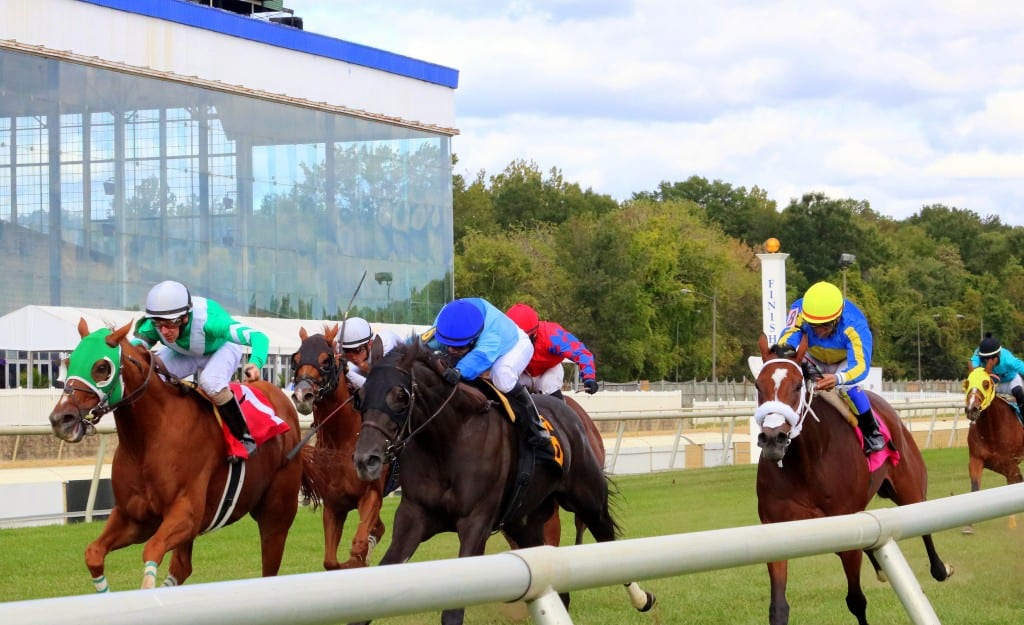 Photo by Dottie Miller.
The GQ Approach features full-card selections from Laurel for the live fall racing meet, Post Time 1:10pm EDT including a daily Best Bet, Longshot Play, and multi-race wagers — including the 20 cent Rainbow Pick-6, 50 cent Early and Late Pick-5s, as well as Pick-4s and rolling Doubles, Pick-3s and the Super High-5.

Today's carryovers
Rainbow Pick 6: none
Super High 5: none
Late Pick 5: none
Multi-race wagers
Race 1 – $2 Double  6, 12 w/ 4, 8, 10 ($12)
Race 3 – 50 cent Pick-4 1, 5 w/ 1, 4, 14 w/ 8, 9, 12 w/ 1, 6, 9 ($27)
Race 8 – 50 cent Pick-5 1, 12, 13 w/ 3 w/ 4, 8, 11 w/ 5, 7, 8 w/ 1, 3, 4 ($40.50)
Race 11 – $2 Double 5, 7, 8 w/ 1, 3 ($12)
Best Bet of the Day
Race 9: #3 – Lewisfield (2-1)
Longshot Play of the Day
Race 5: #9 – Stolen Love (8-1)
 Analysis
Weather: Mostly Sunny; highs in the 60s
Scheduled turf races: 1st, 4th, 6th, 8th, 12th
Projected track conditions: Main – FAST / Turf – GOOD
First Race Post Time 12:00pm EDT
Race 1 is ON THE TURF
#12 – Jumpstartmyheart (3-1): Goes for third consecutive victory, just fourth start since being transferred to D. Capuano barn who happens to be the winningest MD Million Day races trainer; this 5-year-old mare is the only runner in this lid-lifter to have won at this 9 furlongs distance
#6 – Sarah's Treasure (12-1): Winless when competing on the turf (0 for 6) but has been facing much tough gals all year than she'll face in here; gets one of Maryland's best turf riders in the saddle, subbing for injured K. Davis     
#10 – Shifra Magician (5-2): 7-year-old mare has made a living on the turf, with 5 of 7 career victories coming on the Laurel lawn; has a five-race streak of finishing first or second snapped in latest when she tried stakes company, finishing a distant eighth   
Race 2 – MD Million Nursery
#8 – Tommy Shelby (9-2): He's just one of two in here to have won twice (other is #1 but both came on turf); has an off-the-pace running style which bodes well in speedy field
#4 – The Poser (20-1): Earned maiden score in gate-to-wire fashion first time with blinkers, on dirt and stretched out to more distance; that likely built stamina and confidence
#10 – Laddie Liam (5-1): Maiden win was an eye-popper here last month with a 90 Brisnet speed figure which is tops in this group of 2-year-old colts and geldings
Race 3 – MD Million Distaff
#5 – She's Achance Too (5-2): Away since June when trainer M. Reid claimed her for $35k; gave her time-off to re-energize and based on her excellent work pattern should fire on all cylinders              
#1 – Anna's Bandit (7-5): Quick turn around after winning just 7 days ago but did the same last year while finishing third in both events; one to beat as this distance is her best (10:7-0-3)
#10 – Elevated Vision (15-1): Loves Laurel dirt (3 for 7) and 10 months ago beat today's favorite (#1) in a similar stakes race
Race 4 is ON THE TURF
#1 – Martini Kid (3-1): Make mine a double… in past four turf tries this 6-year-old has been among the top 3 finishers, unfortunately in latest when third was disqualified and placed fourth for intereference in the stretch  
#14 – Mead Avenue (20-1): Owns a win from three starts on the Laurel turf which came two races back when earning a gaudy 91 Brisnet number, tops among runners in here 
#4 – Son of Aponi (12-1): Exits turf debut where he finished a respectable fourth as a 28-1 longshot going 1 1/2 miles; earned a nice speed figure to build on coming into this contest 
Race 5 
#9 – Stolen Love (8-1): $$$ Longshot Play $$$ Veteran of a few MD Million Day races (third in Sprint last year), this 9-year-old has found the Fountain of Youth since being claimed by trainer J. Ness four races back should find this group easier to handle
#8 – Crush It (10-1): Returns to Land of Pleasant Living where he began his career a year ago; smart claim for just $5k at Presque Isle by N. Caruso a 21% winning trainer in 2019; 2 for 2 at this distance
#12 – Parade of Nations (20-1): Appears to be off form but a few of those bad races came against much better than he'll face in here; 3 wins from 4 starts at this distance
Race 6 – MD Million Ladies is ON THE TURF
#6 – Ghoul's Night Out (9-5): Last two efforts in unrestricted stakes indicated she belonged  in that company missing victory by a half then one-and-one-half lengths; continued improvement might get her to the Winners Circle today    
#9– Zonda (6-1): Gets in off the Also-Eligible due to scratch of #2; 3-year-old daughter of top turf sire Scat Daddy continues to improve with every race and can pull the upset here 
#1 – My Sistersledge (7-5): She's 3 for 3 on the turf at this 1 1/8-mile distance, won this event last year and encountered a heap of trouble in her last outing yet only lost by 4+ lengths
 Race 7 – MD Million Lassie
#3 – Stickingtogether (7-2): Ran two huge races in first two of her career then may not have cared for mud in latest; she gets Lasix for first time which could help revenge loss to #12    
#8 – Gifted Heart (3-1): Personal favorite as her name relates to trainer's son's story; only runner to have two wins on resume     
#7 – Halfinthewrapper (12-1): Won second career start in a romp when stepped up in class following runner-up effort in debut; waters get deeper against these gals
Race 8 – MD Million Turf is ON THE TURF
#1 – Street Copper (5-1): This event appears the most likely to provide value, at least based on our analysis… this gelding has blossomed in 2019, was a game winner in latest despite traffic troubles; with a clean trip he could return to Winners Circle             
#13 – Somekindofmagician (12-1): Could turn out to be a prudent $25k claim by trainer J. Ness; makes third start since and appears to be sitting on a big effort; owns best turf speed figure at this distance of this bunch even though 0 for 6 and looks for first win in over two years… yikes!!!         
#12 – Taxable Goods (4-1): Has given a good impression of himself in every outing since exclusively racing on the turf for last 7 starts; in an oddity he is 2 for 2 in races where he faces at least 9 rivals. He's scheduled to face 13 today
Race 9 – MD Million Sprint Hcp.
#3 – Lewisfield (2-1): * BEST BET * Runaway winner of this event last year but is just 1 for 7 since; so why so confident? The class of horses he's been facing are much better than his foes in here, top local jock T. McCarthy pilots for the first time and should get a nice stalking trip to pounce on leg-weary, dueling leaders in deep stretch to prevail
#7 – Call Paul (9-5): Well-traveled 3-year-old makes 13th career start at eighth different venue; ran a monster speed figure (105 Brisnet) in latest which could see him regress in here; both wins in '19 have come at Del and Pen; will have company early on unless jock chooses not to get in a speed duel; trainer/jock have won at a 45% clip over the past year
#2 – Taco Supream (10-1): Love seeing one like this who only fetched $1,600 at Timonium auction as a yearling but in 18 career races has earned over $248k! Been part of Exacta on Laurel dirt oval in 13 of 16 efforts
Race 10 – MD Million Classic
#4 – Clubman (2-1): Give him a pass in latest when fourth in field of 5; looked awesome winning at Tim and will have a decent pace to run at in deep stretch              
#8 – Tappin Cat (10-1): Successful sprinter tries to stretch out another 3 furlongs?! Pedigree suggest he can; was runner-up going one mile to a very classy runner (#13 who won't run)             
#11 – Torch the Truth (8-1): Looking for another top effort as third time might be the charm following $40k claim three back by trainer J. Ness; rider T. McCarthy hopes for a big day
Race 11
#8 – Yesterdaysplan (7-2): Seems to be today's plan began on July 25th when trainer M. Reid claimed this gal for $5k with MD Million races in mind; was given time to train up to this event while being a bridesmaid in a tune-up              
#5 – Bring Me Answers (10-1): Loves this 7 furlongs distance (9;2-1-4); comes into this race off a win at CT where the runner-up won in her next start 
#7 – Hashtag Selfie (3-1): Kicked off 2018 MD Million Day with a win for different barn but the talent remains; bad start in latest is deserving of a toss
Race 12 is ON THE TURF
#1 – Go Lover (9-2): Nice try in second career start when stretched out from 5 furlongs to one mile, same distance as today won by Outofthepark who participates in MD Million Turf (8th race); how that one runs might be a good barometer on this ones chances 
#3 – Street Silence (6-1): Gave a better account of himself in second career start when switched from dirt to turf; his bloodlines are proven to be better going two turns on the turf, which is what he'll run today
#4 – Antipoison (10-1): Second start with blinkers often produces positive results; didn't have the cleanest of trips in latest sprint start so stretch out could help chances to earn diploma